It's time to join us from your home for a weekend of camping fun
Sometimes, adventure is right under our nose and, right now, there's never been a better time to enjoy the opportunities on your doorstep. And if you can't go far from your home, who's to say you can't find adventure in your own back garden or bring the outdoors in when you need it most?

After the success of Cool Camping's online camping competition, #TheVirutalCampsite, which saw many campers pitching their tents at home and getting into the spirit of camping indoors (our winning entry even featured in The Guardian), we're standing in solidarity with the rest of the outdoors industry as we join Cotswold Outdoor for their own Big Easter Camp In and encourage you to get the tent out once again.
In response to the UK government advising against all but essential travel, Cotswold Outdoor are encouraging the UK public to join them in camping at home this Easter weekend. Taking place on Saturday 11th April, the Cotswold Outdoor Easter Camp In will incorporate a full-day celebration of the greatest things about camping – encouraging people to share pictures of their home campsites, camp food and camps views via the hash-tag #campingathome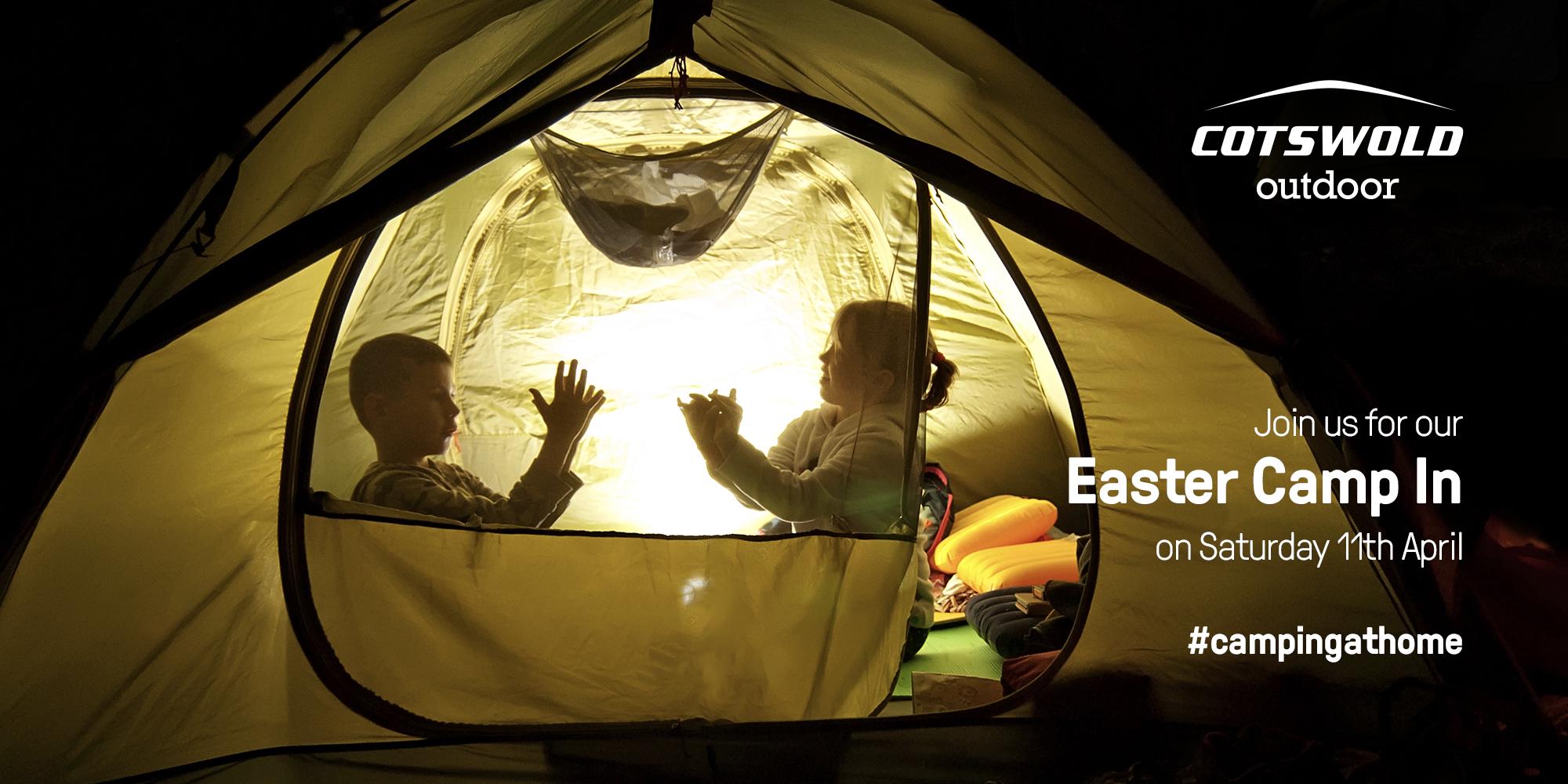 How you can get involved
With Easter almost upon us, many of our minds naturally turn to the holidays we had planned. Whilst we might not be able to get out there as planned, Cool Camping and Cotswold Outdoor want to encourage as many people as possible to bring the outdoors in and pitch up in their back gardens, balconies, bedrooms, and anywhere else you can get involved whilst keeping yourself and others safe.
Cotswold Outdoor are busy sharing top tips to help you get ready to camp out at home, from tent pitching tutorials, the best campfire recipes and essential kit, to tips for building dens and handpicked playlists to soundtrack your camp in.

All you need to do is join the fun on Saturday 11th April and share your adventures using the hashtag #campingathome. If you're on Facebook, you can join their special Facebook event, while you can also follow Cotswold Outdoor on Instagram and Twitter where you can keep up to date with what fellow campers are doing this Easter.
Stay safe. Stay home. But don't stop adventuring.