All this month we've teamed up with the healthy folks at Eat Natural to send every single Cool Camping customer a free stash of tasty treats
*** THIS PROMOTION HAS NOW ENDED ***
Spring is here, lambs are bouncing around the countryside and, one by one, campers are dusting off their tents and waking up to the happy thoughts of another camping season. It's a sunnier time, a happier time and an altogether more health time to enjoy the great outdoors. So, to make your morning all the brighter and your campfire breakfast all the better, we've teamed up with the healthy folks at Eat Natural for a bumper Cool Camping giveaway fo every single customer this month.
That's right, every single customer who books a holiday on coolcamping.com this April will also be sent a freshly made hamper of Eat Natural treats! The free hamper of goodies will include a box of Eat Natural's delicious 'Breakfast with Benefits' granola and an assortment of Eat Natural snack bars, including fruit and nut treats with an array of their specially selected natural ingredients.
Founded by a fruit and nut importer in 1997 and still hand-making their beautiful snacks in their Essex Makery to this very day, Eat Natural are the perfect partners for healthy days outdoors. Whether you save up your tasty treats to enjoy at dawn from your tent or you gobble the lot with your family as soon as they arrive, this healthy hamper is the ideal fuel for your day.
And remember, share a snap of your special Cool Camping box on social media with the hashtag #EatOutdoors for the chance to win a copy of our Cool Camping Britain guidebook too!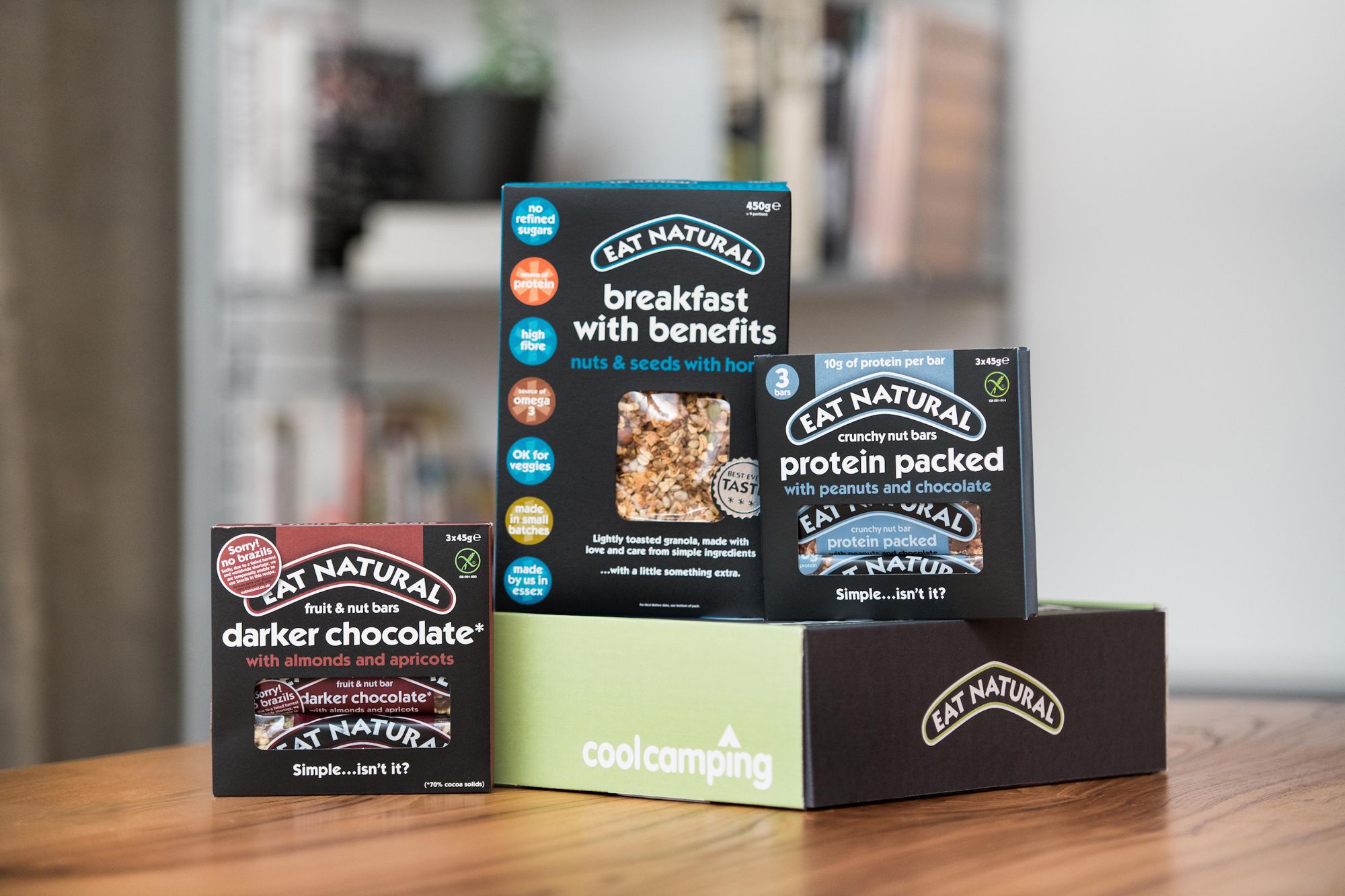 Full terms and conditions

1. This promotion is open to UK residents only, excluding Northern Ireland.
2. Entrants must be 18 years or over.
3. In order to qualify for this promotion, entrants must submit via the "Yes Please, Yum" button that appears after a booking is placed on coolcamping.com. The promotion will run throughout April 2018 while stocks last.

3. 1 There is a limit of one entry per household.

3. 2 The closing date for this promotion is 30th April 2018.

3. 3 We accept no responsibility for damage or loss resulting from misdirected or incomplete entries arising from computer malfunction, viruses, bugs or telephone malfunction or other such causes. We are in no way liable for the reproduction or indirect access via third party websites which misstates or omits any of the information or terms and conditions connected with the promotion.
3. 4 Every UK resident who makes a purchase on coolcamping.com and clicks the 'Yes Please, Yum' button that appears after their booking will receive a hamper of goodies from Eat Natural, free of charge.

3. 5 There are no other requirements to recieve the hamper, but Cool Camping will need to share your name and address with Eat Natural for you to be sent the goodies!

4. Prize Details: One box of Eat Natural goodies to include a box of Eat Natural 'Breakfast with Benefits' granola and an assortment of Eat Natural bars. Exact contents may vary. Will contain nuts.

4. 1 No cash alternative will be offered.
4. 2 In the event of unforeseen circumstances, the promoters reserve the right to offer an alternative prize of equal or greater value should the specified prize become unavailable.
4. 3 The promoters reserve the right to cancel or amend without notice the terms of this promotion and any prize issued in the event of major catastrophe, war, earthquake or any actual or anticipated or alleged breach of any applicable law or regulation or any other circumstance beyond the promoter's control.
4. 4 The promoters cannot be held liable for any failure by third parties to fulfil their obligations or for any acts or omissions outside their control. However, the promoters will endeavour to minimise the effect of any such failure.
5. By entering this promotion, you consent to us sharing your name and address with Eat Natural in order to send you the hamper. We will not share your email address or any other information about you without your express consent, although we may ask for that consent at a later date.

6. By entering this promotion all participants will be deemed to have accepted and be bound by the rules. All entry instructions form part of the rules. Any breach of these Terms and Conditions may result in a forfeit of the Eat Natural hamper.
Promoted by Tripadee Ltd, Trading As Cool Camping, 81 Rivington Street, Shoreditch, London EC2A 3AY.