Japanese manufacturer SOTO have long been producing top of the range camping stoves but it's only more recently that they've begun making waves in the European and UK market. Their award-winning Windmaster stove, in particular, grabbed the limelight in 2013 and now there's a lower cost model in a similarly compact size: The Amicus.
The Amicus (it means friend in Latin) is another pocket-sized stove in an already crowded market. On initial impressions, there's very little to set these stoves apart – the likes of of the MSR Pocket Rocket, the Primus Microntrail, Vango's Compact Gas Stove and Robens' Fire Midge Stove, to name but a few. They all follow a relatively similar design. Small arms fold out of the stove to provide a stable cooking base for your pot or kettle, while the stove screws directly into the gas canister. It's simple and easy for first time stove users and packs down into an incredible small size. The SOTO Amicus weighs just 75 grams and is 71mmx42mm.
The Amicus comes in two designs, one with and one without an in-built igniter. The 'Stealth Igniter' lets you push a button to ignite, something which sets it apart from many of the competitors mentioned above. We used the more basic model without, however, and found it lit easily and kept a consistent flame. It was well regulated and reacted smoothly to our opening and closing of the gas tap.
The four prongs are sturdy and spring neatly into place. Once out, the supporting surface is around 100mm in size, providing a sturdy base for even relatively large cooking pots. At the time of writing, the Amicus also comes with SOTOs new River Pot, which we used for our test. Its slip resistant base added some extra grip on top of the stove and the River Pot features a translucent lid, allowing you to see whether your water (or food) has come to the boil without having to remove the lid and let out heat.
Perhaps the boldest claim by SOTO is that the Amicus is "superior under windy conditions". This, they say, is owing to the lip around the stove face, which means the main heat element of the stove is recessed, offering extra wind protection. Having trialled the Amicus in windy conditions (we didn't measure exact wind speed), we did feel the claims of better wind protection were valid in comparison with competitor models. That said, the difference was still relatively minimal and, as with similar stoves, in windy weather a good wind block is what really makes the big difference (use a reflective wind block to increase heat at the same time).
From a practical point of view, its small size and ease of use makes it great for backpacking trips and lightweight camping. If you get the River Pot too, the collapsed Amicus stove fits neatly inside and the whole thing then fits into a mesh bag. Gas canisters are easy to source: Rated at 10210 BTU, the Amicus has a standard screw-in Lindal valve making it compatible with standard isobutane canisters from Soto, Primus, Snow Peak, MSR, Jetboil and others.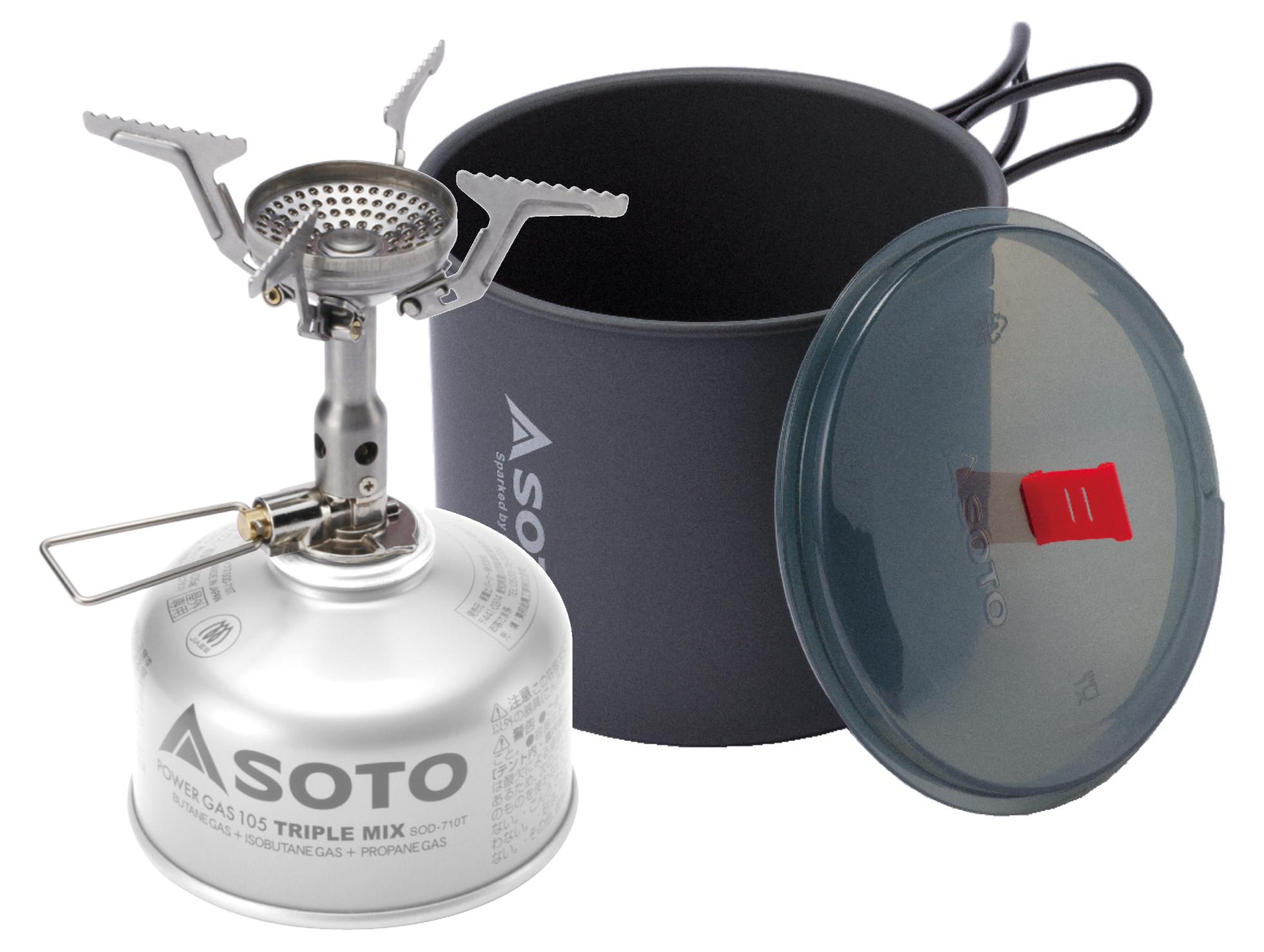 Pros
Very lightweight.

Decent wind resistance.

Ignition button available.
Cons
None to be reported, but plenty of competition at competitive prices.
Overall verdict
The SOTO Amicus is an easy-to-use, very compact cooking stove that fits neatly inside the SOTO River Pot when folded away. For its seemingly simple design, it offers good wind resistance and cooks at a high temperature and would be ideal for budget backpacking trips. With plenty of competitors offering something similar, the price becomes an important factor and, at £35 it's in line with other well-known brands.
The SOTO Amicus stove is available now (RRP £35) and can also be bought in conjunction with the SOTO River Pot (RRP £45 for the combination). Visit sotooutdoors.com for further information. Cool Camping were provided with a SOTO Amicus stove to test free of charge; opinions are our own.