Competition for ownership of million-pound glampsite begins, and it only costs a tenner to enter
Renowned Forest of Dean glamping site The Dome Garden is giving away ownership of the entire one-million-pound glamping site in a competition costing just £10 to enter.
The winner of this jaw-dropping giveaway will be handed the keys to the nationally recognised site – as featured in The Times, The Guardian, National Geographic and the Cool Camping guidebooks – which includes 11 geodesic domes, a cosy guest house, three bedrooms, a licensed bar and a small restaurant, plus over an acre and a half of land.
"Every project has a life and we have put so much of our own into making The Dome Garden what it is," owner Helen Clothier told us when launching the event at The Glamping Show. "The children are now spreading their wings and it feels, as we complete the latest B&B room, that our time here should also draw to a close."
But why the competition? "Ordinarily finding someone who can invest in such a huge enterprise is a real challenge," Helen continued. "Many people who dream of going into this industry simply can't afford it, but this way people have the chance to get a million-pound business at the price of just ten pounds. It's also great fun, both for us and the participants, so it feels like a win-win way to go about it."
The result? This astounding prize draw means that anyone, from a busy urbanite to a regular glamper now has the opportunity to live out their rural dream at this hideaway in the woods, taking the keys to an established, well-known glamping site worth over one million pounds. Could you be the new glampsite owner extraordinaire?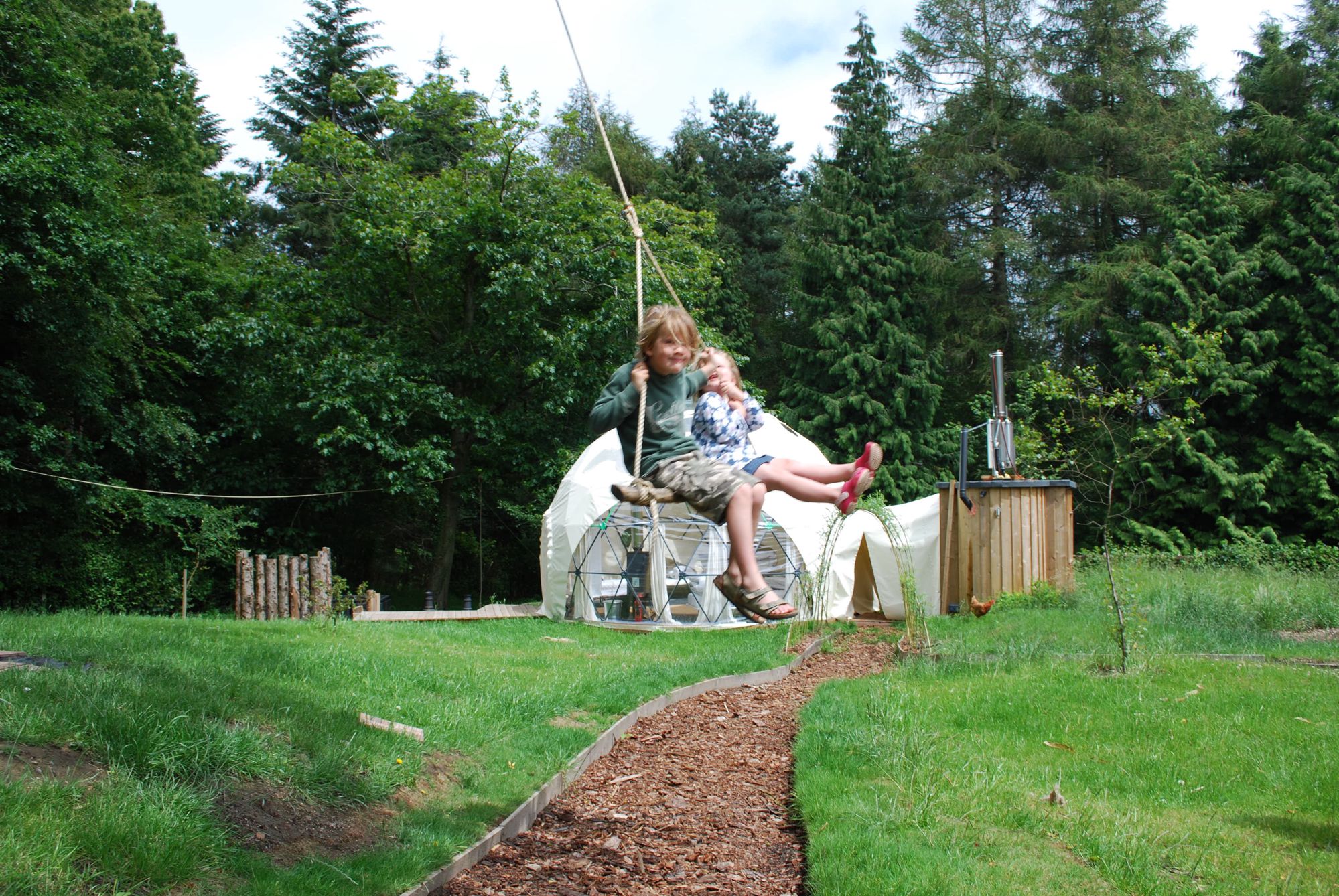 How to Win
The competition is available to anyone over 18 to enter and costs just £10 per entry ticket. Participants must then navigate a challenging word play task that, if answered correctly, qualifies them for the final prize draw. The randomly chosen overall winner will then be handed complete freehold ownership of the entire Dome Garden and Lodge Rooms businesses, including the land, brand, website and all associated materials.
The Prize
Established in 2010, The Dome Garden in Gloucestershire has had over 15,000 guests pass through its doors since opening and has featured heavily in the national press. Cool Camping author Alexandra Tilley-Loughre described it as, "a glamping experience like no other", after our first visit in 2011 and, in recent years, this Forest of Dean escape has gone on to feature in our best selling Glamping Getaways title, alongside other guidebooks.
Accommodating up to 60 people at any one time, The Dome Garden cost over £1 million to set up, has regular returning visitors and an excellent reputation, meaning that the new, prize-winning owner will be taking hold of a debt-free, profitable business with a strong income and excellent financial figures.
£200,000 alternative
Fancy taking part but, when it comes to the crunch, don't want the responsibility of running a glamping site? The chosen winner of this competition doesn't have to take the keys and run head-long into the forest, with a whopping £200,000 cash-prize alternative also available.
"Ideally, the winner will receive The Dome Garden as the main prize. If they can't go through with it for any reason, we think the alternative offer of £200,000 is still a huge chunk of money for investing just a tenner," co-owner Jonny Clothier commented. "Either way it will still change someone's life for the better."
How it all works
The total number of tickets sold is capped at 250,000 to ensure reasonable odds for the main prize. The Dome Garden business (or £200,000 alternative) will only form the main prize if the minimum number of 150,000 tickets is reached. If the minimum number is not reached, The Dome Garden will no longer be available and the cash prize will be reduced to up to £150,000. 40 runners up will also each receive a £400 voucher towards a Dome Garden holiday.
"This is a chance to live in a unique, extraordinary environment, running a business that is satisfying and demanding but only takes up just over half of the year,"  Jonny continued. "Unlike us, you don't have to spend one million pounds for the chance of owning it – it's just a tenner."