Most people pack the tent away come winter, but adventurer and author of Wild Nights Phoebe Smith, explains why you should consider giving winter camping a try…
Strong winds. Snow. Single digit temperatures (or lower). There are always ample excuses you can use for not camping come winter. I know because I've used them myself. From sites being closed, to fields being boggy or my tent not being up to the job, I used to be convinced that the cold season was not the time and place to be tent-bound. But that all changed last year.
It wasn't that I hadn't experienced a winter camp before then. Several years earlier I'd awoke to find my tent covered in an inch of snow when a freak storm had blown in during September in Yosemite National Park, California. I'd once misguidedly timed a trip to the Lake District during a big event and left myself with the only option of camping in a very wet farmers field for two nights in December with – I soon discovered – I leaky groundsheet. Then there was the time on the Norfolk Coast when, unexpectedly just before Easter, the mercury dropped to -15C and I had to run from my tent to a public toilet to cook dinner (my camping stove wouldn't light outside). But what makes all those experiences different from the one I had last winter, is that for the first time in more than 10 years of being a wild camping addict, I headed out – purposely – to sleep high in the mountains, in November and December. I had set myself a challenge to sleep at all the extreme points of Britain (the highest, lowest, northern, eastern, western, southern and centremost points on the mainland) and my first night was going to be on the slopes of Ben Nevis.
The first issue with winter is the darkness. Once the clocks fall back in October we start losing the precious hours when we can pitch a tent in daylight and when I arrived at the foot of the Pony Path a little after 4pm, it was already going dark. Lesson one – getting to your camp spot early is key (that and always take a headtorch).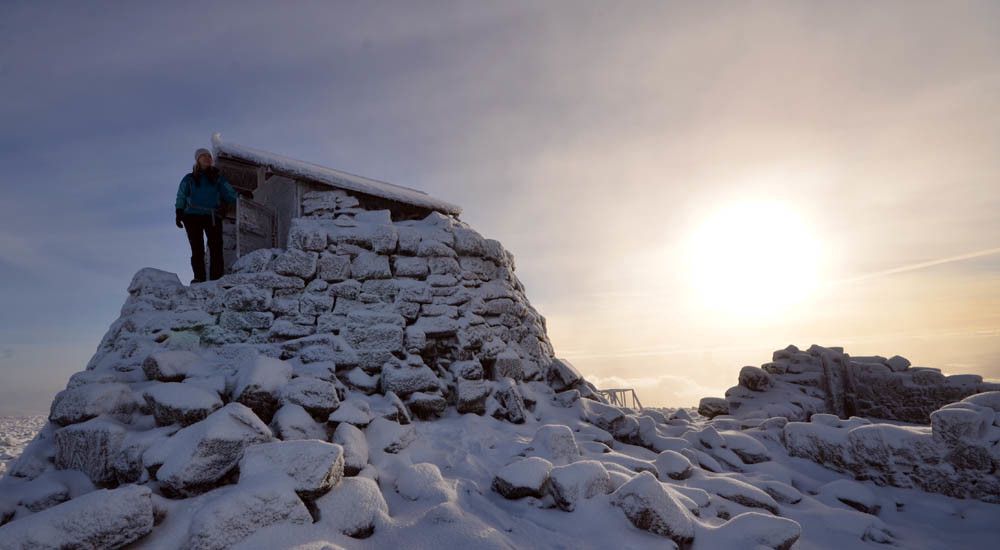 The second potential problem is gear. Packing my bag before leaving the car took a little longer, but that's only because I didn't want to give myself a reason to call my camping off. I not only took a four-season tent (one that I definitely knew did not leak) but also my warmest sleeping bag and a good quality sleeping mat – winter camping is not the time to skimp on the basics.
The third thing to remember with doing any outdoor activity in winter is energy. With a heavier pack than normal (courtesy of all the gear) you will not only use more walking to your campsite and setting up your pitch, but you'll also get hungry too. So plenty of snacks and a hot drink are mandatory.
Walking a little slower than usual, but feeling the reassuring bulk of an extra chocolate bar in my jacket pocket, I took off over the wooden bridge and immediately began my climb. Despite the cold air and a fizzle-like spray of rain I was feeling hot.
Distances always seem to take longer to cover as night falls. Sheep – so friendly-looking in the daytime – take on sinister shapes with snake-like eyes that glow in the beam of a headtorch. I wasn't sure how high I'd go that night to pitch my tent. I knew the weather was worsening, so I went with several plans and was ready to adjust them according to conditions (a vital move in the snowy season). With a glooming cloud steadfastly heading my way I knew it wouldn't be long before I had to call it. But for now I plodded onwards, listening to the satisfying crunch of my boots on stone.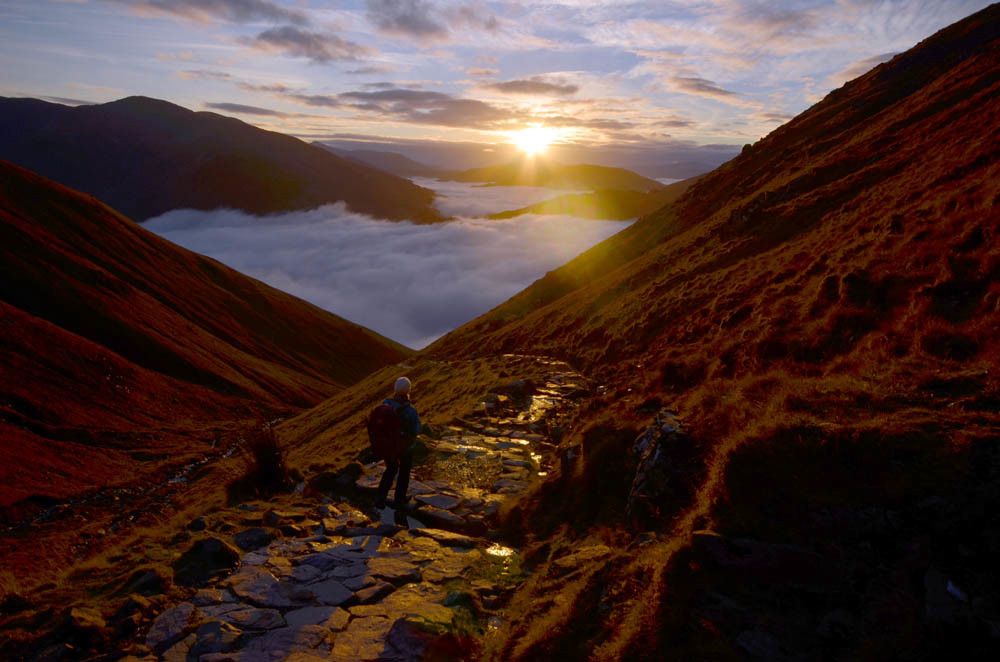 As I turned the corner on one of the track's switchbacks, just above what climbers call Half-way Lochan, at 570m above the valley, something changed. The wind picked up and it got increasingly hard to see. Then the rain began to come. Hard. I couldn't make out anything anymore, not the path, not the clouds, not even the sheep. A freezing fog descended and on this more flattened section of land the wind picked up blasting me with Arctic-like air. The weather had made the call for me. I would have to stop.
I edged to the side of the path and felt the squelch of grass underfoot. Turning my headtorch on full I spotted a large boulder and made my way to it, it would give me some shelter from the wind. Throwing off my rucksack I began to pitch my tent. I'd brought an extra piece of tarp for the ground (in case it was rocky) and had practised erecting my nylon shelter at home first so that I knew it's peculiarities well. Within minutes it was up.
Jumping in I was surprised at the difference it made. The chill was diminished instantly, the well ventilated porch provided space to boil up my camping meal and by the time I'd pulled out my camping mat to sit on, thrown on my down jacket and drunk a hot drink from my flask, it all felt very homely indeed.
I worried I wouldn't sleep well, but my pre-planning paid off – with hot food in my belly and warm but thinner layers to change into, my headtorch suspended – lantern-like – from the tent ceiling and an extra warm sleeping bag to snuggle into, I felt my eyelids grow heavy.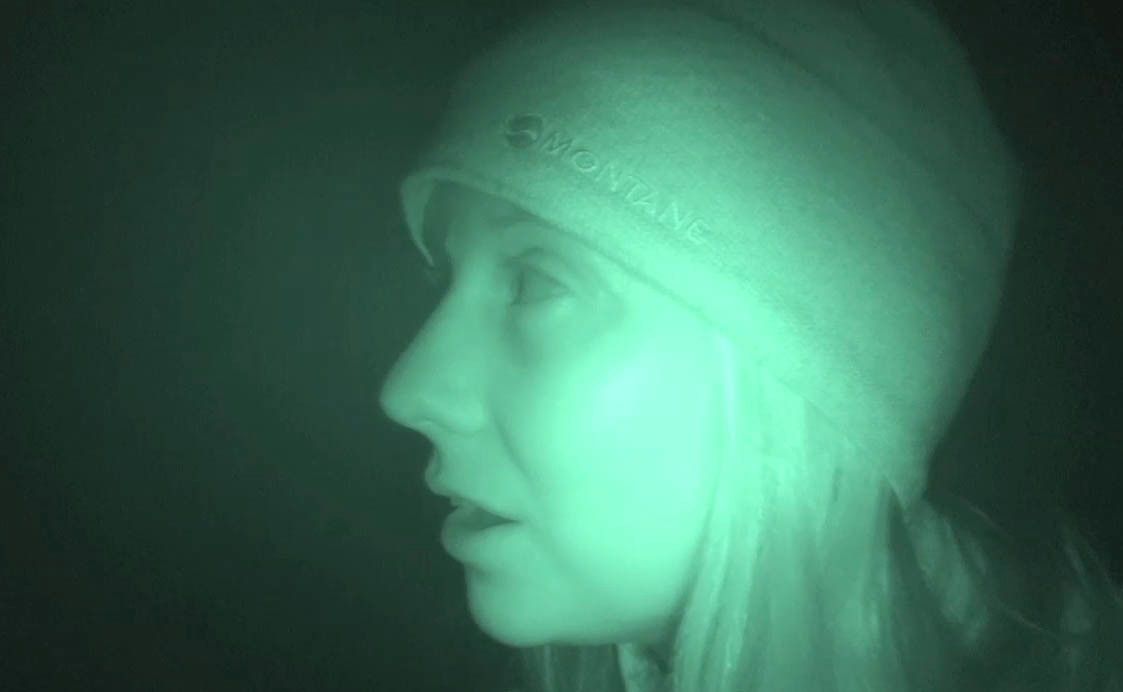 When I woke before dawn (after 8am in winter – so the benefit of a lie-in in camping terms) the fun really started. It was cold for sure, so cold in fact that the hoarfrost that coated my tent also covered my boots and stuck the two together. But when I popped my head out the door I was greeted by a smattering of stars in the clear sky above. I noticed with glee that the wind had died down and I stood for several minutes here on this mini hillock, gazing at the mountains and the stars reflected in the water of the lochan, knowing that there was no one else in the thick of all this beauty but me. It was as if Mother Nature had laid on a special show to reward my efforts.
I packed away fast to take advantage of this situation. And so, while everyone else was still in bed, I was already half-way up the highest mountain in the UK. The higher I climbed the lighter it became and then, all of a sudden, the sun broke the clouds to reveal a wonderful and rare phenomenon – a cloud inversion. This is where the temperature up high is warmer than it is in the valley (usually it's the opposite) causing the mist to linger lower down – an occurrence uncommon in summer, but much more likely in winter. From here I could spy a handful of hilltops peeking through the white clouds like islands in a fluffy sea.
The day continued on a literal high – from walking on virgin snow on the summit plateau, to lingering for lunch with the whole of Scotland stretching out below my feet and, of course, the ever-constant inversion, which stayed until after the sun began to set. If ever I needed a reason to persuade me to grab the tent this time of year this was it. To think that while everyone else in the valley would have been assuming the weather was bad – would have been be busy making their own excuses to not get outside, to not go camping, to stay in their centrally heated houses – I had been witness to one of nature's most breath-taking winter marvels, basking in the sun, with views that would stay with me forever.
So this year, when the temperature drops, I won't be making my excuses; I'll have my tent packed ready for the next adventure.
Phoebe Smith is author of Wild Nights: Camping Britain's Extremes (Summersdale; £10 – out now), in which she recounts her challenge of becoming the first woman to sleep at the extreme points of mainland Britain, solo, on consecutive nights. Read Phoebe's previous articles for Cool Camping or follow her latest adventures on twitter and her website.