Care-free Welsh camping with acres of space, excellent walks and a beautiful woodland on the doorstep
It's very easy to get lost at Top of the Woods Campsite. Not in the literal sense – owners Soo and Jon give you a map on arrival – but lost in the more airy-fairy, do as you care-y sort of way. The atmosphere is one so laid back it's almost horizontal, the flittering of bird and wildlife enlivens every acre, and the light, white-grey wisps of campfire smoke give that essential campsite feel that holiday parks just can't contend with. No, there's something lose-yourself special at Top of the Woods.
All the same, when we talk in the literal, this is a sizeable patch of land. Spread over 27 acres, campers here aren't exactly short of space. And, as if to add to it all, where the corner of the site feathers into a mature flank of oak trees, the gargantuan Ffynone Wood begins - a vast 325 acres of forest - much of which is now a designated SSSI.
The varied accomodation comprises of two large camping meadows (with just 30 pitch-where-you-want spots spread over more than 10 acres), 1 bell tent meadow with 5 fully-furnished bell tents, 4 luxury safari lodges and 9 so-called pioneer camps (posher, more spacious bell tents really). There are no electrical hook-ups which means the campsite has a rustic, traditional atmosphere, something accentuated by the fact cars are parked by the entrance with wheelbarrows for trucking in your gear.
When you pop your head through the tent flaps, its not long before you find a neighbour – usually of the non-human kind. The woods have the largest resident badger population in West Wales, rabbits work like natural hedge trimmers, nuzzling along the meadow edges and, if your particularly lucky, otters can sometimes be spotted slipping into Afon Dulas, a charmingly peaceful stream that runs along the southern edge of the site.
Once part of the huge Ffynone Estate, which was split up in the late 50s, the campsite is located on quaint Penralt Farm. The 18th-century farmstead still has chickens scratching around outside and three kunekune pigs that grey the line between pet and farm-animal. Within the Georgian farm sheds, house martins too and fro by day, while rare breed of bat (the farm hosts 7 of the UK's 17 bat species) also nest within the eves. Slightly separate from the other farm buildings, a Dutch Barn has been converted for camper's use as a covered picnic area. It has tables, hammocks and a stash of games for anyone to use – a handy place to mull over the mapped out walking route that leads you into the trees to the enchantingly named 'secret waterfall'.
In all, Top of the Woods has an almost fictional feel; a countryside atmosphere embodied in books and paintings of the past. Like a care-free kid from the famous five you can delve into the woods in search of adventure or play cricket in the meadows and picnic in the sun. The Pembrokeshire location may often be the reason campers first arrive – a valuable attraction in itself – but by the time they leave many find they've hardly left the campsite at all, such is its size, shape and sheer space that's there to get lost in!
Gallery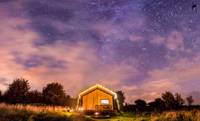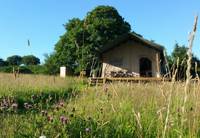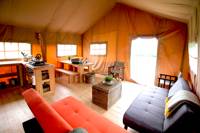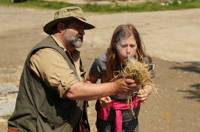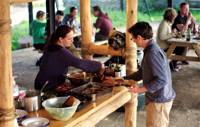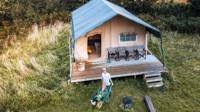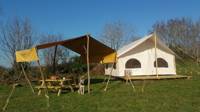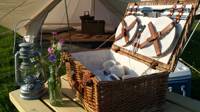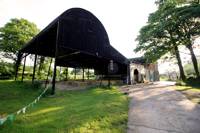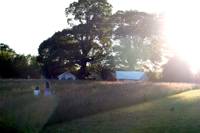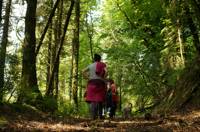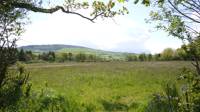 Video Tour
The Owner Says
Places like Penrallt Farm are a rare and special thing in today's world. Penrallt loosely translates from the Welsh as "top of the woods", and is our 27 acre Georgian farm in the stunning unspoilt Teifi Valley in Pembrokeshire, West Wales.
Our mission is to inspire through nature and to be the best loved eco-holiday business in Wales!  Everything we do is inspired by creating something which is sustainable, enriching and unique.
Reader Reviews
Add Your Review
Our Best Family Holiday Yet
Top of the Woods is fantastic and so family friendly, we took our 8 month daughter and pitched in the meadow and we all thoroughly enjoyed it! As it was our first time camping with her, we also added on the food package which is both relaxing and a wonderful way to meet and talk to other campers. The site is beautifully maintained, with keen focus on suistanability. The surroundings and scenery are equally stunning and you are only a short drive away from breath taking beaches, walks, castles and wild life sanctuaries. Jon, Soo and their team are all so welcoming and we're already planning our return next season! Highly recommended! 😄
top site
this is a well kept site in a top location. in terms of the site, soo and jon work tirelessly to keep the site clean and tidy. they are both very welcoming and give a personal touch which you don't find at most other sites. jon saw us one morning when he was on the way to the feed the pigs and he asked if we would like to join him - the kids loved it. it felt very safe to let my 5 year old run free and he enjoyed the freedom of exploring. there's no swings, slides etc but the site doesn't need it, there's plenty to keep little ones imagination run free. we love visiting this part of wales as there is so much to do no matter the weather...we will be returning!
Peace and space in a chilled out setting.
What a find! After a long drive we pulled up at top of the woods and felt all the day to day stress fall away. The welcome from Soo and Jon was genuine and the "drive time"stew very welcome after the M4. The site is split into glamping fields with different levels of luxury accommodation and the camping field. There is plenty of space for all, and the camping field had lots of level pitch options. Plenty of hot water and a communal area in the Dutch barn meant our 10night stay was easier than it could have been. Kids loved the space and the straw bales, and we enjoyed big sky's and friendly people.
Dark sky adventure
Lovely family friendly campsite with oodles of space to explore. Stayed in one of the Safari Lodges which was well worth it as we had plenty of space, and they were extremely cosy and well kitted out.
Beautiful part of the world
A relaxed, picturesque and friendly campsite. It has huge grounds so even when it's busy it feels quiet and you have your own space. There's a great five mile walk / run from the campsite and loads to do within a 20/30 min drive. That being said, you could quite easily sit on the site and relax for a couple of days and feel completely removed from day to day stresses. Brilliant hosts who are super friendly and very helpful.
Relaxing and enjoyable weekend stay
We absolutely loved this campsite. We had a warm welcome from the team and got set up in the camping meadow - which has spectacular views over the countryside. We chose to add the Weekend Food Package onto our stay (which is detailed on the campsites website) which was a great decision. Soo and Jon cooked a fantastic stew on Friday evening which warmed us up. The Dutch Barn, where food is served, also has the hay bales so once the kids were finished, they could play safely whilst we chatted. The hammocks were also a favourite for all of us! The breakfast was wonderful, as was the Saturday BBQ - would highly recommend adding food, it made out whole trip totally relaxing, with the added benefit of also getting a fire pit for our pitch. The toilets and showers were modern and always clean, with enough there for everybody. There was a lovely Secret Waterfall Trail to follow as well - which the kids enjoyed as much as the adults. The site was a 20 min drive from Poppit Sands which was an absolutely beautiful beach and 15 min drive from Cardigan where we also visited. We always felt like Soo and Jon were available to help if we needed anything and nothing was ever too much. Thank you for a great stay!
Fantastic part of the world
Friendly owners, lovely site, and communal feel while being as private as you need (there's plenty of space). Lovely circular walk that starts and finishes on-site is a bonus, as were the yoga classes that were on we were there.
Magical stay
We had the most wonderful couple of days here... it really has a magical feel. I went to Penrallt with our three children on my own and I was a bit worried about it ...but it was fantastic. The owners are the most hospitable people. You feel like you are on holiday with friends as they are so genuine and friendly. They couldn't do enough to help. Even their recommendations on where to go as family were fantastic and shaped our stay thoughtfully. The site is so well thought through... and everything is spotless! The showers are hot and again, thoughtfully built. I had a hot shower with the three children... all together and excellently planned. The animals were lovely and a bit draw for us as a family. The children loved the chickens, Dylan the dog and the pigs. The area is wonderful and so much to do. We are planning our summer trip there now.
Beautiful site with excellent hosts
We stayed at Top of the Woods for three nights and had an absolutely lovely time. The site was beautiful, well laid out and well equipped. Soo, Jon and Dylan offered the warmest welcome. They were very friendly and helpful throughout our stay. We joined them for the BBQ on the Saturday night which was delicious. We are one vegetarian and one meat eater and can vouch that all the food was excellent - we very strongly recommend partaking in at least one meal. This was followed by drinks around the fire pit with our hosts and fellow campers which was a lovely end to the day. The site seemed appropriate for all types of guests - there were families, other couples and groups staying while we were there and all were very happy. The pigs are a definite attraction! The bell and safari tents looked brilliant. Soo showed us around the safari tents and we are planning to bring a group back with us to try them out soon. The facilities were great - clean, environmentally friendly and we didn't have to queue once. We walked to the secret waterfall - which is so peaceful - what an enchanting bonus to a welcoming, picturesque place!
Lovely campsite
We had an amazing stay at Top of the Woods. We arrived late on Friday evening as it was starting to get dark, we had called ahead and Soo had kept us back some stew to eat. We pitched our tent in one of the two expensive and quiet meadows while Soo got the stew ready, we picked it up from her along with a fire pit and some wood and went back to our pitch for a tasty dinner and to watch the stars in the dark skies of Pembrokeshire. I was impressed by the policy of not overbooking the meadow with the pitches around the edge. The facilities were great with clean toilets, showers and washing areas. There were multiple recycling and water points and even somewhere to charge a phone! The result is a very friendly campsite, this coupled with the stunning location leads to an extremely enjoyable experience.
Great Hosts
Just got back from Top of Woods and I can't believe it has been only seven days, it feels longer and I mean that in a good way. We have a real sense that we have got a way from it all and feel fully relaxed. I get the impression that Jon and Soo have put a lot of time and effort in creating a place they really want to spend time in, and then invited lots of people to share the experience! Jon and Soo put a lot of effort in being hosts, making time for every guest, and we certainly felt they welcome there. It's a fantastic spot, camping meadows beautiful and the kids had a great time exploring and making new friends, but all in a very safe environment (and no need for playgrounds). My favorite bit has to be having camp fires by the tent, staying up late until the kids fell asleep snuggled up by the fire under the stars! The visiting story teller and the weekend breakfasts were great too. There were lots of friendly campers, the site clean and tidy, showers and facilities all good and a great base to explore a really interesting county. We would recommend anyone to go there.
Very welcoming and inspiring
Top of the woods is an ideal site for campers looking for a back to basics stay (there are  very luxurious tents for glamping as well). Located a few miles from Cardigan near the village of Boncath It is centered around their 300 year old farmhouse, ideal with spectacular views from the tent fields. We were curious about the inspiration for the name until we took the walk mapped out by Sue herself. Part of the walk takes you along the ridge of a valley from which you can see the top of the trees from your own level, that explains the name.
The site is widely spaced with plenty of room to spread out and the attitude of the owners is very laid back That said, they were genuinely welcoming and inclusive. This was clearly demonstrated by the feature of the Dutch Barn, a common area used for get together s. Here we experienced a home cooked barbecue (all local produce) and a breakfast with the best coffee weI had tasted during our  entire holiday! They really couldn't have been more helpful, giving advice on local amenities and reception was fully equipped with information pamphlets. Their Wheaten Terrier was also very enthusiastic!
Sue and John were clearly committed to the local area and it's residents, using local products and services wherever possible. Their non-authoritative commitment to recycling have also inspired me to be more environmentally aware now that I am back home. 
Foxgloves, fires, frisbees and food!
Last weekend me, my husband and dog Giant escaped to Top of the woods in search of daydreaming time and a much needed retreat from the city. Living in Wales we never need to go far to find the right kind of escapism - mountains, lakes, beaches and meadows are at most a couple of hours drive (we are very lucky). Heading out in the van and taking in the beautifull scenery we made our way to a new campsite we hadnt yet tried. Weve been to a fair few and can honestly say that this place is something special. The cost of camping isnt the cheapest (you can wild camp with no facilities for about £8 a night) but you can also spend £25 a night by the beach and not have anything more than a tap and a loo. Top of the Woods pitch your own is £20 a night and well worth it. There are two beautiful meadow fields to camp in and after a tour of the facilites we got to pick where we wanted to go. Each field has its own compost toilet (which is clean and really easy to use exactly like a normal toilet - nothing to fear)
The actual location is wonderful, loads of walks to go on, through woods and along the river and Soo and John have a really cute secret waterfall map which is well worth adventuring to.

The whole site is great, really well organised - the carpark is the first one we've been to that has wheelbarrows ready and waiting for you to use (free of charge) and it is pretty close to where you camp, but not close enough to ruin any view of the space around you.

Our favourite thing was the Dutch barn, a great structure that they have used to create a social space, at night its lit with strings of light bulbs and all the furniture is hand crafted and beautiful - we booked on to have a BBQ on the Saturday night and had the most delicous food - they catered for me being vegetarian with some wonderful (i think carrot and squash) burgers, aubergine, and halloumi as well as an array of salads and hot sauces!

Soo and John also offer breakfasts, yoga, bushcraft and walks with their dog Dylan (who if you have seen Fraggle Rock is the spitting image of Sprocket!) You can also hire your own fire pits / bbqs or join people by the communal fire pit in the courtyard.

Everything is super welcoming, Soo and John do ALOT to make sure guests are comfortable and happy and id recommend giving them a try. Great value, great location, loads of extra little touches and a really honest place. We look forward to returning and seeing it grow :) 
A Very Special Place
I have just returned from 4 nights at Top of the Woods and it really is a special place. It was far more than a campsite it was a real community. Jon and Soo work tirelessly to ensure that the guests are happy and their dedication shows in the site. They talk about it as a work in progress and based on what they have achieved so far this could be unbeatable. 
It is not the cheapest campsite you will find but you do get what you pay for, limited numbers mean that the site feels tranquil and you can pitch where you like, the facilities are basic but clean, the dutch barn is a great addition and we joined the owners and campers for breakfast one day and their BBQ on Saturday night. All well prepared and a real fun atmosphere.
It is worth noting that this is a no vehicle site, you park just before the entrance and then have to wheelbarrow your gear to the fields. Now this is a bit of work and can become annoying whilst doing it but the pay back is well worth it, children can be left to run free with no worries about cars and it keeps the site very tranquil.
The location is stunning, the waterfall is well worth the walk with all three children fully enjoying the crystal clear water (despite the lack of swimwear!) There are beaches only a short drive away and so much to do that we could have happily filled 4 weeks rather than 4 days.
I cannot recommend this site enough, we will certainly be going back and all the new friends we met said the same. If you are reading this review then book and go, go as soon as you can and enjoy some time and one of the nicest sites I have ever visited. 
A beautiful place
I picked Top of the Woods on a whim really and am so glad that I did. It's a beautiful site with its own woodlands, and the owners Jon and Soo were both kind and welcoming. I managed to get there entirely by public transport (took a little research, mostly using google, but doable.) And on arrival wa given a warm welcome by Jon, a tour of the site and facilities, and the option of where to pitch. I was also given maps and information on local walking including a map of the local woodland walk (did that on Sunday and it was beautiful, and included a little waterfal.). The site itself is lovely - I chose the meadow field with its lovely view over the hills. The bus from the local village, Boncath, into Cardigan is at times that are useful for those without a car, and from Cardigan its about an hour walk down to Popit sands which is a beautiful sandy beach. I would definitely recommend Top of the Woods to anyone looking for a woodland escape; good walking, lovely views and lovely people!
Perfect escape
I picked Top of the Woods after (way too many) hours of checking out campsites online, and was so pleased that I did! My other half and I drove down straight after work on Friday, keen for a weekend in the countryside. We were met by Jon and Soo as we arrived, were given the guided tour and the option of where we wanted to pitch. Being the last weekend of the season, it was awesomely quiet, so we ended up with a field to ourselves, overlooking the hills, and surrounded by trees, but only a few seconds walk to the facilities. We hunkered down with our fire pit and some logs Jon sorted out for us, and listened to the sounds of the owls and the falls. Saturday night we opted for the BBQ which was amazing! Exactly what we needed after a day of stomping, so much delicious food and great company in the dutch barn. We finished the night off with another chill in front of the fire pit watching the stars, the sky is so clear here, you can literally see millions, it was magical. We had brekkie provided by Soo and Jon on Sunday morning, which was amazing, and had a natter with them and the other chap who was sharing the campsite. I was blown away by Soo and Jon's hospitality, theyre both really friendly, welcoming and nothing was too much to ask. There's the added bonus of Dylan the mutt and the mini pigs, the campsite is near enough to Newport and Cardigan and the beaches, there are some great walks nearby. I'd recommend doing Gwbert to Mwnt :) Really looking forward to seeing how the campsite evolves, if this is only the first season, Soo and Jon are on to an absolute winner, we'll definitely be back :)

Fantastic!
My fiancé and I stayed for 3 nights earlier this week.  We couldn't have asked for a more peaceful setting for a little break before our wedding.  We were made to feel at home from the moment we arrived, with a personal tour of the site and explanation of various eco credentials from the owners.  As we arrived after a long drive we opted to have the BBQ on Saturday night, at only £8 a head it was an absolute bargain.  This was followed by an evening of relaxed drinks around a camp fire made from an old tumble dryer drum.
The Dutch Barn was great, allowing us to get out of the rain and play some badminton, jenga and cards.  A really useful space which we both commented would be fantastic for weddings in the future!
We did quite a bit of walking whilst in the area, heading to the coast and getting the bus from Cardigan to Newport before walking back to Cardigan (about 17 miles, with some tricky trails) as well as the secret waterfall walk around the campsite.  Both walks were great fun and there is plenty of wildlife to spot, including numerous birds of prey, rabbits and butterflies.
The facilities, although basic for the time being, were more than adequate, clean and well maintained.  This ties in to the "back to basics" feel of the site, which we loved!  We definitely intend to visit again, and wish we could have stayed for longer.
Fairytale Setting
Myself and 5 friends stayed with Jon and Sue last weekend, eager to escape the manicured lawns of holiday-camp style sites and being enticed by the rustic charm shown in the website photos.
After a tiresome 3 hour drive after work from The Cotswolds on Friday night we couldn't have wished for a better reception. Arriving at just gone 9, we pulled up to a charming farm house and were greeted by Jon and Sue, who had been waiting for us to arrive over the beatifully cooked homemade stew (£6 each) we had ordered with them previous to our arrival.
The greeting was incredibly warming, and combined with the surrounding forestry and the miles of rolling hills we instantly felt the stress of our office jobs drain away. Jon and Sue had put us in our own field so we had complete privacy and we soon made ourselves at home with our tents opening out to the incredible views.
The dutch barn is a really special addition to the site, creating a space that resonates the relaxed social areas you come across in travelling hostels across the world. Benches made from the wood of the surrounding forest, and a hammock big enough for a couple create the perfect atmosphere for socialising between yourselves, with your 'neighbours', and even with Jon and Sue who also joined us for a drink.
There are a few beaches within 10 minutes of the site, which Jon and Sue (as well as any other locals you ask) will be able to recommend. This is, however, where a car would be handy as the site is a little out of the way (which is key to its charm). If you're lucky like us you may even spot some dolphins! If you did want to stick to the site, you would be more than entertained during your stay. The site is surrounded by a beautifully picturesque forest that could be the design of your favourite fairytale. Jon and Sue have created a hand drawn map that takes you on a 1-2 hour walk on forest paths lined with majestic trees. The walk is broken up by the magical 'secret waterwall', which could provide hours of entertainment alone- It's deep enough to swim and the surrounding area has been adorned with rope swings and picnic benches.
We were all incredibly impressed by both the warm welcome of Jon and Sue and the wonderful place they've managed to create in just a year- their passion is reflected in every aspect of the site. This site isn't for those that want loud boozy evenings and close-by shopping but if you're looking for somewhere a little bit special and back to nature then Top of the Woods definitely won't disappoint.
Rural with good facilities
Myself and 7 friends stayed here over the last weekend.  Its a beautiful  and very rural site.  Its not easily accessible without  a car although it is do able. We had to get a taxi from Clunderwen  which cost us £50 one way (our lifts car over heated)  .  However the site itself is beautiful. 
Jon and Soo  have set up a couple of fields to try and give bigger groups there own space.  The facilities  are good.  Hot showers/portaloos  and a Dutch barn which  is great  for socialising in the evening and when the bad weather hits.
They offer a bacon sandwich / veggie sandwich for breakfast  served with fresh ground coffee /tea fruit juice (£5).
Over the  weekend they also offer a BBQ £8 a head.  Which had a lot of choice  for the meat eaters and the veggies in our party seemed happy to.  I would say the bbq felt better  value  for money.  But overall  the food on offer  was good and of a Hugh quality. 
Jon and soo are very welcoming gave us lots of information  on the local walks.  
There is a pub and small shop about 1.5 miles up the road.  
The site is perfect for families  as there are great facilities  in the way of the showers and loos in each field.   Defo worth a look if your  in the area. 
Best Price Guarantee, with no fees
Instant booking confirmation
Trusted for over 10 years
A chance to win £50 of Cool Camping vouchers!
Book campsites near Top Of The Woods