New Pencoed, Lawrenny, Pembrokeshire SA68 0QD







An impeccably crafted shepherd's hut and a floating glamping cabin, set in scenic farmland just beyond the Daugleddau Estuary
A mile and a half east of Lawrenny in Pembrokeshire, newly opened Dragonfly Camping is home to some suitably quirky glamping accommodation. It's befitting for the area. This is, after all, the most sheltered stretch of the coast, where the long, deep river estuary – Cleddau Ddu – is populated with sailing dinghies, kayaks and tiny tending rowboats that to and fro from yachts. In summer Lawrenny Quay is abuzz with folks in deck shoes and buoyancy aids. So, along with Dragonfly's resplendent shepherd's hut, where better to stay nearby than in a floating, boating, buoyant glamping home?
Set on a small lake on 300-acre Little Pencoed Farm, the Kingfisher Housboat is safe from the ebb and flow of the tidal estuary and, instead, stays remarkably still on its calm, quiet waters. Nevertheless, the home gently shifts as you step aboard, reminding you that this is very much a floating abode, while the exterior decking means, on a sunny day, you can jump straight into the lake for a swim. Inside, the floating cabin is all exposed pinewood and timber finish. There's a master bedroom (with a king-sized bed), a bathroom and an open plan living space with a modern kitchen and a sofa bed for two more campers. It's luxury living, just with water on every side.
Back on terra ferma the Kingfisher is accompanied by a second luxury dwelling, a two-person shepherd's hut, built by local craftsmen. The attention to detail is superb. An inbuilt double bed is supremely comfortable, cocooned at one end of the hut, while a stove warms the entire vessel and a beautiful (and vast) copper basin provides a rustic sink in the kitchen space (worthy of a fancy farmhouse). Space inside has been cheated by adding an extra, up-cycled horsebox next door. – it houses an off-grid bathroom with a gas-powered hot shower and allows for extra room inside the hut itself. There's even space to pitch an extra tent outside, too, if you fancy bringing a few more people along.
It's a half hour walk into Lawrenny village, home to all the traditional essentials – a shop, cricket club and 12th century church. It's a little further down to the quay where the boat club is neighboured by a popular tearooms. The garden there makes for a great place to have a cuppa before or after walking a stretch of the waterside footpath, which takes you through the trees of National Trust-owned Cleddau Woodlands. The trail is a part of the longer and renowned Pembrokeshire Coast Path, while the endless popular beaches of the county are all within easy driving distance too.
Gallery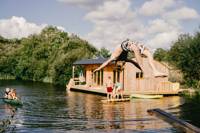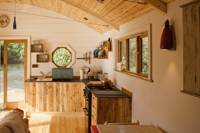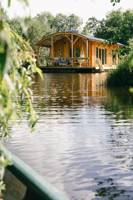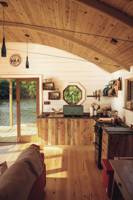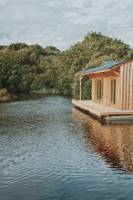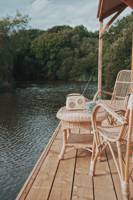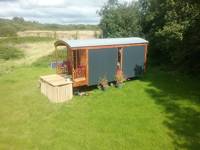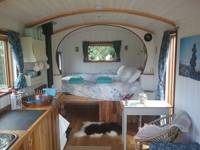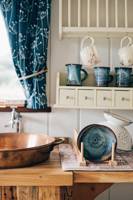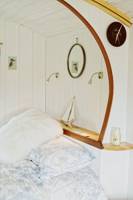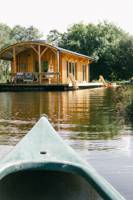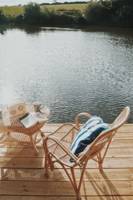 The Owner Says
Dragonfly Camping is a small ecofriendly, green campsite on the Cleddau Estuary. Based in the heart of our organic dairy farm, the campsite is situated in an area set aside for wildlife and adjacent to our pond. Accessed by a long stone track off the quiet country road, it is a peaceful, tranquil haven teeming with birds and woodland animals.
Set up in 2017, this is a small secluded site with one Shepherds Hut and a Houseboat. Both have their own private space. Imagine sitting around the campfire toasting marshmallows, gazing at the stars or simply sitting on the decked porch on a balmy evening watching the sunset over the meadow and the pond.
Dragonfly Shepherds Hut built was by master craftsmen to our own specification with its cosy interior, fluffy kingsize bed and bush bath, is an ideal hideaway for couples. Kingfisher Houseboat, meanwhile, floats on our secluded pond and has stunning waterside views. It is ideal for a couple or family of four.
Bruce grew up here and has been farming the land for over 30 years, building up his prized mixed organic dairy herd. Over 300 acres, Little Pencoed Farm is a mixture of woodland, grassland, saltmarsh and moorland providing a wonderful pasture for the cows and sheep and a unique habitat for many bird and animal species. With his wife Nicola, they now hope to share this space with people wanting to enjoy the outdoor experience at Dragonfly Camping.
Reviews
Add Your Review
And breathe
This place is just magical. From the moment we arrived to the moment we, sadly, left I enjoyed every second The hut is extremely well appointed, bedding, kitchen area, wood burner. All fabulous. It's so peaceful and the lake is wonderful to swim in. Watched the tiny ducks diving, the swallows feeding and the bats in the evening. Perfect, just perfect. I'm almost reluctant to leave a review because then other people might go and it gets too busy. We've been to a few places round the world but this really is at the top of my list of places to return to. Like one of the other reviewers I was a bit weepy to leave. Great weekend. Thank you
The whole experience was outstanding including the location, facilities and the people.
We arrived after a long drive including a breakdown on the motorway. As we turned the corner to the Kingfisher hut our breath was literally taken away. We were met with an extremely warm welcome and calming reassurance including a recommendation for a local (excellent) mechanic. Within minutes all the stress and strain of the journey was gone. We swam in the beautiful pond morning and night and woke to the ducklings happily swimming about in the morning. My highlight was seeing a kingfisher on our last day. I could not fault anything the warm welcome, comfortable and beautifully planned hut and the excellent Wales people and countryside. As we waved good bye I wanted to cry and only cheered up when I thought that we can and will be back as soon as possible.
Sitting on the terrace watching the birds dip and dive over the water and waking up to peace and quiet
Very secluded and in harmony with nature. We even glimpsed a kingfisher on our last day. It was like having a private piece of heaven and great fun for the kids with immediate access to the lake. thanks to Nicola for being a lovely host. Will certainly recommend to friends and family
The sound of nothingness and total relaxation
With the hussle and bussle of everyday life, its easy to forget its the simple things in life are what really matter. The Kingfisher Houseboat is literally the perfect getaway. Waking up, lying in bed with the doors open, watching the swallows dive, the HUNDREDS of blue dragonfly, and the sound of absolute silence. There is literally nothing better. We have travelled all over the World, and stayed in some incredible places but this tops it all...and it was 10 minutes down the road from where we live. An absolute hidden gem. Stunning decor, a log fire, a tasty breakfast hamper, a canoe for the lake, a swing chair on the decking - Kingfisher has everything and Nicola and Bruce have thought of everything. I am racking my brain trying to find something that wasn't perfect. We shall definitely be returning! Thanks guys.
Amazing place in a beautiful location, can not wait to go back
really beautiful houseboat in extremely peaceful and beautiful surroundings, lovely helpful owners. highly recommend it to others and can not wait to go back for a longer stay
Win a £100 Blacks Voucher!
If you've stayed at Dragonfly Camping campsite, please take a minute to tell us about your experience. Every month, one lucky reviewer will be picked at random to win a £100 voucher, courtesy of our recommended retailer Blacks. Each review counts as one entry, so get writing!

Best Price Guarantee, with no fees
Instant booking confirmation
Trusted for 10 years
A chance to win camping goodies in our regular competitions!
Book campsites near Dragonfly Camping