Cosy, family-friendly safari lodges beside a beautiful pond, each with a wood-fired hot tub.
Here at Cool Camping, we've had our fair share of camping crises. Like the time a gale ripped a hole down the side of our tent and we held it together with a combination of sticky-tape and plastic bags. Fortunately, Under the Oak Glamping is here for those times when traditional camping seems like too much hassle. You'll find plenty of creature comforts, such as a comfortable Welsh box bed, well-stocked kitchen, and – oh thank you, Under the Oak – a hot tub filled with natural spring water, heated by a wood burning stove. Simply pack a few changes of clothes, some sturdy walking boots and a good book.
Under the Oak is set in a corner of a traditional Monmouthshire family farm, just on the edge of the small village of Bedwas, near Caerphilly. There are just three safari lodges on site, set either side of a large pond, with views stretching out to the rolling Welsh hills. The outcome is a glamping experience that's private, yet wonderfully open, with room to explore the local area in your own 'holiday bubble'. Sheep and cattle are generally your nearest neighbours and, on occasion, buzzards and red kites soar overhead, but they're happy to respect your privacy. With such an easy pace of life and an abundance of fresh air to soak up, it's surprising to think that Cardiff is just a 30-minute drive away.
Lydia and Richard look after the site, but it's been used as farmland for generations. There's a genuine sense of enthusiasm radiating from the family, and it's clear that Under the Oak is a labour of love. From little homely touches – fluffy towels, comfy cushions and a kitchen stocked with plenty of basics – guests don't want for much. The living areas of each tent offers a spacious and comfortable place to unwind, whilst in the centre, a wood-burning stove throws out heat on chilly Welsh nights. Outside, a well-sheltered veranda – facing away from the prevailing winds so that you can take in the view in all weathers – can be enjoyed for a spot of star gazing, and there's a table and chairs for alfresco dining.
The mountain above the farm is a great way to explore the local surroundings, offering excellent walks and panoramic views across to the Bristol Channel. For a big climb head for the tallest peak in the Brecon Beacons, Pen y Fan (886m), shared only with a few other walkers, and, occasionally, soldiers training. Prefer the coast? Try Southerndown which offers plenty of pebbles, sand, and rock pools. At high tide the beach disappears – as all do along this coastline – and a short walk inland reveals the remains of Dunraven Castle, one of the many classic Welsh castles waiting to be discovered.
Best Price Guarantee
Easy and Secure, with instant booking confirmation
Trusted for over 10 years
A chance to win a brand new Coleman tent!
Gallery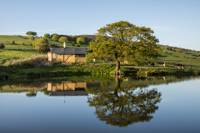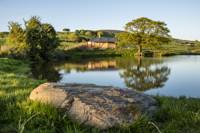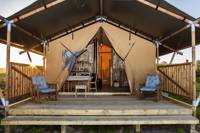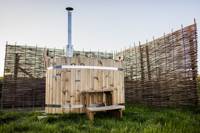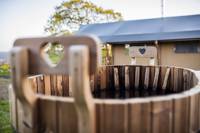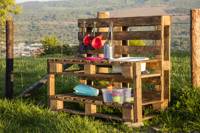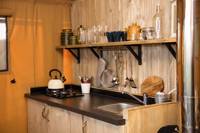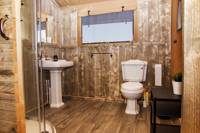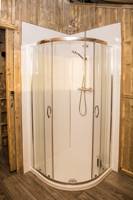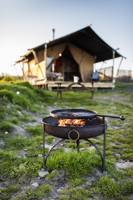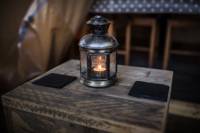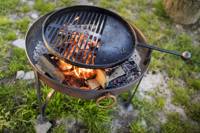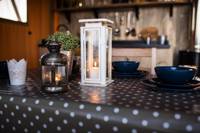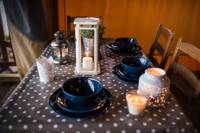 The Owner Says
Come and stay one of our luxury, boutique canvas lodges for an unforgettable experience. Get back to nature, without giving up your creature comforts!
Our spacious lodges, one new for 2019, feature a natural wooden hot tub, fire pit for cooking outdoors, wood burner, fully equipped kitchen and bathroom with a hot shower. Comfy, cosy beds are made up ready for your arrival so you can unpack and relax.
Spot red kites and buzzards soaring overhead. Wallow in your very own private wooden hot tub with breathtaking views of the rolling South Wales hillside. Indulge in a spot of star gazing under amazing dark skies or cwtch up by the wood burner with a good book. Spend time reconnecting with loved ones.
You can buy provisions from the local village which is only a mile down the lane but we have a small larder and honesty box next to the wood store where you can pick up some essentials. Our own free range farm eggs, local preserves, honey, pickles and chutneys.
If you fancy exploring, there are plenty of walks and bike trails on our doorstep. Further afield, we are in an ideal spot to explore all that South Wales has to offer, just a short drive from the city of Cardiff, the Brecon Beacons, Abergavenny and countless museums. Not to mention amazing beaches!
Reader Reviews
Add Your Review
Wonderful place for a large group!
Recently went to Under the Oak with a group of 13 people. It was great - the height of luxury camping! Flushing loos and hot showers right inside the tents, with hobs and hot water for washing up. Note that if you are planning on going with a big group and want to cook a big meal, you will either need to split up the cooking between tents or bring all 3 (quite heavy) cast iron BBQs together. We combined our strength and managed just fine but just FYI! The hot tubs were amazing, with cup holders built in and plenty of dry area surrounding to put a bluetooth speaker and enjoy the breathtaking views with some good tunes. All in all I can't recommend this place highly enough!
What We Needed.
On arrival we met Lydia who was lovely and answered all the questions we had. The location is beautiful and views are stunning. The Canvas Lodge was spotless, comfy and such a relaxing feel. Only stayed for two nights and we was gutted to be leaving. Thinking more nights next time. Highly recommended and will be going back again.
Serene
What a beautiful location. We traveled from Western Australia, to visit family in Cornwall and to experience 'Under the Oak Glamping.' Definitely worth the visit. Sunsets were stunning, visiting farm life were friendly, waking to sunshine each morning too and the hot tub added to a peaceful and relaxing atmosphere. Tents were comfortable and warm. Enjoyed every minute of our stay.
Lovely relaxing family break.
Lovely hosts. Spotless, warm and comfortable all weather safari tents. Although we were only a few miles from our home it felt like we could have been in Colorado. Beautiful scenery and a lovely family walk with a surprise for the kids at the end - just follow the arrows. Will definitely go back!
Beautiful, Relaxed & Peaceful
To celebrate our 2 year Wedding anniversary Me & my wife took our dog to Wales to stay at Under The Oak Glamping. We had an absolutely fantastic time. The location was stunning and the tub / Glamping was fantastic. The hosts were so helpful and reccomended some fantastic trails for us to do during our stay. Highly recommend!
Lovely luxurious stay
The safari tent that we stayed in has everything we needed, and more. When we arrived the fridge had a little bottle of milk and a pack of Welsh cakes which was a lovely touch. The bedrooms were already made up with lovely thick duvets, and the beds had beautiful fairy lights around the top. The wood burning stove did not disappoint especially when the weather was a bit grim. I loved the finishing touches of the tents, with cosy blankets to drape over legs whilst chilling and reading. The hot tubs were amazing and the views were incredible especially as it turned to dusk. Luckily the rain stopped just enough to cook on the fire pit outside, a lovely piece of kit that my hubby is wanting of his own. Unfortunately we didn't have time to explore the immediate area, but plan to do so in July when we return. Lots of space outside and the tents are nicely spaced out so it feels like you are the only ones there. Very nice break, would definitely recommend. Was originally thinking of going traditional camping but I am so glad I found this place as it took all the stress out of organising a break away. Thank you Richard and Lydia
outstanding glamping experience
Great welcome from Richard & Lydia. Outstanding location with superb views and yet good access to surrounding area. Wonderfully equipped safari tents with everything you could possibly need! This is top end glamping make no mistake. Wood fired hot tubs and BBQ facilities with plenty of space on a real working farm. Absolutely delightful for all ages. Well done Richard & Lydia!
Under the Oak is a lovely isolated spot, perfect for a romantic weekend escape
The cabin, although covered by a canvas, feels worlds away from a camping experience. With a log fire for heat and hot running water it is easy to forget that you're not in a holiday cottage. The hot tub was easy to use and made for a perfect setting to observe the stars on a clear night.
Peaceful and beautiful, the location was amazing
We absolutely loved our stay at Under the Oak, from Lydia's greeting with a welcome hamper, to the amazing location and safari tent with everything you could need for a brilliant holiday. The tent had such amazing views, was just the right mix of home comforts and an outdoorsy feel and the hot tub added a fun experience being outdoors in the pitch black! It's also a great location to visit some of the amazing places Wales has to offer including the Brecon Beacons, Southerndown Beach and Ystradfellte waterfalls. We couldn't have asked for more and have already recommended Under the Oak to all of our friends.
So peaceful and relaxing with amazing views
Our first family Glamping experience. We loved the Safari tent, well equipped and so cosy. Our children loved running around outside having adventures and were so exited to be staying in a Safari tent, it was very relaxing for the grown ups too especially with our very own hot tub and such wonderful views.
Book campsites near Under the Oak Glamping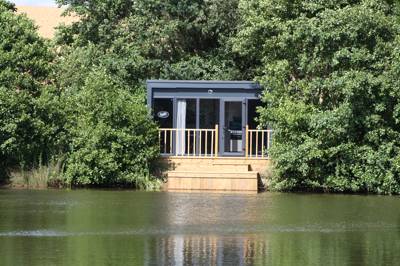 i
Glamping in Glamorgan
Glamping in South Wales
Glamping in Wales