Cosy, family-friendly safari lodges beside a beautiful pond, each with a wood-fired hot tub.
Here at Cool Camping, we've had our fair share of camping crises. Like the time a gale ripped a hole down the side of our tent and we held it together with a combination of sticky-tape and plastic bags. Fortunately, Under the Oak Glamping is here for those times when traditional camping seems like too much hassle. You'll find plenty of creature comforts, such as a comfortable Welsh box bed, well-stocked kitchen, and – oh thank you, Under the Oak – a hot tub filled with natural spring water, heated by a wood burning stove. Simply pack a few changes of clothes, some sturdy walking boots and a good book.
Under the Oak is set in a corner of a traditional Monmouthshire family farm, just on the edge of the small village of Bedwas, near Caerphilly. There are just three safari lodges on site, set either side of a large pond, with views stretching out to the rolling Welsh hills. The outcome is a glamping experience that's private, yet wonderfully open, with room to explore the local area in your own 'holiday bubble'. Sheep and cattle are generally your nearest neighbours and, on occasion, buzzards and red kites soar overhead, but they're happy to respect your privacy. With such an easy pace of life and an abundance of fresh air to soak up, it's surprising to think that Cardiff is just a 30-minute drive away.
Lydia and Richard look after the site, but it's been used as farmland for generations. There's a genuine sense of enthusiasm radiating from the family, and it's clear that Under the Oak is a labour of love. From little homely touches – fluffy towels, comfy cushions and a kitchen stocked with plenty of basics – guests don't want for much. The living areas of each tent offers a spacious and comfortable place to unwind, whilst in the centre, a wood-burning stove throws out heat on chilly Welsh nights. Outside, a well-sheltered veranda – facing away from the prevailing winds so that you can take in the view in all weathers – can be enjoyed for a spot of star gazing, and there's a table and chairs for alfresco dining.
The mountain above the farm is a great way to explore the local surroundings, offering excellent walks and panoramic views across to the Bristol Channel. For a big climb head for the tallest peak in the Brecon Beacons, Pen y Fan (886m), shared only with a few other walkers, and, occasionally, soldiers training. Prefer the coast? Try Southerndown which offers plenty of pebbles, sand, and rock pools. At high tide the beach disappears – as all do along this coastline – and a short walk inland reveals the remains of Dunraven Castle, one of the many classic Welsh castles waiting to be discovered.
Our Best Price Guarantee
We guarantee our prices at Cool Camping are the same, or lower, than booking elsewhere. If not, tell us, and we'll match it or beat it. Full terms here.
Details
Facilities
The safari tents have everything you need. Each has a kitchen – gas hobs, fridge, sink with hot water on tap, plus plenty of basics (oil, salt, pepper and herbs) – and a living area with a table and chairs, sofa, candles, lanterns, books and games. There is electricity throughout each tent and a wood-burner with plenty of logs – if you do need more, head down to the log store and pile your wheelbarrow high, just pop £5 in the honesty box. Each tent sleeps 4 with a Welsh box bed, ideal for couples, and a double sofa bed, great for friends or a couple of kids (all bedding is provided). Safari tents are en suite –flushing toilet, basin, hot shower and fluffy towels. Well-sheltered veranda, table and chairs for outdoor dining. Fire pits provided, with a griddle and hot plate for barbecuing. Each safari tent has a wooden hot tub, heated by a wood-burning stove and, once up to temperature, will stay hot for around an hour.
Suitable For
Glamping only. Couples, families and dogs – yes.
Nearby
Wales is known for its castles, and there are some right on your doorstep. If you only visit one make it Caerphilly Castle (029 2088 3143) – one of the greatest surviving medieval castles, covering 30 acres of islands, moats and ramparts. Cardiff Castle (029 2087 8100), the fairy tale folly Castle Coch (029 2081 0101) and Raglan Castle (01291 690228), with its angular towers and Tudor-styling are also top spots for history lovers. Once you've had enough of castles, try the great monastic ruins of Tintern Abbey (01291 689251), whose beauty has been captured over the centuries by William Wordsworth and JMW Turner. There are countless other places nearby to visit, like St Fagans – with 100 acres of parkland and 40 original buildings from various historical periods, Big Pit (0300 111 2333) where, guided by former pit workers, you can explore Wales' industrial past. Also, Blaenavon Ironworks (01495 792615) and the huffing and puffing Brecon Mountain Railway (01685 722988) are popular with visitors.
Food & Drink
Food hampers for breakfast or BBQ's are available to book in advance, and there's a small honesty shop next to the wood store where you can pick up essentials (free range farm eggs, local preserves, honey, pickles and chutneys). Guests can buy provisions from the local village, which is only a mile down the lane. Nearby places to eat include stylish gastropub The Old Cottage (029 2076 5961), no-nonsense British pub The Maenllwyd (029 2088 2372) and Italian bistro Volare (029 2132 2077). Not forgetting the countless restaurants in buzzing Cardiff.
Opening Times
Easter–end of October half term.
Why book with Cool Camping?
Best Price Guarantee, with no fees
Instant booking confirmation
Trusted for over 10 years
A chance to win prizes in our regular competitions
The Owner Says
Come and stay one of our luxury, boutique canvas lodges for an unforgettable experience. Get back to nature, without giving up your creature comforts!
Our spacious lodges, one new for 2019, feature a natural wooden hot tub, fire pit for cooking outdoors, wood burner, fully equipped kitchen and bathroom with a hot shower. Comfy, cosy beds are made up ready for your arrival so you can unpack and relax.
Spot red kites and buzzards soaring overhead. Wallow in your very own private wooden hot tub with breathtaking views of the rolling South Wales hillside. Indulge in a spot of star gazing under amazing dark skies or cwtch up by the wood burner with a good book. Spend time reconnecting with loved ones.
You can buy provisions from the local village which is only a mile down the lane but we have a small larder and honesty box next to the wood store where you can pick up some essentials. Our own free range farm eggs, local preserves, honey, pickles and chutneys.
If you fancy exploring, there are plenty of walks and bike trails on our doorstep. Further afield, we are in an ideal spot to explore all that South Wales has to offer, just a short drive from the city of Cardiff, the Brecon Beacons, Abergavenny and countless museums. Not to mention amazing beaches!
Location
Contact Under the Oak Glamping, The Barn, Pen y Waun Farm, Mountain Rd, Bedwas, Caerphilly, Monmouthshire CF83 8ER
Getting There
From the M4, leave at junction 28 or 32 and follow signs for Caerphilly. The site is outside the small village of Bedwas – a SatNav will bring you very close, then just carry on up the lane and look out for the 'Under the Oak' signs.
Trains run to Cardiff central station where you can change for Caerphilly (the nearest town), which is 3 miles away.
Reviews
Add Your Review
Rated ★★★★★ over 21 reviews
Amazing!
We absolutely loved our stay at under the oak Glamping. We stayed in the newest six person tent. The views were spectacular. The tent is situated on its own so very private and only a short walk from the main farmhouse. The hot tub was fab. The tent is very well equipped and the three bedrooms all very comfortable. My children were fighting to stay in the cupboard bed! The bathroom is very nice. Lydia and Richard were so welcoming and very helpful when teaching us how to heat the hot tub. There had been a calf born whilst we were there and Richard kindly let us see her. There is lots to see and do in the area. We went out to the Gower peninsular one day. Up to the Brecon beacons on another, and to Big Pit on a rainy morning. I would certainly recommend this to all types of groups, we will certainly be returning! 10/10
Amazing weekend in a beautiful location
We were two couples and a dog enjoying a weekend away. This place has beautiful views, nestled in the hillsides if Bedwas. Richard was super helpful and very friendly. So were the neighbors who gave us some delicious plums from their garden. On the first morning we woke up with a cow grazing right outside our window which delighted us all. Although the weather was terrible it almost made the whole experience. It was very cosy sitting inside with the fire lit, playing games and listening to music. We also had a hot tub both nights which was lovely. The "tent" (it's actually more like a cabin) was beautiful and had everything we needed and more! I would definitely recommend this place to anyone and we hope to be back soon! Thank you for a great weekend!
Fabulously cosy
We stayed in Dan y Ffawydden which had plenty of space for the five of us (two adults and three teens). The hot tub was fabulous, and the fire pit gave a barbecue with the best view. The weather was changeable, and watching the sky alter from the tub or the verandah was mesmeric, but the tent was wonderfully snug and well equipped when the weather was less kind. Thoroughly recommended, with attentive hosts on hand when needed but left us to enjoy the peace and space the rest of the time. 5*
Simply fantastic !!
Fantastic tent with everything you need for a relaxing break. Lovely bedding on all the beds, great bathroom with loads of hot water and a really nice shower. Kitchen indoors and bbq over the fire pit outside for al fresco meals. The hot tub fitted all of us in and was really hot after an hour with the logs burning. We stayed in the larger tent with loads of outside space and a great view over the valley across to the Bristol Channel. Great beach at Southern Down with rock pools, cliff top walks, ruins and a walled garden to explore, and Caerphilly castle just down the road. Friendly and helpful hosts and free range eggs too...... yum !
Fantastic outdoor experience !!
We stayed in Dan y Ffawydden for a four day weekend break with my daughter and the grandchildren, immaculatef tent with an amazing bathroom, full facilities and great hot water. The view over the valley as far as the Bristol Channel was awesome, loads of outdoor space for the kids, hot tub big enough for all of us, and a fire pit to barbecue over. Really peaceful with just the cows for company, it gave us a chance to really unwind. Recommend the beach at Southern down, not to far to drive, and loads of great sand,rock pools and the walk along the cliff tops is lovely. The hosts were really helpful and free range eggs too, yum !!
Very nice place!!
If you're looking for quietness and rest, than this is the place to be! Beautiful scenery with lots of private space! The tent had all we needed, including a very good shower!! The woodburning stove did miracles during a rainy day. Very friendly hosts! And the hottub just is very pleasant extra experience!
Magnificent
We booked Under the Oak Glamping for our daughter's 21st birthday. The setting is magnificent with views into the valley and across the estuary. The site accommodates 14 people and with our daughter's guests visiting from all around the country we booked the whole site. Only 20 minutes drive from Newport station it was easy to get everyone there. The accommodation was excellent and very homely with all mod cons. Outside there was plenty of space with hot tubs and barbecues. The guests had a great time. Richard and Lydia are excellent hosts and I would thoroughly recommend the experience to anyone. It is just one of those things that you are glad you did!
Amazing experience definately to be repeated
This was our first time glamping and what a fantastic time we had! Facilities were spotless and luxurious, the cabin bed was a definite hit as was the fantastic shower. We loved having the pond outside the front of our tent and the young ducklings provided unexpected entertainment. We managed to get the hot tub heated and enjoyed watching the sun go down from it and cooked our evening meal in the fire pit. Very relaxing environment and thoroughly enjoyed our stay, will definitely come back
Beautiful and quiet
Under the Oak is a fantastic spot to have a quiet few days away from everywhere else. Facilities are fantastic (much more of a house than a tent) and the wood fired hot tub is a unique addition that we really loved to use
Wonderful and Peaceful :)
We booked to stay at Under the Oak Glamping at the very last minute! Let's just say it was the best decision we made, this place is just amazing. We had a great time staying here for 2 nights, it was pure tranquility and were totally shut out from the world and embraced Glamping. The hot tub and the log burner were just perfect. The facilities within the tent were 5*. We will most certainly be returning :):)
ABSOLUTELY BRILLIANT!
It was the first time Glamping for us and all we can say is WOW and can't wait to come back. We are a family of 3 (2a and 1c who is 15) and it suited us all. The tent was immaculate with a fantastic shower (which is the main thing for me). The hot tub was just such fun with amazing views (perfect for my son) and the BBQ was a perfect setting by the lake with the wood store nearby to stoke up (perfect for my husband). So we all highly recommend and can't wait to experience the place again xx
Wonderful place for a large group!
Recently went to Under the Oak with a group of 13 people. It was great - the height of luxury camping! Flushing loos and hot showers right inside the tents, with hobs and hot water for washing up. Note that if you are planning on going with a big group and want to cook a big meal, you will either need to split up the cooking between tents or bring all 3 (quite heavy) cast iron BBQs together. We combined our strength and managed just fine but just FYI! The hot tubs were amazing, with cup holders built in and plenty of dry area surrounding to put a bluetooth speaker and enjoy the breathtaking views with some good tunes. All in all I can't recommend this place highly enough!
What We Needed.
On arrival we met Lydia who was lovely and answered all the questions we had. The location is beautiful and views are stunning. The Canvas Lodge was spotless, comfy and such a relaxing feel. Only stayed for two nights and we was gutted to be leaving. Thinking more nights next time. Highly recommended and will be going back again.
Serene
What a beautiful location. We traveled from Western Australia, to visit family in Cornwall and to experience 'Under the Oak Glamping.' Definitely worth the visit. Sunsets were stunning, visiting farm life were friendly, waking to sunshine each morning too and the hot tub added to a peaceful and relaxing atmosphere. Tents were comfortable and warm. Enjoyed every minute of our stay.
Lovely relaxing family break.
Lovely hosts. Spotless, warm and comfortable all weather safari tents. Although we were only a few miles from our home it felt like we could have been in Colorado. Beautiful scenery and a lovely family walk with a surprise for the kids at the end - just follow the arrows. Will definitely go back!
Beautiful, Relaxed & Peaceful
To celebrate our 2 year Wedding anniversary Me & my wife took our dog to Wales to stay at Under The Oak Glamping. We had an absolutely fantastic time. The location was stunning and the tub / Glamping was fantastic. The hosts were so helpful and reccomended some fantastic trails for us to do during our stay. Highly recommend!
Lovely luxurious stay
The safari tent that we stayed in has everything we needed, and more. When we arrived the fridge had a little bottle of milk and a pack of Welsh cakes which was a lovely touch. The bedrooms were already made up with lovely thick duvets, and the beds had beautiful fairy lights around the top. The wood burning stove did not disappoint especially when the weather was a bit grim. I loved the finishing touches of the tents, with cosy blankets to drape over legs whilst chilling and reading. The hot tubs were amazing and the views were incredible especially as it turned to dusk. Luckily the rain stopped just enough to cook on the fire pit outside, a lovely piece of kit that my hubby is wanting of his own. Unfortunately we didn't have time to explore the immediate area, but plan to do so in July when we return. Lots of space outside and the tents are nicely spaced out so it feels like you are the only ones there. Very nice break, would definitely recommend. Was originally thinking of going traditional camping but I am so glad I found this place as it took all the stress out of organising a break away. Thank you Richard and Lydia
outstanding glamping experience
Great welcome from Richard & Lydia. Outstanding location with superb views and yet good access to surrounding area. Wonderfully equipped safari tents with everything you could possibly need! This is top end glamping make no mistake. Wood fired hot tubs and BBQ facilities with plenty of space on a real working farm. Absolutely delightful for all ages. Well done Richard & Lydia!
Under the Oak is a lovely isolated spot, perfect for a romantic weekend escape
The cabin, although covered by a canvas, feels worlds away from a camping experience. With a log fire for heat and hot running water it is easy to forget that you're not in a holiday cottage. The hot tub was easy to use and made for a perfect setting to observe the stars on a clear night.
Peaceful and beautiful, the location was amazing
We absolutely loved our stay at Under the Oak, from Lydia's greeting with a welcome hamper, to the amazing location and safari tent with everything you could need for a brilliant holiday. The tent had such amazing views, was just the right mix of home comforts and an outdoorsy feel and the hot tub added a fun experience being outdoors in the pitch black! It's also a great location to visit some of the amazing places Wales has to offer including the Brecon Beacons, Southerndown Beach and Ystradfellte waterfalls. We couldn't have asked for more and have already recommended Under the Oak to all of our friends.
So peaceful and relaxing with amazing views
Our first family Glamping experience. We loved the Safari tent, well equipped and so cosy. Our children loved running around outside having adventures and were so exited to be staying in a Safari tent, it was very relaxing for the grown ups too especially with our very own hot tub and such wonderful views.
Why book with Cool Camping?
Best Price Guarantee, with no fees
Instant booking confirmation
Trusted for over 10 years
A chance to win prizes in our regular competitions
Book campsites near Under the Oak Glamping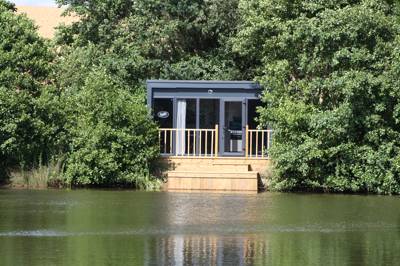 i
Glamping in Glamorgan
Glamping in South Wales
Glamping in Wales