Bentwood Yurt
(2 at Larkhill Tipis and Yurts)
The Bentwood yurt has a wonderful sense of 'space'. It has been built on a platform, giving it an elevation which gives a fine view, and is located on the fringes of a mixed woodland.
The Owner Says
The wooden frame for the Bentwood yurt is made of oak  and it has a marquee lining on the inside which softens the interior, giving it a warm and homely feeling.  The Bentwood yurt has a cast iron wood stove which gives out plenty of heat, even in the depths of winter, and is furnished with four pine beds - two singles and a double. Comfortable mattresses, covers and pillows are supplied, together with a chest full of blankets if its get a little cold. The wood flooring is made from locally sourced larch trees and is covered in rugs and sheepskins.  There are also shelves, a low table and a two ringed calor gas burner with all of your cooking equipment.  Lighting is from a string of LED's around the crown and hanging lanterns - all creating a comfortable and superb place to relax and unwind from the chaos that is the world today!  Outside the yurt there is a campfire area, wooden benches and a picnic bench.
About Larkhill Tipis and Yurts
Suitable For
Glampers only: couples, families and small groups all welcome. Dogs are not permitted.
Nearby
Situated between Cardigan Bay and the Carmarthenshire coastline glampers here are spoilt for choice for white sandy beaches. Other nearby attractions include the free-to-enter National Wool Museum (01559 370929), just four miles from site where kids can have a go at weaving, and the splendid National Botanic Garden (01558 668768), 20 miles away. There's canoeing and kayaking on the Teifi River – try Llandysul Paddlers (01559 363209), 7 miles from site. Horse-riding adventures can be booked with Blanca Trekking (07890 868994), based 11 miles from site and there's mountain-biking at Brechfa Forest, 17 miles away. Just over 20 miles away in New Quay, you can join dolphin-watching boat trips out in to Cardigan Bay. For something more relaxing, there's massage and healing available at the Malindi Centre – and you can even organise to have a massage on site!
Food & Drink
On site you can buy eggs from the site's very free-range chickens and honey produced from its beehives. For more supplies, the closest shops are in Newcastle Emlyn, 7 miles from site, where you'll also find a host of cafes too. The vegetarian Riverside Cafe (01239 710404) comes recommended by Fran as does Caws Cenarth; an award-winning cheese makers where you can not only buy some local cheese, but watch it being made too. For a traditional Welsh country pub with good food, try The Nag's Head Inn at Abercych (01239 841200) - the 10-mile drive is well worth it.
Extras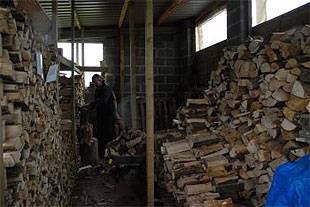 Firewood
One basket of firewood is free of charge but any extra firewood needed is £3 a basket.
Site Reviews
Add Your Review
Rated ★★★★★ over 4 reviews
Such a magical and enchanting experience
My partner and I stayed in Mongolian Ger for 2 nights and the experience was incredible, to say the least. Everything from the amazingly detailed interior of the yurt to the lovely wood carvings dotted around the woodland surroundings. It was perfect. A little quieter than the normal time of year, but personally I thought that was just perfect, a lovely short break to sit back, relax and enjoy the beauty of nature. I will definitely be returning next year! Can't wait to try out the other yurts!! :)
The perfect glamping holiday.
We have just returned from our lovely visit to Larkhill with our two teenage boys. From the outset Fran was so hospitable and everything you could possibly want or need was catered for. The setting is beautiful and the way the land has been nurtured and managed is really inspiring. We stayed in The Alachigh which had plenty of room, was super cosy with the wood burner and had a lovely window to watch the sunset from.We would highly recommend a visit.
Larkhill tipi
Just perfect.  Stayed for two nights in the lavvu,  which was cosy and snug.  Kids loved it and didn't want to leave.  Explored some lovely beaches.  Larkhill is beautiful,  well thought out and very welcoming.  We all want to go back again soon.  Highly recommended. 
Larkhill Tipis
Awesomely beautiful place. Comfortable, welcoming, relaxing. Just returned from 3rd visit, and most other people staying were also on return visits. Stayed in Mongolian Ger (Yurt) with 2 young children. They had the best time, as they can have so much freedom. A truly peaceful place for a getaway, and a good base for exploring West Wales.
Location
Larkhill Tipis and Yurts is located at Larkhill Tipis and Yurts, Larkhill Cwmduad, Carmarthen SA33 6AT
Getting There
From Carmarthen take the A484 North towards Newcastle Emlyn/Cardigan. After the village of Cwmduad take the next turning on your left (signposted to the National Woollen Museum). Carry on for just over a mile and you'll see the Larkhill sign on your right. Carry on down the track and take the first fork to the left.
The closest railway station is at Carmarthen, 13 miles away, where there is also a bus station. Tony or Fran will pick you up from there free of charge (to encourage use of public transport) and stop en route at the local supermarket.