A trio of shepherd's huts on a charming family farm, set amid Wales' dramatic Black Mountains
It would be rude to say that Cwmberach Uchaf was ever abandoned. This 80-acre farm on the western edge of the Black Mountains had been in the family for generations and today retains a character and charm that all comes from being extremely well looked after. But all the same, the 15-year period between the previous and the current generation was certainly a time in which it 'returned to nature' – a passing of time that allowed the pastures to grow into thick, shaggy carpets of waist high grass and dry-stone walls to hide beneath the moss.
Thankfully, current owners Mark and Sarah have decided not to fight the changes but embrace them, an attitude that has resulted in one of the finest glamping spots in all of Wales. The farm has become a natural haven and, though very much a thriving business with sheep, ponies, goats and beehives, it is also a wonderfully diverse and uncultivated space where habitats of woodland, moor and mountain thrive. For a proper glamping holiday in the great outdoors you need look no further.
Cwmberach Uchaf offers three traditional shepherd's huts in total, each sleeping up to four people – making them great for families as well as couples here to explore the Brecon Beacons. Each hut has a bunk at one end and sofa beds at the other (bedding and linen provided) with a wood-burning stove in between and vintage-style oil lamps for added ambience. When the sun sinks over the mountainous horizon, there's a real sense of tranquility as the light cast by the flames flickers against the wood-panel walls.
Outside the Shepherd Hut there is a canopy kitchen area, storage units and all the pots, pans and utensils you need. You will also find a large decked area covered by a dining shelter with a BBQ and some chairs where you can kick back and dine al fresco, perhaps with some of the farm's own food bought from their honest shop. Sitting there, looking out and enjoying views over the Amman Valley and the Black Mountain there's no doubt you'll be keen to start exploring. The rest of the Brecon Beacons National Park spreads for some 50 miles more to your west, while its a 35-minute drive to the coast. Closer to home, meanwhile, Mark and Sarah are also happy to provide tours of the farm, introducing you to the animals and demonstrating how they collect the honey from their bees. Visit in spring and you may even get the chance to bottle feed some lambs!
Our Coronavirus Booking Guarantee
Book with complete confidence at Cwmberach Uchaf Huts with the Cool Camping Coronavirus Booking Guarantee. We guarantee the following clear policy for your booking:
A low deposit of 30% to secure your booking
Balance not due until 30 days before your holiday, in case of late changes to Coronavirus guidance
Complete flexibility to move bookings up to the end of 2021 in the event of Coronavirus restrictions
In the event of a lack of 2021 availability, switch your dates to 2022
Due to low deposit and late balance payment, no refunds are offered
Details
Facilities
Shepherd's huts sleeps 4, with bunk beds at one end and a large fitted sofa bed at the other (quilts, pillows and sheets included). In the middle there is a log burner (and oil lamps for added ambiance). Outside two of the huts, there is a large, sheltered decked area. This has a BBQ, table, chairs and storage. All hut's have cooking facilities and you are also supplied with crockery, cutlery, pots, pans and utensils. It's a short walk from the huts to a converted barn, with 3 toilets, 2 showers (rain showers!) and a reclaimed cast iron bath (underfloor heating throughout). The barn is also home to a small honesty shop – bread, milk, honey, sausages, seasonal veg and more – and you can order fresh croissants or pain au chocolat. There are farm tours most Saturday mornings and several very friendly animals to pet including 2 ponies and 2 goats. The chicken coop is also at the top of the field, children (or adults) are welcome to collect their own eggs.
Suitable For
Glamping only, though if a group books out all three shepherd's huts they are happy to accommodate a couple of small tents as well to increase the numbers. Well-behaved dogs are welcome but must be kept on a lead.
Nearby
Just metres from the shepherd's huts you can access a bridleway that leads up into the mountains – a climb to the top reveals excellent views west. The Brecon Beacons have plenty of fantastic walking and mountain biking routes – chat to Sarah and Mark when you arrive if you don't already have any specific ideas. For culture and history visit Carreg Cennen Castle (01558 822291), reached by a beautiful 5-mile walking route or a pop into the Llandeilo, a wonderful marketing town on the River Towy. Here you'll find National Trust owned Dinefwr and Dinefwr Castle – a National Nature Reserve, historic house and 18th-century landscape park, enclosing a medieval deer park. For something a little different try riding lessons at Dinefwr Riding Centre (01269 850042), 3 miles from The Black Mountain Company.

Food & Drink
There is an honesty shop in the bathroom barn selling local goods and the farm's own meat and vegetables (when in stock). Don't pass up the opportunity to try some of their own honey! BBQ packs are also available to pre order and can be collected from the honesty shop along with croissants and pain au chocolat. If you're after a pub, though, the nearest are in Garnant, 1¾ mile away, including The Raven Inn (01269 825500). It's only a smidge further to Llandyfan (2 miles), though, where The Square & Compass (01269 850402) is worth a try. It's an incredible spot, believed to have been built 300 years ago as the village blacksmith's cottage. It has served as a licensed premises since 1840 and does look, from outside, more like someone's house than a well-loved boozer.
A little further again (but well worth the journey) is the beautiful market town of Llandeilo which boasts many cafe, deli's, pubs and restaurants, including the lovely Ginhaus (01558 823030) and Cawdor Hotel (01558 823500) . Nearby is the amazing Wrights Food Emporium (01558 668929) which is an essential visit for any serious foodie!
Open
April–October.
Why book with Cool Camping?
Coronavirus Booking Guarantee
Best Price Guarantee, with no fees
Instant booking confirmation
Trusted for over 10 years
A chance to win prizes in our regular competitions
The Owner Says
Cwmberach Uchaf Farm covers 80 acres on the beautifully wild Black Mountain in the Brecon Beacons National Park. Our farm is at the heart of everything we do, it has been in our family for generations but for the last twenty years it had not been farmed and had fallen into disrepair.  We are now on our journey to grow a business where traditional welsh farming goes hand in hand with sustainable tourism and conservation.....and create a beautiful home for our family!
We look forward to welcoming you and sharing our adventures!
Accommodation
3 secluded shepherd's huts, each sleeping up to 4 people.
Check Availability
Location
Contact Cwmberach Uchaf Huts, Cwmberach Uchaf, Garnant, Ammanford, Carmarthenshire SA18 2DZ
Getting There
Form Bristol, from the south and from the east: Continue west right to the end of the M4 and exit at Junction 49. At the roundabout take the 3rd exit onto the A483 to Ammanford. Drive into Ammanford centre and, at the main traffic lights (vets on the left), turn right onto the A474, which takes you over 3 mini-roundabouts (straight over, left, straight over) past Tesco and onto Foundry Road. After about ¼ mile and before the garage on the left, turn onto Pontamman Road – you will feel like you are doubling back on yourself – this is the old A474. After about 100m, take the next right on Wern-ddu Road and this takes you up the hill out of Ammanford. Continue until you see Heol Ddu on the right; take this road and the long climb up the mountain. Continue over the crossroads at the top and over the cattle grid where you get your first experience of the Black mountain. Continue until you get to the next crossroads and turn right onto Llandeilo Road. This road will take you down the mountain, over another cattle grid and into the Berach valley. Go over the bridge at the bottom and climb about 100m to find the turn for Cwmberach Uchaf Farm (The Black Mountain Company) on the left by a large beech tree. Drive up the track and turn right into the car park.
From Carmarthen (from the west) or from Llandovery (from the north): Turn off the A40 into Llandeilo on the A483 going south. Go through Llandeilo centre, over the bridge (River Towy) and into Ffairfach. Turn left at the mini-roundabout onto Bethlehem Road and follow the signs to Trapp and Carreg Cennen Castle. Go through Trapp, over the small bridge and up the other side of the valley, past Brecon Carreg Mineral Waters on the left and down the other side of the valley to take the next left over a small bridge (River Loughor). Drive up the mountain, over the cattle grid and straight over the next crossroads onto Llandeilo Road. This road will take you down the mountain, over another cattle grid and into the Berach valley. Go over the bridge at the bottom and climb about 100m to find the turn for Cwmberach Uchaf Farm (The Black Mountain Company) on the left by a large beech tree. Drive up the track and turn right into the car park.
The nearest train station in Ammanford (5 miles) and in Ffaifach (6 miles). Unfortunately there are no busses that travel near to The Black Mountain Company.
Reviews
Add Your Review
Rated ★★★★★ over 19 reviews
Perfect break at Cwmberach Uchaf Huts
Just home from a recent tour of Wales, where we kicked off our trip with a 4 night stay at Cwmberach Uchaf Huts (Ash). Arrived on a Saturday evening to be met by friendly hosts and the invitation to join in pizza night - such a great way to meet others, learn about potential day trips and enjoy delicious home-made pizzas. We really loved everything about this site - amazing hosts, cosy cabins, local attractions and activities, great honesty shop (the tab is a brilliant idea!), the guided tour of the farm, peace and tranquillity ... and probably the best shower I've ever had in my life. Thanks for a great break. We would love to return sometime to see how the vision has developed.
Cosy hut on a friendly site
We had a wonderful time staying here. We felt our visit was much too short! The shepherd's hut (Oak) was comfortable and well appointed, and the toilet and shower blocks were close by, very clean and luxurious by camp site standards. The views are breathtaking. Mark and Sarah could not have been more friendly and helpful, and suggested a great day out. We particularly enjoyed the pizza party at which we got to enjoy tasty food and meet some of our fellow campers. It made for a lovely atmosphere, but there was also plenty of privacy and peace and quiet if you wanted it.
Perfect in every way xxxx
We have just come back from this Amazing place in Wales Sarah and Mark have thought of everything. The hut was just the most beautiful place and the views where breathtaking. I went with my daughter, our friend and the 2 dogs we had the most relaxing few days with no need to go anywhere as the little honesty shop had things that you needed. Everywhere we went was pet friendly and everyone was very welcoming we didn't want to come home. I will be talking about this holiday for sometime if a week away in a beautiful peaceful place with beaches and fabulous walks along with fantastic views and lovely people is what your looking for then this is the place to be. XxxxxxxX
Brilliant little getaway for the family.
Me, my latter and 2 year old daughter have recently stayed here and we couldn't fault it. The hosts were instantly welcoming and couldn't do enough for all of there guests. We stayed in a shepherd hut and it was immaculate on arrival and had everything you could possibly need for your stay. The farm itself was lovely, plenty to do and the hosts include a farm tour which was very interesting. We had the pleasure of enjoying the pizza night they host at the weekend with home made pizzas which were delicious! There is also a farm shop on sight which was very convenient and stocked most things you would need. The bathrooms and toilets were lovely really clean and spacious, also a little posh to! Did not feel like we were Glamping at all. We can not wait to come again. :)
The perfect place for a perfect break
Me and my girlfriend booked here for two nights as a getaway. I stayed in the Ash Shepards Hut and it was perfect, plenty of room, great outdoor cooking facilities and the covered outdoor eating area was great for when it rained. The shared toilet facilities were very smart, well presented and incredibly clean, and the honesty shop is such a great idea! I very much enjoyed the fresh eggs available! The location is perfect for those looking for adventure as it's near loads of places. The hosts made sure that we had everything and I couldn't ask for more from them. Will definitely be staying here again.
Unique, clean and highly recommended
I can not thank Sarah and Mark enough for providing us with a lovely family experience this weekend. The hut was fully equipped, clean and comfortable. Sarah and Mark could not help us enough and even helped us out massively when the weather turned bad by providing alternative room for the kids to watch TV (weather was horrible). The pizza night was a fantastic addition as well as the free free range eggs that you can collect every morning. The honesty kitchen is brilliant and has everything that you're likely to have forgotten at a decent price. The bathrooms are immaculate with boiling water to have a nice bath (or bath the kids). I have already recommended to friends and family. Thank you again. 5 stard
Ultimate glamping experience
We visited Cwmberach Uchaf over the bank holiday. Sarah and Mark are excellent hosts. The shepherd hut we stayed was spotless and the facilities were in excellent condition. The huts have amazing views of the valley and the night is illuminated with stars when the sky is dark. Lot's of things to do for kids and overall a very happy stay. Thank you!
Amazing hut in the mountains
I had a super time at Cwmberach Uchaf. I stayed in the Oak shepherd's hut which would be ideal for two. It was incredibly beautiful inside with very attractive decor and a comfortable bed and sofa. Probably the cosiest place in the world! The toilet facilities were luxurious (genuinely!) and totally clean. Highly recommended.
A perfect escape from it all.....
Just returned from a few days stay with my other half and dog. We had such a wonderful break. It was just as it looked in the photos (perhaps even better). Everything had been thought of and Mark and Sarah could not have been more helpful and welcoming as hosts. It was really cosy and romantic, sitting by the fire each evening and the views are stunning. We were even welcome to collect our own eggs for brekkie! We did some wonderful walks, locally and on the coast. Would highly recommend and can't wait to return.
Great find!
Really great from start to finish , the shepherds hut had everything we needed and both Sarah and Simon were very helpful and friendly. Lots to do and beautiful views, highly recommend.
Wonderful place - even in the rain!
We stayed in one of the Shepard's huts and had a fantastic week despite the weather. The hut is really well organised and the owners have thought of everything to make the experience comfortable. We loved the outdoor kitchen on the side of the hut - the little stove was easy to use and the kitchen is well euipped. The covered seating area next to the hut was really useful for storing wet gear and survived a couple of very windy night. The bathroom was huge with a shower and a bath - which is really handy when you have kids. It was cleaned very regularly and the owners had thought carefully about how to reduce the risk - but because the site is not crowded anyway (three huts in one huge field) it was easy to social distance. It was also very quiet at night. Our kids loved collecting the eggs everyday and going to see the goats. There is also a little playground with a slide and some swings. The welcome folder in the hut was really useful and all the tips on where to visit were spot on ... there are some amazing castles near by and lots of good walking. I wish every campsite had a set up like this .. it's perfect for people who love camping and the outdoors but just want less hassle (no wet tent to pack up at the end!!)
Awesome!
We had an amazing time here, really relaxed, beautiful, and very friendly. The kids could run off across the farm and the huts were really cosy. Stunning surroundings and good base for exploring Brecon Beacons. We will come back for sure and would be happy there in any season!
Great spot, lovely hosts
We enjoyed every minute of our stay. The place was very clean, wide and with lovely views. Our hosts helped in the check in process and were helpful and friendly during our stay. I would definitely recommend the site for a visit to South Wales.
Amazing stay, highly recommended
We booked a last minute trip to stay in one of the Shepherds hut. Communication was very easy, the guys were super helpful and happy for us to have our dog in the hut too. Bathroom/shop area were great, clean and really nicely decorated and made life very easy. The farm is in a beautiful location with stunning views and we had the most peaceful time there. Shops/takeaways are within 15 mins and some cool cafes like Coaltown Cafe, along with pretty towns and villages. Can't recommend highly enough and look forward to coming back!
Idyllic relaxing getaway
Beautiful huts to stay in with everything you need for a relaxing break with the bonus of a camp fire for outside under the beautiful sky or a log burner inside if your chilly with a free basket of logs! Amazing shower/bath facilities. I can't wait to come back again in the future.
A fabulous weekend escape
We stayed in the Shepherds Hut for a two night stay. The location is remote enough to be an escape but with fantastic facilities both on site in the Honesty Shop and Shower Shed and in the surrounding market towns and villages, as well as the beautiful Brecon Beacons to explore. The Hut is really well equipped with everything you need but is also incredibly stylish. So much thought has been put in to providing storage and equipment to make your stay comfortable. The Host is really welcoming and helpful and made us feel very much at home. We would definitely like to stay again.
Lovely stay
We recently stayed in the shepherds hut and had an amazing stay. The hosts Sarah and Mark are very friendly and helpful. It is a stunning location with amazing views. The hut had everything you need and extra touches that made it feel homely. The honesty shop was fully stocked and the facilities were very clean. We would highly recommend.
Superb
Hosts Mark and Sarah cannot do enough to ensure your stay is as perfect as you wish it to be. The location nestled on the side of the black mountains is idyllic and the Shepherd's Huts offer clean warm 5* accommodation at really reasonable prices - even at the height of the season. Already looking forward to our next short break on the farm. Highly Recommend!!
Amazing place, so beautiful. Perfect to every little detail. Sarah is such a delight. Cannot wait to go back
Why book with Cool Camping?
Coronavirus Booking Guarantee
Best Price Guarantee, with no fees
Instant booking confirmation
Trusted for over 10 years
A chance to win prizes in our regular competitions
Book campsites near Cwmberach Uchaf Huts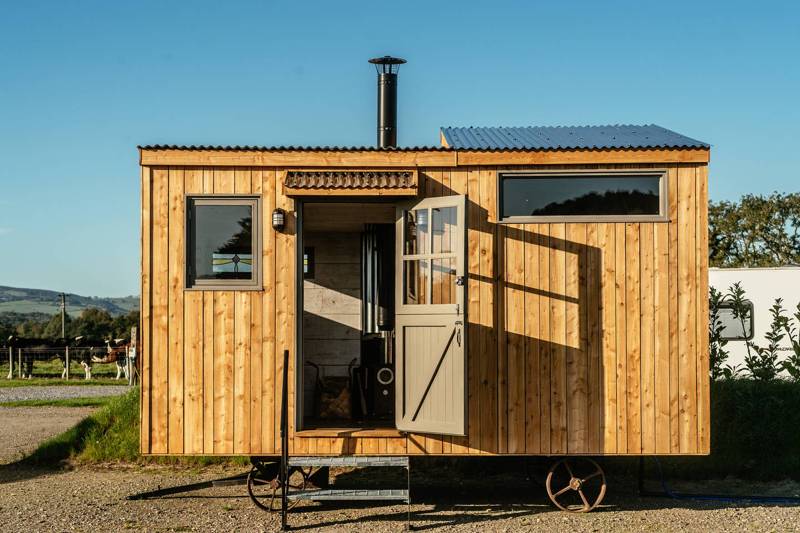 Glamping in Llandeilo
Glamping in Carmarthenshire
Glamping in South Wales
Available:
1 Shepherd's hut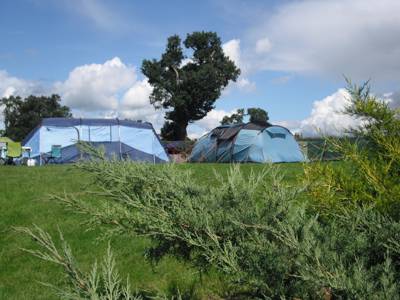 Campsites in Llandovery
Campsites in Carmarthenshire
Campsites in South Wales
Glamping in Llandovery
Glamping in Carmarthenshire
Glamping in South Wales