Quaint riverside bell tent camping in the grounds of an excellent, National Trust-owned, community-run pub
In the tiny village of Cwmdu, there's a small, honey-coloured building that has been at the heart of the community since the moment it was built back in the early 1820s. The uneven walls run from one terraced section across to the next, connecting a whole row that has, through the years, boasted each and every trade a village could need: It's been a post office, a grocery store, master tailors and linen draper and, off course, a village pub. Indeed, in the 1860s, it was all of these things at the same time.
Today, Cwmdu Inn, owned by the National Trust and run by the community, retains its essential character – low interior beams, an old inglenook fireplace and a cluster of tables with room for just 17 people – while the home-brewed beers they used to craft in the back room have been replaced by award winning local ales. Those with a nose for a proper old pub won't be disappointed. And neither will avid campers. For years people have been posting across the internet – where's the nearest campsite? Is there anywhere to camp near Cwmdu? Does the Cwmdu Inn have a campsite? Finally, a happy 'yes' is the answer. And what a campsite it is.
Run by Tom and Lisa Corcoran (and their amiable dog Ambrose), Wild Mountains Campsite is not actually owned by the Inn but, set in the meadow directly opposite, the two remain very much connected. In fact, it's not exactly a campsite either. Just four pre-pitched, fully-furnished bell tents make up the on site offering, so you can't simply rock up with your own tent or campervan, and inside each you'll find proper mattresses, bedding and a wood-burner provided. This is camping in comfort and the small scale of the place lends it a real privacy that helps preserve the total tranquility of the area. It's appropriate given the size of the tiny settlement. On the edge of a designated Dark Sky Reserve it's also blessed with the darkest and starriest of night skies, so some time set aside for stargazing is a must.
From your tent there's ample space for little'uns to go exploring. Mature trees and hedgerows hug the meadow in a green embrace, while the River Dulais skirts along one side. On a hot day, children delight in dabbling along its edges building makeshift dams. Though, it's not exclusively a child's activity. Ruined Talley Abbey is also within walking distance – a fair trek but a pleasant, countryside route – and by car there are a wealth of castles and heritage attractions in the vicinity. As the name suggests, though, it's the rural, remote aspect of this campsite that is the real appeal. The Black Mountain and Llyn Y Fan Fach lake in the nearby Brecon Beacons National Park awaits any would-be explorer, with long days in the outdoors only accentuating the pleasures of the cosy pub at the end. It's a ready-made itinerary that never gets old.
Gallery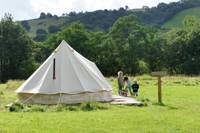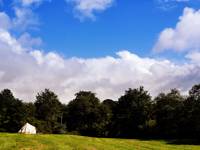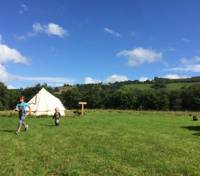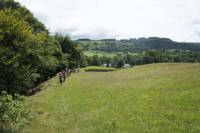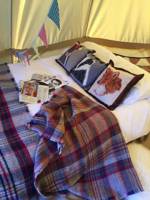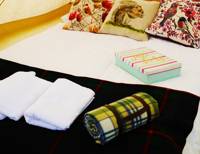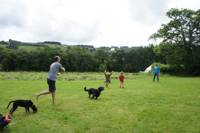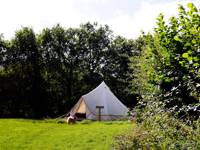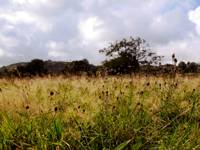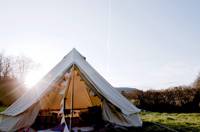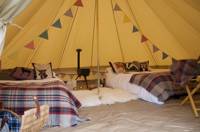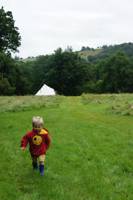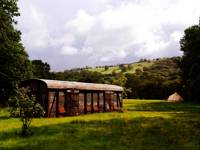 The Owner Says
Tom, Lisa & their dog Ambrose have always been at their happiest in the country, originally from Carmarthenshire, they love camping, especially glamping! Wild Mountains is a dream of theirs to share their love of the outdoors, nature and adventure with everyone. Set in the vibrant village of Cwmdu, with its community run shop, pub and restaurant there is everything anyone would possibly need for the perfect get away to the country. If you are dreaming about escaping and reconnect with nature, family and friends or just yourself then this is the adventure you need.
(Due to poor signal at Wild Mountains it's advisable to email)
Reader Reviews
Add Your Review
Tidy little glamping trip!
Facilities are great. It's clean and tidy and everything you need is there, like fire pit and BBQ grills, cutlery, plates, cups, towels, warm showers, clean toilets, it made it easy to just turn up. We were lucky to get warm weather in May, to sit out and appreciate the beautiful views. Lisa was great at keeping in touch from booking online until we arrived. She went out of her way to make our tent special, by adding balloons and banners for a birthday surprise. Easy to get to, about 5 minute drive into the nearest town for BBQ food etc. Would 100% recommend Wild Mountains, and would love to here stay again.
A Very Warm Welcome!
My family and I were pleasantly surprised by our first time glamping. This campsite offers tidy and clean facilities consisiting of nice hot showers and two clean composing toilets. The tent we stayed in was decorated with creativity and fortunately, there was plenty of space for the four of us in the large bell tent which presented the ideal place for us to hide out from the bad weather. Overall, we all felt very welcome at 'Wild Mountains' and definitely would recommend paying a little visit!
Idyllic, Picturesque - Amazing!
If you're looking for luxury, relaxation and an escape from the hustle and bustle of daily life then honestly, look no further. From the facilities to the attention to detail that Lisa and Tom provide is absolutely second to none. This is the second birthday in a row that I've spent at Wild Mountains - it's quickly become my favourite tradition for me and my friends to get together and enjoy our own space. Absolutely Outstanding!
Great place to honeymoon
We stayed at wild mountains as part of our honeymoon. It was amazingly romantic, the tent was cosy, the beds comfy and the atmosphere fantastic. Was pleasantly surprised by the hot showers and fridge, tea, kettle which didn't make it feel like a camping experience. Would highly recommend!
Calm, peaceful setting and great pub
A picture perfect site with really helpful and friendly owners. Ideal for kids with just enough facilities (hot showers, toaster, fridge, kettle etc) to take the edge off 'proper' camping. Tents were immaculate and fires are allowed too.
Pretty and peaceful
Lovely well laid out site with lots of thoughtful additions. Great facilities shed including electric showers, a fridge, toaster, kettle etc. Log burner in the tent plus a fire pit for outside use. Comfortable bed in a nicely fitted out tent. Friendly owners and a quaint little local pub.
Beautiful country side get-away
I've never been glamping before so I wasn't sure what to expect, but I was pleasantly surprised! The whole set up was well kitted out with fixtures and fittings, facilities and equipment available for us to use. We had fresh towels, a great shower and tea and toast making facilities. The bell tents are very homely, have cute blankets and cushions with a log burner inside. In the morning it was beautiful to wake up to the sound of the birds and the miles of countryside surrounding us. I could easily rent a tent for me and my partner, group of friends or my sister and my little nieces to have a lovely weekend away. The small country pub and shop are a stone throws away so can enjoy the delights of local cider and beer or any last minute necessities. Thanks Lisa & Tom, it's a lovely place to stay and we'll be back.
Fabulous break
Had the best 1st glamping experience. An absolutely stunning site and plush bell tents. We had a brilliant weekend taking in the views and star gazing. All the amenities you could hope for, with powerful showers and extremely useful dressing area with electricity points. We happened to visit when Cwmdu had a beer festival which was fabulous. Extremely friendly locals, a real community spirit. The local pub is just a short walk past the stream and is full of character and good for the purse strings! We will definitely be returning. Thank you Tom and Lisa for a memorable experience :)
Beautiful place and lovely facilities
We stayed in Olive and although it was a chilly the log burner kept it toasty. The tents are beautifully done with cushions, mats and rugs, table and chairs too. The showers are lovely and we were surprised to see a kettle, toaster and even plates and cups available for use! A stunning area to spend time and chill out. A wonderful break, thank you - we'll be back.
Perfectly Peaceful
Really nice glamping experience, small site, nice attention to detail in bell tent (we took Olive and even with 5 of us inside still found it quite spacious.) Utility hut with nice extras like tea making facilities! Visiting the pub is a must if only for a drink. Very friendly owners - really keen to make sure everyone enjoys their stay. Hope to return again and would definitely recommend to others.
Best Price Guarantee, with no fees
Instant booking confirmation
Trusted for over 10 years
A chance to win £50 of Cool Camping vouchers!
Book campsites near Wild Mountains