A labour of love; conceived, designed, constructed and planted by Fran and Tony. And all that work so you can relax in quiet splendour.
In the stillness of the Teifi Valley in rural Carmarthenshire, not far from the bubbling Bargoed stream, can be found the most idyllic countryside retreat.  
Larkhill used to be just a simple family home surrounded by open farmland. But in the early 90's Fran and Tony had a plan ­to transform this place into a peaceful woodland hideaway, far from the hustle and bustle of modern life. They began planting trees, oak, beech, ash and field maple: in total 60 different species now cover the land in a remarkable transformation. At intervals throughout the fledgling woodland they levelled off terraces and began constructing tipis and yurts in the small clearings in order to share this quiet corner with guests.  
Tony designed and built a hexagonal log cabin, in keeping with the wood ­rich environment, to serve as a communal kitchen and dining area which is well stocked with all you'll need: pots, pans, crockery, books on walks, information on the area etc.  There is a covered area outside the log cabin where all guests can meet up and share a campfire. Leading on from this they built an avenue of laburnum trees, which now flowers gloriously in a riot of yellow in late spring. At the end of this dazzling walkway a curious seven­-ringed labyrinth is scorched into the earth and, on occasion, is lit, to become a spectacular labyrinth of fire. The woodland surrounding these wonders features paths with numerous wood carvings of owls, snakes, lizards… with wild flowers occupying the unforested areas of the 20 acres. In addition there are a number of quiet corners and wooded glades hidden around the place,­ ideal for those who like meditation, contemplation and relaxation.  
There are five different types of accommodation, all from varying parts of the world, an alachigh (pron. al-a-cheeg – it's an amazing structure that looks a bit like a yurt, only it's rounder) from Iran, a Mongolian Ger, a Bentwood Yurt, a Native American Tipi and a Lavvu which is Scandinavian. All are equipped with comfortable beds, a wood-­burning stove, a box full of blankets, table, small gas cooker and adorned with sheepskins, rugs, throws and colourful cushions. All have LED lights and lanterns and all your firewood is supplied.

There are plenty of local attractions around here with the Cardigan Bay beaches being just twenty minutes away. You can take a boat ride to see the dolphins, canoe along the Teifi river, horse ride on Llanllwni Mountain, visit an Iron Age Fort or some of the many castles in the area. There are two stream railways, the National Botanic Garden in Carmarthen ­ the list is endless! But rushing around isn't really the point of a holiday at Larkhill.  It's about chilling out in a wonderfully peaceful valley, sitting around a campfire, enjoying the countryside vistas and listening to the larks of Larkhill calling softly. Sheer bliss.
Best Price Guarantee
Easy and Secure, with instant booking confirmation
Trusted for over 10 years
A chance to win a brand new Coleman tent!
Gallery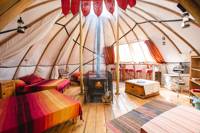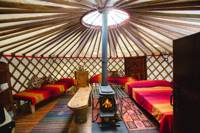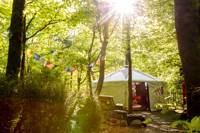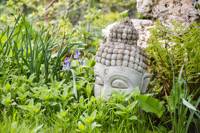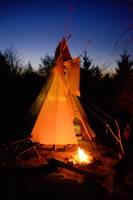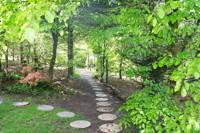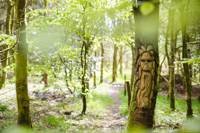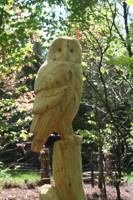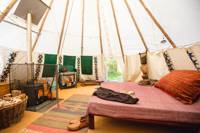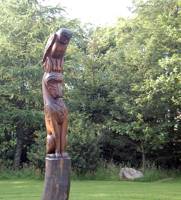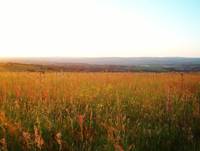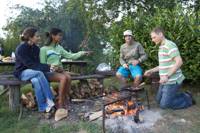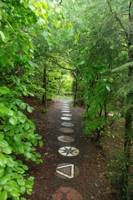 The Owner Says
An award winning eco-friendly campsite in west Wales established in 2003. We have five different comfortable nomadic structures – an Alachigh, a Mongolian Ger, a Bentwood Yurt, a Lavvu and a Native American tipi. All are in their own 'space' and have comfortable beds with wood-burning stoves, set in and around an established woodland on a 20 acre smallholding. With panoramic views, woodland walks with wood carvings around each corner and a woodland children's play area. Hand-made stepping stones weave in and around the campsite to prevent muddy paths! All equipment is provided including extra blankets and pillows. Facilities include a communal log cabin and hot showers. We provide a friendly service and are on hand at all times.
Reader Reviews
Add Your Review
Larkhill tipi
Just perfect.  Stayed for two nights in the lavvu,  which was cosy and snug.  Kids loved it and didn't want to leave.  Explored some lovely beaches.  Larkhill is beautiful,  well thought out and very welcoming.  We all want to go back again soon.  Highly recommended. 
Larkhill Tipis
Awesomely beautiful place. Comfortable, welcoming, relaxing. Just returned from 3rd visit, and most other people staying were also on return visits. Stayed in Mongolian Ger (Yurt) with 2 young children. They had the best time, as they can have so much freedom. A truly peaceful place for a getaway, and a good base for exploring West Wales.
Book campsites near Larkhill Tipis and Yurts