Snowdonia Glamping Holidays
Private hillside glamping in the Conwy Valley, with exclusive use of two luxury shepherds' huts, including a wood-burning sauna
If the stresses and strains of modern living have all got that bit too much to take, look no further than the wonderful bucolic bolthole that is Snowdonia Shepherds' Huts. Tucked up in the hills above one of the Conwy Valley's loveliest spots, this fanciest of camping experiences is the ideal panacea for world-weary urbanites who still need those little touches of luxury. What's more, these lovingly crafted shepherds' huts are a favourite haunt for camping couples. And stepping inside the twin huts, it isn't hard to see why. Painted soft, soothing shades of eggshell and tastefully decorated with the finest local woolens, the "living" and "washing" huts are fully equipped with everything you could need for a hassle-free holiday. Oh, and the wash hut even comes with it's very own wood-burning sauna!
As regular campers to these parts can testify, the pitch-up parade are often at the unforgiving mercy of the frequently boisterous Welsh elements. Inclement weather is of no such concern here, though, thanks to the beautiful cast iron wood-burning stove which transforms your abode into a toasty cocoon of cosiness. In fact, there's very little you could want for here and in the surrounding area.
Positioned above a bubbling stream – great for paddling, dam building and a post-sauna dip for the adventurous – the huts are half a mile from the road, along a farm track. Amiable hosts, Richard, Hazel and their children are about the only people who will ever pass by (except for the occasional walker). Even the postie doesn't come up here! You might see and hear some wildlife though – a heron can often be seen fishing in the stream, red kites whirl overhead and a family of hares live next to the track. You'll hear the resident owls hooting as you sit cosy by your fire in the evenings. Surrounded by beautiful countryside and within a stone's throw from a good path, there is superb walking and mountain biking right from the door of your hut. Campfires are also allowed in the designated fire pit – perfect for cooking your own.

As the Conwy Valley tourist board proudly boasts, Betws-y-Coed is 'the official gateway to Snowdonia'. Although this enviable hillside location within Wales' largest national park does nurture an almost inescapable lure to all things outdoorsy, there is also a refreshing abundance of cultural and historical things to see and do in the surrounding area. With fairytale castles to explore and Wales' largest seaside resort, Llandudno, just up the road, you won't go wanting for fun days out. Then, suitably shattered from exploring the best the area has to offer, you can retire in peace at this wonderfully secluded, riverside retreat.
Gallery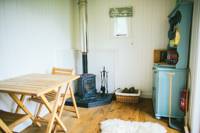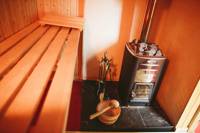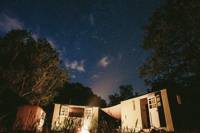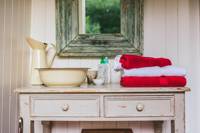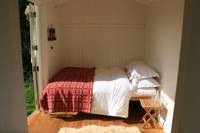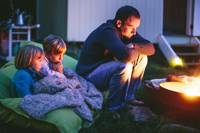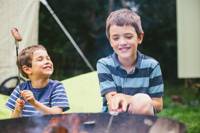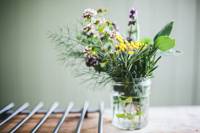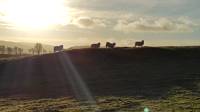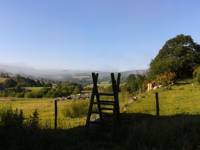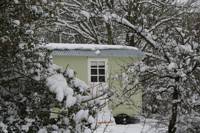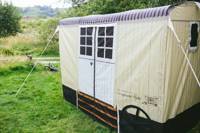 The Owner Says
Our cosy shepherds' huts are designed to make the most of their superb location.  Listen to the stream as you lie in bed at night, catch the warmth of the morning sun as you enjoy your breakfast, watch our resident barn owl as he hunts over the meadowland and remember to look up at night - there's no light pollution here so the starry sky is breathtaking. Both of our shepherds' huts are exclusively yours for the duration of your stay.
The "living" hut has a wood-burning stove for chillier nights, a pull-down double bed with luxury bed linen, Welsh blankets and a Welsh mountain sheepskin rug.
The other hut is your private wash hut where you'll find a toilet, shower, wash basin and wood-burning sauna so you can relax after fantastic days out exploring Snowdonia.
You'll also have a fully equipped outdoor kitchen under a canopy with a triple gas burner, a coolbox and a fire pit.
What you won't have is a mobile signal, internet access, TV or even radio.  No traffic, no loud music from your neighbours - unless you count birdsong and baa-ing!  Just peace, tranquility and the sounds of nature.
Reader Reviews
Add Your Review
Perfect
We were looking for somewhere quiet but close to everywhere that we wanted to visit, this was the perfect spot. The barn was gorgeous; tasteful, comfortable and it had everything we needed. It was the perfect spot to come back to after climbing Snowdon with our two children. Hazel and Richard are lovely, I would come back here in a heart beat. Highly recommended.
Response from Snowdonia Glamping Holidays
Thank you for your lovely comments Siobhan.  It was a pleasure to have you all to stay - I'm so glad you enjoyed it.  
Awesome
Had an awesome 3 days in these huts, owners very helpful and acommodating . I would highly recommend staying here. Everything you want is close by and easy to get to. Lots of walks and mountain biking on your doorstep.
Perfect Honeymoon
Such a magical little place, tucked away by a stream in the middle of Snowdonia down a farm track with only the birds and sheep for company. Hazel and Richard are 200 yards up the track and there is another house about 1/4 of a mile away back towards the road, but other than that you are completely alone with everything you need. We asked Hazel to set us up with a hamper of food for our stay so we could arrive and settle in straight away and her selection was marvellous (great taste in wine!), a proper local-produce and deli hamper with home grown herbs and potatoes thrown in. The covered cooking area at the back of the sleeping hut is brilliant, you have everything you need to create any meal and you can feel like an open air chef in a very special location, listening to the roar of the stream and gazing at the trees and fields. We used the fire pit one night to cook, too, that's always fun. The sleeping hut is compact and bijou but so very cosy and charming, with everything you need and the warmth of the woodburner kept us happy throughout our stay. We slept quite a bit (weddings do that to you, I guess), but we also just chilled out gazing at the landscape contemplating life. The local walks are stunning, some of the best scenery in the UK, if not the world, and a brilliant way to feel the full benefits of a healthy sauna in the wash hut afterwards. To say we felt replenished and refreshed is an understatement. And of course, Richard and Hazel are the perfect hosts - down to earth, friendly, warm and helpful without being intrusive, really good people. We loved their cats, too. Thank you for a wonderful stay, we will be returning. Andrea and Ben xx
A perfect weekend
Thank you Hazel and Richard for the most perfect weekend. These huts were the ideal way to spend a romantic weekend away and a perfect base for climbing Snowdon with a sauna and hot shower for when we got off the mountain. The bed is huge and so comfortable, we were so disappointed to back to our usual bed last night. We mastered the art of making fires and got the huts feeling super cosy. The outdoor cooking area is well stocked and well sheltered so we were able to cook up a real feast for dinner and breakfast. And the stars - just wow. It's so peaceful and tranquil, we can't wait to visit again, especially as its less than a two hour drive from Manchester! Although I don't think we will always be so lucky with the weather!
Amazing Getaway
Just spent three nights at these beautiful shepherds huts - really unique and cosy in an amazing setting. One of the huts has a sauna in it which was a great treat after a day climbing Snowden. Great location and lots of homely touches with really welcoming hosts - absolutely loved our stay there and can't recommend it highly enough!
Unique and quirky
We stayed for 2 nights but I wish I had booked for longer; amazing place and the peace and quiet was total!  Spotlessly clean and all the fixtures and equpment were high quality (lovely bedding).  Hazel and Richard have made sure everything's as eco-friendly as it possibly could be.  Fire pit and outdoor cooking facility were great, as was the hot shower and sauna at the end of the day.  No passing traffic or walkers ensures a complete and private break.  Will definitely be coming back and can highly recommend it.

perfect retreat
My husband booked the shepherd's huts as a surprise for my birthday and I couldn't have been more delighted by what we found! Arriving from work at 11.30 pm we were met by home made scones and a thermos of hot chocolate, and after lighting the fire we had the perfect cosy home for the night! Despite the raging wind we were so cosy in the huts, and didn't feel the chill even once, far from it! The view from the huts was beautiful, rolling hills and an abundance of bird wildlife and heaps of lambs. We spent our day riding through the local countryside but the appeal of a campfire was too much and we were back in the late afternoon making full advantage of the excellent facilities. An amazing touch was the sauna in the second hut which was so unique! Everything had been thought of, from the well stocked outdoor kitchen to the pre chopped wood and home made cakes - Hazel was so welcoming and friendly and went out of her way to make sure our stay was special - which it truly was. We only got to stay for 2 nights but could have stayed much longer. It was the most peaceful and relaxing place to be! Thank you for creating such a fantastic retreat, we will definitely be back!
susie and jim 
A not to be missed experience...
This is the perfect half-way point between camping and a luxury tented "glamping" shared-site experience. Tucked away not far from the A5 and Bewts-y-Coed the Snowdonia Shepherds huts aren't too isolated but give you the feeling of isolation and being cut-off from the world. The sauna and bathroom hut will be a revelation for those used to roughing it and the comfort, design and well-thought-out features of the living hut and camp kitchen make this a real delight for a couple of days well away from the real world.
Everything you do is deliberate here and without distraction – Hazel and Richard brought fresh wood and water but had we not ventured out for lunch we would not have seen another soul. The booking schedule on the website is rightly filled with weekend visitors and with some menu forethought and a good book or two there's little reason to leave if you really want to decompress. We stayed specifically for the solar eclipse and the experience of the moon sliding over the sun directly between the two huts was really magical. We had a great stay and you'd be really hard pushed to be disappointed by the experience.
New Year!
This is an absolutely lovely place to spend time; we stayed in the huts over New Year and not even the storms could dampen our experience. 
The huts were so warm and cosy it was unbelievable; we didn't even need the extra blankets available as the burners worked so well.
Hazel and Richard make sure you have everything you need; including space and peace. A truly wonderful place that we shall be going back too.
Best Glamping Ever
Stopped 19th, 20th of July. Arrived in the most beautiful location. Sheppard huts where amazing. As the Welsh would say "LUSH". Richard and Hazel have done a magnificent job. Will definitely be returning and couldn't recommend enough. The place is so relaxing and the sauna was fantastic. Pitch black at night with the night sky so clear all the stars were flickering away. You truly would not be disappointed, just a shame we only had 2 days. 

Lisa & Rob 9 - 13 June 2014
I had arranged the trip as an anniversary present for my husband. I can only reiterate what everyone else has said. The huts are well placed for peace and tranquility and enjoying nature yet there is much to see and do close by.  We had a fantastic five days that were enhanced by our hosts Hazel & Richard who catered for our every need. They had good local knowledge which helped with planning our days. They also provided homely touches ie homemade goodies such as jam and lemonade which added to the experience. Would not hesitate to recommend to friends looking for a luxury glamping experience. We plan to return next year :)
Heaven
What an absolute dream of a glamping site!! We were so cosy in our little hut and didn't even mind that it rained half the time! The covered cooking area certainly came in handy!! The sauna is amazing and such peace and quiet is hard to come by.  Thank you for providing such a beautiful space xx Cassie and Nick xx
A real treat
Staying at the huts was a real pleasure. Owners Hazel and Richard made us feel very welcome and had thought of every detail needed for a cosy and comfortable camping experience. It was lovely to be welcomed with a jug of homemade lemonade on arrival and the breakfasts were deliciously different every day. We really enjoyed cooking over the fire pit. The location is the perfect tranquil getaway but with all the activities of the national park within easy reach. The huts were one of the main reasons for choosing Snowdonia as our holiday destination and we were not disappointed. A lovely, relaxing and unique place.
Snowdonia shepherds' huts
What a wonderful location to relax, unwind and get away from it all!  Myself, my husband and my 12 year old son have just returned from a lovely break in Hazel and Richards shepherds huts. 
The huts are lovely and cosy, in a perfect rural location, but with plenty of luxury touches to add to your experience.  Sadly as we only stayed for one night we didn't get to try out the sauna, but we will definitely be returning for a longer stay.
Hazel and Richard have thought of everything to make this a first class camping experience.  We would recommend a visit to to this beautiful corner of Snowdonia to anyone who wants to get back to nature while still retaining a touch of luxury!
Anniversary Celebration
My partner and I thought about going off to Rome for our 10 year anniversary, or Florence. But when we decided what we wanted to get out of the trip was simply some quality time together away from our hectic day-to-day routine, we reconsidered and chose Snowdonia. 
Normally we'd just bring the tent, but we wanted somewhere with a few more creature comforts for this special occasion. I specifically wanted there to be no phone signal and no-one else very near. 
To say that Hazel and Richard's Shepherds' Hut delivered would be a bit of an understatement. It was truly perfect for what we wanted, and totally nailed the balance of being comfy (and warm!) while giving a proper wilderness feel.
We loved cooking in the outdoor kitchen, and wrapped up warm to stay out round the fire enjoying the amazing stars, trying to spot the elusive barn owl! And my worries about being chilly were utterly unnecessary - the woodburner in the hut turns it into the cosiest nest imaginable! 
We were delighted by all the thoughtful homely touches and obvious care that has gone into building and creating this wonderful place to stay. The sounds and scents of nature struck us immediately getting out of the car, and we felt the stress lifting! If you want somewhere romantic to 'get away from it all' but still be handy for plenty of fun activities, I can think of nowhere more ideal.
We wish Hazel and Richard every success for the future, and look forward to returning to Snowdonia soon. 
Claire and Jake
Simply the most beautiful, relaxing place to stay. Hazel and Richard are amiable, welcoming hosts who have thought of literally everything you can possibly need down to the tiniest detail. The kitchen is fully equipped to cook a banquet if you so choose and furnishings are luxurious and cosy. The bed linen is 5 star quality although barely needed with how toasty you can get the "living hut" with the multi fuel burner. Stocked with plenty of wood you can rest assured you will have everything you need. The water from their very own spring is clear and deliciously fresh. Hazel and Richard even gave us some eggs from their very own hens as a treat. The fire pit is large enough to get a roaring fire going so you can sit out long into the evening - just don't forget the marshmallows. My partner and I only stayed for one night after climbing Snowdon but we shall definitely return for longer - Snowdonia Shepherds Huts are an enchanting slice of tranquility and far removed from your average holiday. You cannot see or hear anyone for miles bar some bleating sheep and the stars are so beautiful. We have already started telling our friends to visit. Thank you Hazel and Richard for a lovely weekend - see you soon!
Fantastic Shepherds Huts
Thanks to Hazel and Richard for a truly wonderful stay. If you are contemplating visiting - trust us you definitely should.  
Whatever the weather the huts are wonderful - the log burner really makes for a cosy stay, the welcome basket is a really nice touch and we would definitely recommend the breakfasts! 
We stayed for two nights and were genuinely sad to have to leave - we will definitely be returning and wouldn't hesitate to recommend to friends. After climbing snowdon, to return to a wood burning sauna, was a real treat. Hazel and Richard really have thought of everything you could need - I've never felt so relaxed - a truly magical place to come and stay. Thanks again, Alice & Owain 

Snowdonia Shepherds' Huts
Just returned from a fantastic two nights in the shepherds' huts. Richard and Hazel were brilliant and welcoming hosts, the homemade lemonade and ginger bread very much appreciated after a long day of walking. The location is magical, a beautifully remote and tranquil spot with only the sound of a babbling brook, birds and sheep for company. Huts themselves were very luxurious and met our every need! Highly recommended.  
Snowdonia Shepherds' Huts
Had a wonderful stay here in April with my boyfriend. Beautiful setting & incredibly relaxing experience. Hazel & Richard, the owners, were very welcoming...we were very spoilt. Betwys-y-Coed is a gorgeous little town, I would DEFINITELY recommend staying in these huts whatever the weather. 
Best Price Guarantee, with no fees
Instant booking confirmation
Trusted for over 10 years
A chance to win £50 of Cool Camping vouchers!
Book campsites near Snowdonia Glamping Holidays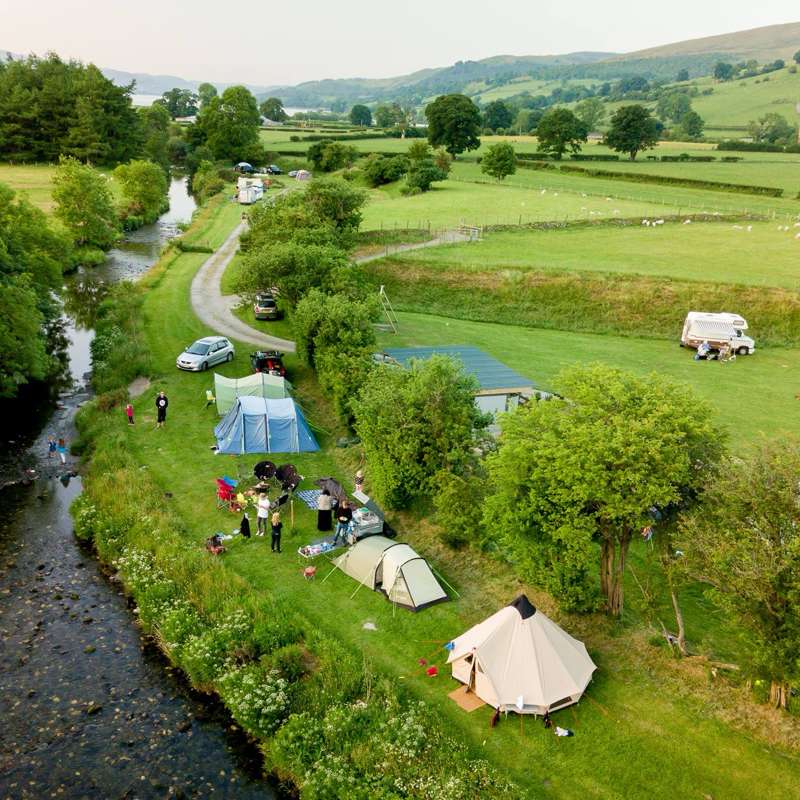 i
Campsites in Gwynedd
Campsites in North Wales
Campsites in Wales
i
Glamping in Gwynedd
Glamping in North Wales
Glamping in Wales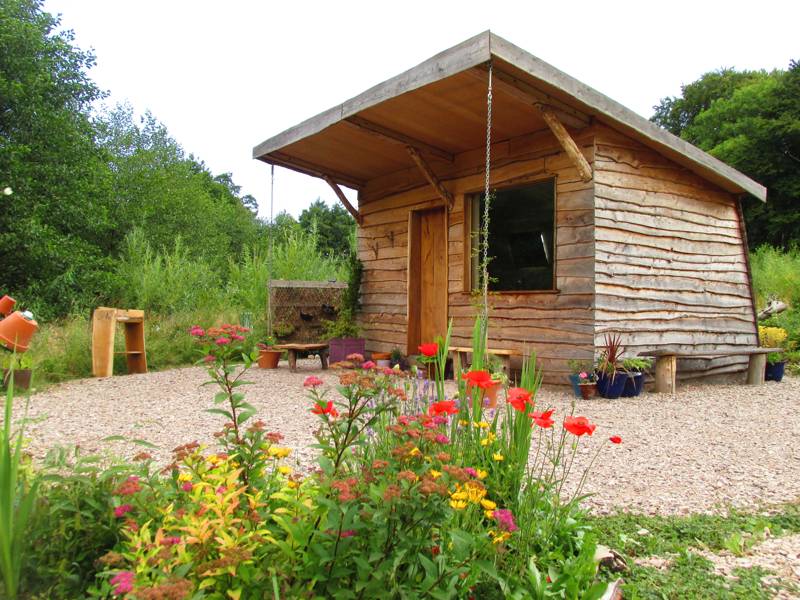 i
Glamping in Conwy
Glamping in North Wales
Glamping in Wales