Oak Yurt
Cae'r Gseg, Brynteg, Anglesey LL78 8JT
Sleeps 5

(max 5 adults, 4 children)

Cooking facilities
Beds Provided


Bed Linen Not Included
Book camping accommodation at Anglesey Tipi and Yurt Holidays
The Owner Says
Our Tipi and Yurts are set privately, with individual picnic bench and space for barbecuing. So if you want to spend some time with your family or friends on your own you can, and if you would like to socialise then there is a communal space with a fire pit and seating area under canvas.
Tipis aren't as weatherproof as Yurts due to their structure therefore we usually recommend the Yurts rather than the Tipi for families especially with smaller children as the Yurts are less challenging in terms of rainy conditions and have advantage of a wood burning stove.  Our Tipi is provided with rain catcher and external hood to minimise drips during rainy conditions. We'll also show you on arrival how to operate Tipi smoke flaps for when you lighting the fire. This is quite simple operation and it adds that extra factor of adventure to your stay in a Tipi. Please take these factors under consideration when you're making your choice of accommodation.
Furnishing
The Tipi and Yurts are furnished to create a nice, cosy space.  This includes:
Double bed, double futon and single futon
Sheepskins
Rugs
Cushions
Fairy lights
Wind up lantern
Chiminea in the Tipi and a wood-burning stoves in the Yurts
Cooking equipment
In each Yurt and Tipi there is a cooking space equipped as follows:
Camping gas stove
Barbecue
Kettle
Set of pots
Frying pan
Wok
Glasses
Plates
Cutlery
Mugs
Sharp knife
Tin opener
Bottle opener
2 chopping boards
Colander
Potato peeler
Bucket
Washing up bowl
Water carrier
Sweeping brush and shovel
Cool box
We will supply you with a basket of wood for your first night. Additional wood for the chiminea/wood burning stove and fire wood for the open fire you can buy on the site and also locally (Benllech Garage) or you can bring your own wood.
Barbecue charcoal is also available on the site at reasonable prices.
We can provide ice packs for the cool box and they can be swapped for fresh once at the cottage.
Cots are available if required. Let us know if you need one when booking. We also have nappy changing table and baby bath in the shower and toilet block. The shower and toilet block also have electric sockets.
Bench tables by each Tipi/Yurt.
Recycling point with bins for plastic, paper, cans and glass.
Eco friendly washing up liquid, soups and biodegradable loo paper.
Two washing up sinks under cover and compost toilets 
in close proximity to tents. We also provide 2 flush toilets, 2 showers and 2 washing sinks, which are installed in wooden cabin, 150 m away from the site, near the car park.
Several hammocks in the woodland, by the site.
Car park. The Yurt and Tipi Site is a car-free zone and we provide a wheelbarrow to help you transport your things from the car park.
What you need to bring
Your own bedding (warm sleeping bag or duvet, pillows, sheets)
Towels
Food
Torch
Good footwear i.e. wellies or walking boots
Slippers or other easy to remove footwear for inside the Yurts/Tipi
Home grown produce
We have a flock of chickens and are growing a modest selection of vegetables which are available according to the season, so if you would like to enjoy free range eggs for your breakfast, cook your meal with home produced vegetables or take a veggie box home, we'll let you know what's available on arrival.
Local towns and ammenities
The local towns and villages have various amenities, as follows:
Brynteg (5 minutes walk) – Local pub, with a selection of beers and food.
Marian-glas (15 minutes walk) – The Parciau Arms – friendly pub with a selection of beers and food, beer garden and playground.
Benllech (1&1/2 miles) – Spar, Co-op, Tesco Express, Doctors' surgery, post office, chemist, etc.
Llangefni (7 miles) – bigger choice of various shops and amenities
View Gallery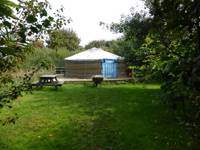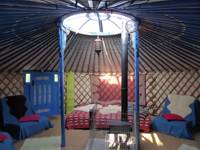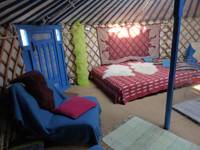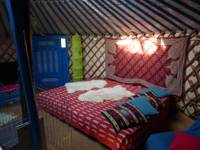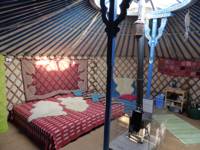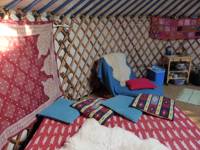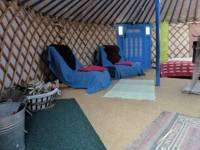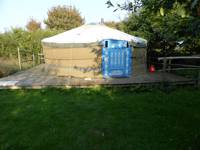 Search all availability at Anglesey Tipi and Yurt Holidays
Safe, secure, fun accommodation near the Isle of Anglesey Coastal Path, with sweeping sandy beaches and towering cliffs
The Owner Says
Our Tipi and Yurt glamping site, established in 2008, is situated in beautiful, natural surroundings, 1 mile from the east coast, on the Island of Anglesey, North Wales. We have one Tipi and four Yurts, set in individual clearings, carved out of the young woodland, creating a secluded and peaceful site. In the evenings you can sit by the fire and listen to the sounds of nature and during the day explore a beautiful area of the Island.
The interior of both Tipi and Yurt create a magnificent space for groups of friends and families. It is also a wonderful way of spending your honeymoon or anniversary – we have a cosy Tipi ideal for two.
We also offer our campsite as a venue for workshops.  Over the last seven years we have planted 50% of our 8 acres with trees and on the land you can find many different types of wild flowers including Orchids.
As we are near the coast there are lots of sandy beaches to explore and also many delightful footpaths. There are several Nature Reserves and Sites of Special Scientific Interest and many ancient monuments, including standing stones, burial chambers and settlements. Snowdonia National Park is nearby. Local shops and amenities are a 5 minute drive.
Site Facilities
Campfires allowed in one designated area. Two tipis, three yurts, the latter with wood burning fires (first bundle of wood is free). Yurts' inventory includes small gas stoves, cutlery and cooking utensils, 2 fold-out futon beds. Tipis have double beds and BBQs. Two flush toilets in the cabin facility block, one compost loo in the woods. The cabin also has two powerful showers and sofa, tables, nappy changing table, electricity points and sinks, with plenty of room for kids to sit and play. A 11/2 acre wild wood with footpaths and hammocks.