Welsh valley glamping with panoramic views and hot tubs
As you wend your way up the valley road, the stress of the journey, the pressure of work and all thoughts of home soon slip away. It won't be long before you'll be easing yourself into the bubbling waters of your private hot tub at Cwmllwyd Getaways. There's nothing for you to do here but settle in and think of Wales. And, to be honest, it's hard not to; what with the panoramic valley views, the slate roofed village in the distance and the sound of hardy hill sheep bleating nearby.
So far so Welsh and the accommodation fits right in too. There's a converted railway carriage and a pair of Welsh-built glamping pods. That's it: three standalone units that work as well for couples as for a couple of families holidaying together (the railway carriage sleeps two, the pods: up to four). Either way, you don't have to share this special location with many or your facilities with anyone at all. The pods and the carriage each have their own little fenced garden area, their own parking spot and are fully self-contained with a kitchenette, en-suite bathroom – the lot. They are heated, insulated and have electricity and hot and cold water on tap.
Ceri and Geraint are the young couple behind this business. That's exactly the beauty of the place. It's somewhere you could spend hours just reading a book, observing the birds, watching tractors plying the valley road and the occasional train whizzing by down in the village.
If you're feeling energetic, you could go for a walk. It's three miles back down to Carno village where there's a good local shop and an exotically-named pub, The Aleppo Merchant. But this is Wales and while relaxing is easy, bigger adventures are not hard to find either. You can be on the coast or in southern Snowdonia in an hour. Whether you choose a stroll down to the pub, a hike up Cader Idris or a day swimming at Barmouth beach, you might find that wending your way back up the Cwmllwyd Valley holds as much anticipation as the adventure you've just had.
Details
Facilities
Both pods and the railway carriage have en-suite shower rooms and are fully kitted out for self-catering stays with a little kitchenette, a seating area, and a made-up king-size bed. The pods have a sofa bed with bedding too, so they can sleep up to four people. Each has its own garden area with an electric hot tub, outdoor seating, and an off-ground fire pit.
Suitable For
Glampers, adults and children – yes. Campers, campervans, caravans, motorhomes, pets – no.
Nearby
You can walk and cycle on country lanes and foopaths nearby or head to Hafren Forest or the Elan Valley Reservoirs. Like most things, they're about an hour's drive from site (20 and 30 miles away). It takes a little less time to get to Dolgellau (also about 30 miles away) from where you can head off up Cader Idris, the highest mountain in Southern Snowdonia or discover the MTB trails of the Coed Y Brenin Forest Park. Beyond Dolgellau, it's another 15 minutes to the seaside town of Barmouth where there are plenty of facilities alongside its sandy beach and harbour. The smaller resort of Aberdyfi is further south and is a good base for watersports, also an hour's drive.
Food & Drink
The village of Carno has a shop with all the basics as well as a selection of local produce. The village pub, The Aleppo Merchant (01686 420210), serves good pub grub and has a welcoming atmosphere, a games room and a garden. There are more options in the surrounding villages but for more than a local pub, perhaps try the options when you're out and about at the coast, in Dolgellau (45 minutes away) or Machynlleth (30 minutes's drive).
Open
All year.
Why book with Cool Camping?
Best Price Guarantee, with no fees
Instant booking confirmation
Trusted for over 10 years
A chance to win prizes in our regular competitions
The Owner Says
Looking for a luxury getaway, Cwmllwyd is the place for you!
Away from the hustle and bustle of day-to-day life, Cwmllwyd Getaways sits majestically in the Carno Valley, at the foot of the Cwm yr Anel forestry, within lush green fields. Whether you are planning a romantic getaway, adventure holiday or an escape to the country to unwind with friends and family, our newly developed site offers the perfect retreat.
We offer three luxurious units; two spacious four berth cabins, and a cosy converted carriage that boasts a beautiful handcrafted bespoke interior. All our cabins include a modern en-suite shower room, as well as large windows to fully appreciate the breath-taking panoramic views. Each cabin also benefits from its own private decking area, where your electric hot tub awaits! Also if you are lucky you may see local farmer Jones.
The nearby village of Carno is most famously known as the home of Laura Ashley – the factory still stands in the village, and her final resting place is at the St John The Baptist Church, Carno.
Sit back and watch the world go by, where the grazing livestock and bird-song provide the only background noise. The tweeting of the blue tits are the closest you will get to twitter in this secluded spot!
By night, the site is ideally placed for some star gazing as you ease yourself into the bubbling water of your very own private hot tub. We recommend getting a bottle of bubbly chilling in the fridge in preparation, please let us know if we can help with this or if you have any specific requests!
In the village, you will find a shop providing a range of groceries to include local produce, beers / wines and basics; and just a little further down the road, the heart of the village, the local pub that serves great home cooked food and drinks, with a welcoming atmosphere.
Cwmllwyd Getaways is located just off the A470, which can lead guests to our rugged welsh landscape including Snowdonia national park to the north, the Brecon Beacons to the south, and the Cambrian Mountains and Cardigan Bay to the west. Then again, once you settle in to your luxury cabin surrounded by idyllic views, you might not venture far at all.
Unfortunately, we do not allow pets.
WiFi available in all accommodation
Extras
Food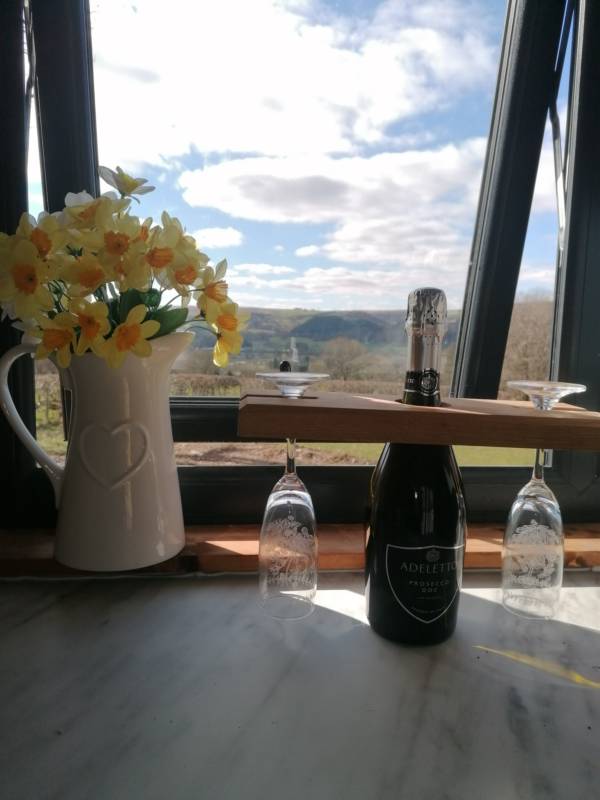 Prosecco on arrival
Planning a few days away and want to make it extra special? Why not get a bottle of prosecco to await for your arrival.
Cheers to you!
Location
Contact Cwmllwyd Getaways, Carno, Caersws, Powys
Getting There
From Newtown, take the A470/A489 towards Carno and Machynlleth. The village of Carno is spread along the road after about 11 miles. Pass the pub, The Aleppo Merchant, and most of the village before taking a right turn onto Cwmllwyd Road, just ahead of the currently disused railway station. There's a level crossing soon afterwards. After about a mile, there's a right turn (no throughr road sign and windfarm sign on the enterance) on to a single track road. Take this and after a few bends, Cwmllwyd Getaways is visible. The entrance will be on your left.
A car is highly recommended for this rural location but determined public transport users could take a train to Caersws, seven miles away.
Reviews
Add Your Review
Rated ★★★★★ over 19 reviews
Wonderful getaway in a gorgeous location
We stayed in Cledan cabin, it was clean and tidy, stylishly decorated and so so cosy. All mod cons and heating and of course an amazing hot tub, which despite it being a cold weekend were more than happy to get in. Views are spectacular and at night the stargazing is another level. Even got treated to a few shooting stars! The pub in the village The Aleppo Merchant is warm and welcoming and the food is really good, really recommend a meal there. We also travelled to Newtown for the day and had a shop around the market and stopped for a nice hot drink and mince pie at the Lion Inn. Only a 20 min drive and have all major supermarkets if you want to stock up, however the Spar in Carno the local village has the essentials. Could not recommend enough and hope to come back next year at some point. Thanks to Ceri and Geraint for a wonderful stay.
The most wonderful getaway
Myself and my partner escaped here for a quiet getaway weekend and it was absolutely perfect. The sight and surrounding area is beautiful and the pod we stayed in was so cosy we didn't want to leave. The hosts were lovely and kept us well informed before our arrival and the drive to the sight (no matter which direction you're coming from) was incredibly scenic. It is the ideal place to visit if you want to explore the heart of wales or simply to enjoy some peace and comfort. We can't wait to come back!
Absolutely stunning
Beautiful views, clean luxury cabin with an extra added bonus of a lovely hot tub that we used so much to just chill and unwind in! Will definitely back! It's worth every penny!
Idyllic getaway.
We had a fantastic time at this secluded getaway, hosts have done an excellent job on making you feel welcome, lovely little touches, the hot tub was a most excellent addition and we are going to come back here next year.
Wonderful Stay
Thanks so much for a wonderful stay and break away at Cwmllwyd Getaways. It was truley lovely after a hard year for us, it gave us the opportunity to climb mount snowdon and explore the breathtaking scenery. At an evening, we just chilled out in your lodge - PERFECTION. Much appreciated.
Beautiful converted train car
Thank you ever so much for a fabulous stay in this quaint converted rail cabin. My fiancé booked this for my 25th birthday and I could not have thought of a more peaceful and relaxing location to celebrate this event. The views are stunning and the disconnect you get from reality here is just what we needed after the strains and stresses for the past year. Thank you, Josh and Jasmine.
Amazing Relaxing Retreat
Organising key collection on arrival was straightforward and Ceri communicated clearly and promptly with us. The cabin was clean and tidy and had all the amenities we needed. The views from the cabin/hot tub were spectacular, especially as the sun was setting on an evening! The cabin feels like you are very remote and away from reality, which was amazing, however the local village with a very well equipped Spar shop and local pub is only around 1.5 miles away....the best of both worlds! The cabin is well located to visit a variety of places as long as you are prepared to drive a little way. We visited Elan Valley and Lake Vyrnw, which were both spectacular and well worth a visit! We will definitely be returning!!!
Wow what an amazing place
We stayed for a week to relax and unwind. The cabin are bautiful, with everthing you need Our hosts could not have been more helpful or friendly. This place is fabulous, words cannot express the amazing time we had. It so pieceful and quiet, the hot tub is fabulous - just be careful not to burn in the hot tub!!!!!!!
Amazing
This railway carriage is just so beautiful and felt completely relaxed. The bed is so comfy. The owners are fantastic and couldn't do enough for us. Just so friendly. Some sites are so overcrowded but this is the perfect size for a fabulous weekend away. We can't recommend this enough. Many thanks for the memories and good luck with the site!
Gorgeous getaway
The most scenic, tranquil spot! Absolutely gorgeous log cabin/pod, could've stayed forever. Lovely owners, wishing them lots of luck xx
Beautiful stay with lovely views
The getaway was absolutely amazing from start to finish. Welcomed by the lovely host and made to feel very at home, where we then spent 4 wonderful days relaxing in the hot tub or spending time in the homely cabin. Both accompanied with the beautiful rural views of Wales. Can't wait for another visit.
Gorgeous converted railway carriage.
Gorgeous converted railway carriage for a few days away with my boyfriend. So lovely and and relaxing with great views! Ideal for some peace and quiet and a chance to relax!
Gorgeous pod with amazing views!
We visited cerniog for a long weekend over the bank holiday, what a beautiful view! The pod was fully equipped with everything you would need for self catering & has the comfiest bed! The views go on for miles. We visited the local town of Newtown and attempted an escape room & visited the pubs in the town. We also spent time in Caersws and Carno at pubs and restaurants. We managed to walk to the closest pub, The Aleppo Merchant, so we didn't have to drive or find a taxi (35 min walk). Our hosts were very attentive and only a text message away, thankyou for an amazing stay! Good luck with the future, Beth & Chris xx
Relaxing Girls' Getaway
Quintessential Wales scenery with adorable sheep and lambs on the doorstep - the hot tub was the highlight for us! The cabin was cosy and very tastefully decorated with all the essentials for a weekend getaway. Four of us shared the double bed and pull out sofa which was bit cosy was fine for a couple of nights. Ceri was a wonderful host as we asked a lot of questions and she was super helpful with advice and feedback about walks and places to eat in the area. We would love to go back to this magic little corner of Wales. x
The best!
Lovely relaxing few days away in Cefnbrith Carriage! It was so cosy! The hosts were so accommodating and lovely to speak to! Can't wait to go back
Gorgeous views and stress free weekend!
Cefnbrith Carriage was very tastefully decorated and the views were gorgoeus. A very stress free weekend and we will be returning! Bel & Alex
Relaxing, beautiful and calming
The carriage was very tastefully decorated and the views were gorgeous. The owners were lush too, any queries we had we're sorted in a flash! A very stress free weekend and we will defo be returning - Bel and Alex
Cosy carriage with fab views
All we can say is Wow... so glad i was lucky to book here for my partners 40th as the carriage is gorgeous and super cosy.. Fab views with our lovely sheep neighbours and helpful, welcoming and lovely hosts Ceri & Geraint.. Highly recommend for a relaxing break away, will definitely be returning..
Cosy carriage, beautiful views!
Our stay in cefn brith carriage was wonderful! The views were amazing. Lots of nice walks in the area. The carriage was super cosy and the bed was very comfortable. Overall fantastic experience!
Why book with Cool Camping?
Best Price Guarantee, with no fees
Instant booking confirmation
Trusted for over 10 years
A chance to win prizes in our regular competitions
Book campsites near Cwmllwyd Getaways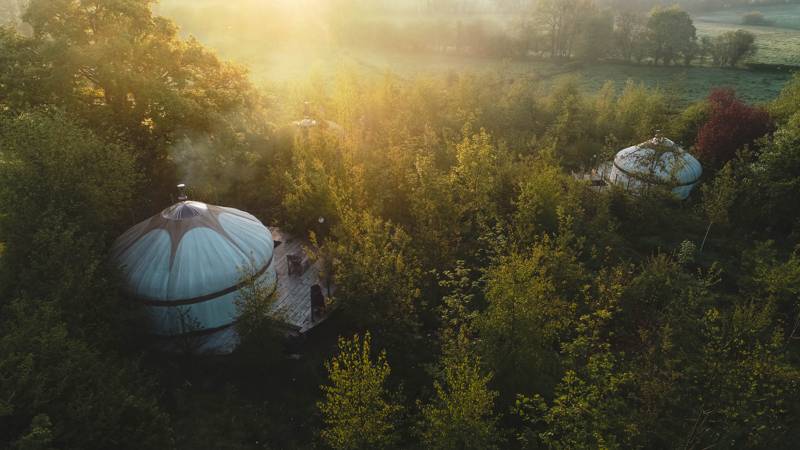 Glamping in Welshpool
Glamping in Powys
Glamping in Mid Wales
Available:
3 Yurt or Gers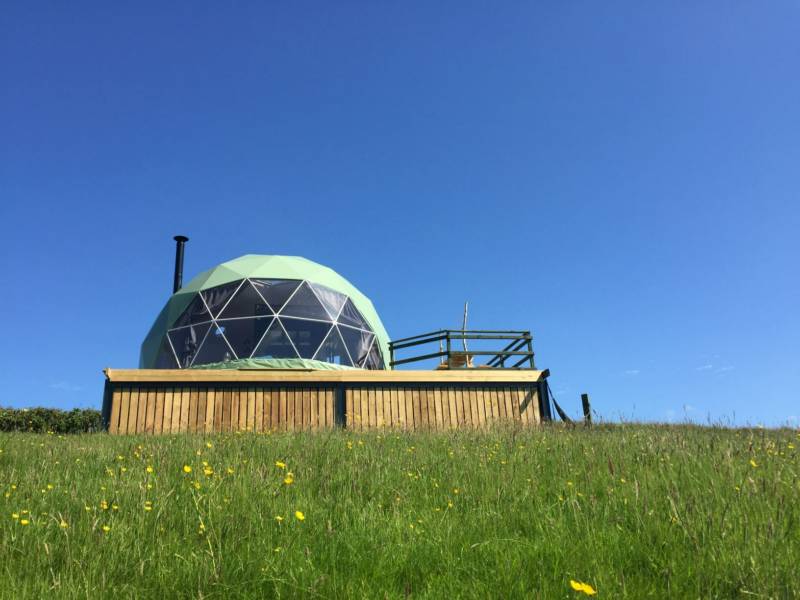 Glamping in Welshpool
Glamping in Powys
Glamping in Mid Wales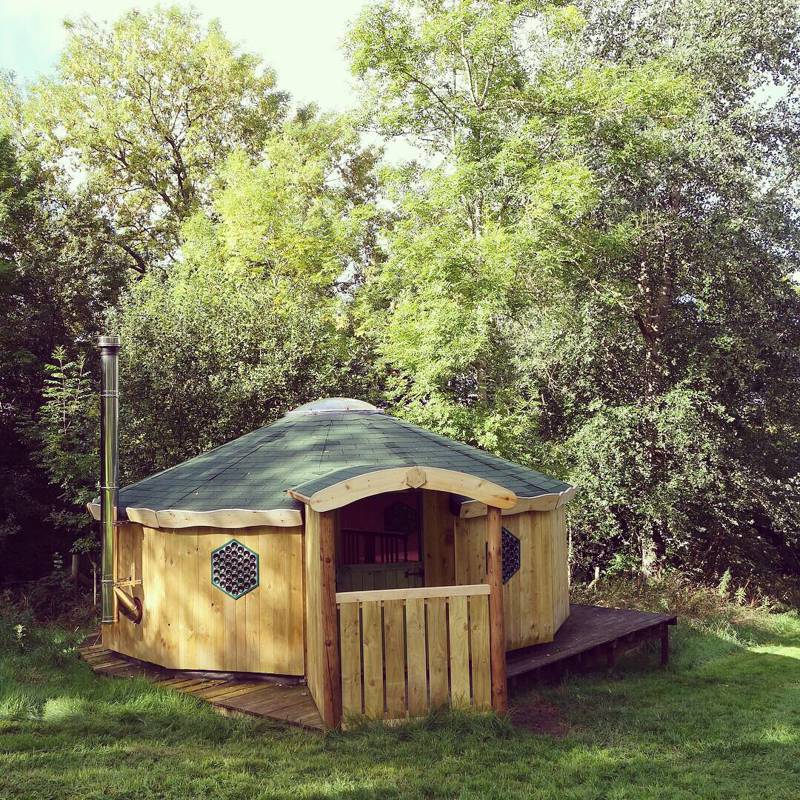 Glamping in Welshpool
Glamping in Powys
Glamping in Mid Wales
Available:
2 Cabins
2 Yurt or Gers