Sleek and spacious wooden Pod nestling on the Welsh border, with excellent walking and mountain biking on your doorstep
Lovely large canopied area with table and chairs
Panoramic window and canopied decking area with views over the farm's pony paddocks
Wood-chipped path leading to the accommodation, and a paving slab on the grass ideal for a fire pit or BBQ
The Owner Says
Set in secluded gardens together with Laurel POD which is nearby. There is a mature Sycamore Tree behind the POD hence its name and its panoramic window and canopied decking area has views  over our pony paddocks. There are 2 Drop down beds and a table and chairs under the canopied area.  There is a wood chipped path leading to the POD and a paving slab on the grass ideal for a fire pit or BBQ
Video Tour
About Brandy House Farm
Suitable For
Glampers, wild campers, groups, well-behaved dogs and DIY livery for guests who bring their own horses – yes. Caravans, campervans, motorhomes – no.
Nearby
Walking and mountain biking from the doorstep most often centres around the Glyndwrs Way, an excellent national trail which passes through Brandy House Farm. Richard and Medina have excellent knowledge of the surrounding routes and can help walkers, cyclers or equestrians alike in their planning, they also have a handy route portfolio waiting for you. For the most immediate exploration, either walk up onto Beacon Hill Crown Estate from your door step or stroll into the village (5 minutes away) to join the footpaths on the Shropshire side of the border. Beacon Hill, a 6000 acre upland nature reserve, is an excellent place to see wildlife. The heath clad landscape attracts birds like the nesting Wheatear, Meadow Pipit, Stonechat, Merlin and Peregrine, among others. It's wild without being rugged and an excellent place to begin walking in the area. Cyclists will find great XC riding on the doorstep and easy journeys to several world class mountain bike centres with freeride, downhill and uplift facilities. The area hosts MTB enduro and the Autumn Epic, One of Britain's top rated Cycle Sportives. For something a little less energetic try exploring Powys Castle, 20 miles away, The Hall at Abbey-Cwm-Hir, 20 miles, or Judges Lodging Presteigne, 18 miles away.
Food & Drink
If you prefer not to cook then it is possible to book a campers breakfast or farmhouse takeaway supper brought to your pod or caravan.  The Wharf, local village pub ideal for a drink is just 5 minutes walk away but doesn't serve food.  The Radnorshire Arms, Beguildy (01547 510634), 2 miles away, is the nearest pub serving food, a wonderfully old building that is home to friendly service and good food.  Beguildy also has a lovely traditional village shop.
Extras
Food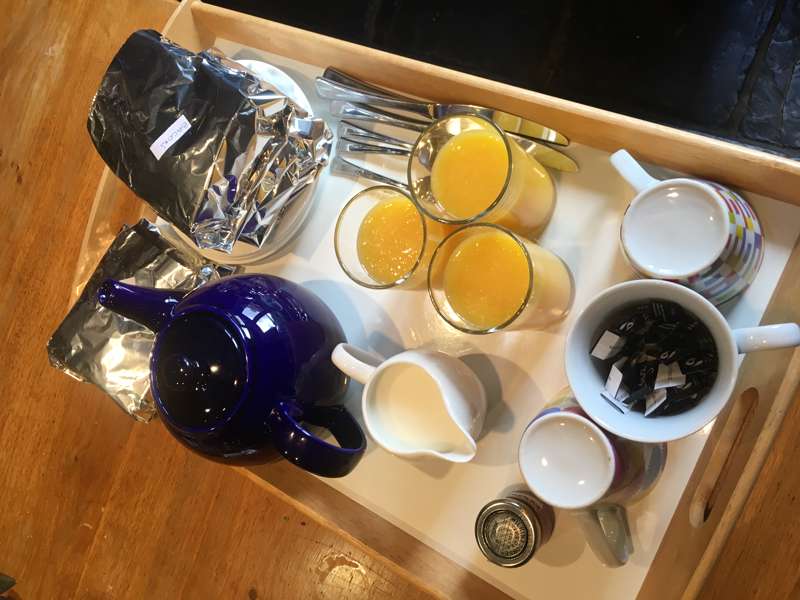 Butty Breakfast
'Breakfast butty' (sausage/bacon/egg) & a pot of tea or coffee & glass of juice delivered to your accommodation
We will send you a link to make your choices nearer the time of your stay

Farmhouse Takeaway, prepared in the Brandy House
Evening farmhouse takeaways delivered to your accommodation
main course  @ £11.50,
main course with starter or dessert @ £18,
3 course meal @ £24.50
We will send you a link to make your choices nearer the time of your stay and will invoice you prior to departure
Miscellaneous
Fire Pit & Wood
A Fire Pit with bag of logs, kindler and firefighters for you to enjoy
Site Reviews
Add Your Review
Rated ★★★★★ over 12 reviews
The perfect place to relax and unwind
We stayed in The Wild Rose Caravan for two nights and had a truly wonderful time. Upon arriving Richard gave us a warm welcome and we were then left to our own devices. The farm is beautiful and quiet, occasionally we would bump into staff working the farm and all were friendly. The location is brilliant if you want to take a break 'off grid', there is virtually no signal available on the farm or anywhere nearby. There is a 'wifi bench' though which means you can occasionally check emails/messages if necessary - however we tried to embrace the freedom from our mobile devices which added to our enjoyment. The caravan is beautifully presented with a cosy sofa, large comfy bed and plenty of storage. It's surprisingly big inside! Fairy lights add to the quaintness along with an area to cook food just outside (we took a camping stove). We took several walks as just beyond the farm gates there is a huge area to explore. On one walk we were out for 3 hours and only passed one other person - a truly peaceful place! We also took a short walk to the nearest pub 'The Wharf Inn' for a few drinks - a lovely little place and the owners were very welcoming. On one evening we stopped for a meal at the Castle Inn (Knucklas) as they were happy to accommodate dogs and the food & drink was excellent. Back at the farm we had breakfast delivered one morning and it was fantastic. Sausage, Bacon and Egg butties with fresh tea, coffee and orange juice! We also enjoyed sitting around the fire pit in the evenings and Richard was very generous with the wood and kindling. Many thanks to Richard and Medina for a wonderful stay and we will certainly be back.
Response from Brandy House Farm
So pleased that you both enjoyed your stay .. we look forward to seeing you again and of course the lovely Stanley 🤩 🐶🤩
A Wonderful stay
I arrived and recived a very warm welcome first from Richard who went through everything and made sure I knew where everything was, and then whilst unpacking from Medina, they are both lovely and very helpful, with a wealth of knowledge about the area and places of interest to visit if your unsure 😊, I stayed in willow pod, super clean and comfy, and the view and surroundings peaceful and beautiful. Evening meals and breakfasts were very tasty, and my favourite was definitely the delicious fish pie. Just great to unwind relax and enjoy the walks with the hounds, and may I say that hill was epic, beautiful views all around and when finally at the top and looking over the surroundings, well rewarded. 😁, I want to say thankyou again, to you all for having me and my dogs stay in a really very special place. I hope to return again soon Kindest regards Emma.
Response from Brandy House Farm
Awe thankyou Emma what a great review .. so lovely to meet you and your lovely dogs and look forward to seeing you again 🤩
Fantastic off-grid break
Wonderfully peaceful location. Fantastic hosts. Beautiful breakfast brought to our pod which was a great start to our Saturday. Great location for exploring nearby towns.
Response from Brandy House Farm
Thankyou for your review Brydie. So glad you enjoyed your stay .. happy new year to you both :)
Stunning
Fabulous location. We stayed in one of the pods and could not fault anything. Peace and quiet and no phone signal so just bliss. We will definitely be going back.
Response from Brandy House Farm
Thankyou Mark, so glad that you enjoyed your stay and we look forward to seeing you again :)
perfect weekend away in the cutest caravan
My partner and I stayed in the Rose Vintage Caravan Friday - Sunday. The caravan itself was adorable, plenty of storage space, good sized fridge and the location meant we had lovely views to wake up to. In the evenings we used the fire pit we rented from the farm in our private garden area to toast marshmallows! We took our young dog with us who seemed to enjoy himself thoroughly! The owners were very friendly and suggested some places to take him for a walk and the guide they provided via email before our stay had loads of information about things to do in the area. We really enjoyed our weekend here and would definitely book again.
Response from Brandy House Farm
So glad that you enjoyed your Wild Rose Experience; the caravan, the firepit, the views and the walking ; we look forward to seeing you again :)
See all reviews at Brandy House Farm
Location
Brandy House Farm is located at Brandy House Farm, Felindre, Knighton, Powys LD7 1YL
Getting There
If you are approaching from Knighton, turn up a sharp left as you pass the speed limit sign on reaching the village, opposite the village sign (please note that the Brandy House is not signed). Continue up the lane over the two cattle-grids and Brandy House Farm is at the top about 150 metres from the main road.
If you are approaching from Newtown, leave on the A483 (signed Llandrindod Wells) to Dolfor. Turn left onto the B4355. Go through the village of Felindre and as you leave it, turn up to your right just before the end of speed limit sign (please note that the Brandy House is not signed). Continue up the lane over the two cattle-grids and Brandy House Farm is at the top about 150 metres from the main road.
If you are using a sat Nav or google maps and are approaching from the North they will more than likely take you the shorter scenic route through tiny and steep lanes missing out. For a more direct route we would recommend you go to Newtown and follow the directions above!
Knighton (
0845 748 4950
) is the nearest train station 9 miles away or Newtown (
0845 748 4950
), 12 miles away.