Sleek wooden Camping PODs and upcycled vintage caravan on the welsh border with excellent walking and mountain biking on the doorstep
Richard and Medina Brock started their B&B with just one room in the charming stony buildings of Brandy House Farm. It wasn't long before things took off, however, and once you've stayed here for a night or two it's easy to see why. Their warm friendly welcome, a breakfast that has been awarded the title of 'Best in Wales' (seriously) and local knowledge that extends from the endless surrounding footpaths to the tastiest places to eat. The Brock's are the perfect hosting team and, with the obvious support of their quaint 20-acre farmstead and a picture-perfect countryside backdrop, they can now boast one of the most highly acclaimed B&Bs in the country.
But this is walker's country. Poised in a lush green valley, the River Teme meanders lazily along the edge of a B-road that leads to the farm, its glistening waters marking the boundary between England and Wales. The slopes that drop down around the river are criss-crossed by streams, footpaths and bridleways creating an outdoor playground for anyone with a mind to get out and explore. Despite the warmth a B&B may exude, the stunning natural scenery calls for accommodation of the more Cool Camping kind and, here too, Richard and Medina haven't missed a trick.
A few hundred yards from the farm buildings, in its own space, part garden part hillside glade, their MorphPOD nicely fits the bill between B&B comfort and mountain-man escapism. Floor-to-ceiling double glazed windows let the outside in and allow you to wake up admiring views across the Teme Valley, while fold down beds provide ample space and comfortable room for four to sleep.
For easy access, theres's a waterless toilet, a odour-saving 20 yards away, and those looking for the extra household comforts can head into the farm buildings to find a hot shower, laundry facilities and wireless internet. It goes without saying that the famous breakfast is still available, delivered to the pods stable-style door in the morning; cooked by Richard with locally-sourced produce. But for all the creature-comforts, those wanting the real deal can pitch up in the small 'wild camping' area, set aside for a limited number of tents.
And when we say Richard and Medina haven't missed a trick, we mean it. The MorphPOD is suited to the outdoorsy types for more than just its open views and awaiting campfire-pit. Mountain bikers and cyclists can make use of the handy wash down facilities and flick through a helpful route portfolio, while those looking to saddle up and head off on hoof are even better catered for. The 12 stables and individual paddocks for turning out your horse, means riders have accommodation for both themselves and their trusty steed. Whether you walk the Welsh national trails or canter cross-country to explore the English bridleways, it's worth chatting with Richard and Medina who know the area well. If you make it back by dinnertime you can even ask them for another farmhouse meal, though cooking your own beneath the stars is the best way to enjoy the MorphPOD's veranda and the pleasant garden in which it resides.
Our Coronavirus Booking Guarantee
Book with complete confidence at Brandy House Farm with the Cool Camping Coronavirus Booking Guarantee. We guarantee the following clear policy for your booking:
A low deposit of 30% to secure your booking
Balance not due until 30 days before your holiday, in case of late changes to Coronavirus guidance
Complete flexibility to move bookings up to the end of 2021 in the event of Coronavirus restrictions
In the event of a lack of 2021 availability, switch your dates to 2022
Due to low deposit and late balance payment, no refunds are offered
Details
Facilities
A small wild camping space has room for a few tents. There are toilet and shower facilities for camper's use in the farmstead and some parking in the nearby yard, none in the camping spot. The MorphPODs all sleep 2 with the exception of Willow which does have room to bring the kids too.  they are all well insulated and Willow has the option of an electric heater for use if necessary. There is 1 shower and toilet (50 yards away), waterless toilet (20 yards from Willow POD and from Wild Rose Vintage Caravan), hot and cold water. Horse owners can choose from 9 stables, with wood-pellet bedding and have access to clean grass paddocks. Brandy House Farm is also home to a small flock of Welsh Black Mountain sheep, 11 horses, Dolly the spaniel and Timmy the yard cat. Campfires in designated fire-pit only. Dog friendly site but please note that dogs do need to be kept on leads when on the farm.
Suitable For
Glampers, wild campers, groups, well-behaved dogs and DIY livery for guests who bring their own horses – yes. Caravans, campervans, motorhomes – no.
Nearby
Walking and mountain biking from the doorstep most often centres around the Glyndwrs Way, an excellent national trail which passes through Brandy House Farm. Richard and Medina have excellent knowledge of the surrounding routes and can help walkers, cyclers or equestrians alike in their planning, they also have a handy route portfolio waiting for you. For the most immediate exploration, either walk up onto Beacon Hill Crown Estate from your door step or stroll into the village (5 minutes away) to join the footpaths on the Shropshire side of the border. Beacon Hill, a 6000 acre upland nature reserve, is an excellent place to see wildlife. The heath clad landscape attracts birds like the nesting Wheatear, Meadow Pipit, Stonechat, Merlin and Peregrine, among others. It's wild without being rugged and an excellent place to begin walking in the area. Cyclists will find great XC riding on the doorstep and easy journeys to several world class mountain bike centres with freeride, downhill and uplift facilities. The area hosts MTB enduro and the Autumn Epic, One of Britain's top rated Cycle Sportives. For something a little less energetic try exploring Powys Castle, 20 miles away, The Hall at Abbey-Cwm-Hir, 20 miles, or Judges Lodging Presteigne, 18 miles away.
Food & Drink
If you prefer not to cook then it is possible to book a campers breakfast brought to your pod or caravan.  The Wharf, local village pub ideal for a drink is just 5 minutes walk away but doesn't serve food.  The Radnorshire Arms, Beguildy (01547 510634), 2 miles away, is the nearest pub serving food, a wonderfully old building that is home to friendly service and good food.  Beguildy also has a lovely traditional village shop.
Open
All year.
Why book with Cool Camping?
Coronavirus Booking Guarantee
Best Price Guarantee, with no fees
Instant booking confirmation
Trusted for over 10 years
A chance to win prizes in our regular competitions
The Owner Says
Sleek wooden camping pods and an upcycled vintage caravan on the Welsh border with excellent walking and mountain biking on the doorstep
Social Distancing Measures
Our common room is closed.
Access to our shower and washing up facilities will be with sole use and allocated timeslots (bookable in advance via a link we will send to you)
There is access to a tap for water
We have 2 dry composting toilets: one near Laurel and sycamore and our 2 camping plots and one near Wild Rose Caravan and Willow Pod
This site offers our Coronavirus Booking Guarantee
Accommodation
3 MorphPODs (Willow, Sycamore and Laurel) for pod camping and an upcycled vintage caravan (Wild Rose) for glamping

Check Availability
Extras
Food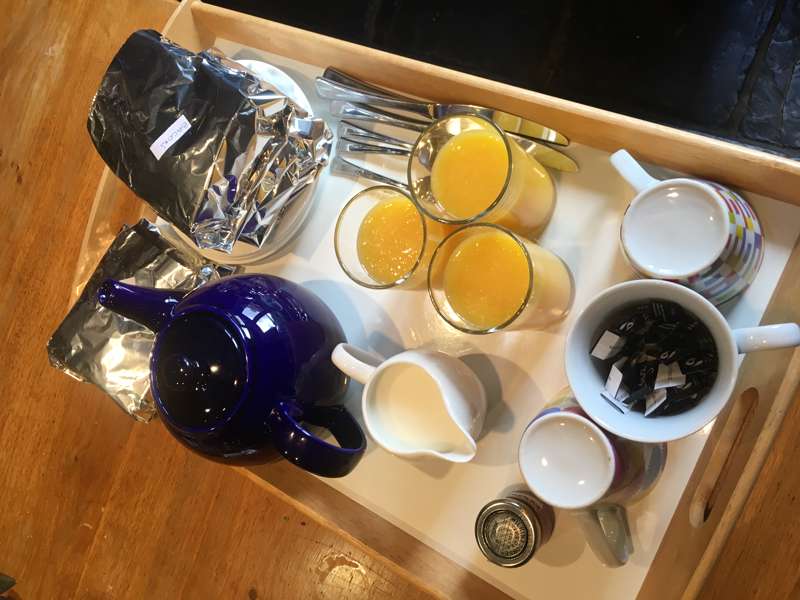 Butty Breakfast
'Breakfast butty' (sausage/bacon/egg) & a pot of tea or coffee & glass of juice delivered to your accommodation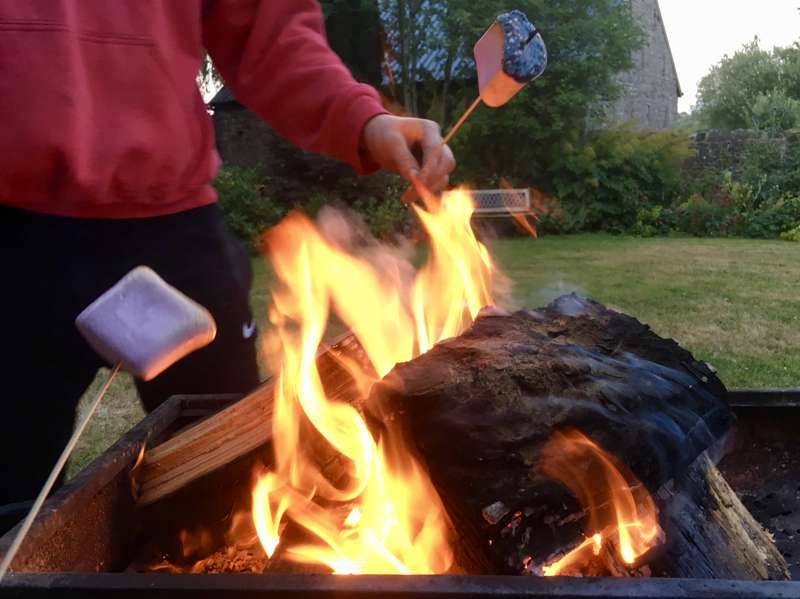 Toasted Marshmallow kit
Toasted Marshmallows - Brandy House Style
A traditional campfire treat, very popular in United States and Canada & introduced to us by Brigitte, our Canadian volunteer known as S'mores

Consist of toasted marshmallow…. AND a piece of chocolate sandwiched between 2 digestive biscuits. Do you want some more (S'more)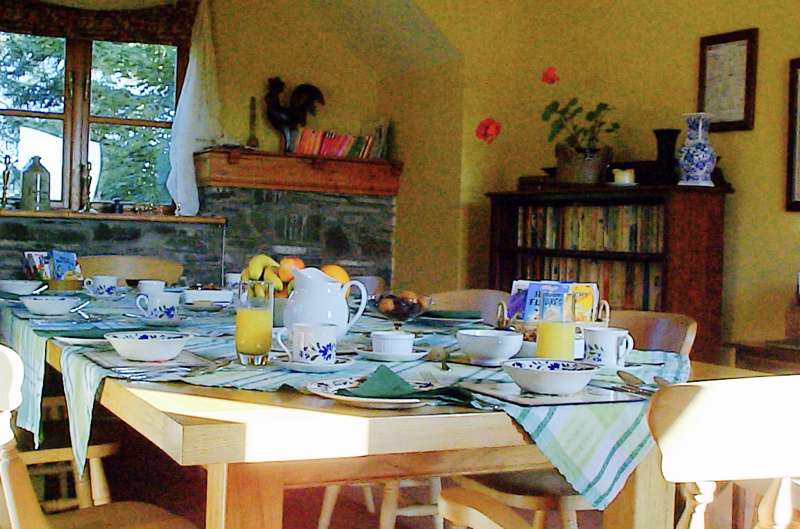 Dining Room Breakfast for 2
Choice of cereals, homemade granola, Greek yogurt and compote of stewed fruit, and a traditional Aga-cooked breakfast including local sausages bacon, mushrooms, fried potatoes, grilled tomatoes and free range eggs. There is a choice of toast or fresh homemade bread (……..though we have to admit in the bread maker!!) and many of our guests opt to have this un-toasted!
Miscellaneous
Fire Pit & Wood
A Fire Pit with bag of logs, kindler and firefighters for you to enjoy
Location
Contact Brandy House Farm, Brandy House Farm, Felindre, Knighton, Powys LD7 1YL
Getting There
If you are approaching from Knighton, turn up a sharp left as you pass the speed limit sign on reaching the village, opposite the village sign (please note that the Brandy House is not signed). Continue up the lane over the two cattle-grids and Brandy House Farm is at the top about 150 metres from the main road.
If you are approaching from Newtown, leave on the A483 (signed Llandrindod Wells) to Dolfor. Turn left onto the B4355. Go through the village of Felindre and as you leave it, turn up to your right just before the end of speed limit sign (please note that the Brandy House is not signed). Continue up the lane over the two cattle-grids and Brandy House Farm is at the top about 150 metres from the main road.
If you are using a sat Nav or google maps and are approaching from the North they will more than likely take you the shorter scenic route through tiny and steep lanes missing out. For a more direct route we would recommend you go to Newtown and follow the directions above!
Knighton (
0845 748 4950
) is the nearest train station 9 miles away or Newtown (
0845 748 4950
), 12 miles away.
Reviews
Add Your Review
Rated ★★★★★ over 11 reviews
A Wonderful stay
I arrived and recived a very warm welcome first from Richard who went through everything and made sure I knew where everything was, and then whilst unpacking from Medina, they are both lovely and very helpful, with a wealth of knowledge about the area and places of interest to visit if your unsure 😊, I stayed in willow pod, super clean and comfy, and the view and surroundings peaceful and beautiful. Evening meals and breakfasts were very tasty, and my favourite was definitely the delicious fish pie. Just great to unwind relax and enjoy the walks with the hounds, and may I say that hill was epic, beautiful views all around and when finally at the top and looking over the surroundings, well rewarded. 😁, I want to say thankyou again, to you all for having me and my dogs stay in a really very special place. I hope to return again soon Kindest regards Emma.
Response from Brandy House Farm
Awe thankyou Emma what a great review .. so lovely to meet you and your lovely dogs and look forward to seeing you again 🤩
Fantastic off-grid break
Wonderfully peaceful location. Fantastic hosts. Beautiful breakfast brought to our pod which was a great start to our Saturday. Great location for exploring nearby towns.
Response from Brandy House Farm
Thankyou for your review Brydie. So glad you enjoyed your stay .. happy new year to you both :)
Stunning
Fabulous location. We stayed in one of the pods and could not fault anything. Peace and quiet and no phone signal so just bliss. We will definitely be going back.
Response from Brandy House Farm
Thankyou Mark, so glad that you enjoyed your stay and we look forward to seeing you again :)
perfect weekend away in the cutest caravan
My partner and I stayed in the Rose Vintage Caravan Friday - Sunday. The caravan itself was adorable, plenty of storage space, good sized fridge and the location meant we had lovely views to wake up to. In the evenings we used the fire pit we rented from the farm in our private garden area to toast marshmallows! We took our young dog with us who seemed to enjoy himself thoroughly! The owners were very friendly and suggested some places to take him for a walk and the guide they provided via email before our stay had loads of information about things to do in the area. We really enjoyed our weekend here and would definitely book again.
Response from Brandy House Farm
So glad that you enjoyed your Wild Rose Experience; the caravan, the firepit, the views and the walking ; we look forward to seeing you again :)
Perfect Long Weekend
I'd been craving some outdoors time and this site caught my eye. It was perfect in every way! The pods are spacious and well designed with very comfy beds. The facilities were great with an eco toilet conveniently located near the pod. Although there are three pods, a caravan, cottages, B&B and camping, the beautiful landscaping made it feel very private. The owners were very friendly and I appreciate all the extra steps they taken during COVID, will definitely be returning although maybe to camp as their camping spots looked so sweet!
Response from Brandy House Farm
Thankyou so much for your lovely review .. so pleased you enjoyed your stay and would be lovely to see you again 😀
Peace and quiet in a cosy pod with views to die for
I loved my stay and was so sorry to leave. The pods are cosy and well-designed, you can light a fire in the evening, you can get a delicious breakfast and it's all super-clean and well organised, with friendly hosts. The hill walking is excellent and on the doorstep. The views of the lovely Teme Valley below and the moorland above make this a glorious setting. Excellent recycling and a spotless eco-toilet, as well as a flush toilet and shower. I don't have a car and used the pub and shop in Beguildy 2m away, which are brilliant, and a recommended and highly-reliable cab from Knighton station. A really special place.
Super-clean, cosy camping pods on beautiful peaceful site
I was so sorry to leave this lovely place. What a charming location, on a hillside in a peaceful valley. Shop and pub 2 miles away. Delicious breakfasts brought to your pod. All very clean and well-organised, with friendly hosts. Excellent eco-loo and recycling. Superb walking country - I hardly met a soul on the hills.
Response from Brandy House Farm
Thankyou Rachel; it was a pleasure to meet you and so glad that you enjoyed your stay :)
We loved the pods!
We booked sycamore and laurel pods which are set in their own beautiful private garden, and woke up to the sound of sheep and cattle and a beautiful view through the huge window. Evenings were spent on the deck of our pod watching the swifts (or swallows?) and the occasional bat. I expected to be cold at night but the pods were warm and cozy. Walking and mountain biking starts right from beside the pods, though very steep hills to start with! All in all a perfect setup, Medina and a Richard have thought of everything, tasty breakfasts brought to our pod, and there's a good hot shower and spotless eco loo close by. Communal facilities were cleaned twice a day, so felt safe too. I hope to return sometime, a perfect place.
Response from Brandy House Farm
Thankyou so much Jenny for your lovely review; and so glad that you enjoyed the Pods, the gardens, the animals, and the breakfasts too :) .   We hope to see you again too sometime in the future.
Lovely friendly
When we arrived we couldn't find anyone or the owners but did find someone at the end. We where welcomed with warm drinks. Very friendly people. there was a course going on so we couldn't drop the car off at the top due to all the cars so had to walk with our stuf from the bottom car park also we had two dogs which never been camping and it was nice to take them with us. I would happy recommend these pods and the campsite site to anyone. the shower plus of use little clean to x
Lovely and welcoming
Me, my partner and our dog had a brilliant time. The pod was very cozy and warm and the views were beautiful! We also paid extra for breakfast which was delicious and brought to our pod! The hosts were very friendly and helpful and even helped when we left my partners jacket. We would recommend the farm to everyone and will hopefully return soon!x
Morphpod at Brandy House Farm
We have stayed at Morphpod at Brandy House Farm twice now and we absolutely love it there.  Beautiful setting and lovely views with great hospitality from Richard and Medina.  We had cake and tea brought to us within minutes of arriving, and there is the option of buying a cooked breakfast in the morning which is fantastic! The Morphpod itself is a great design and is really spacious and the windows at the front are big so you can see the lovely views the minute you wake up.  The first time we went was in December and it was zero degrees outside but snuggled in our sleeping bags we weren't cold.  The season for going camping in a tent is so short, but this is all year round camping which suits us. The veranda area is great because you can leave all muddy shoes outside and comfortably eat there. Plus an open fire is available to use which is lovely.  The 2nd time we went we took our children and they had great fun toasting marshmallows!  The whole set up is great, horses to say hello to and great walking.  We would thoroughly recommend a stay in this special place.

Why book with Cool Camping?
Coronavirus Booking Guarantee
Best Price Guarantee, with no fees
Instant booking confirmation
Trusted for over 10 years
A chance to win prizes in our regular competitions
Book campsites near Brandy House Farm