Practical yet simple wooden camping pods with excellent facilities and views across the surrounding Welsh hills
Powys Pods try to avoid the term 'glamping' because they still very much class themselves as a camping site – albeit a campsite with some very wooden looking tents. "We cater to the muddy boots brigade", owner Jess tells us, "you need to bring everything you would for camping, but can leave the tent at home".

It may sound unusual, but it's a simple idea and one they pull off to perfection. Comprised of just three wooden pods, each with electricity and a heater, the site's accommodation is simple yet more than comfortably adequate. Unlike those bells and whistles glamping sites, they haven't clogged every space with spangled chandeliers and layers of fancy bedding, but instead offer the convenience of simple and sturdy accommodation that allows you to have a more traditional camping break, without the worry about the weather. Outside there's room to sit in the sun and while away the hours, while the essential joys of star gazing and late night campfires are still very much encouraged. It really is camping without the peg-pushing, pole-snapping, nylon-fighting hassle.
On a tiered slope in rural Radnorshire, the pods are located on semi-organic Grug Farm, home to 200 sheep and half a dozen Welsh Black cows that graze either side of the winding, local lanes. Two of the three units are in the lower camping area – where separate wooden buildings featuring toilets and modern, power showers can also be found – while the third pod is hidden away further up the slope, in a field of its own. The winning factor for all three is undoubtedly the view. In the foreground, below your camping space, a block of trees spreads throughout the valley bottom, while behind it hills climb up gently towards the sky. The higher pod, meanwhile, overlooks a stretch of open fields, the Black Mountains visible in the distance on a clear day.
In the way all good views do, it can't help but draw you out. No sooner have you sat yourself down and you're drawing a line with your finger across the nearest hillside. Jess will help answer all your questions and can direct you to nearby Offa's Dyke footpath, though simply taking off to explore will quickly reveal a host of local treasures. Less than a mile down the road, Bryngwyn Riding Centre can saddle you up (both beginners and the experienced) for a pony trek through the local area – options vary from half hour routes for children to two-hour or whole day hacks across the Welsh countryside. An easy 20-minute car journey brings you to famous Hay-on-Wye, its quirky independent book and antique shops giving it an enjoyable buzz that lasts well beyond the annual Hay Festival.
Gallery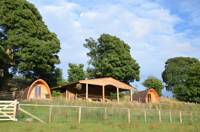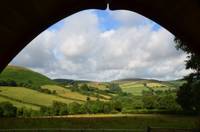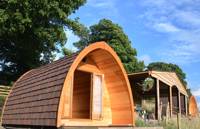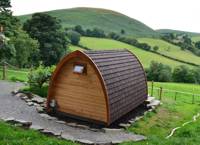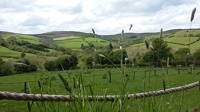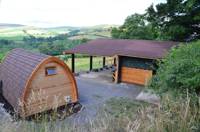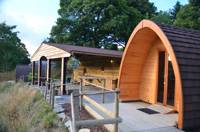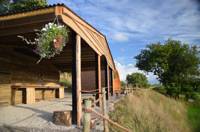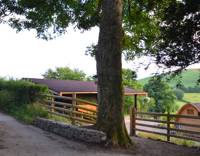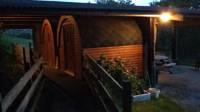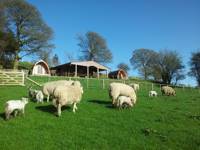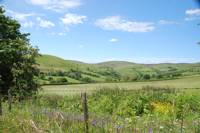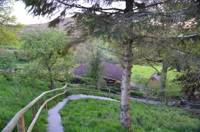 The Owner Says
Powys Pods is situated in an undiscovered part of rural Radnorshire, tucked away in the hills of Wales close to the Welsh-English border with Herefordshire. From your camping pod you will have views of the valley and the open hills beyond, just waiting to be explored by foot, bike or on horseback. Whether you want to be active during your break or just have a relaxing getaway, staying in one of our cosy pods could be just the thing for you. The camping pods are great for families, couples or groups of friends, for those wanting exclusive romantic getaways, an affordable weekend break or maybe just a stress-free alternative camping holiday without the worry about the weather.
When staying at Powys Pods you will have the luxury of modern facilities with the unique atmosphere of a camping holiday. We offer something a bit different to the usual glamping with all it's bells and whistles, we offer something more affordable; it's camping, but without the tent. We wanted to create a low-cost no-frills glamping campsite where you could bring your kids and your dogs along, or have a go at camping without the worry of the weather. Think of it as comfortable camping.
The Camping Pods
Our camping pods will allow you to be warm, dry and cosy throughout your stay with heating, lighting and electric sockets. Two of our pods offer a floor space for you to bring your own beds (or hire campbeds), and Ardwyn has comfy foam mattresses (double or twin). Each of our insulated pods come with electric included, so even keeping your gadgets charged is made easy.
We have just three camping pods (and a separate tent pitch above Ardwyn pod):
    - Bryn-Gwyn pod is the 'family' sized pod, suitable for up to 5 adults (or 2 adults & 2-3 children), and is suitable people with disabilities too.
    - Allt Dderw pod is suitable for 3 adults or 2 adults with 1-2 small children (under aged 8).
    - Ardwyn pod is suitable for 2 adults and 1-2 infants (with own beds). It has built-in beds with foam mattresses that can either be configured as a double or single bed.
If your group is too big for a pod, you can arrange to book a tent nearby to your pod, or why not book the whole site (please see our rules on group bookings).
Facilities
On site we have a large roofed area for cooking and socialising, a fridge and a freezer, a firepit and a bbq, cycle rack, and WiFi. We have three separate self-contained toilet/shower pods with luxury showers (great for family use), a drying room, and baby changing facilities. There is a lawn below Bryn-Gwyn and Allt Dderw pods, making it easy to keep an eye on the children playing (bring your own lawn games or borrow some of ours).
Activities & Location
Horse Riding/Trekking (1 mile) - Golf Course (3 miles) - Local Pub (4 miles) - Shops & Hay-on-Wye (8 miles)
We offer an alternative camping experience, perfectly situated for exploring Powys, Mid Wales, the Brecon Beacons National Park, Hay-on-Wye, the Wye Valley and Hereford; and all within a couple of hours' drive of Birmingham, South Wales, Cardiff, Bristol and the M4 Corridor. The whole of Wales is on your doorstep - from Snowdonia in the north, to Pembrokeshire in the south, and from the seaside town of Aberystwyth, to Wales' capital city, Cardiff. We are also just a stone's throw from some of the best places to visit in Wales. Hay-on-Wye the 'Town of Books', and site of the much acclaimed annual Hay Festival, is just eight miles away.
Hay-on-Wye also marks the northern tip of the 520 square mile Brecon Beacons National Park, with the town of Brecon itself twenty-five miles away. We are less than twenty miles from Builth Wells and Llanelwedd, where the very well-known four-day Royal Welsh Agricultural Show is held every July. For cider lovers, the City of Hereford is just twenty-five miles away and the Spa town of Llandrindod Wells is also a forty minute drive from Powys Pods. Also within a two-hour drive, you can reach The Gower, Pembrokeshire, Aberystwyth, and Machynllyth on the southern edge of the Snowdonia National Park in North Wales. The National Cycle Network and the Offa's Dyke Path are within a few miles of the campsite, making us a perfect stop-over for walkers, ramblers and cyclists alike.
Powys Pods offers an alternative and comfortable camping experience for everyone, from walkers, family groups, pony trekkers, mountain bikers and bird watchers to those who simply love the peace and quiet of the countryside and the fresh air that it brings. So join us on our working family farm for a peaceful and enjoyable stay, whether you want a quiet get-away, or an action-packed break - but remember, we are in an ideal location just to do nothing!
Reviews
Add Your Review
Tranquil
Beautiful location, clean and modern pods with a real rustic camping feel x
Hidden gem
On arriving at Powys pods we where very happy to see that the set up was very clean with stunning views of the countryside and our pod was on its own field tucked away from the other pods..... to my 5 year old sons delight as he had a field to run around in and play, the pods at night are very cosy and the family fitted perfectly. We will definitely love to return for a longer stay x
Response from Powys Pods
Thanks for your review, I'm glad you had a lovely stay and we look forward to seeing you again. 
Pods with a view
All I can say is what a great find!! I've had to switch to more of a glamping style for my outdoor experiences as my girls have grown up, and this place was simply perfect. Fantastic views of the Welsh hills, coupled with a huge covered outdoor area and a shower/toilet block that would not be out of place in a hotel. The pods are perfectly placed to catch the sunset, and you wake to a stunning view of the hills, with sheep and cows grazing less than 10 metres away. We booked for 3 nights, across the August bank holiday weekend, and the large covered area made all the difference…rain did not stop play, and we could cook, socialise and BBQ all without fear of getting soaked. The owner, Jess, was fast to respond via email, and very pleasant and accommodating in person. She ensured we were settled in fast and without fuss, and was very helpful when I left a few things behind too.
Best pod experience so far
Myself and my girlfriend stayed here for two nights, last minute one summers weekend. The owners were more than accommodating in letting us arrive late Friday night, allowing us to enjoy the two day break to the full. Arriving in the dark meant we could only really scope out the communal kitchen area. However this is the first great thing about Powys pods. Sat between the accommodation and sheltered from the rain, it has everything you need to brew a tea or cook up a feast. Sat at the picnic benches with your freshly brewed hot chocolate is the perfect place to plan your morning hike. When you wake up in your little heated pod you open the doors and are smacked in the face by the most amazing view of the valley, you could easily stay forever. Parking is plenty and access to the trails comes easy. Playing catch with the owners dogs or huddling around the fire this campsite ticks all the boxes. Can't wait to visit this summer.
We'll be back!
We stayed for one night at Powys Pods and absolutely loved it.  It was our first time 'podding', having camped many times previously and we were converted. We were a party of four adults and nine kids, aged from nine to 15.  We stayed in the two larger pods (three in one and four in the other) and our four teenagers pitched a tent nearby.  The layout for us was absolutely perfect as we were all near to one another - but not too near!  The extensive covered area is a really bonus as we could bbq without consideration for the weather with all mod cons there - hot/cold water, big worktop and a fridge and freezer nearby.  The fire pit enabled us to stay up longer socialising and the tent pitch just in front of the pods meant that we didn't have to worry about being too far away from the teens.  The three pods housing the two showers and extra loo were very close by and spotlessly clean.  It really felt that we had our own private farm for the night.  Owner Jess's help in finding us a walk directly out of the farm was much appreciated and the two farm dogs kept the younger kids entertained.  It's a beautiful part of Wales and waking up with a view of the hills and the sheep nearby was priceless. We will definitely be back - but for longer next time! 
Best Price Guarantee, with no fees
Instant booking confirmation
Trusted for 10 years
A chance to win camping goodies in our regular competitions!
Book campsites near Powys Pods