Remote, off-grid retreat in the heart of the Dyfi forest.
Situated 25 minutes off the main tar road, Eco Retreats occupies a wild and beautiful site in the heart of the Dyfi forest. Two fully equipped yurts (one family unit) and three tipis are hidden away on this stunning site, offering the opportunity to totally escape the rat-race and pressures of modern technology and return home feeling refreshed and revitalized!
The site theme is peace and tranquillity, with a healthy dose of eco-living thrown in. The site is off-grid and wifi-free, and the retreat even includes optional sessions of reiki and meditation in the comfort of your own yurt or tipi.

Each of the dwellings is set in its own idyllic location, where your only neighbour is the great outdoors. Beneath the stars or a leafy canopy of mature trees, each is accompanied by a wood-fired outdoor bathtub where you can bathe to a soundtrack of birdsong or spend evenings deciphering the various constellations – away from the light pollution of the city, the stars are breathtaking.

The yurts and tipis are comfortable and well-stocked with everything you need for your stay. They have a double bed with organic bed linen, plenty of cushions and sheepskin rugs, a coffee table and a small indoor cooking area with gas stove and all the necessary cooking paraphernalia conveniently to hand. There's a beautiful hand-crafted wood-burning stove to keep you cosy and warm at night, or on cooler days, and all wood and kindling are provided. Lighting is from tealights in lanterns. And there's a fire and seating area outside as well – at the yurts, there's even a hammock/hanging chair to relax in as you breathe in the fresh forest air and swing your cares away!

Choose from a range of beautiful spaces for your retreat. The large Meadow yurt is best for families and most comfortable option, with all-year-round running hot water and own BBQ facilities outside. The River Yurt is nestled down close to the river – a romantic spot and also great for families. There are also three tipis which have a more adventurous and down-to-earth feel – Waterfall tipi, in a meadow by a waterfall; Cwm Onnen (meaning "Ash Valley"), at the top of the site with impressive views; and Forest tipi – the most secluded unit, hidden away in an old oak forest up a steep slope.

Envelop yourself in the Eco Retreats experience. Leave all laptop and mobile phone at home. Just doze off listening to the fire crackling – and wake up to the sound of birdsong, running water and the wind in the trees.

Gallery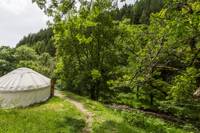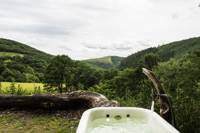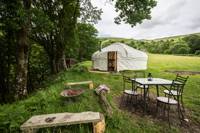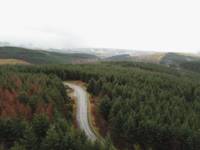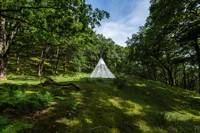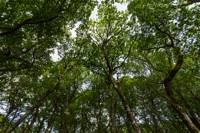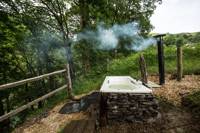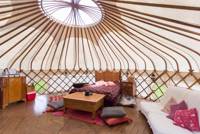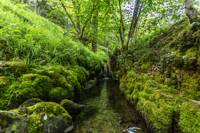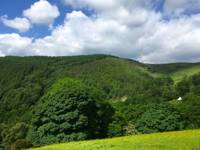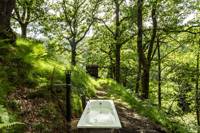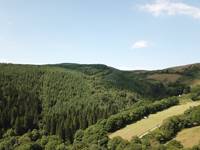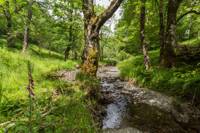 Video Tour
The Owner Says
Authentic, back-to-nature forest retreat which rejuvenates weary bodies, minds and souls. 25 minutes off the tar road on a working organic farm, Eco Retreats offers a wifi free, eco-friendly retreat in the heart of Wales' Dyfi forest. Our four beautiful yurts and one tipi secluded in a hidden valley offer a peace and quiet that's hard to find in today's busy world. Each living space is in its own secluded spot far away from other guests, complete with private bathroom and private outdoor wood-fired bath.
Amazing walks with beautiful views, sparkling river with secret splash pools, ancient forest and a host of activities for the whole family within 30-60 minutes drive. Guests can completely unwind and reconnect with the wonders of nature, with each other and with themselves.
Riverside teahouse area and conscious living centre offers the opportunity to savour an organic herbal tea as you read, journal or engage in inspirational discussions on all elements of eco-living!
Reader Reviews
Add Your Review
Part of the heaven
We stayed there for two days in early September and I'm really glad that I booked the river yurt for my first anniversary with my little 10 month old baby, has load of time to spend with my little family away from social media and technology such an amazing quiet place 😊 the best bit was the night time having fire inside just next to your bed and listening to wood burning in the absolutely dark yurt, I did not want to turn the candles on. The host Angus and Margaret are amazing very welcoming and made our stay even more unforgettable. There is lots of hill and Mountain path if you like hiking while you listen to bird singing and river and sheeps, outside bath in dark wood is another exciting. I'm planning to book for the next year.
Perfect escape
we stayed here the last weekend in October in the 20 foot meadow yurt. It truly felt like you had escaped from civilisation in the sense that you were surrounded by the welsh hills, woodland and meadow. The yurt itself was beautiful with a fabulous woodburning stove and a handmade very comfortable wooden bed. There are two gas rings to cook on , loads of candles and a wonderful ambience. We also indulged in guided meditation and healing from Annie who come to the site and the 2 days were wonderfully restorative. WE have already booked a longer stay for next year. Highly recommended. 
Eco Retreats
We stayed two nights here this weekend and had an amazing time. The site was located 4 miles up a track so nicely cut off from civilisation. Although there are other tipis (and yurts) on the site they are far enough apart that you have plenty of space and privacy. The tipis are well equipment with pretty much everything you need and very comfortable. There was even a bottle of wine awaiting us! The composting toilet and spring water shower were a discrete distance from the tipi itself. Coming out of the tipi each morning to the amazing scenery was an experience not to be missed. The Welsh hills and forests were beautiful. We very much enjoyed our stay and would highly recommend it.
Best Price Guarantee, with no fees
Instant booking confirmation
Trusted for over 10 years
A chance to win £50 of Cool Camping vouchers!
Book campsites near Eco Retreats Forest Retreat