Why is this place cool? Luxury yurts, campfires, birdwatching, Offa's Dyke Path, stars… take your pick.
What could be more tranquil? A patchwork of fields, a landscape trees, some grass and cosy accommodation that allows peace and privacy. The journey is as beautiful as the arrival; on one side guests approach through the waterfall-splashed valleys of the Brecon Beacons National Park (Parc Cenedlaethol Bannau Brycheiniog) and from the other down narrow Hereford Hedged's twisting lanes, that open every now and again into some of the finest countryside views in south Wales. But when you finally pass the quiet farming village of Gladestry and pull into Valley Yurts, you immediately know what awaits will be amongst the most relaxing holidays you're likely to experience.
Hidden in a valley buzzing with wildlife – the unmistakable whistle of the Red Kite is a familiar sound – Valley Yurts' traditional Kyrgyzstan abodes (there are 3 onsite) come furnished to a high standard and look fantastic. They are, of course, also perfectly practical. Inside, they boast plenty of creature comforts, including bedding, linen, furniture, rugs and an instantly effective wood-burner, keeping you toasty throughout the night – plus, solar lighting allowing extended evening use. Outside, a well-stocked private dining area has everything you need for cooking-up a storm, and a fire-pit allows you to try that true form of outdoor cooking under the starry Welsh skies. Thankfully, some excellent farm produce is just a short drive away to Kington, an old market town mentioned in the 1086 Doomsday Book. Communal facilities here are immaculately kept, with flushing toilets, hot showers, wash basins, a washing-up area, and the added extra of a kitchen for those times when you prefer not to cook on the fire.
Geographically the location is a real winner. Through the gate guests can explore miles of accessible hills, or 1km away join the 8th-century Offa's Dyke Path – built by a medieval king to intimidate his enemies – passing through many of Wales' unspoiled landscapes, native wildlife and historic castles. In fact, the path was named by Lonely Planet as one of the world's top-10 wall walks, alongside the Great Wall of China! Alternatively, head in the other direction towards the hilly literary town of Hay-on-Wye, where you can hire a canoe and paddle down the weaving River Wye, or pop across to the Brecon Beacons National Park and walk behind crashing waterfalls. Adrenaline junkies will find pleasure here too, with gorge walking, climbing, mountain biking and pony trekking all on offer.
In short, there's plenty to do around Valley Yurts, but with such a picturesque hillside setting there's a good chance you won't leave the site itself. Many visitors plan to stay for the weekend but end up having a weeks holiday. Which says it all, really.
Best Price Guarantee
Easy and Secure, with instant booking confirmation
Trusted for over 10 years
A chance to win a brand new Coleman tent!
Gallery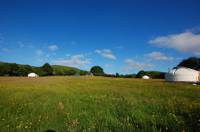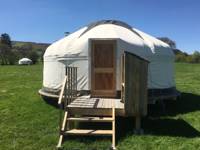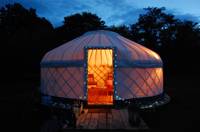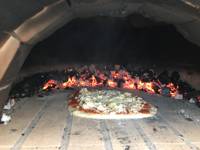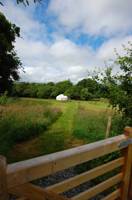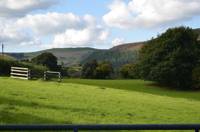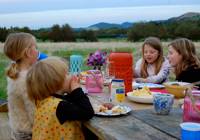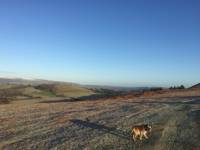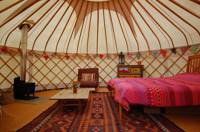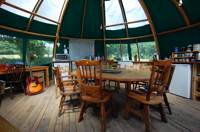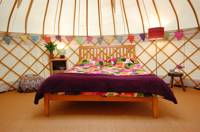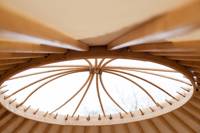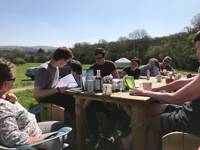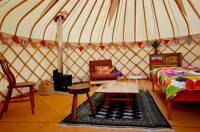 The Owner Says
This will be our second season in the valley and we hope you experience the same goosebump moment as you drive into the field and see what we saw when we decided to move here from Brighton. Our choice to create a glamping site with yurts is borne out of a love of the outdoors and camping with our two boys as they were growing up. We hope to contribute to your happy memories of relaxing holidays and exploration. Our traditional Kyrgz yurts are a spacious 18' diameter with a crown in the centre to stargaze at night. The Kyrgyz yurt differs from Mongolian designs in the way the woodwork is steam bent to produce a curved, rounded roof shape that offers more headroom and creates a spacious living area. Whether you are seeking a peaceful get away or would like to explore new adventures, both are possible here, you can do as little or as much as you choose.
Reader Reviews
Add Your Review
Sunning, peaceful, immaculate and well worth a visit
Simply idyllic. If you would love to awaken to birdsong and amazing views with easy access to local gems such as Hay-on-Wye and Ludlow then you could pick no where better than Valley Yurts. All presented to the highest possible standards with amazing attention to detail. Came away feeling totally relaxed and chilled out. Can't wait for our next visit !
Peace and tranquillity and the amazing quality
Simply idyllic. If you would love to awaken to birdsong and amazing views with easy access to local gems such as Hay-on-Wye and Ludlow. All presented to the highest possible standards with amazing attention to detail. Came away feeling totally relaxed and chilled out. Can't wait for our next visit !
Idyllic setting and amazing experience
We booked all 4 yurts for a girly weekend and had an incredible time. The set up is perfect and the facilities are great. Lovely showers, equipped kitchen area and comfy beds. The outdoor fire for cooking was a great experience and easier than expected. The location is idyllic, a beautiful view and really peaceful. Hammock was a lovely touch! Hopefully we can come back some time.
Idyllic setting
If you want to imagine the perfect image of rural surroundings with near and distant hills, far-reaching fields and valleys dotted with graceful trees in the care of a low-lying Welsh Farm house with hundreds of years heritage then your yurt awaits you, fully equipped for home life in conditions of privacy and tranquility backed by the warmest of hospitality from Jo and Matt. Vanessa Young
Magical!
What an incredible spot a real escape from it all with all the essentials and then some to guarantee the perfect getaway! Jo and Matt were incredible hosts and we enjoyed an amazing time 'getting back to nature' but in a perfectly cosseted way! My highlight was sitting around the firepit, surrounded by friends and woodland, wrapped in a blanket, gazing at the most incredible starry sky, how often do you get chance to appreciate something that magical? This site is a real treat of a place for the soul as much as the body, we will be back. Thank you.
Amazing!
Tucked away a mile or so outside of the village of Gladestry we had a special weekend at Valley Yurts; a peaceful and secluded site close to the Welsh border, with the mountains as a backdrop. Our yurt was beautifully decorated, spacious, yet cosy with a wood burner for the evenings. Outside we had plenty of space to ourselves with wooden tables and benches next to a fire where we cooked dinner and sat around chatting until far too late! The Offa's Dyke path is nearby and we enjoyed a lovely walk with spectacular views along to Kington. Matt and Jo have been really thoughtful in the creation of this idyllic site, one that we will certainly be returning to.
Outstanding experience
This is the place for a really warm welcome in some of the most beautiful countryside in the United Kingdom. An amazing site on the border between England and Wales with stunning views in every direction. Based round a charming 300-year old farmhouse, Valley Yurts offers peaceful seclusion, but with access to charming villages and small towns not too far away. As a novelist I especially appreciated being able to have a lovely countryside base for the Hay-on-Wye book festival, ten miles away. There is walking of every type from casual strolling to serious mountain trekking, with every level in between, with access to the Brecon Beacons, and the mid-Wales section of Offa's Dyke Path. Owners, Jo and Matt ,could not be more helpful. Very highly recommended.
Ultimate relaxation
Valley yurts is a real gem of a find. My partner and I stayed for a long weekend. What a beautiful setting! Stunning views wherever you look. It was fantastic to wake up to the sounds of nature and no cars!! This was our first time in a yurt - it was a great experience. I can now see what all the fuss is about. We were so comfortable and cosy. Jo and Matt are great hosts, very relaxed and genuinely welcoming. There was plenty to see and do but to be honest we spent alot of time in and around our yurt experimenting with cooking on the fire pit and getting away from it all. Will definitely be back next year. Thankyou
Book campsites near Valley Yurts