Luxury living in a stunningly secluded mid-Wales setting
It's bubbles upon bubbles at The Secret Yurts in Powys, mid-Wales, where you can sit in a frothing hot tub and enjoy a flute of champagne at the same time. The image sort of sums this glamping site up. It's a place where luxury reigns supreme and no detail is spared. Is it really a secret? No – the site has only been open since 2014 and is already well known through word of mouth alone – but what it can still boast, is a wonderfully secluded location, tucked away in the rural lanes of Powys. Here, luxury living meets a serene setting and only adults are allowed… so keep the bubbles coming we say!
The site itself is comprised of just three traditionally designed yurts spread their own spacious field, with full access to all the modern amenities. Each cosy abode sits perched atop wooden platform, with excellent views to enjoy from the deck chairs on the decking. While certain features have become staples of the glamping world – king-sized beds, a log burner, chunky wooden furnishings and your own private bathroom – The Secret Yurts has gone several steps beyond. Thoughtful extra touches like toiletries, dressing gowns and an endless supply of logs are a real treat, while a wooden, Finnish sauna and a seriously up-market hot tub make it a glamping site for truly retreating, rather than a simple stop-off along the road. Indeed, pluck for the 'Birch' yurt and you even get a private wood-fired hot tub all to yourself. You might never end up leaving!
For all these indulgences, however, the site has still managed to earn itself a silver award from Green Tourism in recognition of its eco credentials. Hot water is provided through ground source heating and solar panels, logs for the fire are sustainably sourced, and the fancy rainwater harvesting system that keeps excess water use to a minimum. It's all pretty remarkable when you factor in the fully equipped kitchen that also has to be run – accessible for all guests to use and stocked with everything you could need.
When you do find time to leave the site – fingers like wrinkly prunes from too long in the hot tub – there's plenty to be found. It's a 20 minute drive to Powis Castle and a little longer to breathtaking Lake Vyrnwy, with bikes for hire and boats to take out. Or make the 45-minute journey to Snowdonia National Park where you can hike the hills and really earn your night's rest back at camp. Not that you need go that far. Several footpaths lead directly from the glampsite if you fancy taking a stroll. Just remember to note where you started, since The Secret Yurts isn't marked by name on any OS maps. Maybe pretty secret then after all!
Gallery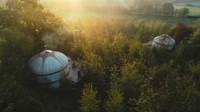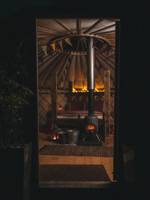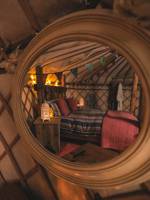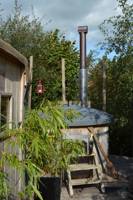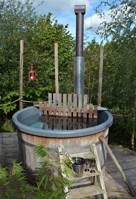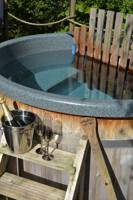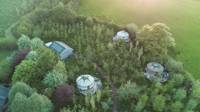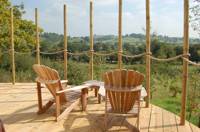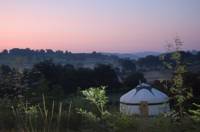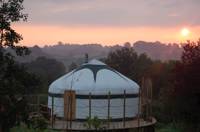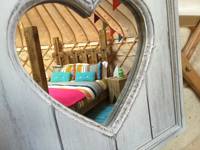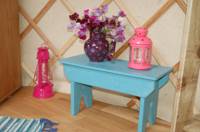 Video Tour
The Owner Says
Ssssshhhhhh…you are about to uncover a secret: hidden away from the world in the Welsh countryside, our luxury yurts are a perfect opportunity to get back to nature. Smell the fresh air, take in the wild flowers - you can even make friends with our chickens.
Each of our bespoke yurts has a beautiful hand made king-size bed with sumptuous bedding, candles, and a romantic and cosy log-burner to keep things toastie; a home-from-home, complete with the opulence one expects from a romantic break.
Outside your own little yurt-away, you will find your own alfresco dining set-up: tables, chairs and private barbeque. With everything you need in our well-equipped kitchen to cook up a storm, all you need worry about is who gets to be in charge of the coals!
With the Welsh countryside on your yurt-step, you will want to get the wellies on and explore, from horse riding and cycling, to Red Kite-spotting and castle-visiting, we can organize a range of activities, or just leave you to it - it's your holiday, after all.
After all that fresh-air, why not round off an afternoon's hiking and river-watching in the sauna and hot-tub? A perfect chance to kick off the wellies - crack open the fizz and relax under all the twinkling stars.
This is not just glamping, this is a private luxury yurt experience, in nature's secret garden.
But don't tell everyone, it's our yurty little secret...
Reader Reviews
Add Your Review
Lovely getaway in the heart of the Welsh countryside
My girlfriend and I stayed at the Secret Yurts for a weekend recently and had the most relaxing, lovely time there. Our yurt was amazing - beautifully decorated and cosy, with the comfiest bed ever! The bathroom and kitchen facilities were brilliant, and the hot tub was great. The yurts felt very secluded and were so peaceful, and the owners, Tracey and Terry, could not have been more helpful and welcoming. The perfect way to unwind for a weekend out of the city. Would definitely stay again and would highly recommend!
Exceptionally relaxing, exciting and breathtaking.
Absolutely amazing, I've not stayed in a Yurt before, and I will definitely be doing it again! Spent the weekend in Birch Yurt, which has it's own hot tub. Not only that, each of the Yurts has their own private bathroom nearby, which were of higher quality than any hotel I've ever stayed in. It was exciting to be able to light our own fire, and feel like we were spending a weekend alone in the countryside. A lot of thought and care has been put into the Yurts, and as you arrive you're met by something a little big magical.
Tranquility
We stayed for 2 nights on the weekend of the 16th March 2018, we were late in due to Friday traffic but were met with a warm and friendly welcome by torchlight. We were give an informal tour of the facilities and shown to our Yurt pre heated with the stove already alight :) we got straight into the hot tub followed by sauna and a few drinks. We spent the weekend travelling around southern snowdonia and popped into powis castle. The second night we hot tubbed in - 4 in heavy snow. We woke to 8 inches of snow and a tricky drive home :) it was wintertastic. We had an awesome time. The facilities were amazing, nice touch with the private bathrooms! we were left too it completely . The owners were there incase we needed anything. No complaints, we cant wait to come back!
Best Price Guarantee, with no fees
Instant booking confirmation
Trusted for over 10 years
A chance to win £50 of Cool Camping vouchers!
Book campsites near The Secret Yurts