An innovative tent-cum-tree-house that offers both a unique camping experience and a wonderful location
Remember when you were young, carefree and charging around like a wild thing in the woods? And then you got that little bit too carried away and found your frisbee was stuck in the trees or your football wedged high amongst the branches? Well take that football, enlarge it into a bright and bulging sphere of wendy-house type proportions and you get an idea of what this weird and wonderful tree tent looks like.
Well… sort of. It certainly hangs among the branches like something only an overzealous human could have flung there, its bright turquoise exterior contrasting colorfully against the trees, yet this is far from a children's toy. Deep in the woods of mid Wales, overlooking a babbling, rocky brook, Red Kite Tree Tent is in fact a masterpiece of design and architecture, and a rightful show stopper in Channel 4's recent series of George Clarke's Amazing Spaces.
A combination of hybrid aluminum and steam bent, green ash, Red Kite Tree Tent's frame is suspended among native pines by unobtrusive metal wires. Initially it may sound a little daunting, as if you're dangling far from anything, but the tree tent also backs on to a large decking area with chairs, a table and an outdoor cooking space. Inside a main support pole is a shiny centre piece, surrounded by a plush double bed and a cosy wood burning stove, while the magenta lining gives a mature and cosy feel that seems to fit with the forest setting. There are few places that are as enjoyable to camp in when the weather is both good and bad but here a dodgy forecast is almost a pleasure: You can shut yourself away, stoke the fire and feel unbelievably cocooned, the wind making an accentuated rushing sound amongst the trees and the tent rocking gently within the air!
Though its innovative design could fill a book – or indeed a television show – Red Kite Tree Tent owes as much to its setting as to the structure itself. Down a seemingly endless single lane track, the site has an immediate sense of peace and isolation. It's a place to re-engage with the forested surroundings, dabbling around in the stream and simply enjoying the pleasures of having the vast 80-acre woodland entirely to yourselves. There's wildlife aplenty and, as the name suggests, red kites swooping overhead are not an unusual spectacle. To really get up close, though, it's a 20-minute drive to the Gigrin Farm Feeding Station – not to be missed.
Best Price Guarantee
Easy and Secure, with instant booking confirmation
Trusted for over 10 years
A chance to win a brand new Coleman tent!
Gallery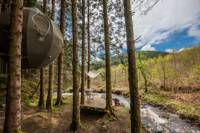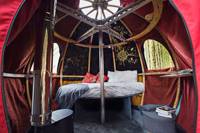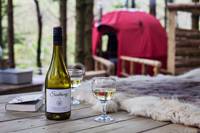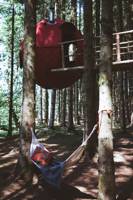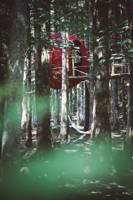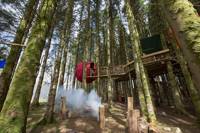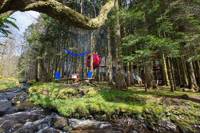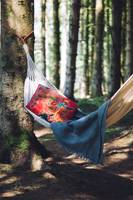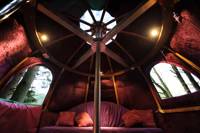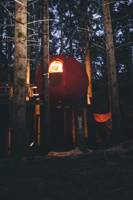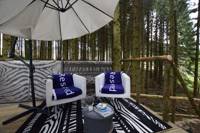 Video Tour
The Owner Says
One Forest - Two TreeTents. AND newly-landed this season is the startling Conker, a completely spherical UFO-type pod set high up above our own magical Red Kite woodland and enjoying breathtaking views of the surrounding moorlands.
Approached by its own fairy bridge, the Dragon's Egg Tree Tent (the red one) has two sweeping wooden decks so you should bring your own copy of Midsummer Night's Dream to declaim if that's your thang. Ynys Affalon (the green one) is the classic original, featured on George Clarke's 'Amazing Spaces', a rich verdant green orb, with opulent purple interior,  named after the Isle of Avalon in Arthurian legend. She remains welcoming and intimate, cradled like a barque in the breeze and is approached from the north part of the estate via her own private bridge.
Above the lusty shout of a vibrant  stream you can hear the harmonious Welsh dawn chorus. A twitcher's paradise, aesthetically rich, green and pleasant, this very special spot makes for an extra-special romantic experience, nestled in the canopy. Outdoor cooking, baked bananas, toasted marshmallows...sitting by the fire pit. What's not to enjoy? Piece de resistance under construction for the brave at Dragon's Egg  is the new log and rope bridge-short-cut to the glampaloo. It isnt only sheep here: you may see red kites and buzzards and owls and hares and wild rabbits and lots besides. You are located within striking distance of the Brecon Beacons and Hay-on-Wye (the world-famous town of books), and the western coastline of Wales, and close to Builth Wells and Llandrindod Wells. It is perfect for long countryside walks through forests and valleys, past waterfalls and mighty reservoirs, and for mountain biking, fishing, canoeing and just hangin'.  You can even invite your friends and keep it private by booking them into the gorgeous Red Kite Barn only moments away across the wooded valley.
Contact bookings@chillderness.co.uk or 07951 957 067.
Reader Reviews
Add Your Review
Tranquil & stunning
This place is a little treasure.cosy log fire,roasting marshmallows,listening to the sheep,squirrels and owls.we went for 2 nights and for the first time ever felt like I had been away for a lot longer.ideal beautiful place to get away from it all.loved it
Unique place to stay!
Our thanks to Anjana & Dave for having us as their first guests at the Conker - it was a brilliant experience, and included us having our 2 year old springer spaniel in pod, and unlike anywhere we've stayed before! Little trek up the path to the pod, with a great fire pit area & little deck to sit out with our morning cuppa watching the kites & lambs. Lots of lovely thoughtful touches in the Conker which we really appreciated & enjoyed hearing the owl in the night, watching the stars through the roof porthole. Hope our suggestions helped Dave - very best wishes to you both on this exciting new part of the Red Kite Estate.
A little piece of heaven!
What an absolute treat these tree tents are! Location is absolutely beautiful, surrounded by the noises of nature and stunning views. From long walks in the wonderful countryside and returning to the cosiest tree tent to warm up by the log burner to lazy days in the trees by the river watching the sheep roam the forest, relaxing in the hammock and roasting marshmallows on the fire at night whilst watching the stars above, this place has it all. My husband was absolutely thrilled with his birthday trip to this magical place and we both loved every second. Thank you for the lovely local welcome goodies and the balloons and cupcakes that were in our tent for my husband, a lovely surprise for him on arrival. We have already told so many people about this little spot of heaven and we will definitely be returning. Thank you so much Red Kite Tree Tent, you were a dream!
Perfect weekend in the tree-tops
I was very excited about my stay at the Dragon Egg, and the experience did not disappoint! From the moment you arrive at the small wooden bridge and climb up into the tree-tops, you enter a magical wonderland that's all your's. The kitchen area is fab, and very well equipped (bring a decent cool box if staying for a few days though). The shower and 'loo with a view' are also an experience! The tree tent is perfect - you make your own foldout bed on arrival (duvet, pillows, blanket and extra sleeping bag, good for chilly cloudless nights) are all provided. We arrived to a thoughtful hamper of goodies, and enough logs for the wood burner for the night - there is an axe and supply of wood ready for you to create your own for the next night! My only complaint is we didn't stay for long enough, can't wait to go back!
Awesome
The most amazing place to if you want peace and quiet. Beautiful scenery all around and no mobile or tv you don't even think about it.
Epic taste of the wilderness and fantastic craftsmanship!
Getting (what seems like) the entire forest to yourself was the first of many exciting thoughts buzzing through our heads as we arrived. Shortly followed by the excellent craftsmanship, as you walk over the wooden bridge, up wooden steps and into the elevated kitchen. The kitchen is fully equipped, with warm water, gas and a lovely big dining table with fresh flowers to boot! The bedroom is wonderfully cosy and heats up in minutes once the log burner is on, and the bed is very comfy. The shower is warm and powerful, with that added excitement of being naked in your very own forest! The loo 'room' is also very clean with a wonderful view of the hills. ...but most importantly, the bonfire is the perfect setting for a proposal, I should know... :-)
Response from Red Kite Tree Tents
Congratulations you two.  You must come back for your honeymoon - a bottle of champagne on us. Or better still a woodland wedding.... xx
Fairy tale Family Tree Adventure
Here is the text: Our family went from not wanting to do this to wanting to stay in the Red Kite Tree Tent FOREVER. It feels like you have escaped into the wilds but where someone has artfully created a nurturing space. The pod is both luxurious and practical. Being able to cook besides a babbling brook on an open fire, or on a fully equipped kitchen with a gas stove high in the trees. Read books in loungers, look for fairies, shower (in a wonderful hot water shower) overlooking the forest or just watch the sun set and the moon and stars rise. There are little paths and walkways up the hill side and connecting the trees, tent, living space etc - meaning even making a cup of tea feels like an adventure. We had warm weather so explored local wild swimming spots (researched and recommended by the owners). As well as local villages and pubs, but each day we loved coming back to our little tent high in the forest and relaxing deep in luxurious nature. The children and husband (aka big kid) keep talking about our time in the forest and the tent in the trees. (Note they are 10 years and above - for much younger children it might be too extreme!) We all can't wait to go back!
The perfect piece of peace
We recently spent the weekend in the Ynys Affalon tent for a birthday weekend away. It was a truly, wonderful experience. From parking up the car, every sight was a perfect picture. The whole area has been well thought out to be practical, yet eco friendly. The fresh bread, milk and butter supplied was lovely, along with the fresh flowers ready on the table set. The first evening we chilled out with a few beers sat on the decking next to the river. The second we sat in the same spot with a campfire whilst roasting marshmallows. In the day we went walking and found a high up spot to sit and have a quiet picnic, cheeky glass of prosseco. Watching the wildlife running around below us. In the night, the sound of the river, and the sway of the tree tent made for a perfect sleep. All cooking facilities and bedding were supplied which was super handy! *Tips - pack a few citronella candles, keeps the gnats away in the evenings. Pack a torch as the toilet is just up off the main deck of the tent and it can be quite dark in the evenings heading there. It took us away from our every day, hectic lives and gave us 48 hours of total peace and quiet (phone signal - we had to walk a while for me to get any, my other half had it in certain spots around the tent) It was like being in another world - a world we really loved! It's a beautiful spot - and we hope to visit again sometime soon. Thanks for having us!!
Peaceful and romantic experience
My husband and I had a glorious time in this perfectly peaceful and outstandingly beautiful bolthole far from the madding crowd. We loved being together in this haven for just a few days but would want to stay longer and will definitely be back!
Secluded and beautiful
All the amenities are provided in this unique camping experience. The tent sways a little in the wind which is all part of the charm. The walk up hill to the toilet was a little difficult at night but they are building a rope bridge which will make that journey so much easier! This was a great experience from building our own fires to cook on to showering outdoors all in beautiful welsh scenery!
Last year's magical woodland retreat. September 12th - 15th, 2017
Beware of the muffin thieving bird! We had an amazing time at this beautiful place when we stayed last year, and it was so relaxing chilling by the tyre or the hammock. The countryside around was breathtaking; highly recommend you go for a horse ride through the Welsh mountains! (LD1 CPN) Thank you for letting us stay here and hopefully we'll be back soon!
Little bit of awesome
Thank you for building this little bit of awesome! Surrounded by trees and being next the river falling asleep to the sounds of it babbling has been such a treat and we have both enjoyed ourselves immensely. Hope to return again! Ceri and Alex
Escape from City
We are a couple from London. It was a lovely escape for us from the chaos of big city. Views are absolutely stunning, and relaxing. Shame we didn't have time to do everything what we wanted. So we look forward to visiting again. Jane and Neil xx
Brilliant birthday present
We came here to celebrate both of our birthdays. We had a lovely relaxing time getting away from technology, we'd love to come back and stay again!
Unique and Wonderful place
We had an awesome stay out here at this tent. It was a wonderful escape and perfect rest to recharge your batteries before returning to "work life". Thank you for really warm and nice contact. Hope to be back soon :)
Best Price Guarantee
Easy and Secure, with instant booking confirmation
Trusted for over 10 years
A chance to win a brand new Coleman tent!
Book campsites near Red Kite Tree Tents