Glamping on a former farm and working mill with a private lake, plenty of space to explore and stunning views across the Welsh countryside
Planning a glamping site may seem simple at first – buy some accommodation, fill it with the most luxurious items you can find and install some plush facilities – but the reality of blending these comforts with the back-to-nature camping ethos is easier said than done. How refreshing it is, then, to find a site as subtly sublime as Sloeberry Farm in West Wales – a place where glamping is done right.
The first thing that strikes you about the place when you arrive is the sheer space of it all. The buttercup-dotted meadows and naturally irregular lines of mature trees seem to have been left to their own devices. Bushes bulge and tiny birds flitter along the hedge lines. For children, the exploration opportunities are endless.
The accommodation, meanwhile, seems to fit within the space just as a harmoniously as a herd of cows might have done some years ago. Things seem right. There are six creamy bell tents, with a firepit, picnic table and deck chairs outside giving it all a very classic camping look, while two ginormous canvas lodges in another meadow are built of wood and a forest-green canvas that camouflages them among the surroundings. The immediate appearance is of a good old-fashioned farm campsite with ample space to roam.
Inside is where the magic happens. Bell tents feature mattresses, duvets, cooking equipment and old-style lanterns, while the canvas lodges have a wonderfully exposed wooden interior with a log-burning stove, deep red sofas and beds for up to seven people. At the back there's an en-suite washroom and each has it's own private shower, plus there's a BBQ for enjoying some alfresco dining out on your veranda.
All of the bell tents have access to the toilets and gas-powered showers hidden in traditional-style wooden huts at the bottom of the meadow. There are also plenty of interesting finds dotted around the farm. For starters there's the small, private lake, glistening delightfully when the sun is out, where you can watch pond skaters darting across its surface and dragonflies zipping overhead. There's also a lovely old, tin-roofed barn in the farmyard itself, its corrugated metal partially rusted, as if a giant orange crayon has been run along its surface.
From the farm you can join local lanes and footpaths heading down to the coast – it's about a three-mile walk all the way down to Aberporth beach. Or you can drive there and enjoy a walk along the coastal path instead. The choice is yours but when you stay at Sloeberry Farm you're certainly starting in the right place!
Best Price Guarantee
Easy and Secure, with instant booking confirmation
Trusted for over 10 years
A chance to win a brand new Coleman tent!
Gallery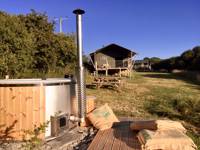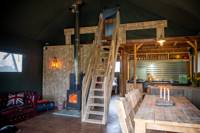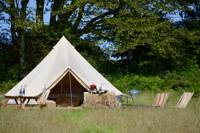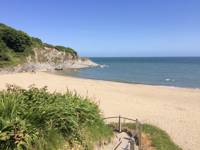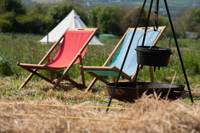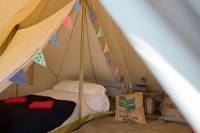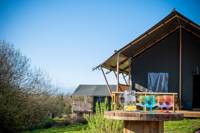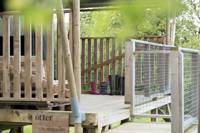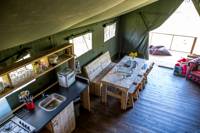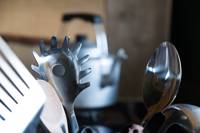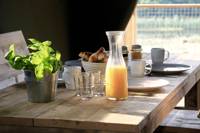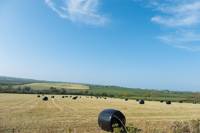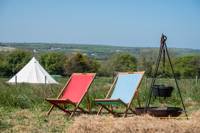 The Owner Says
Sloeberry Farm Lodges and Bell Tents are located in 13 acres of pasture & woods, only 3 miles from the fishing village and stunning beaches of Aberporth and a short drive from the historic town of Cardigan.
Reader Reviews
Add Your Review
Fun, relaxing, beautiful.
We arrived at the farm late on Friday the 30th May. we arrived to be greeted by the owner shaun, Shaun showed us around and gave us all the information we needed to get our stay started. It was really relaxing and once we got the hot tub going on our second day it was bliss and relaxing. The only issue if you can even call it an issue was the wood we bought didn't seem to heat up the hot tub on our first night and it had been burning for a number of hours, As soon as we spoke to Shaun the next day he fixed the problem and even took care of the hot tub while we were out exploring. We loved having little visits off the local cats as they were all very loving and friendly and we would love to return in the near future. All in all this was a lovely outdoor weekend with friends and the fresh outdoors did us the world of good.
Amazing glamping experience:))
The safari tent was amazing clean massive and had everything that you could possibly need:)) Campsite was brilliant and very well thought out by Shaun and Jo. Shaun and Jo were also excellent hosts and had really good knowledge of the local area recommending various places for us to visit:)) we would definately reccommend and cant wait for our next visit:))
A wonderful find great weekend away with the family
A wonderful long weekend . The lodges were amazing everything you need warm and cosy,clean and well equipped with a toasty log burner for the chilly evenings. We explored the local beaches Poppit Sands is close by great for rock pooling and bodyboarding. Great hosts friendly and welcoming the whole family was sad to leave we will definitely return.
Tranquil luxury camping near stunning coastal walking
Loved Otter lodge! Warm comfortable beds, well equipped kitchen, candle lit dinners, cosy woodburner, crackling campfire under the stars, wood fired hot tub to sit in with a glass of wine after walking the stunning nearby coastal paths... Helpful and friendly hosts, the sounds of owls and the stream, sitting on the deck with a cuppa, peace and quiet, a comfy sofa to read on by the inside woodburner, the glow of paraffin lamps. It's a perfect place to unwind. We will definitely be back!
Lovely place to stay peaceful and tranquil and the owners were lovely people
The site is very good and the surrounding area is fantastic with the most amazing beaches and people loved our stay
A wonderful way to switch off
We have just spent a very tranquil 3 nights in Otter Lodge at Sloeberry Farm and have come home wishing we were staying much longer! Owners Jo and Shaun are welcoming, knowledgeable, warm and thoughtful. They have excellent local knowledge and were able to guide us to a great range of child and dog friendly activities. The lodge was beautiful, well equipped and spotlessly clean and the on site log store meant that keeping both the hot tub and wood burner well fuelled was easy. Aberporth is an easy 5 minute drive with a small, sheltered beach and all necessary amenities. I wish we had had longer to explore the surrounding areas but we will definitely be returning as it there is so much more to see. I would highly recommend Sloeberry Farm and am already looking forward to our next visit there.
Welcoming hosts!
Beautiful, spacious, well equipped bell tent and friendly campsite in a fabulous location! Site was always clean and tidy. Hosts were very friendly, would go past themselves to help you enjoy your stay as well as giving us marshmallows to toast! We will miss the donkeys, cats and amazing beaches where we saw dolphins and seals but we will definitely be back hopefully next time to try out the lodges! A huge Thankyou to Shaun and Jo for a peaceful stay.
Peaceful, welcoming, bliss.
Just back from 5nights here, as a camper glamping was a real luxury. Thoughtful welcoming hosts, lovely family run small site with thoughtful equipment, provision of wood and information. Hot gas powered showers and flushing loos. Washing up area, take own hot water from your camp kitchen. BBQ on each pitch available, fire pit, deckchairs, well equipped camping kitchen with gas stove (gas included) large igloo cool box (freezer -with cool blocks in ample supply- and fridge on site for use). And proper mattresses! Lots to do locally, and close to town without being intrusive. Beautiful views, and the milky way is included some nights. Definitely recommend!
Wood fired Hot tub, stars, watching the cows in the fields
The Owl Lodge has a wood fired hot tub with fresh chemical free water. I listened to the fire crackle under the stars and watched the cows stroll by as the sun set while floating in the warm water. The kids loved the open natural setting and the tent has beautiful wooden floors and interior. Just look at the pics. Outside BBQ and fire place and interior wood burner. The beds were fantastic and soft with luxurious duvet and pillows.Jo the host was very friendly and I love the honesty shop on site. The local beaches are fantastic ,Aberporth was the favourite with fantastic scenery , sand , fresh water stream, rock pools with little fish on one side and cliffs on the other,a bar, ice cream shop and kayaks to rent.
A magical place...
We're still reeling from our blissful break at Sloeberry Farm – what a magical place! We stayed in one of the family-sized bell tents in the first field. These are super cosy with a comfy double bed (two additional singles for extra guests) and a cracking outdoor kitchen. There's an up-cycled industrial cable drum for a worktop, with twin burner gas hob (the ingenious wooden windbreaker ensured we could make our morning coffee and eggs!). There's also a BBQ drum (which we didn't use) and a firepit (which we did) with grill and dutch oven pot provided. All the utensils you're likely to need are included in the cool army surplus boxes, and they also provide a spacious cool box. The showers are piping hot and the toilets proper flush ones – both are immaculately clean. There's a drinking water tap nearby – you can fill up using the army jerry can provided. And if the weather takes a turn for the worst, there's a welcoming communal bivouac shelter with hay bail seating.
Jo and Shaun couldn't have been more accommodating – even providing some complimentary firewood and marshmallows which we toasted over the firepit whilst lazing in the deck chairs stargazing. They're a wealth of local knowledge too and provided us with lots of recommendations for places to eat – we pipped for Pizza Tipi at the docks in nearby Cardigan (we'll check out that Mexican on our next stay – it sounds ace!). Aberporth beach is around 5 mins away by car where you can go sea kayaking (keep your eyes peeled for dolphins). A one night stay was all too brief so we'll definitely be back – perhaps we'll upgrade to one of the safari lodges next time... the one with the wood-fired hot tub of course!
Good old fashioned luxury
3 nights under the brightest night sky, courtesy of the Milky Way, was a perfect way to spend a long weekend. Great location next to the lovely beaches of south west wales during the day, but it was at night that this gem of a place makes the most sense. A gin & tonic whilst dinner cooks on a Dutch oven over the camp fire. Dusk lit up by oil lamps and a comfortable bed to sleep in. We were in the lodges so the wood burning powered hot tubs are the cherry on the top. Would thoroughly recommend!
Wonderful site, accommodation and hosts
We've just returned from a long weekend staying in Badger Lodge at Sloeberry Farm and highly recommend the site. The location is perfect once you've found it with plenty of beautiful beaches within easy driving distance. Cardigan is about 20 mins drive and there are some very cool places to eat and drink. The farm itself has been kept natural but is very clean and well maintained. The accommodation was lovely, spacious and clean and kitted out with everything you could need. The hosts were super friendly and helpful and nothing was too much trouble. From extra parrafin to recommendations for sightseeing. The kids cried when we left and we are under strict instructions to return as soon as possible, which we fully intend to do!
Glamping at its best!
Really cool, family orientated site with rustic charm. Provided with all we needed for our stay! Great hosts, thank you!
Superb outdoor experience with all the mod cons!
We stayed in Badger lodge for just under a week, and thoroughly enjoyed every minute. Last year we stayed in the bell tents and thought we'd try the lodges this year. So glad we did! There was plenty of room to sleep all of us. We stayed with our two girls (aged 6 and 3), as well as my sister and her partner who had a really cozy and private little sleeping area slightly raised off the ground. Didn't know what to expect from the accomodation but it was way more than we were hoping for, the furniture inside the place was really clean and tidy and well positioned in front of the log burner. This was one our favorite perks by the way, lighting the fire inside while we had out barbecue outside, so when we finished eating and it was starting to get chilly we went inside to a cozy low lit living area. There was plenty of room inside to eat round the table even if we almost always ate outside. Hint, the additional barbecue they offer was great as it is standing height and really makes cooking easier. The outside area is great as it's like camping but you have all the mod cons inside waiting for you. The cleanliness of the lodge really was second to none, very impressed. My wife is Italian and is quite particular with cleanliness but it passed her tough test too.....thanfully! The privacy of the lodge is great and we really enjoyed the general peace and quiet of the farm. This is helped by the fact that you can't drive right up to the lodge, so the kids can roam around without you worrying about vehicles. The owners helped us move our things up to the lodge in their little tractor which was a really nice touch and made the kid's day topped only by them bringing the kids some marshmallows for the barbecue. The farm is close to the sea, where there are plenty of cafes and beach restaurants if you don't want to lug picnics around with you. A memorable holiday for all of us that we will all remember. Highly recommended.
Natural private getaway, total relaxation!
We loved our stay here! Jo and Shaun were so welcoming and could not have done more for us. Everything was thought of; marshmallows and skewers for the fire pit, lanterns, candles, blankets, wood for the log burner/hot tub/fire pit and even hot running water for the ensuite shower for that added slice of comfort! The location of our lodge was dreamy- we woke up to the sounds of birds and cows in the distance, as we watched the sun rise over the pond at the bottom of the meadow... a total escape. Jo and Shaun have got it spot on here; it isn't packed with tipis and lodges, and so you really feel like it is just you and Mother Nature. Not that it was needed, as we could have stayed at our lodge the entire trip, but it was great having the town of cardigan so close by- amazing spots for a bite to eat and very picturesque! We are already planning our return next year!
A slice of rustic heaven!
From the moment we drive up to Sloeberry Farm we knew we were on to a winner. We were met by Shaun, who was as friendly in person as he was via email, and were shown to our lodge- WOW! Otter lodge was everything we had hoped and more! We were blown away by the location; facing out over a meadow, a beautiful pond at the bottom and rolling welsh countryside in the background... topped by our very own wood fired hot tub! The inside of Otter lodge was stunning; just enough comfort and decor without spoiling the fact that you are in the great outdoors- such a perfect balance! Jo and Shaun have got it spot on. From giving us marshmallows to toast on the fire, maps and suggestions of local places to visit, to providing lanterns, candles, blankets and hot running water for a shower! One of the best things about Sloeberry Farm is that jo and Shaun have resisted he urge to put as many tipis and lodges on the land as they could fit, and instead respected the idea of space, privacy and nature. We have had the most relaxing stay, 3 nights had felt like 7, and will definitely be coming again once our baby is born!
Excellent glamping in an oasis of calm
We had a wonderful few days and stayed in both a Bell tent and a lodge. First time camping with the kids (x3) and they all loved the set up. Beds were super comfy and warm, proper mattresses even in the Bell tent, all the cooking equipment provided, in fact pretty much everything you could think of is provided for you. Lovely hot showers and clean facilities in befitting log cabins (shared if staying in the Bell tent, you have your own private bathroom in the lodge which is equally luxurious). Toasting marshmallows and sharing stories round the fire pit was truly idyllic. There is a little shop providing logs for the fire pit and charcoal for the BBQ which was super handy. Everything has been considered with the environment in mind and a nod to nature and calm. Perfectly situated for the many beaches and local activities. Absolutely brilliant!
Lovely Owl Lodge
We stayed at owl lodge in sloe berry farm in May 2018. What a brilliant way to spend a bank holiday. The lodge is beautifully equipped with great design features and a separate bathroom and toilet. The wood fired hot tub was fantastic whilst we relaxed around a camp fire and BBQ. Hosts were great. There are some lovely beaches in the area. St David's is worth a visit.
Owl Lodge - Sloeberry Farm - fantastic place to stay
Sloeberry Farm is a lovely place to stay with very supportive hosts who went out of their way to make our stay so memorable. Owl lodge has great features including the wood fired hot tub which was great to relax in after a days body boarding at the lovely local beaches. We will definitely be returning !
Best Price Guarantee
Easy and Secure, with instant booking confirmation
Trusted for over 10 years
A chance to win a brand new Coleman tent!
Book campsites near Sloeberry Farm