Culdees Castle Estate Glamping
Luxury woodland cabins, each with a private hot tub, in the grounds of a Scottish castle
In the foreground your toes are peeking out from a heather-coloured tartan blanket. Mid field, beyond the window at the foot of the king-size bed, a deer is grazing in the early morning light. Beyond it are the Gothic red turrets of a castle built on land once owned by Clan Drummond. As soon as you open your eyes, you'll be reaching for the camera to try and capture what's laid before for you – a well-framed glimpse of quintessential Scotland in all its glory.
There are currently three of the five luxury woodland cabins planned for Culdees Castle Estate Glamping in place. Already they've garnered high praise, including being billed in The Guardian's top five "best new UK sites" in 2020. All of the cabins are tucked into the five-acre forest that forms just a small part of an historic 660-acre estate in Perthshire. There's more than enough space to go round, with a whole acre of woodland per self-contained cabin. And while the scale of the place is grand, the glamping is pure fairytale. But that's not to say this place is for kids; far from it. It's a romantic, adults-only glamping getaway where the fairytale magic is yours to reclaim.
You park up by the castle, from where there are views of the distant Highlands, and then make your way, on winding pathways, into the trees. Soon enough you find a wooden-tiled cabin that Snow White and her little band of helpers might have prepared for you. Well... apart from the fact that there's a hot tub outside and a few mod cons in it. Built in Estonia, the cabins are designed to blend into woodland surroundings while offering a little cocoon of insulated luxury inside. Each has its own toilet, shower and a kitchenette with just enough to cook a simple meal for two.
The estate's enthusiastic new custodians, Tracey and Robbie, can provide a hamper of local produce or, if you want to eat out, a wealth of tips on where to go. For "the most amazing steak"; head to John and Fernandas, or for a delicious haggis meatball; book a table at Max & Ben's Bistro. In fact, Tracey will probably book it for you and it's the same for days out too. She abandoned her first attempt at a visitor guide to the area as there was simply too much to include. Instead, she is keen to help guests curate their own bespoke stays with visits to places that interest them most... and there's likely to be something that takes your fancy. The estate is midway between two well-heeled Scottish towns: Crieff; where the Caithness Glass Centre is found, and Auchterarder; home of the famous Gleneagles Estate. There's walking, cycling, horseriding, fishing and golf nearby; white-water rafting, ski-ing and the Highlands within an hour. And if there's anything else you want from a stay at Culdees, we know someone who'll be happy to arrange it.
Details
Facilities
Each cabin offers self-contained, self-catering accommodation for two with a made-up double bed, its own bathroom with toilet, shower and wash basin. They have hot and cold running water from a spring, electricity and WiFi. Each also has an equipped kitchenette with a fridge, kettle, toaster and a two-ring hob. Outside there's a decking area with seating as well as a barbecue station and a fire pit for campfires. A private hot tub is available (at an extra cost). There's a little on-site shop and tea room with camping basics.
Suitable For
Glampers – yes. Campers, caravans, motorhomes, dogs – no.
Nearby
The cabins are within the grounds of Culdees Castle and you are welcome to explore and admire the castle (from the outside – it is being renovated). There's plenty of wildlife on site and there are lovely walks directly from the cabins. It's one mile to the local village where you'll find Muthill Golf Club (01764 681523) but serious golfers might want to travel a couple of miles further to the famous course at Gleneagles (01764 662231) where there's also a spa and a school of falconry (01764 694347). The town of Crieff is just five miles away and has an array of shops, galleries, cafes and bars as well as the Crieff Visitor Centre (01764 654014), home to the Caithness Glass factory. Other attractions within 10 miles of site include Drummond Castle Gardens (01764 681433), Macrosty Woodland Park and Cultybraggan Camp (01764 670769). There's mountain biking (and hire) at Comrie Croft Bike Trails (01764 670140), horseriding at Crieff Hydro (01764 651616) and fishing at Drummond Loch (01764 652722).
Food & Drink
A range of hampers and local produce are available to pre-order before your stay and there's a little shop on site too selling local produce and camping basics. In Muthill, just a mile down the road, there's an award-winning restaurant, Barley Bree (01764 681451), Mclean's Ice Cream Parlour and Pizzeria for takeaways (01764 681749) and a pub, The Commercial (01764 641111). There's a wider range of restaurants, eateries and some lovely delis in Crieff. Lounge (01764 654407), Delivino (01764 655665) and The Crieff Food Company (01764 655 817) come highly recommended by your hosts as does John and Fernandas (01764 662442) and Max & Ben's Bistro (01764 664092) in Auchterarder five miles in the other direction. Whisky lovers might like to visit the Glenturret Distillery for the Famous Grouse Experience (01764 656565) in Crieff and gin lovers should head for the Blackford Distillery (01764 661809) – both within 10 miles of site.
Open
All year.
Why book with Cool Camping?
Best Price Guarantee, with no fees
Instant booking confirmation
Trusted for over 10 years
A chance to win prizes in our regular competitions
The Owner Says
Our Luxury cabins are situated within the forest of Culdees Castle. A truly unique space with complete privacy. You can lie in your bed or sip champagne in the hot tub, taking in the peaceful surroundings and watching the nature that the Scottish Highlands provides. The cabins have views of Culdees Castle which is backlit at night, providing our guests with all the romance and charm you will need for an unforgettable experience.
Social Distancing Measures
Culdees Castle Estate is a quiet rural setting so social distancing will be easily adhered to.
All cabins/Hot Tubs will be cleaned thoroughly between bookings and be vacant for a minimum 24 hours in between clients.
We only accept payment by card and will leave all purchased products outside of the cabin during your stay
Our Staff will wear gloves and masks whilst in your presence
Card/Invoicing will be the only accepted payment method

Extras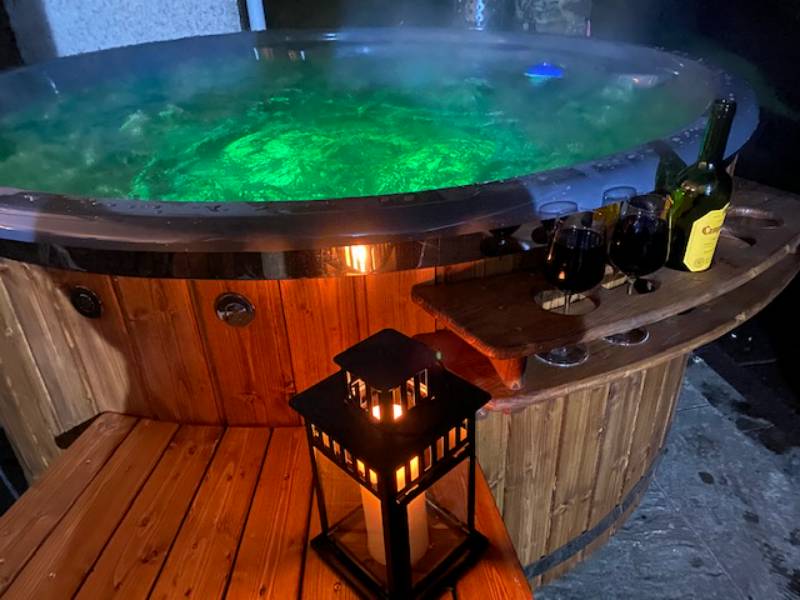 Wood fired Hot Tub hire inc. fuel
Location
Contact Culdees Castle Estate Glamping, Culdees Castle, Muthill, Perthshire PH5 2BA
Getting There
From either Glasgow or Edinburgh continue along the M9/A9 towards Perth until the Greenloaning exit. Follow the road through villages of Greenloaning and Braco and continue until you come to a sharp right-hand bend over a stone bridge. This is the start of Culdees Estate on your right. Take the second set of iron gates on your right, signposted Culdees. Follow the tree-lined avenue all the way to the bottom and park outside of the castle.
The nearest train station is at Gleneagles, 12 miles from site. From there, the easiest option is to take a taxi and there is a rank outside the station. Local companies include Crieff Taxis (01764 654620) and Premier (01764 641111). It is possible to take a bus for the last part of the journey but the route involves a change at Dunblane and takes more than an hour. There is a bus stop outside the Culdees Estate gates and more information on local services can be found at Traveline Scotland.
Reviews
Add Your Review
Rated ★★★★★ over 9 reviews
Absolutely fantastic!
Booked a surprise stay for my Husband's birthday and our wedding anniversary and it was fabulous. Tracey & Rob are the most thoughtful hosts and could not do any more to make sure your stay is as great as it should be. The lodge we stayed in was the Horton Lodge and it was absolutely beautiful, everything was matching and in colour scheme even right down to the cutlery! All the wee touches are brilliant and certainly don't go unnoticed. I had also booked the hot tub for the two nights and they had made sure it was heated for us arriving and arranged it around us going for dinner the second night. We also had a breakfast hamper booked and this was absolutely delicious! We got a little tour of the Castle courtyard from Tracey and hearing about her vision and plans for the castle was astounding - very best of luck to you with this and can't wait to see it all finished. I would absolutely recommend staying here to anyone and have already mentioned to friends about going! We will definitely be back to stay again, we loved every minute. We ventured into Creiff for one or days and it was a lovely wee place with some fab walks.
A Magical Woodland Retreat
If you are like us, looking for a quiet break in peaceful surroundings, with a hot tub to relax and unwind.... seriously look no further! This is the place! We stayed for 3 nights in Horton Lodge which is the newest of the 4 lodges quietly hidden away in the woods surrounding the quite majestic (albeit tragic) Culdees Castle. The cabin is fitted out to a really high standard (better than some top hotels we've stayed in) and had everything we needed for a really comfortable stay. A real highlight was waking up in morning in the cosy little bed alcove to look out the window and see nothing but nature... Including both grey and red squirrels and many little birds go about their daily business. What a pure joy. The setting was just magical...Tracey and Rob were perfect hosts - attentive enough to make sure we had everything we needed and wanted, whilst giving us total privacy. My gosh they never rest! In addition to running the Glamping site, they are renovating the castle and loving it back to life. We had the privilege of hearing about the history of the castle from Rob and even got to see inside the newly refurbished courtyard, and a peek into the next room to be refurbished. Amazing work being done here and we take our hat off to them. Top tips for visitors - there is a wee walk through the woodland from the carpark to get to the cabins so backpacks would be better than suitcases for your luggage, although they provide a wee cart for you if needed to wheel your stuff in. Wear wellies or walking boots when trekking about as the woodland paths get quite soggy with the rain. And nearby Crieff is great to visit with loads of wee shops and restaurants, but check opening days as some close on Sundays/Mondays/Tuesdays... And perhaps avoid Crieff Visitor Centre (really needs upgrading!) but the Nutcracker All year Christmas Shop is a real treasure! Autumn was beautiful here and we plan to revisit in summer to see the progress of the renovation! Thank you Tracey & Rob!
Lovely cabin
Tracey the host was welcoming. The cabin was lovely and equipped. Had a fabulous time in the cabin, although we were charged £30 for a stain on the stool that could've been wiped off and a smashed glass seemed a bit of a rip off. We also paid for the hot tub and didn't receive dressing gowns or slippers as advertised.
Relax and recharge
Culdees Castle glamping is the perfect stay should you wish to unwind and recharge. Tracey, Rob and family have taken the exciting (and mammoth) task of renovating Culdees Castle which is a romantic ruin ATM, I cannot wait to see how it changes in the future. The peaceful grounds are home to the glamping pods of dreams, I would happily live in one. The surrounding nature is beautiful, the place is so quiet. I have not felt so relaxed in a very long time. We stayed in Drummond lodge and it was so well isolated from the others, it felt like we were the only ones there. Tracy and Rob are friendly and knowledgeable about the history of the castle and grounds and happy to help with anything you may need. We really didn't want to leave, next time we will be staying longer.
Brilliant
Beautiful cabin and excellent hosts Great few days away in a beautiful place
Lovely peaceful place
This is such a lovely place. The hosts Tracey and Rob were very welcoming and helpful and the lodge just perfect. Nestled into the forest meant that we had complete privacy and it was so peaceful. The lodge was comfortable and had everything we needed including a fridge and bathroom with a nice shower. The hot tub was also a hightlight. You can't go near the castle alone as it is unsafe but we got a tour from Tracey which really made us fall in live with the place. Would recommend this place to anyone.
Amazing
Amazing accommodation. Friendly hosts. Yummy marshmallows for toasting on the fire pit. Relaxing wood burning hot tub.
Great setting
Beautiful setting and great time had.
A wonderful relaxing stay!
We had a lovely 3 nights at Culdees Castle Estate. The hot tub was relaxing, the accommodation was beautifully presented with everything we could need. Tracey and Rob were always on hand and made our stay even better! We will definitely be back. Thanks for everything!
Response from Culdees Castle Estate Glamping
Thank you Holly for being perfect guests, we look forward to you return visit to Culdees.  
Why book with Cool Camping?
Best Price Guarantee, with no fees
Instant booking confirmation
Trusted for over 10 years
A chance to win prizes in our regular competitions
Book campsites near Culdees Castle Estate Glamping