Glamping in Worcestershire: Family-sized safari lodges on the edge of the Malvern Hills with acres of natural space to explore and a 500-year-old pub right next door
"Home comforts with the great outdoors right on your doorstep", is how Charlotte Taylor succinctly describes her family-run glamping site, set amid the saplings of a young perry apple orchard at the foot of the Malvern Hills. "No rushing to the supermarket or squeezing in towels and bedding. Everything is here".
The 17-acre rural patchwork of meadows, hedgerows and glistening natural ponds certainly seem to cater to every need. The farm pantry sells everything, from local beer and homemade cakes to olives and sausages, while the glamping accommodation itself comprises a pair of family-sized safari tents each with an upstairs mezzanine level, as fully equipped kitchen, sofas and proper beds. Throw in the bikes that are available to rent and the family-friendly pub right next door and you quickly realise there's not a thing that you could want for. In fact, apples and pears from the fledgling orchard will eventually be used to create the farm's very own homemade cider and perry. Then even the pub will be surplus to requirements!
Of course, a glamping sites needs to offer more than just a place to bed down for the night. Up Sticks also matches its comfortable accommodation with bucket loads of charm and the attention to detail is exceptional. Fluffy towels are ready in your private bathroom, there's a breakfast pack provided for your first morning and a glass of cool white wine awaits you in the fridge. The twinkle of the fairy lights that thread around the safari lodges and walkways gives an almost other worldly feel whilst the woodburner and Kadai fire pit cast a warm glow across the canvas as the sun goes down.
When you do break the spell and head out to explore, the Malvern Hills – a designated Area of Outstanding Natural Beauty – the footpaths and mountain biking trails are the most obvious way to start (with onsite wash-down facilities for bikes and boots on your return). The rivers Severn and Wye await for paddling downstream or a quiet picnic.
Not that you need to leave the campsite to get close to nature. You can help chop wood for the campfire, use the bug kits in your safari lodge to hunt for miniature wildlife in the pond or pet the rare breed sheep and pygmy goats, collect eggs from the hens, and tend your own little vegetable patch by the lodge.
Gallery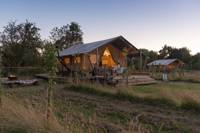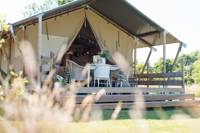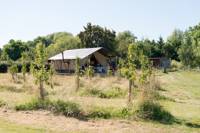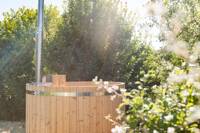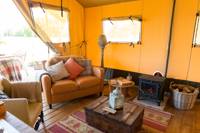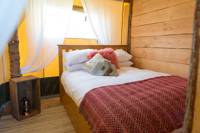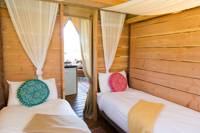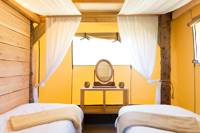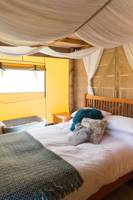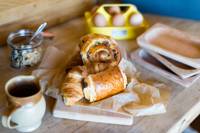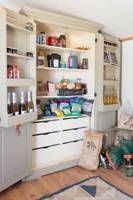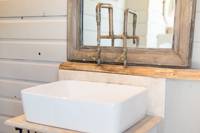 The Owner Says
Up Sticks Glamping - Enjoy home comforts under canvas on our 17 acre smallholding in the Malvern Hills. Each of our 3 luxury safari tents sleeps 6 and are decorated in our own unique upcycled vintage style which have tree trunk, wood clad walls, an upstairs sleeping loft and two further downstairs bedrooms and come complete with white linen, cosy blankets, a kitchen, sofa's and wood-burner. They are connected to a private bathroom via a raised wooden boardwalk complete with power shower, mains loo, heated towel rail, hairdryer and toiletries.
Our space is set in our fledgling orchard with natural pond, surrounded by oaks and hedgerows. Enjoy uninterrupted views of open countryside, awake to birdsong and get lulled to sleep with owls hooting. The Malvern Hills offer miles of footpaths, quiet lanes for cycling and nearby rivers to paddle down on canoes.
Up Sticks offers Bikes, a pantry, a hot tub and a rum shack with games and pop up bar. Enjoy feeding our pygmy goats Ouissant sheep and collecting the hens eggs. Next door is a 500 year old country pub which is very handy for a quick meal or a lazy afternoon drink.
Turn up to home-made cake and tea, or crack open a bottle of chilled local wine. We provide you with everything you need for your stay from crisp white linen, fluffy towels to morning coffee and eggs.
Bring your pooch with a 'dog stay pack' in our extra's which includes a crate, bowl, bed and tether. 
For your little cherubs we have travel cots, high chairs, baby baths and wooden crockery.
Reader Reviews
Add Your Review
A gorgeous place
One of the best I have stayed at. Lovely tents, gorgeous countryside, very nice hosts - highly recommend
A beautiful and tranquil break
We had a really lovely, peaceful, relaxing break with our daughters. The little extras and thought behind everything, is just lovely, from the welcome hamper, décor, condiments supplied and the way the bathroom is presented. We loved the fairy lights, the boardwalk to the bathroom, seeing the duck and chickens en-route and the pantry to buy the little treats from. The kids absolutely loved the den and just how cosy it was. Was also loved being able to walk down the road to the local pub and using the very unusual hot tub! Would thoroughly recommend this place!
Wonderfully Relaxing
We had the most amazing 3 night stay here from the 8th to the 11th October. Wonderfully peaceful, incredibly cosy and totally relaxing. The tent has all you need, as well as a a very comfy bed , beautiful location and lovely hosts. We were very sad to leave. Wonderfully located for walking, cycling and chilling. I would highly recommend a stay here.
Fantastic accommodation in beautiful scenery
We really enjoyed the 3 nights we spent at Chase End last week. It was the end of our 2 week camping holiday and the safari tent was a little bit of luxury in beautiful surroundings. Charlotte and Steve provided us with everything we needed. We had a warm welcome with home made cake, eggs, milk, fresh bread, fruit juice and wine. We enjoyed the posh marshmallows too! The kids enjoyed playing and running about in the great outdoor space. There were toys and an entertainment box provided so really everything we could wish for! Thanks so much for having us will definitely recommend you!
Response from Up Sticks Glamping
We are so pleased you enjoyed your stay, it was a pleasure to welcome you to Up Sticks. We do hope to see you and friends again. Remember we always offer our returners a discount!
One of our favourite holidays!
My family just spent 2 nights at UpSticks. Thenkids aged 2 and 4 thoughtit was loads of fun! Loads of space to run, cycle and play. Bbq area was really big and the bathrooms were gorgeous! The farm is clean and the hosts were so accommodating and friendly letting the kids feed the animals and help us when needed! The tents had everything you could need and were clean, comfortable and beautifully decorated Can't wait to go back! Really loved it - thanks
Response from Up Sticks Glamping
Ah thank you so much for visiting us, so pleased you had a great time - we look forward to welcoming you again soon. 
A wonderful, relaxing spot wit hfabulous hosts.
We stayed for a weekend at Upsticks in the Chase End tent and had a fabulous time. Charlotte and Steve have thought of everything. The tents are so well equipped from the little touches like the vase of freshly cut flowers to the cosy blankets, lovely local coffee, bread and jam and even a homemade cake on our arrival. We were made to feel very welcome and Charlotte and Steve were on hand to help steer us for walks, and places to eat. The kids loved riding around on the collection of bikes available, playing cricket in the field and even doing the orienteering challenge! We'd love to come back.
Response from Up Sticks Glamping
Hi Tim and Family, so pleased you had a good time. We do hope to welcome you again, just get in touch. So great to see the kids enjoying the bikes. 
Amazing experience
We had such a brilliant time at Upsticks! We'll be back and for longer next time. The tents are amazing. So well designed and so many lovely touches like homemade bread and delicious cakes on arrival plus cosy blankets and extra cushions throughout. The kitchen is very well equipped and the bedrooms super comfy. The bathrooms are excellent too. The location is superb with many beautiful areas to explore. The kids loved all the animals on the farm especially fudge the cat and collecting the chickens eggs in the morning. Steve and Charlotte were fantastic hosts too and made us feel so welcome. We had a delicious meal next door at the pub too. Even after two days we felt very relaxed. Can't recommend upsticks highly enough!
Response from Up Sticks Glamping
Hi there, so pleased you enjoyed your stay with us, and managed to chill. We'd love to have you stay longer, just drop us a line. We'll have more hens and eggs to collect and fudge will always come and say hello!
Perfect hosts, fab accommodation
I organised a camping themed hen party at Upsticks and Charlotte, the host, was always on point and couldn't do enough to help. A wonderful selection of goodies were left in the tent for us upon arrival. Great quality bedding, kitchen wares etc. Beautifully presented and well thought out tents and bathrooms. Something broke during our stay (not our fault, just unfortunate!). I informed Charlotte at 10am. By the time we returned at 1pm it was fixed. We really didn't expect this at all. I can't praise Charlotte enough.
Response from Up Sticks Glamping
Hi Steph, it was a pleasure to welcome you and your clan to Up Sticks. So happy the Hen do went so well, I hope the wedding was as perfect!
Cosy, Comfortable and Luxurious
We had a wonderful few days staying here this October. The Safari tents are fabulous, with high ceilings, three bedroom areas, one of which is a mezzanine, which my daughter loved, and two of which are proper bedrooms, all with very comfortable beds and thick fluffy duvets. We were very warm as we had the wood burner, and the electric radiator as an occasional top up, as well as hot water bottles, even though we didn't really need them, they were a lovely touch. The kitchen area was incredibly well equipped and the breakfast pack of delicious local meat, bread and eggs was very welcome. One of the best things was the lovely bathroom, individual to each tent. We will certainly be back.
Response from Up Sticks Glamping
Hi Nicola,so pleased you enjoy your glamping trip with us. I hope to see you again next year. 
A little gem in the world of glamping
I am not now, nor ever will be, a happy camper. The thought of spending nights under canvas in a field fills me with dread. Suffice to say that when my wife booked a glamping holiday for us and our four children, I was less than impressed with the idea. That is of course, until we arrived... Though we may of been the first guests to stay, I'm certain we won't be the last. The "tent" if you can call it that harks of something out of Africa. Big comfortable beds and quality duvets ensure a good night's sleep. Leather sofa, log burner and a hob adds some home comforts to the camping experience and the dab radio is a nice bonus. Our older children absolutely loved sleeping on the mezzanine together and at no point did we feel cramped (even though there were six of us) The welcome basket with a selection of treats on arrival is a nice touch. The meats and bread available from the hosts are sublime, even catering for gluten intolerance. I must mention the brioche buns are a must for those of us more able to eat bread. Top it with the hosts delicious chocolate spread and you're on to a winner. So, has my experience warmed me to the idea of camping? I don't think so. No. Would I go back to upticks? Absolutely! In fact we've already booked our return and I can honestly say that we will back further into the future to see how it grows. My advice to anyone reading this review. Book a break here and you won't be disappointed.
Best Price Guarantee, with no fees
Instant booking confirmation
Trusted for over 10 years
A chance to win £50 of Cool Camping vouchers!
Book campsites near Up Sticks Glamping