Ockeridge Rural Retreats
Ockeridge lane , Wichenford , Worcester WR6 6YR





Glamping in Worcestershire: Boutique luxury in the Worcestershire countryside, within easy reach of the county capital and beautiful Witely Court
Super Ted, Fairy, Spider, Tink and Freyja. It may sound like a motley crew of homespun superheroes, but this characterful bunch is in fact the band of horses at Ockeridge Rural Retreats, a stunningly luxurious glamping site in rural Worcestershire. While the horses allude to the hidden, countryside feel of the place – lanes crowded with cow parsley and hedges full of blackberries – the site itself is far from a rustic farm retreat. If you're a glamper looking for modern luxuries, you've come to the right place.
Set on the edge of a series of fenced horse paddocks, with views down a shallow valley, Ockeridge Rural Retreats is comprised of three glamping units in a parcelled up nine-acre space. The first is the Whitely Shepherd's Hut, named after the ruined Victorian mansion of Witely Court, a vast, beautiful relic, destroyed in a great fire during the 1930s and visible in the distance as you peak from the hut window. Inside, the idea of a humble shepherd's shelter has been given a thoroughly modern face-lift, with under-floor heating, a tiled en suite bathroom and a king-sized bed and bunks. A compact kitchen, meanwhile, has an oven, fridge and sink and all the utensils you will need, while country house décor – enamel mugs, a milk churn side table and oak surfaces – shows impeccable attention to detail.
The second abode slightly stretches the realms of glamping; it's certainly a far cry from the tent-camping origins. In a separate part of the meadow, the Montana Woodland Lodge is a cosy log cabin that sleeps a family of four in comfort with a king-sized master suite and a separate bunkroom. Think of it as a refined self-catered home, with a fully fitted kitchen, spacious dining area and televisions in each of the bedrooms. Huge double-glazed doors at the front can be folded back to really let the outside in, with a wooden deck and garden furniture, fronted by a fragrant line of flowering lavender.
If you've not followed your gaze to Witely Court, two miles away, where English Heritage now welcomes you to tour the grounds, there's plenty to keep you busy. It's a pleasant stroll to the local pub – The Fox Inn – while walkers looking for hills and well known routes can drive the nine miles to the Malverns. Meanwhile, rainy days are easily filled dipping in and out of shops in Worcester and marvelling at the gothic cathedral. When the sun breaks, a pint beside the River Severn ends the day just perfectly.
Gallery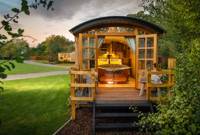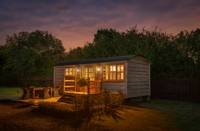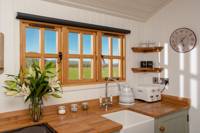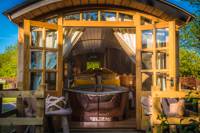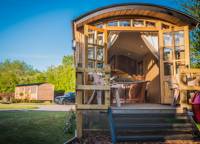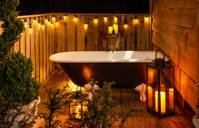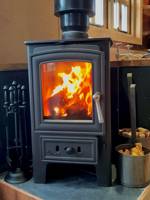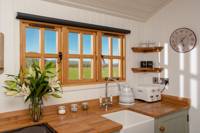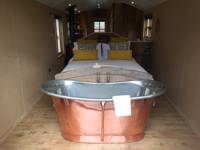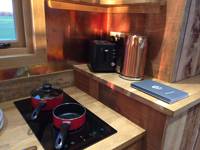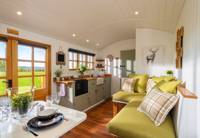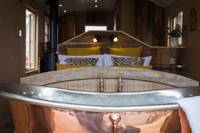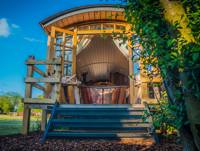 Video Tour
The Owner Says
Ockeridge Rural Retreats is set in open countryside with outstanding views as far as the eye can see. Glamping at its very best, boasting 3 amazing Shepherds huts ranging from family sized Shepherds hut which can sleep up to 4 people in comfort and style and two couples retreats . Boutique accommodation with a 5 star hotel feel.  Egyptian cotton bed linen, Gilchrist & Soames toiletries, Hungarian duck down duvets all gives the feeling of sheer sophistication and style.
Ockeridge Rural Retreats is set in a 9-acre equestrian facility where you will experience these majestic creatures as they graze away in this tranquil setting. Unwind, relax and enjoy this brand new facility created with the sophisticated traveler in mind. Set on a country lane with magnificent views and access to fields and woodlands and yet only 6 miles from Worcester city centre. Walking, cycling, fishing, pony rides for kids all on your doorstep.
Our shepherds huts are far from normal and will exceed all your expectations. 24 feet long x 9 feet wide, king sized bed, 2 single bunk beds, kitchen, and luxury bathroom, smart TV, under floor heating. This is a little peace of heaven where you will escape in a magical environment. Uncompromising standards and attention to detail will ensure your stay with Ockeridge Rural Retreats is a memorable one.
Reviews
Add Your Review
What a wonderful discovery, the Shepherds Retreat
What a wonderful discovery, the Shepherds Retreat is, one of two Shepherds Hut's and a small log cabin owned and operated by Ockeridge Rural Retreats. I stumbled across the website and liked what I saw so booked a short break. On arrival, we was greeted by Tiffany who showed us around and told us about the surrounding area. Everything the website promised was delivered, can't fault it. Wonderful views, walks, peaceful site and comfortable in the well thought out cabin. My only regret was coming back home. Would definitely stay here again.
Nice view and luxurious hut
My partner and I stayed a night for the weekend. The hut was so beautiful, clean and luxury (same as the photos). We had everything we needed and even more. The owners were so nice and helpful. The view of the farm was brilliant. So if you really need to escape from city life, I would recommend to stay here. We wish we could stay more. We would definitely go back there again. Many Thanks to Tiffany.
Peaceful weekend in the countryside
My partner and I stayed in the Shepherd's Retreat for 2 nights as we were attending a wedding at nearby Curradine Barns. We had the most wonderful weekend and mostly stayed in the cabin as it was so wet but it was so cosy it didn't spoil our fun! We had a delicious breakfast and picked up some great food to cook at the cabin from Broomfield and Son Farm Shop, had an excellent dinner at The Holt pub and there were plenty more to choose from. Tiffany and Elliot were really friendly and helpful, communication was brilliant and we particularly liked Jack's Tuck Shop! We would highly recommend Ockeridge Rural Retreats and would stay again in the future. Tip- follow GoogleMaps to Ockeridge Rural Retreats rather than entering the postcode as this take you right to the site, the site is a good few minutes drive past where the sat nav takes you on the lane if you are using the postcode to navigate.
A perfect secluded idyll.
If you want perfection, seclusion, privacy and quiet, it's here. Five star comfort in the shape of a shepherd's hut. This place needs to be experienced in order to appreciate its beauty. Go see and feel for yourselves.
Great experience
Our family of four stayed in the Sheperds Hut for a weekend away in June. We were pleasantly surprised by the accommodation - it was luxurious and included all you would need and more for a weekend away. Very friendly and professional owners made us feel right at home and wss very helpful to share local info. Would definitely stay again but for a bit longer as the drive from Hertfordshire took 3 hours hours each way due to hectic weekend traffic.
Glamping at it's best!
A friend & I stayed in the Shepherd's Hut at the end of April & had a thoroughly relaxing time. I'm not sure I would even really describe the experience as glamping...it was literally like a luxurious hotel bedroom in a hut but with all the mod cons you could possibly need! The immediate area surrounding the hut was very well kept & the very friendly & helpful owner, Tiffany, was on hand for information when required. We went for a couple of walks into the beautiful countryside nearby but to be honest we struggled to leave the wonderful comfort of the hut itself! It worked out great for my friend & I but equally I could imagine staying again with my husband & two boys & perhaps exploring the local area a little more (especially the most hilarious pig I've ever come across just up the road-that visit is a must!) Would absolutely recommend!
Winter Wonderland 5*+
We had a family break here just before Christmas and were lucky enough to experience this place covered in Snow! We absolutely loved it here, the accommodation was stunning, the setting amazing looking out over the Worcestershire hills and the owners could not have done more for us! We stayed in the Shepard's Hut for a long weekend, our two small children loved the comfy bunk beds and our double bed was to die for - we sank into the bedding, it was like something out of a 5* star hotel - truly luxurious! All the facilities were absolutely perfect, everything available that you need for family break! We experienced heavy snow and very cold temperatures but the hut was so warm and comfy we could of stayed there for the whole of Christmas! The owners welcomed us even though we arrived very late and helped us get out when the snow covered the whole place. Set is a great location overlooking the rolling hills of Worcestershire yet only 10-15 minutes from Worcester Town Centre or the Malvern Hills. The kids loved being introduced to the horses just across from the Hut especially Fairy the Shetland Pony! We will definitely be returning again, the Log Cabin looked equally amazing so maybe we will have to try that one next time! We stayed as a family but would be equally amazing for a romantic break for myself and my wife!
Best Price Guarantee, with no fees
Instant booking confirmation
Trusted for over 10 years
A chance to win £50 of Cool Camping vouchers!
Book campsites near Ockeridge Rural Retreats