A shepherd's hut and a dinky pink caravan parked up just south of the Peak District, with a riverside village on the doorstep and friendly, attentive hosts
Alton Towers may be renowned for white knuckle roller coasters with intimidating names but it's lesser known for its pre-theme park days as an expansive country estate. Ten minutes from Nemisis, Oblivion and The Smiler, tranquil Greenacres Farm is a product of that time, with a farmhouse built in the mid-19th century and surrounding Churnet Valley countryside that's been farmed for generations. From the moment you arrive, rumbling over a cattle grid and down a short driveway flanked by cows, it feels like the antithesis of a theme park. Breathe it in. Space, country views and lungfuls of fresh air.
Home to Tessa and David, Greenacres is set in 11 cattle-grazed acres that have been farmed by Tessa's family since 1864. Today the old cowshed and pigsty have been transformed into a snug holiday cottage – think low exposed beams and cosy nook bedrooms – while, outside, a newly-built shepherd's hut and a retro-look pink caravan reside.
Both offer self-contained and comfortable accommodation but each has a charm all of its own. While the shepherd's hut, with its wood-burning stove, has a nod to centuries past, the smooth curves of the caravan are firmly inspired by the 1950s. Both are actually modern designs and, inside, the features give that away. En suite shower rooms and well-equipped kitchenettes help you feel at home but it's the detailed finish and personal touches, however, that really make these accommodations stand out; carefully chosen fabrics, furnishings, books and artworks on the walls. It's all symptomatic of Tessa and David's eye for design and their friendly and hospitable nature.
Outside, fruit trees – plum, appe, damson and quince – pepper the garden and an old Victorian swing hangs invitingly from an ash tree. A wooded stream runs just below, feeding into the River Churnet, and, if followed, it's only a few hundred metres to the old Churnet Valley railway line, now a popular footpath and cycleway. Follow it north and it's about half an hour before the shrieks and laughter tell you you're alongside Alton Towers Theme Park or stroll south where, 10 minutes away, the old Denstone Village railway station brings you out beside the local pub and the village's farm shop. Elsewhere, the market town of Ashbourne is just under 15 minutes by car and Leek is half an hour away, each acting as a gateway town into the Peak District beyond.
Details
Facilities
Both the The Parlour, shepherd's hut, and Rosebud, the caravan, sleep two. The shepherd's hut has a double bed and features a fitted kitchen, en-suite shower (towels provided) and toilet, a dining area and a wood-burner. The kitchen has an induction hob, a fridge, sink, kettle, toaster, all the usual utensils, cutlery, crockery and tea and coffee making items. Over in Rosebud, things are a little more compact with a dining area which converts into a bed, a shower and toilet, a little kitchenette (with a two-ring gas hob, sink and little fridge-freezer) and all the utensils and crockery you should need. Both have a radio and a hair drier, but no TV or WiFi and, outside each is an outdoor patio area with kadai barbecue and seating. There's free off-road parking  as well as all the logs you need for your log burning stove and kadai. Both are situated by the fruit trees of an orchard, with views of open fields, trees and The Weaver Hills in the distance. There's an antique swing you can enjoy it all from, hanging in the branch of an old ash tree close by.
Suitable For
Glampers – yes. Campers with their own tents, campervans, motorhomes, caravans and dogs – no.
Nearby
There are ample local walks directly from Greenacres as it on the routes of two long-distance paths,as well as rambles alongside the River Churnet and into Denstone and to the farm shop or pub. For many, it's the appeal of the Peak District National Park, to the north, that is strongest. It's seven miles (a 15-minute drive) to the park boundary, though, for a little culture, stopping short in the Georgian town of Ashbourne one day is recommended. If the history takes your fancy, National Trust-owned Calke Abbey (01332 863 822) is a 45-minute drive east – a Baroque mansion built between 1701 and 1704, the National Trust has deliberately left it in the condition they found it, telling the bitter-sweet story of the end of a family line, complete with peeling paintwork and overgrown gardens. Grand Chatsworth House (024 6565 300) was completed in the same year but is quite the opposite – impeccably well kept (and features in a number of renowned, period films). It's 50 minutes north of site. Closer to home, the volunteer-run Churnet Valley Railway runs steam trains throughout the year and has a good cycling route alongside much of it, while the Staffordshire Way is a top pick for walkers (as well as, of course, the Peak District and The Roaches to the north). Finally, it goes without saying that Alton Towers theme park is three miles away, so if you really want some high-octane fun, there are rollercoasters aplenty on your doorstep.
Food & Drink
It's easy to buy local around here. There's a farm shop in Denstone (01889 590050), half-a-mile from site, while Nigel the Butcher (01335 342073) in Ashbourne (seven miles) comes highly recommended by Tessa (as does the Bakehouse on the market square for "the best bread you've ever had"; 01335 347206). Sam's Hens (07967 437896), reared just down the lane, produce delicious free range eggs, which are sold in the Spar in Rocester (two miles away). For pre-made pies, bacon, meat and other good things, Staffordshire Traditional Meats (01889 568411; four miles) looks unassuming (just barns from the outside) but is an absolute must. If you don't fancy cooking yourself, say hello to Chris, the friendly landlord in The Tavern (01889 590847), the local pub half a mile down the road or try The Bull's Head (01538 702307) in Alton where there is often a live band. Further afield, the Black Lion (01782 550294) in Consall Forge serves real ales and is well-placed for a good canalside walk and views of the steam trains on the Churnet Valley railway line.
Open
All year.
Why book with Cool Camping?
Best Price Guarantee, with no fees
Instant booking confirmation
Trusted for over 10 years
A chance to win prizes in our regular competitions
Accommodation
A shepherd's hut and a dinky pink caravan, each sleeping two people.
The Parlour
The Parlour is a brand-new Shepherd's Hut, ideal for a romantic break for those with a taste for adventure who want a little luxury as well. It's a chance to get off grid. There's no TV or wi fi, but there's everything you need for a holiday to remember.
---
Check Availability
Location
Contact Stay at Greenacres, Greenacres, Alton Road, Denstone, Uttoxeter, Staffordshire ST14 5DH
Getting There
Greenacres Barn is 15 minutes from Uttoxeter by car, off the A50 trunk road. Just follow the signs for Alton Towers, then, when you are on the B5032, look out for the signs and the turning as you come out of Denstone (on the right).
Uttoxeter is the nearest railway station and has a taxi rank outside (it's a 15 minute journey from there to Greenacres Barn).
Reviews
Add Your Review
Rated ★★★★★ over 7 reviews
Lovely summer experience - great for couples!
We stayed at Greenacres for a long weekend and it was one of the best places I've been to recently. The hosts are super friendly and helpful but also give you all the privacy you want. David showed us the place around and gave us plenty of information on what's worth seeing nearby. We spent our days either visiting a charming town (about 10 minutes away by car) with plenty of architectural tresures, having a picnic at a field with picturesque landscape (and cows behind a gate!) or walking through the forest. We're barbecue lovers so we spent evenings outside, sipping wine and chatting by the warm grill. The hosts' dog (super friendly and well-behaved) was keeping us company most of the time! The bbq is available just next to an outdoor table and chairs but bare in mind to bring some charcoal! We stayed at the caravan (Rosebud) and we couldn't be more happy with that choice. It's super cosy and comfy and has everything you'd expect from a proper hotel room - large bed, heating, shower, stove, fridge with freezer, and plenty of storage space - I was actually amazed with that the most, considering the size of the caravan! Rosebud is also nicely 'hidden' from any other guests so I'd recommend to anyone, no matter if you're a loner or a social butterfly - guests were also friendly and keen to talk - wonderful atmosphere in general. We hope to come back next spring or summer and will definitely recommend to our friends!
Response from Stay at Greenacres
Thank you for your kind review Ewelina, lovely to meet you both, we hope to see you again!
Tessa & David
A perfect cosy spot
Super Helpful owners, fabulous views, great cosy wee spot. The location is great for walking and running. We loved cooking using the fire bowl but decided the pizza oven was beyond our capabilities. Very pleased with the covid proofing measures in place too.
Response from Stay at Greenacres
Thanks for your lovely comments Kat, much appreciated. Hope to see you again soon, Tessa & David 
Everything we could have hoped for and more
We had a wonderful stay at the Parlour. The hosts were extremely friendly, helpful and very professional in their approach to making sure the place was safe in these COVID times. The shepherd's hut was cosy, spotless and extremely peaceful, we couldn't recommend this place more! Many thanks once again Tessa and David, Del and Alex
Response from Stay at Greenacres
Using lockdown to catch up on our belated 'thank you's' so, thank you for you lovely review! Hope to see you in Staffordshire again soon, Tessa & David
A great value escape
We thoroughly enjoyed our stay at The Parlour as a getaway from a stressful few months. The Parlour is well designed with lovey decoration and everything you need for a very comfortable stay. We particularly enjoyed the use of the fire pit and wood burning stove. The site is quiet with lovely views across fields of grazing cows. Our hosts were very nice, making sure we had everything we needed for our stay. Given the current challenges of COVID-19 we particularly appreciated the care our hosts has taken with cleaning etc. The Parlour is perfectly situated for day trips to the Peak District, and also has access to lots of great local walks (as well as a very nice farm shop just down the road). Can't recommend the value of this stay enough and we look forward to coming back.
Response from Stay at Greenacres
Better late than never with our response! Thanks for your great review Olly, we hope you'll stay again. All the best, Tessa & David 
Cosy haven in a beautiful setting
We stayed here for new year and it was absolutely wonderful. David gave us great directions by phone and welcomed us on arrival with homemade bread and jam. He gave us good advice on the local area and the place was spotless. The cabin itself was cosy, had plenty storage and really prettily done up. Fairy lights and bunting and lovely furnishings. We didn't have to get in the car once as you can do hundreds of walks from the front door and the local pub, The Tavern, is wonderful. Would happily return and would recommend this place to anyone!
Response from Stay at Greenacres
Hi Hannah, thank you for your wonderful review!
We are delighted you enjoyed your break, we hope you'll stay again.
Lovely to meet you both.
David & Tessa
Lovely!
Lovely stay and gorgeous views. Tessa and David are so friendly and great hosts. Left us to it but helped us if we asked/needed anything. Great stay, would 100% revisit
Fantastic stay in beautiful shepherds hut
We stayed for just one night in this beautiful shepherds hut on the edge of the Peak District. It was perfect. Beautiful, warm and comfy shepherds hut. Cosy bed with hot shower. Amazing views. Lovely touch of complimentary wine on arrival and eggs and bread for breakfast in the morning. Walking distance to farm shop and several pubs. Really friendly and welcoming hosts. Wish we could have stayed longer.
Response from Stay at Greenacres
Thank you so much for your lovely comments Samira, we hope to see you again! Tessa & David 
Why book with Cool Camping?
Best Price Guarantee, with no fees
Instant booking confirmation
Trusted for over 10 years
A chance to win prizes in our regular competitions
Book campsites near Stay at Greenacres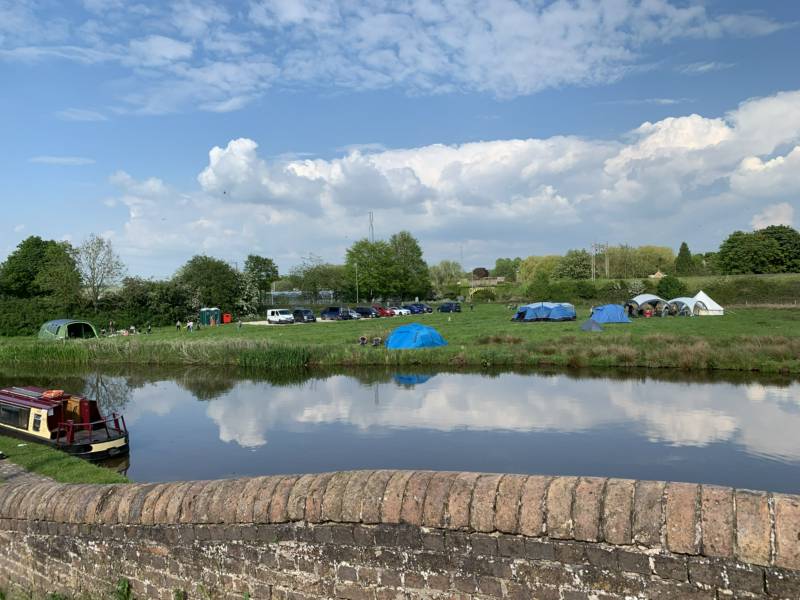 Campsites in Stafford
Campsites in Staffordshire
Campsites in West Midlands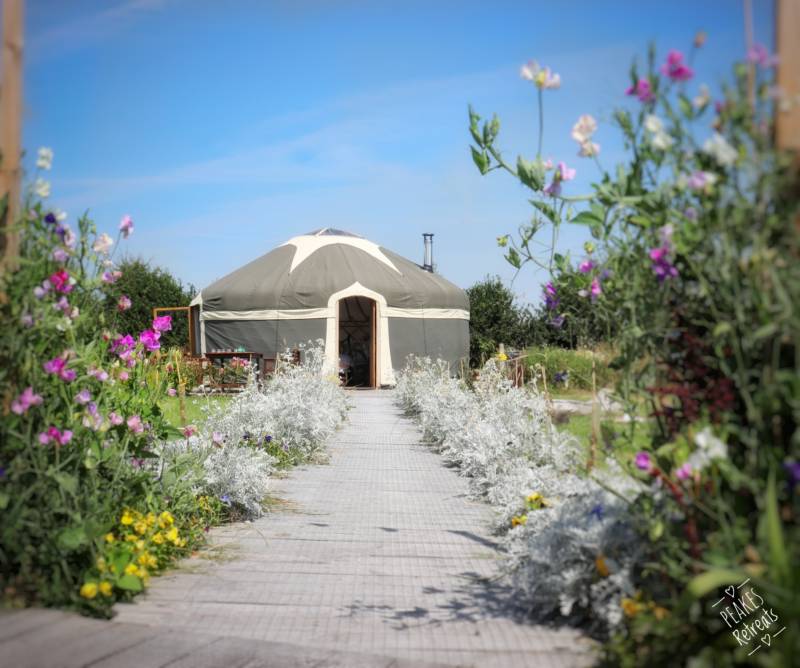 Glamping in Burton upon Trent
Glamping in Staffordshire
Glamping in West Midlands
Available:
1 Airstream
2 Yurt or Gers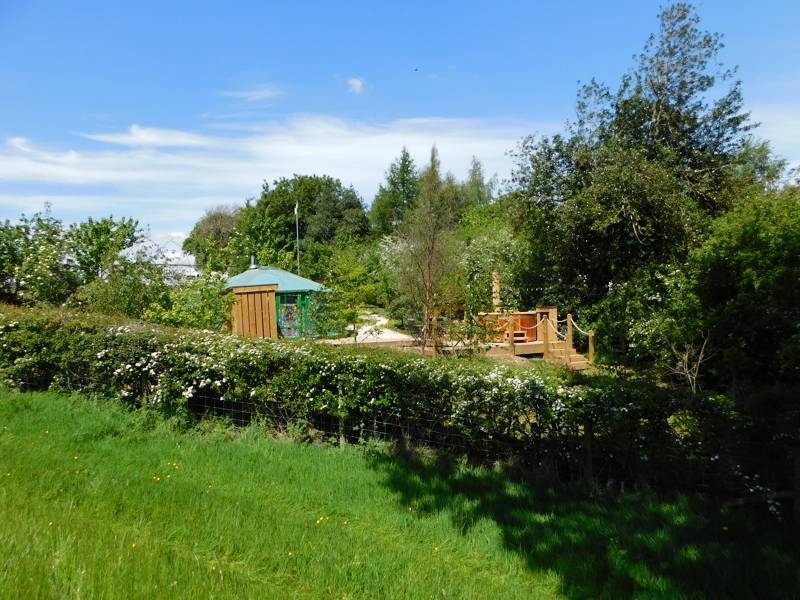 Campsites in Hartington
Campsites in Derbyshire
Campsites in East Midlands