Castle Farm Holidays
Castle Farm Holidays, Dudleston, Ellesmere, Shropshire SY12 9EF







Tucked against the Welsh border, these cosy pods are perfectly positioned to explore Shropshire's glorious rolling hills, castles and attractive little villages.
A network of rural, single track roads lead you to the four pods at Castle Farm Holidays. Sheep and cattle dot the surrounding fields and, in the nearby sleepy hamlet of Dudleston the tower of a stony 12th-century church stands tall among the surroundings. It's a wonderfully rural scene. For those seeking a little silence and a space to hideaway, these country lanes are bound for the right destination.
Set at one end of a rectangular field, next to a small, wooded dell with a stream running through it, Castle Farm's pods aim to offer a year-round alternative to camping. Inside, the insulated pods feature cushioned benches that can be converted into beds and a small kitchenette area with a microwave, kettle and fridge. You still have to bring your own bedding and the modern shower block is just a short stroll away, but for those who really want to minimize the packing, the 'Willow' pod offers a more luxurious package – it has a proper bed, separate sofa and all of the bedding is provided.
Outside, the dell attracts fledgling birds and wildlife, while the open space of the meadow leaves ample room for families. Bring a ball or a kite to make the most of all the space. For many, though, the rural location is best for walking and it's just a matter of metres to the nearest footpath. The Welsh border, two miles away, is marked by the curling River Dee, its valley a wonder to explore, while driving a little further towards the Berwyn Mountains provides access to the Offa's Dyke path, and Wales highest waterfall, Pistyll Rhaeadr.
And if all the walking wears you out, then kicking back at Castle Farm Holidays is sure to help you recover. It's made all the better by the fridge in every pod – the perfect place to store your evening sundowner.
Gallery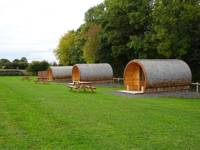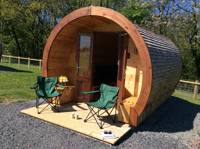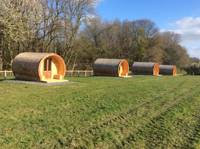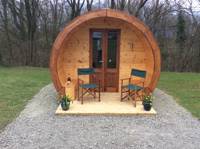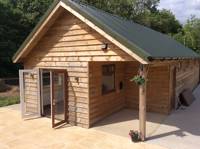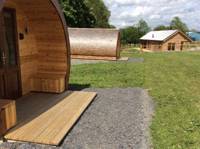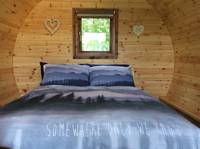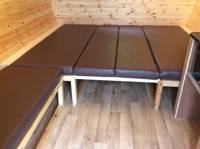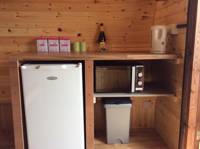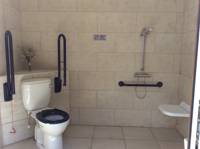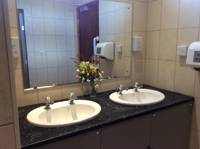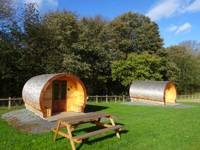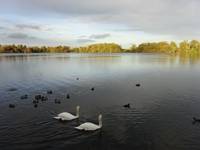 The Owner Says
Castle Farm Holidays is a peaceful rural retreat in the Shropshire countryside it is definitely the right place to get away from it all!
The campsite is meters away from a public footpath and 2 miles away from the welsh boarder marked by the curling River Dee, while driving a little further towards the Berwyn Mountains provides access to the Offa's Dyke path, and Wales highest waterfall, Pistyll Rhaeadr. Castle Farm Holidays is the perfect base to relax and plan your next day's activities exploring the surrounding countryside.
WILLOW POD OUR POSH POD SLEEPS 2 AND NOW HAS A WONDERFUL HOT TUB THAT IS BOOKABLE  AS AN ADDED EXTRA, BY CONTACTING OWNERS DIRECTLY. HOT TUB HIRE IS FOR MINIMUM OF 2 NIGHT STAY, subject to availiability. PLEASE CONTACT OWNERS ASAP  TO SEE IF THIS OPTION IS AVAILIABLE  ON THE DATES YOU REQUIRE BEFORE YOU BOOK.
CASTLE FARM HOLIDAYS ARE ALSO OFFERING GIFT VOUCHERS FOR USING ON GLAMPING SITE BOOKINGS.
Win a £100 Blacks Voucher!
If you've stayed at Castle Farm Holidays campsite, please take a minute to tell us about your experience. Every month, one lucky reviewer will be picked at random to win a £100 voucher, courtesy of our recommended retailer Blacks. Each review counts as one entry, so get writing!

Reviews
Sign up or sign in to leave your review of Castle Farm Holidays
Pod stay Oct 17
Great pods in a lovely setting. Went for a long walk, then off to the local for a bite to eat. There is a summer house near the pods, which was great for us as we hired 3 pods and went in there for a get together after. Also Helen leaves tea, coffee and milk in the fridge which is a nice touch. We'll be back
Birthday surprise for my fiancée
Had a wonderful weekend for my partners birthday. Arrived Thursday 18th October for 2nights Took the glamping experience to a whole new level with the hot tub and comfortable bed in the willow pod. The pod itself was so warm and comfortable. Will definitely be recommending it as such a quiet and peaceful location.
Perfect birthday break
Me and my fiancée had an amazing time in willow pod. Helen was very quick responding to any emails and was very accommodating, if you want to get away from everything but still have lovely villages nearby then this is the place! Best built pods we have stayed in and the shower and toilet block were immaculate with red hot water for showers!! Hot tub just tops it all off perfectly. Thanks so much for making her birthday so special!! We will be back!!
Pure relaxation
What a perfect place to stay, spotlessly clean, lovely welcoming hosts, comfy well equipped pods, with the added treat of a hot tub. Perfect for couples and lots of space for the kids to play. Can't wait for our next visit
Fantastic!!!
Just had our stay at the pods and they were absolutely fantastic!! Cannot recommend them enough! The facilities are above 5 stars, they are soooo lovely and clean. Plus the pods have everything you need! The best pods I have ever stayed in! We will be coming back again!Highly recommended!!!
Best Price Guarantee, with no fees
Instant booking confirmation
Trusted for 10 years
A chance to win camping goodies in our regular competitions!
Free Eat Natural hamper with every Cool Camping booking in April.
Absolutely superb!!
Had to book at short notice with 4 dogs and what a find! Pod and facilities are 1st class and only a 10 minute drive to the nearest supermarket(s). The venue and surrounding area are so quiet and dog friendly that we did not want to leave! For dog owners the bonus is that 3 of the pods are sweep/wipe clean, just bring your own bedding. The free WiFi works fine should you feel the need to stay connected. We liked the place so much we have booked up to stay between Christmas & New Year and I am sure we will be going back in the summer next year too!!
Will be going back!!
We needed a 'dog friendly' venue at very short notice and found Castle Farm via Dog Friendly Britain. To keep it brief the venue is very rural so great for walks with dogs if you have them - our 3 had a great time! You are only about 10 minutes drive from a supermarket in either direction so no need to panic about supplies for all! The 'pods' are very good quality and we were so impressed with the insulative properties that we have booked a stay with our dogs between Christmas & New Year - watch this space!! The toilet/shower and associated facilities are all new and we can happily give them 10/10 - no question! What I really like about the 'pods' is the laminate floor and wipe clean vinyl covered memory foam mattresses - after cleaning there is no history of us staying there which is important to anyone that may have an allergy to dogs........
Great place - Aug 17
We recently enjoyed a stay at this lovely site for 2 nights as a group of 28. The non campers occupied the 4 quaint pods which were spotless, cosy yet roomy enough for family of 4, all equipped with small fridge, kettle & microwave & welcome supplies of milk, tea coffee. The site was spotless, in a peaceful location with enough space for the kiddies, pets (& adults) to play. The toilet/shower block was a hop & skip away from the pods, very clean & modern & further cleaned during our stay and there is a welcome oudoor undercover washing up area with fridge/freezer. The owners were very helpful & quickly attended to any calls for assistance. Would definitely return & recommend this site. Only suggestion would be a have an outdoor fire pit to sit around as U.K. summer nights are often chilly....
Had a lovely glamping 2 nights away.
Stayed for two nights. So very impressed with everything. All brand new. Pod was so well equipped. Would most deffinately stay there again. Would reccommend to others to try this place if you haven't been glamping before. In a lovely very quiet location out in the country.
Fantastic place, definitely going back!
First time glamping so didn't know what to expect but lovely place in beautiful rural setting and luxury accommodation has guaranteed we will be going back. New pod, spacious and so warm and quiet. Mattresses thick and plenty of storage. Well lit with fridge, kettle and microwave, free Wi-Fi and plenty of electrical sockets. Good facilities , lovely shower block with washing area with washing machine if needed. Lots of hot water , dog friendly and owner was great , so kind , left milk in fridge and gave us lots of advise about the area.
Lovely pod!
I stayed in Oak pod with my Husband and my dog, Bertie. We loved the location, it was quiet and peaceful and there was a field for Bertie to run around in. The pod was lovely and comfortable to sleep in. There are lots of things to do in the area, we enjoyed a walk around Colemere and a lovely horse drawn canal boat ride in Llangollen. We will be returning in the near future.
Absolutely marvellous!
Just had a fantastic break in Ash pod at this new glamping site. I have never stayed in a pod before so didn't know what to expect, however I thoroughly enjoyed it! The amazing experience was enhanced by great shower blocks, lovely location and genuinely kind owners. Recommended to so many friends and already booked a return visit!
Fantastic Glamping Stay
We stayed in the Oak pod for 2 nights (3 adults). The pod was spacious with great amenities. We have stayed in a pod before in a different area and this one was definitely a step up! The washrooms were clean and modern too. The owners were lovely and really seem like they care about their guests. Will definitely be recommending and hopefully come back myself one day!
Lovely accommodation in peaceful surroundings
My first time glamping & my partners 2nd, & this site didn't disappoint. Lovely quiet peaceful surroundings make for a relaxing stay. We stayed in Willow pod, all 4 pods are set in a large field with ample space between, with a picturesque dingle backdrop, the pod had everything we would need & was very clean. The toilet/ shower block is fab, modern & again very clean, along with washing machine large sinks for washing dishes, it is obvious the site is well maintained. Highly recommended & we will certainly return.
A wonderful relaxing break
We had a wonderful relaxing break with our dog in a very pretty and peaceful location. But with plenty to do close by. Will definitely return here
Book campsites near Castle Farm Holidays
i
Glamping in Powys
Glamping in Mid Wales
Glamping in Wales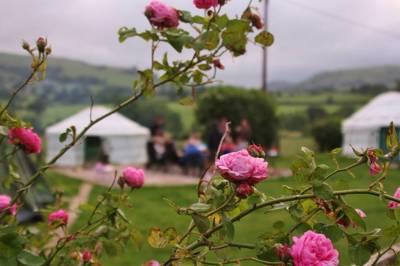 i
Campsites in Shropshire
Campsites in West Midlands
Campsites in England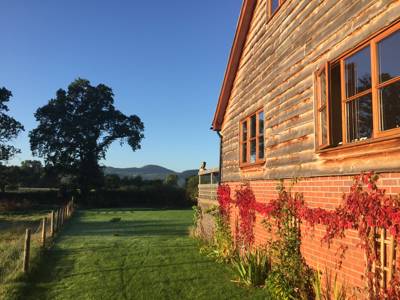 i
Campsites in Shropshire
Campsites in West Midlands
Campsites in England