Luxurious bell tent glamping in an idyllic meadow – Herefordshire Glamping is the very essence of rest & relaxation
Sun-drenched, yellow-dappled wildflower meadows; lush undulating fields of green; bejewelled dragon-flies performing feats of aerial mastery – the Herefordshire countryside is just so utterly, absurdly idyllic. No area typifies this more than the little pockets of pastoral perfection to the south-west of Leominster. Just south of the River Arrow, outside the larger village of Ivington, lies the dainty (or should that be 'perfectly proportioned') Aulden, home to the county's best kept secret, Herefordshire Glamping.      
Nestled within this bucolic bolthole, Herefordshire Glamping is three acres of rolling meadows a stone's throw from the tranquil babbling of Honeylake Brook. Wild and buttercup-strewn in the spring, soft and well-kempt in the summer, this truly is a camping field for all seasons.
The twin five-metre bell tents are pristine, airy and spacious. Both come fully equipped with all you can need for both a night of sweet repose (kingsize beds, cosy duvets, feather pillows and a toasty wood-burner) and a leisurely rise (toaster, cafetière and "proper coffee").
The quality of of service at Herefordshire Glamping is conscientious to the last. Chirpy hosts Moira and David are on hand to help with everything from a directions to the Welsh Marches to the correct pronunciation of nearby Shrewsbury (only the non-natives call it "Shrowsbury"), to a lend of a corkscrew for that (second) chilled bottle of Chardonnay on your very own veranda.  
The pace of life is lazy here and that's the way it should be. Surveying the rolling fields, with the scent of Ludlow sausages wafting from the grill, the heady vows to "leave it all behind" are almost palpable in this quintessentially English of scenes.
Gallery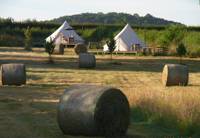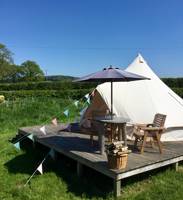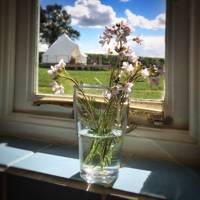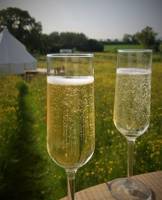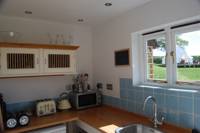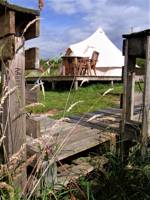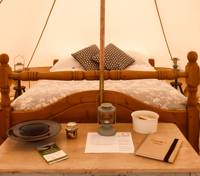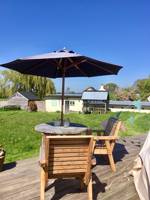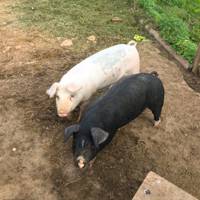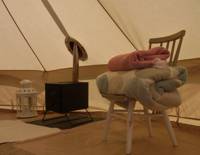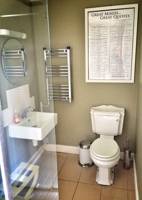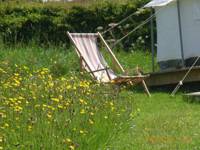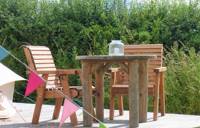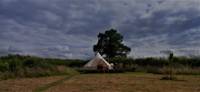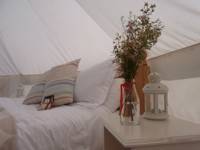 Video Tour
The Owner Says
Luxury glamping in the peace and quiet of the beautiful Herefordshire countryside, Each tent is set on a raised wooden deck with a proper king-sized bed, proper duvets, pillows and crisp white sheets and a wood burner for chilly nights. You have your own BBQ along with a table and chairs for dining alfresco.
Reader Reviews
Add Your Review
Beautiful tents and a beautiful setting
This is proper glamping: really nicely designed tents, a lovely setting, and a super comfortable experience. The kitchen, toilet and showers just to the side made everything so easy even though we had a bit of rain when we were there. This was a combination of the best bits of camping (waking up in the elements, hearing the birds and seeing beautiful views from your bed) and the best bits of being at home (the bathroom was actually nicer than the one in my flat!). And Moira was super friendly too. I would definitely recommend staying here. Thanks Moira!
Best short break
We had the most amazing staying at Herefordshire Clamping. Moira and David were the most fabulous hosts, they made sure everything was there that was needed and nothing was too much to ask. Our 2 children loved running around the meadow and feeding the pigs was a highlight for them, along with hearing the birds sing in the morning. It was the most relaxing break and really recharged our batteries. We will 100% be booking again.
We've had the best time
What an amazing weekend we've had. Moira and David have been fantastic and made our weekend so relaxing. Nothing was to much and they went out of their way to make our weekend extra special. We want to thank you both so much for all you've done and will definitely see us again LIZ and MATT
The most relaxing glamping experience with little one
We've had the best stay here. It was only way too short! Everything you need is there (providing the glam) but it's also kept beautifully natural and simple, which is what we love about camping. The yurt has very comfy beds, everything is clean and fresh, there a lovely books and magazines to relax with, a ready-to-go BBQ and just across the green is a small kitchen with sink, kettle, shower, power sockets, etc. The view is wide and beautiful, our little one loved the pigs and chickens, and there is lots to do in the surrounding area. As there are only two yurts, it's a really calm place that feels more personal than larger camp sites. Moira was a wonderful host and we really want to come back asap for a little longer this time. A, M & L
excellent stay
This was our second time at Herefordshire Glamping and we had an excellent stay. This time we were joined by friends of ours ( first time glamping) and by the time we left they were totally hooked, all the kids loved it- no sign of ipads, phones etc just running around and enjoying the fresh air.
The site is perfect for visiting the surrounding areas, while we were there we went to the Monkland Cheese factory, visited a cider producer and went to the Hay Festival. We had fantastic weather during our stay as were able to BBQ a couple of times, it did get cooler in the evenings, but I recommend you hire a firepit, it was only a small charge for the use and a bag of logs, but we were able to sit outside till late - just perfect and quite, when the kids had gone to bed!!!!
We will be booking again for next year.
Great midweek with the kids
I really enjoyed our stay at Herefordshire Glamping. It was my first time Glamping and as a result I have booked a few subsequent trips. I was between jobs and had a rare opportunity to spend some time with my daughters (6 and 11) while my wife stayed at home. We all had a superb time. My daughters loved the freedom of bowling around the camp site, and loved the lighting up time with the candles and lanterns. Everything was provided, the kitchen and shower rooms were well kitted out, clean and well decorated. I took the kids to see Mappa Mundi and Weobly when the sun shined. We had a rainy morning at the cheese factory down the road. All great trips.
My favourite memory was watching the sun go down on our last evening. We watched the housemartins feeding their young in the nest they had built in one of the outhouses. My girls did cartwheels in the field in their pyjamas. A happy time, out of our normal routine, no phones, no ipads, fresh warm air, just me and my family. It will stay with me for a long time. 
Great Stay
My girlfriend booked a weekend here as a birthday surprise in August 2015. We had a really nice time- it was quiet with long views over the neighbouring fields. Our tent had just about everything we could think we would need with a huge, comfortable bed and the kitchen and shower were clean, modern and well equipped. Lots of hot water! 
We ventured out to Hay on Wye and walked around some great old bookshops- definitely worth a visit.
Moira was very welcoming and helpful with ideas of where to go and things to do should we want to.
We liked it so much, we have booked to go back this July!
Best Price Guarantee, with no fees
Instant booking confirmation
Trusted for over 10 years
A chance to win £50 of Cool Camping vouchers!
Book campsites near Herefordshire Glamping