Blissful bell tent camping among the apple blossom of an organic orchard slap bang in the heart of cider country
If you're going to stay in cider country, then what could be better than glamping in a orchard? Almost half of the UK's apples are used in the brewing of cider nowadays and, here in East Herefordshire, you needn't travel far in summer to find apple pickers busy harvesting their fruit. Not that it's anything new. When Caesar invaded England in 55BCE, he discovered ancient Celts sipping on a sweet and pungent crab apple brew and it wasn't long before the Roman troops were shipping the stuff back home. Even in Rome they were celebrating the Herefordshire apple harvest.
Nestled on the edge of a small orchard of pear and apple trees, the three bell tents at Perry Tree Glamping offer a homely window into the scenic, cidery world of rural Herefordshire today. In late spring, the organic trees form a bright, humming backdrop of pretty apple blossom tended by busy bumble bees, while summer brings the full fruit itself, dangling appetisingly from the branches. The bell tents, meanwhile, pitched on raised, flat bases, look not in towards the trees, but out and over the hedgerows to the countryside beyond, while hammocks, suspended between tree trunks provide an extra spot for kicking back and taking in the view.
The decision to keep the glamping site to just three bell tents affords ample privacy and gives it all a rather exclusive feel. It's matched, of course, by some of the luxuries involved. Inside, the bell tents have proper double beds, wood-burning stoves and the obligatory dressing of fairy lights and bunting, while, outside, the facilities – toilets, showers and an area for your campfire – still ensure it all has an outdoorsy, 'camping' ambience. Belinda the donkey, who chomps her way through the adjacent field certainly approves. She's also a big fan of all the new found attention.
If you're not sampling local tipple on one of the nearby cider tours, then walking in the Mendip Hills or touring the historic towns – the timbered buildings of Ledbury or the grand cathedrals of Hereford and Worcester – is always a safe bet to occupy your time. Perry Tree Glamping also welcomes you to bring your bikes along so that you can really explore the area. Bring your wicker, handle-bar basket and you can even stock up on local goods, cider and crab apple jelly along the way. After all, when in Rome...
Best Price Guarantee
Easy and Secure, with instant booking confirmation
Trusted for over 10 years
A chance to win a brand new Coleman tent!
Gallery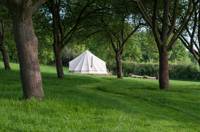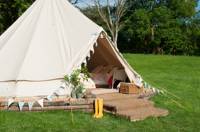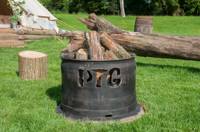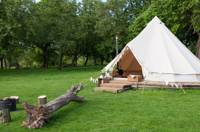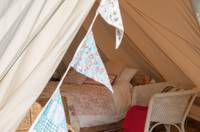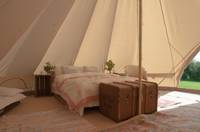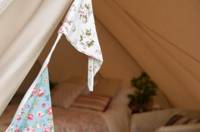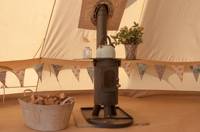 The Owner Says
Perry Tree Glamping is situated in the heart of rural Herefordshire, on our tradition family run farm. Come stay in one of our luxurious canvas bell tents, which offer all the comforts of home with a rural chic twist. Comfy beds, a wood burning stove and hot running showers all come as standard, not to mention the fire pits for roasting marsh mallows! When not taking in the tranquility of the organic orchard in which the site sits, the historic market towns of Ledbury and Ross-on-Wye are close by, with the Welsh boarders just a little further. We may not have electricity on site, but here you can truly recharge! 
Reader Reviews
Add Your Review
Amazing break
Thanks Ed for a brilliant weekend. We booked all three tents and had a great stay on this idyllic farm. Location was perfect for exploring and visiting Forest of Dean for a family bike ride. The tents have everything you could need provided and the access to fields for games and the friendly goats kept the kids entertained. We will definitely be back.
Fantastic weekend glamping with friends, very peaceful and great beds!
We stayed at Perry Tree Glamping for a 30th birthday celebration. As there were 11 of us, we booked all three tents, which meant we had the whole site to ourselves. Everyone had such a great time. The views and sunsets in the evenings were awesome, and the beds couldn't have been more comfy - everyone said how well they slept. There is everything you need here - from BBQs, gas stoves with kitchen utensils and pans, fire pits outside and wood burners inside the tents. The toilets and showers were great - very clean and it was lovely to have a lovely warm shower in a morning. There is a fridge/freezer a short walk away (a few minutes) which is available for use, great for keeping all your drinks cool - I'd recommend also bringing a cool box and a couple of bags of ice too so you don't have to walk to the fridge each time you want a beer! We pre-booked some taxi's into Hereford (approx £25 each way) and spent the day there at a beer festival. Taxi's are a similar price to Ledbury. We had 4 people per tent, and there was still plenty of room to stand up and move around. Ed was very helping during the booking process, was quick answering questions, and came to meet us on arrival to make sure we had everything we needed. A great weekend away!
Magical
A beautiful and peaceful site surrounded by countryside with far reaching views and the most amazing sunsets. We sat late into the evening around our campfire watching the sun go down across rolling hills. The tents were immaculate and well stocked, and the beds incredibly comfortable. We loved the fact that there were only 3 tents on the whole site, and of course the 3 Pygmy goats who provided much entertainment for the children. Ed was very welcoming, friendly and helpful. It was well located for Ledbury, which had all amenities and lots of lovely cafes and interesting shops. As we weren't far from the River Wye we did a half day's canoeing from Symonds Yat, which was a great experience. We would highly recommend and would definitely visit again.
Fantastic
We had a fabulous bank holiday at Perry Tree Glamping. It was how we imagined and so lovely to have only three tents which meant it was extremely quiet and peaceful (bar our three children!). Ed (the owner) was extremely helpful before our visit answering all emails promptly and welcomed us when we arrived and checked we did not need anything throughout the weekend. The children loved feeding the goats with Ed. Everything was in good condition and it was well stocked with equipment. Loos, showers and washing facilities were clean and more than adequate (there were even scented candles in the loos!). All in all we had a fantastic time and would highly recommend. Thank you Ed.
Book campsites near Perry Tree Glamping