The Billy Goat Cabin at Broadmeadow Farm
Broadmeadow Farm, Haywood, Hereford, Herefordshire HR2 9RU










A quaint wooden cabin, tucked away on a Herefordshire farm. Perfect for a romantic glamping retreat or year-round family getaways.
Just three miles outside of the county town, Billy Goat Cabins feels surprisingly distant from Hereford, surrounded as it is by open fields dotted with sheep as far as the eye can see. Yet the wooden walls of the cabin are almost an ode to the Jacobean buildings that pepper the heart of the town centre. Like a strange hybrid between a beach hut, Scandinavian lodge and Hereford's timbered Old House, the cabin is a wooden wonder that has a charmingly timeless feel.
In fact, so quaint is the Billy Goat Cabin, there's even a children's playhouse outside that mirrors its exact appearance – a doll's house type replica that showcases its simplicity and beauty on a miniature scale. The real thing, though, has room for big kids too – up to four people, in fact, two in the master bedroom up on the mezzanine level and two more on a fold out futon that makes up the living area downstairs. There's a dining area and wood-burning stove, plus a picnic area outside with a fire bowl and firewood for use.
Though the cabin has a distinctly hidden feel, part tucked among a copse of trees and out of view of any other buildings, a short stroll across the adjacent meadow leads you to another nearby wooden beamed house. This is the real treat of the site – an indoor heated swimming pool that's free for cabin guests to use! Given the remote feel of the cabin, finding a warm swimming pool around the corner has an air of mischievous exclusivity about it, as though you've stumbled across someone else's luxury villa and are sneaking in after dark!
There's more watery fun to be found in Hereford itself. The old meadows provide a popular wild swimming spot in summer, with gravel beaches and deep pools intermittently dotting the River Lugg and River Wye, while the pubs and restaurants of the compact centre provide watering holes of a very different kind. Then there's the mighty cathedral. Dominated by its sandstone tower, which was constructed in the early 14th-century to eclipse a second tower, it subsequently collapsed under its own weight in 1786. It's here you can find some of the towns historic artefacts, including the famous Mappa Mundi, a 13th-century map of the world with all its centuries-old eccentricities. It's rather different from the way we see the planet today – sprawling open spaces with just a few, sparse settlements plotted on the old parchment. There's a pleasing symmetry with the peaceful world of Billy Goat Cabins – rural escape on the modern-day map.
Gallery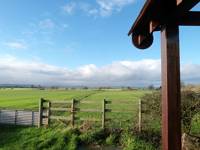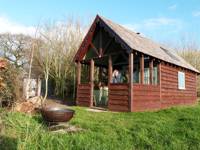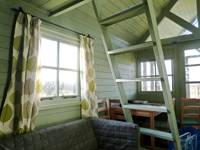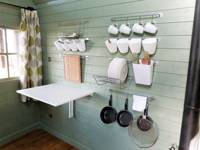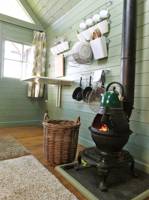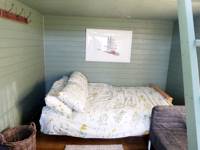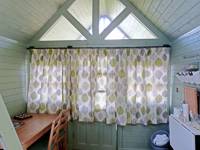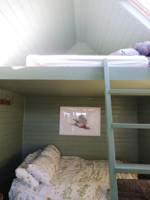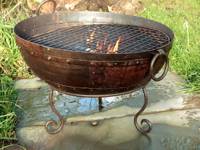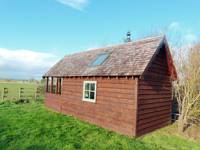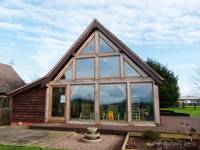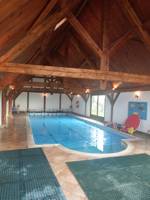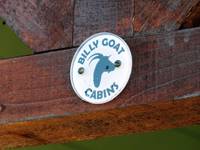 The Owner Says
When it comes to things to do you're spoilt for choice in Herefordshire. Our stunning natural backdrop is the perfect place to be at one with the outdoors. Our self-built, hand-crafted cabin offers a cosy retreat with stunning views – perfect for couples or small families.
Reviews
Add Your Review
Idyllic
From the moment you book, to the moment you have to leave to rejoin the rat race, Sally and her whole family are welcoming and make the whole experience so easy and enjoyable. The cabin is amazing, warm, comfy, individual. The fact that you can also have one built for you at your own home is extremely tempting! The location is superb. Close enough to enjoy all the area has to offer but also secluded and safe to allow kids to play in the woods and field is great. We loved watching the microlights take off and land on the airstrip. The jewel in the crown, for us, was the use of the swimming pool, that our two boys LOVED! This place is perfect for single travellers and couples looking for a weekend getaway to chillax or a romantic hideaway, but is also perfect for families who just want to kick back and forget about work and stress. We have already recommended this place to family and friends and will definitely be returning. Thank you Sally and family for a truly wonderful stay. Ben, Nikki and Boys
great
The nicest hosts and a lovely pool available! The room is very well insulated. It was cold outside but I was very warm. I had a lovely sleep I would love to go again!

A lovely stay at Broadmeadow Farm
My family and I stayed in the cabin at Broadmeadow Farm over Easter 2016. The stay could not have been better: the cabin is lovely: beautifully built and furnished and very cosy with the log burner going. The view over the farm and to the Welsh hills from the front of the cabin is stunning and it was a joy to wake up to!
Sally and Adrian and their lovely family made us feel very welcome and the stay all the more enjoyable. Access to the fabulous swimming pool was a great bonus as was watching the occasional plane crossing your path on the grass airstrip nearby.
The cabin is close enough to Hereford for convenience but remote enough to feel you are properly at peace in the beautiful countryside.
We would love to go back to Broadmeadow Farm and do the same things over again!!
Thank you to Sally and Adrian for sharing their cabin and hospitality with us!    
Win a £100 Blacks Voucher!
If you've stayed at The Billy Goat Cabin at Broadmeadow Farm campsite, please take a minute to tell us about your experience. Every month, one lucky reviewer will be picked at random to win a £100 voucher, courtesy of our recommended retailer Blacks. Each review counts as one entry, so get writing!

Best Price Guarantee, with no fees
Instant booking confirmation
Trusted for 10 years
A chance to win camping goodies in our regular competitions!
Book campsites near The Billy Goat Cabin at Broadmeadow Farm