Huts, wagons and bell tents in the heart of the Wiltshire countryside, with the ancient mysteries of the North Wessex Downs to discover
With its undulating downland, ancient forests, and ubiquitous vestiges of our neolithic past, it's easy to see why the North Wessex Downs holds such an evocative place in the imagination. Between the Cotswolds to the west and Chiltern Hills to the east, this sprawling Area of Outstanding Natural Beauty has long served as a natural muse for the great and good of literature. And with such a captivating setting, it's not hard to see what inspired the team behind Highway Hill to create their relaxing glamping haven in the heart of the Wiltshire countryside.
Comprising a trio of homely shepherds huts, two furnished bell tents and a gypsy caravan, Highway Hill offers both comfort and convenience, whilst retaining an authentic immersion in its idyllic rural setting. The three huts are perfect for glamping couples. Egyptian cotton bedding, atmospheric wood-burning stoves, and a fully-equipped kitchen makes these hand-crafted hideaways the natural choice for those seeking a self-contained romantic retreat. The slightly bigger bell tents (sleeping up to three) mean small families are catered for. Inside, bunting abounds, fairylights festoon the central pole and thoughtful little touches like vintage trunks, vibrant throws and that all-important wood burner mean the bells are an equally inviting space to unwind on those cooler evenings.
Facilities-wise, proper hot water showers, disabled-friendly toilets and a communal kitchen are all available. Conscientious extra touches like hammocks and high-chairs illustrate your hosts' attention to detail. And with basic provisions from pasta and porridge oats to lanterns and linen supplied, a stay at Highway Hill represents an incredibly good value break in one of England's most desirable regions.
When not relaxing onsite with a good book or getting to know the adorable resident alpacas and pygmy goats, there's no shortage of places to explore from this superbly-located base. Innumerable footpaths and bridleways offer invigorating walks (of varying intensity), leading to some of Wiltshire's most interesting sites. Take the picturesque seven mile stroll to the Cherhill White Horse, one of thirteen of these iconic equine chalk figures that dot the Wiltshire hillsides. Although not quite as antiquated as popular belief would have it (the oldest surviving one at Westbury dates back to 1770s), the county can still stake a worthy claim as the cradle of ancient Britain. With the mysterious stone circles at Avebury and the neolithic burial tomb at West Kennet Barrow all within easy reach, Highway Hill really does make the prime base for any pre-history buffs. And with the Georgian-Roman splendour of Bath a mere 45 minutes away, you can really enjoy a whistle-stop tour of England through the ages.
Best Price Guarantee
Easy and Secure, with instant booking confirmation
Trusted for over 10 years
A chance to win a brand new Coleman tent!
Gallery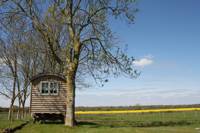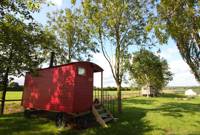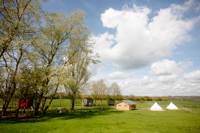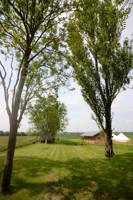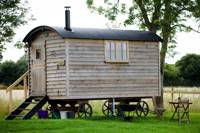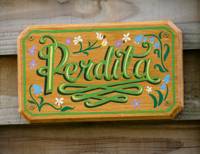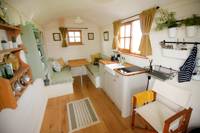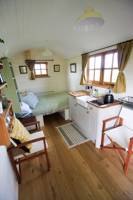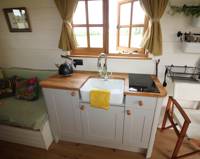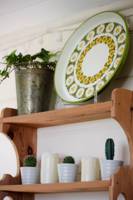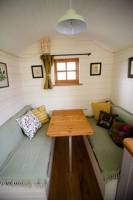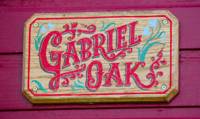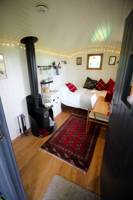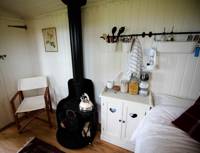 Video Tour
The Owner Says
Highway Hill is a family-run business aimed at people who love the outdoors. We're located within the North Wessex Downs Area of Outstanding Natural Beauty, a stunning landscape of ancient woods, gently meandering chalk springs, and rolling downland, offering peace, quiet and relaxation.
Staying at Highway Hill in one of our shepherd's huts or bell tents, is a very special experience. You can choose a traditionally-built shepherd's hut or spend a night under canvas in one of our very spacious bell tents; our Hayloft is perfect for classes, special occasions, meetings and group events.
All our accommodation is finished to an extremely high standard. Wood burning stoves offer warm, cosy nights in, whilst our futons and soft and cosy bedding make for a good night's sleep. In the summer, you can barbecue just how you like it. Even our fire-pits add to the atmosphere. As night falls, toasting marshmallows, telling ghost stories or whiling away the evening hours as you watch pictures in the embers will prepare you for a restful night's sleep. Switch off from the hustle and bustle of everyday life and switch on your senses! Soak up the atmosphere and tune into nature at Highway Hill.
Reader Reviews
Add Your Review
Perfect setting for real quality time with the family
We booked all three shepherd's huts and the bell tents to cater for a family get together to celebrate a 21st birthday. We were a party of 12 and there was more than enough space for everyone to spread out and equally to sit around the dinner table together and later the sofas for family games. The site facilities are finished to a very high standard and it is exceptionally well equipped. You can tell the team really care about your experience as there are thoughtful touches throughout, like milk, eggs, juice, tea etc. and some other foods available in each hut. There were even little torches provided, as well as plenty of wood for the fire. The site has its own woodland and you can access footpaths without having to go on any roads. The surrounding area is just stunningly beautiful. The animals are gorgeous and Dave, who looks after them, is so welcoming and inclusive. You feel involved from the minute you arrive and if you're looking for a farm experience, this would be the place to go. We finished off the evening sat around the campfire toasting marshmallows. It was such a wonderful experience and we've made memories that we'll cherish. I had visited the site before staying, so I knew we were in for a treat but it exceeded my expectations and was just perfect. Thanks to the whole team for all the work that goes into making this such a special place. Whole heartedly recommend Highway Hill.
Response from Highway Hill
Kathy, words cannot express how lovely it was to read this feedback! I am absolutely thrilled that you all had such a good time and that you got everything you wanted out of the experience. Thank you for staying with us and for being so generous with your comments :)
Great glampsite, excellent facilities
This is a great site with excellent facilities and very responsive team in charge. My children really enjoyed meeting the goats. Recommend.
The most wonderful country retreat
We loved our time at Highway Hill. It was a very tranquil and calm place to get away from it all. Having the animals around was such a joy, as it turns out they are therapy animals, and it was certainly very therapeutic to wake up in the mornings and check out the Shetland ponies, donkeys and baby goats. I highly recommend booking the sessions with them. The shepherds hut was perfect! So stylish! And the wood burning stove is very powerful, it'd make a wonderful winter getaway. Thank you for a very need break!
Clean, comfortable and great location
We have just been to this place and stayed 2 nights in a tent. Kids loved it, we did too - excellent location and watching sunset on a field was great. Tent, beds were super clean. If you are going with kids, strongly recommend to take animal sessions with Dave, who is an amazing animal loving person that will ensure your kids will learn a great deal about his animals.
What did I like? All of it!!
What a lively unique awesome tranquil place!
When can we go back! Loved every hour and minute
We just loved our stay even the ugly British weather of wind and rain could not dampen our spirits. The facilities are fantastic, well equipped and very clean. More time than planned was spent in the tent but with the wood burner , some wine and board games we really relaxed! Your neighbours, the animals are just adorable, the baby goats were a fav! Communication from the team cannot be faulted, very comprehensive! The touches of milk, eggs and apple juice are a lovely touch. We hope to see you again!
Great stay
Nice quiet location, great set up with the bell tent Annabelle, good amount of firewood etc provided for the stove along with breakfast supplies. Would happily stay again.
Tip Top Tents
We loved every minute of our stay at Highway Hill. Everything has been thought through to ensure you have everything you could possibly need. It is comfortable, clean and cosy. We spent an hour with Dave and the animals which was a real highlight and something my two small boys have not stopped talking about- even though it was a couple of weeks ago now. They were very taken by LJ and Percy the goats who they took for a walk- a very special experience. The communal tent was a really fantastic resource. We don't have much camping kit, but this space provided everything you could possibly need- especially if it rains. I'd highly recommend staying here.
They have thought about almost everything and it's beautifully quiet and peaceful.
The bell tent we stayed in was beautifully and comfortably kitted out. The gypsy caravan which two of our kids slept in was beautiful and they loved the experience. Anna, who manages the place, was extremely helpful and friendly. The site is beautiful and a lot of thought has gone into it. The animals are lovely too. We will definitely be back.
Great value, excellent facilities and a beautiful place
We came with our toddlers as a group of couples together, and had the most perfect break - there was nothing else we could have wished for; the facilities were all brand new, the staff all super helpful and welcoming and the place itself, just lovely. The bell tents and wagons were gorgeous and very well equipped. We had a great night away and thoroughly enjoyed a petting session with the animals on the next day. I have been raving about this great little site to my colleagues and we'll certainly be back. Thanks!
Alpaca Walk
weekend stay in an extremely pleasant part of Wiltshire, from the word go nothing was too much trouble, ace bell tent with all you need for a quiet escape and a peaceful night two little girls happy warm and very impressed with toasting marshmallows round the fire, I would have to highly recommend this site. Ask for farmer Dave what a star that man is.
Lovely clean place
Was all lovely, nice surroundings the accomodation. Everything is there that you need. Will come back next summer!
My favourite Countryside Getaway
I've been to Highway Hill a few times now, and it never disappoints. The shepherds huts are extremely well-stocked and clean and so are the bell tents. They have a cozy, comfy feel and are a lovely place to relax and enjoy the quiet. I also thoroughly enjoyed using the Wood-burner on chilly evenings - love the smell and toastiness! The location is perfect for quiet walks in green pastures and through the woods and there are plenty of animals to say hello to along the way (big fan of the miniature goats and horses!) I'm from London, where it is loud and busy all the time, and Highway Hill offers a lovely, beautiful escape from all the madness. There is a shop about a 10 minute drive away, which is super handy if you forget some things! Also, the sunsets are INCREDIBLE! 10 out of 10, will continue going back as often as I can!
Response from Highway Hill
It's always great to have you here Whit, thank you so much for your support and for this wonderful review!
Lovely site, well equipped, very relaxing
We had a lovely time at Highway Hill. The shepherd's hut was comfy, clean and well equipped. We really liked the homely feel, with fairy lights, candles and pretty decor. The bed was very comfy. The washing up facilities and toilets/showers were close so it wasn't a trek to the loo but discretely out of eye line. Nice to have a BBQ and campfire available. The staff were very friendly and helpful. With such good infrastructure it was easy to have a restful and relaxing time. And we loved the goats!
Response from Highway Hill
Thank you so much for your review Liz, we're so glad you had a good time with us and hope to see you again!
Best Price Guarantee
Easy and Secure, with instant booking confirmation
Trusted for over 10 years
A chance to win a brand new Coleman tent!
Book campsites near Highway Hill
i
Campsites in Wiltshire
Campsites in South West England
Campsites in England
Available:
1 Pitch
1 Bell tent