Book campsites near Mill Farm Glamping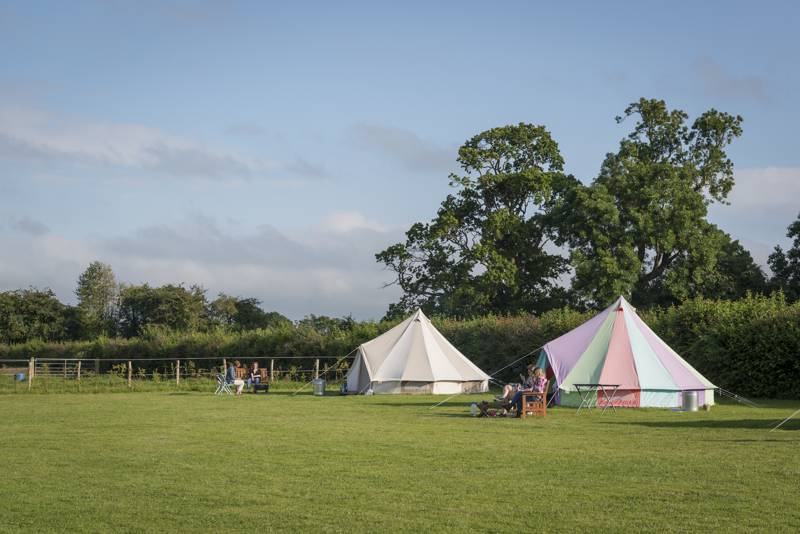 i
Campsites in Wiltshire
Campsites in South West England
Campsites in England
Available:
2 Pitches
1 Bell tent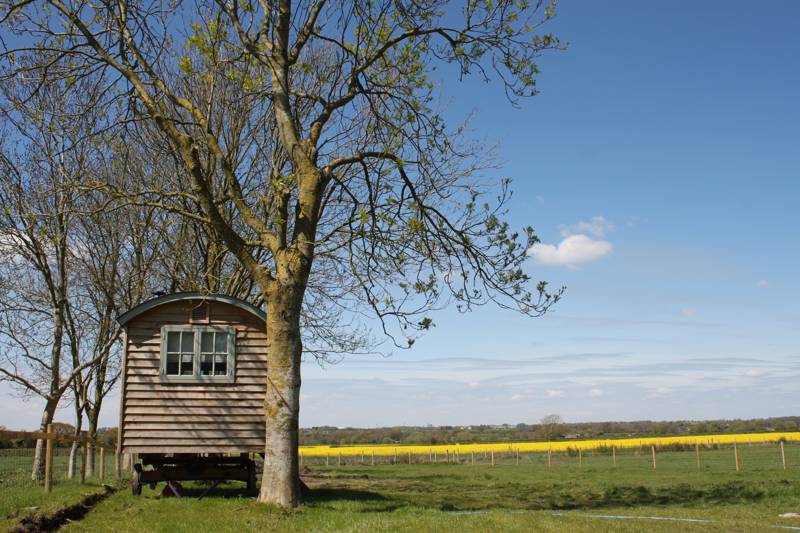 i
Glamping in Wiltshire
Glamping in South West England
Glamping in England
Available:
3 Shepherd's huts
2 Bell tents
1 Vintage caravan
i
Campsites in Frome
Campsites in Somerset
Campsites in South West England
Campsites in England
Mill Farm Glamping
Belle Vue Farm, Poulshot, Devizes, Wiltshire, SN10 1RZ













Innovative glamping in Wiltshire where parents can lap up the luxury and children can get hands on around the farm
When entering your canvas lodge you may well find an inquisitive duck inspecting your veranda or a cheeky chick taking a nap on the entrance rug. It's as if they're trying to remind you something; that they're the ones who really live here and not you. But this is precisely the charm of Mill Farm, which is much as it says on the tin – a fully operational, organic farm with 100 heifers, 200 baby calves, wild geese and, of course, Moto the Mill Farm donkey.
A family-run operation in the heart of rural Wiltshire, Mill Farm positively buzzes with life, yet still boats all the essentials for a perfect glamping holiday. Designed for guests wanting to reacquaint with nature without compromising on comfort, each of their five canvas lodge comes beautifully furnished, featuring a generous master bedroom, secondary bedroom (with single beds), and a stove with an oven, hob, and wood-burning fire. Guests can also enjoy the convenience of having a piping hot shower and flushing toilet located on the rear deck, while out front the dining area opens onto a covered veranda. All that local produce somehow tastes even better in the fresh country air.
It's the newest additions to the farm that are the biggest highlight. Perfect for the pages of a Guinness World Records book specifically for camping, their specially made 'squirrel lodge' was the first of its kind in the UK – a two storey safari tent – where extra space allows for a sumptuous four-poster bed downstairs and another two bedrooms up above, while their treehouse, completed in 2017, is a mammoth wooden structure with five separate rooms inside. In the centre, a large kitchen and living area is encircled by the smaller tower-roofed rooms, including a modern bathroom. Outside, meanwhile, the sweeping balcony offers beautiful views across the countryside.
Mill Farm can feel like the middle of nowhere (which is one of its draws), but in reality civilisation is surprisingly nearby, with plenty of fascinating attractions to keep you busy. Avebury rivals (and some would say exceeds) Stonehenge as England's most impressive pre-historic site. Spared from over-commercialism, visitors are able to meander freely throughout these mysterious stones, which date back to a mind-boggling 3000 BC. For visitors who just can't resist that Stonehenge photo opportunity, you're in luck, the iconic and much loved monument is only a half hour drive away.
One of the farm's real delights has to be the surrounding wildlife. Rabbits, deer, foxes, kingfisher, and kestrels can all be spotted from the comfort of your lodge. One animal less likely to make an appearance is the badger, however Chris, Izzy, and Joe have introduced their very own (and very cool) watching hide. Guests have the rare and unique opportunity to get up close to these night-loving creatures, whilst the rest of Wiltshire is tucked up in bed.
Reader Reviews
Add Your Review
Superb!
Stayed for a weekend over Halloween 2015. The tent was enormous, very comfortably furnished with beautiful furniture and loads of pretty/vintage added extras.  The wood burning stove warmed the whole tent and cooked fabulous food! We had two bedrooms with comfortable beds and electric blankets! The best bit....the kids had their own wooden barn with bunk beds inside the tent! They absolutely loved it! Lovely hot power shower too.  The location was superb, peaceful and plenty of animals to keep the kids entertained.  Farmer Chris and his family were super welcoming and helped us with anything we needed.  Highly recommended for romantic breaks, family and definitely for kids! It was fun to see my daughter help Lucy muck out the donkeys!! We will be back!!!