Stocklinch Shepherd's Hut
A hand-crafted shepherd's hut in purposefully planted orchard, with great views, wonderful privacy and a wood-fired hot tub to use
On the lower slopes of the Linches – the range of Somerset hills that give the little village of Stocklinch its name – there's a couple on a mission to create the perfect glamping space. Fiona and Matt Day first discovered the area on a cycling holiday in 1997, but it wasn't until a few years later that they made the big move altogether and not until 2012 that they settled here on the gentle slopes of the Isle Valley.
"One of the very first things we did when we moved into The Old Post Office was to plant hundreds of trees in our field", Fiona explains. Willows, oak and other native trees now shelter almost an acre of space, with a perfect slice left open for the shepherd's hut. Owls tweet-twoo in the night and hedgehogs take autumn shelter in the hedgerow. Only a neat gravel pathway divide the space. And the hut itself? "That's thanks to Matt's brother, a carpenter extraordinaire" Fiona continues. Nothing is off the shelf here.
Sleeping two and showcasing brother Jim's dedication to his craft, Stocklinch Shepherd's Hut really is a thing of beauty. Neat, blue, French-window-style doors open up to let light pour in during summer and sheep's wool insulation keeps things snug in winter, while, inside, a built-in bed at one end can be reached via clever pull-out steps that slide, like a giant Tetris piece, from amongst the storage drawers. An ergonomic kitchen – complete with oven, fridge and sink – and an en-suite shower room are all neatly fitted in, too, never compromising on the sense of space.
Thoughtful touches abound. The slide-out, pine table is ideal for rainy-evening board games (games and magazines provided, of course) and, when the weather is good, what could be better than soaking in a wood-fired hot tub? Sat just adjacent to the shepherd's hut, you can light the tub before dinner, then spend the evening steaming beneath the dazzling stars that this rural spot affords.
Unsurprisingly, Matt and Fiona are quick to recommend a trip back to their old favourite, the Quantock Hills, a 35-minute drive away, and it only takes around 35 minutes to reach the Dorset and Somerset coast too. But the real joy of this place is that, despite how rural it feels, there's plenty right on the doorstep. A pleasant two mile walk over the hill leads you to the grand Tudor mansion of Barrington Court (now owned by the National Trust) and it's a five minute drive to the renowned independent pubs, eateries and breweries of Ilminster – Stocklinch even has its very own micro-brewery just a couple of hundred yards from the hut. So, whether your venturing afar or intend to go no further than the hot tub, you'll have plenty to keep you occupied.
Best Price Guarantee
Easy and Secure, with instant booking confirmation
Trusted for over 10 years
A chance to win a brand new Coleman tent!
Gallery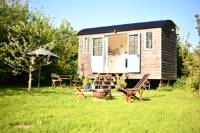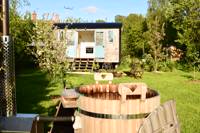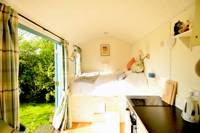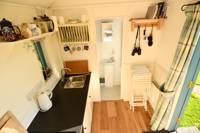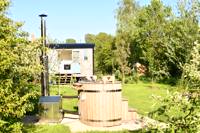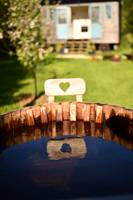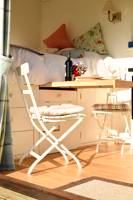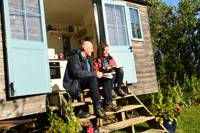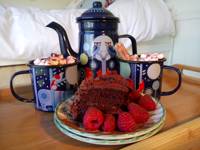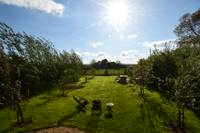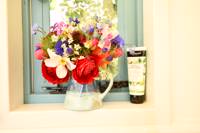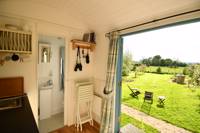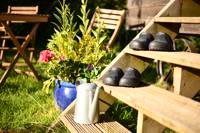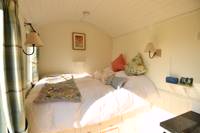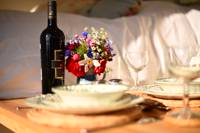 The Owner Says
Nestled at the bottom of a hill is Stocklinch, a peaceful Somerset village surrounded by farmland in the perfect position for exploring the gentle unspoilt south somerset countryside or for heading further afield to Lyme Regis & the Jurassic Coast for some sea air or heading inland to the Quantock & Exmoor Hills to experience Somerset's more rugged, wild side.
From the steps of the hut you can enjoy many gentle walks and cycles exploring the hidden sunken lanes and expansive views across Somerset. And in the immediate area there are many heritage properties and gardens including NT Barrington Court which is only a short walk over the hill. In this corner of Somerset there are numerous pretty Market Towns and welcoming pubs to explore and discover.
One of the very first things we did when we moved into The Old Post Office was to plant hundreds of trees in our field so you'll find the hut in a very private spot tucked away in about a third of an acre of orchard, surrounded by willows and other native trees & hedging. However we were careful not to plant anything that would get in the way of the wonderful uninterrupted views across the fields looking towards the Blackdown, Brendon and Quantock Hills with distant glimpses of Exmoor.
We regularly get excellent clear skies making this the perfect spot to take in the stars. And this being Owl Street, listen out for the hoots and also look out for the bats, badgers, hedgehogs, buzzards and birds who are all frequent visitors!
Our hut was lovingly and carefully built for us by Matt's brother, Jim, carpenter extraordinaire & perfectionist, who with some very clever design, in a space measuring just 7' by 15', managed to squeeze in somewhere for you to sleep, eat, cook and wash - amazing!
Your comfort is very important to us! So you'll find a super comfy mattress, feather divers and pillows, cotton bedding, cushions, blankets and lots of fluffy towels. And the hut is packed with all sorts of useful bits and bobs that you might need to make your stay even better!
Outside the wood-fired hot tub is perfect for an al fesco soak in the sun or under the stars!
We are only to happy to help if there is something you would like us to organise for you beforehand or during your visit to make your time here even better to ensure you enjoy a relaxing break and are able to appreciate the comforts the hut has to offer.
Reader Reviews
Add Your Review
Perfect anniversary celebratory getaway
What can we say, from the very start at the booking process Fiona has been amazing and massively helpful, communication is excellent. On arrival we were greeted to the beautiful shepherds hut with home made cookies (which were truly scrumptious) and everything we could need for breakfast/hot drinks (even a galaxy ripple and being a chocoholic this was amazing!). The fresh flowers inside were beautiful and such a nice touch. The hot tub is amazing and we enjoyed both evenings and mornings in here together. Watching the birds from the bed in the morning on the feeder is also a real treat. We played a couple of board games in the evening and just enjoyed being together, in private, just us. Fiona has thought of everything and we simply couldn't have asked for a nicer anniversary break. Oh and not to forget the local pub, amazing food (and puddings!) and a nice walk away to not feel guilty about indulging - This is highly recommended and we will certainly be returning
Really lovely little cabin with a great hot tub!
Stocklinch Shepherd's Hut is place with few distractions. A really lovely place to take time out of a busy life and enjoy the company of your partner. There are some nice walks around: we walked into Illminster (a town with more cafes than houses). The whole experience was capped off by watching the birds on the feeder from bed with a cuppa first thing in the morning. Oh and did we mention the hot tub? We got the water nice and hot (a bit too hot really) in January under the stars on a frosty evening.
Book campsites near Stocklinch Shepherd's Hut