Festival-esque yurt glamping with massage therapies, hot tubs and a cocktail bar, just over a mile from Frome
The team at Nesta Camping know how to respond to turbulent times. For their business – usually organising festivals for thousands – recent times have been about adapting. For their guests, it's been about offering a retreat from reality and creating a small, tranquil haven where you can enjoy nights under the stars and range of relaxing, holistic therapies. There are hot tubs, there are drinks and there are forest-school arts and crafts sessions for the kids, so they can learn their ABC's while you sip your G&Ts. And it's all run in a festival style, with various businesses on-site running the bar, the activities and all the frills.
One mile west of Frome and just north of English Heritage-owned Nunney Castle, Nesta Camping is a prime example of the happy medium between suburban and gently wild land. There's meadowy space, bluebell-clad woods and old oaks, all resulting in room enough for children to roam free. For adults, meanwhile, there's yoga and a wellness studio, as well as an onsite massage therapist to visit. If that doesn't hit the spot, there's also a bistro and cocktail lounge, with locally sourced food on the bar menu, Somerset cider on the drinks menu and a decent range of handcrafted cocktails from their in-house mixologist, all backed by live acoustic music.
If you haven't already got the picture, camping here errs heavily on the side of comfort. There's no need for you to lift a finger and certainly no need to bring your own tent. Accommodation comes in the form of pre-pitched yurts – there's a range of sizes to choose from, all with soft furnishings and the larger ones with proper wood-framed beds – and an onsite 'pamper parlour' has electricity for charging phones and using hair straighteners. And in the spirit of never having to lift a finger, you can even order drinks straight to your yurt.
To be clear, this is less a campsite, more an outdoor hotel, so it's important to note that some things are not quite as you would expect at a regular campsite. For instance, the yurts are lined up near to each other and all contained in one meadow area, which also houses the cocktail bar and bistro, so the vibe is more like a VIP-style festival glamping experience rather than a quiet campsite with your own private area to spread out. This festival vibe also extends to the approach to food and drink – guests are expected to use the on-site bar and bistro for their needs rather than bringing their own, and there aren't really facilities to help with that anyway, such as kitchen areas, communal fridges or ice pack re-freezing. It's helpful to understand that from the outset as this arrangement is not what many regular campers would expect. The setting too is unusual for a campsite, being in an edge-of-town location, on a small estate shared with other businesses and adjacent to a sports ground. However, once inside the soothing surroundings of Nesta Camping, the immediate outside world disappears and the lure of a hot tub, a massage, or a cocktail, takes over.

Not every hour should be spent luxuriating with a cocktail in hand. It takes around half an hour to walk into the centre of Frome, where there's a market on Wednesdays and Saturdays and ample independent shops and cafés every other day of the week. In the other direction you can follow a footpath to the trees beside Nunney Brook then join the Macmillan Way, which follows the stream all the way to moated, 14th-century Nunney Castle (free entry), taking about 35 minutes each way. Further afield you can drive to Wells, Longleat, Bath and the Mendip Hills, all within half an hour, while it's also around 50 minutes to Bristol.
Details
Facilities
Larger yurts have wooden double beds and singles, while the smaller yurts feature floor mattresses rather than 'proper' raised beds. You can bring your own bedding or hire it at an additional cost. Yurts can also fit travel cots or small shake-down beds should you wish to bring these along with you. Larger yurts feature bedside tables and lamps as well as hanging storage and electricity. Smaller yurts are solar powered, but you can visit the onsite pamper parlour for any charging needs. The yurts do not include any cooking facilities. If you are staying in the vintage renovated horsebox then a wood burning stove and kitchen is included, as well as a seating and dining area and two double beds. There's a massage therapy yurt, a yoga space, and a bistro and cocktail bar. Woodfired hot tubs are available for group hire or as a romantic tub for two, all set under the leafy shade of a canopy of trees. We also have immaculate composting loos and Posh Wash noble showers.
Suitable For
Glampers, kids, groups – yes. Camping in tour own tent, motorhome, campervan or caravan – no. Dogs are not permitted at this location.
Nearby
The site is half a mile away from the vibrant centre of Frome, recently voted by The Times as one of the best places to live in Britain, and brimming with independent shops (market day every Wednesday and Saturday). Nesta Camping is also 15 minutes' drive from the UK's number one Safari Park, Longleat Estate (01985 844400). The perfect day out for kids, you can visit all the exotic creatures that call the park home, as well as admiring the grandeur of the stunning stately house. A little further afield (30 minutes in the car) will take you to the beautiful city of Bath. Here you can marvel at the Georgian architecture, visit the ruins of the Roman Baths and all their history, and take your relaxation at Nesta to the next level by visiting the modern Thermae Bath Spa (01225 331234), Britain's only bathe-able natural thermal hot springs.
Food & Drink
Thai Kitchen (01373 467370) is a five-minute drive away, serving fresh specials every weekend alongside staple favourites, like their unbeatable Pad Thai. You can either opt for a takeaway to enjoy back at Nesta or dine in their relaxed and friendly restaurant. High Pavement Restaurant (07967 222682) is also just five minutes away, serving tasty tapas (book in advance – it's popular!). The lovely French restaurant, Bistro Lotte (01373 300646), is under five minutes' drive away too. The casual bistro and café always greets you with a warm and friendly welcome, serving dangerously moreish pastries, rich and indulgent evening meals and post dinner night caps that pair perfectly with their delicious desserts.
Open
June–August.
Why book with Cool Camping?
Best Price Guarantee, with no fees
Instant booking confirmation
Trusted for over 10 years
A chance to win prizes in our regular competitions
The Owner Says
A little haven on the outskirts of Frome, offering luxury yurt glamping, Wood fired hot tubs, Yoga and wellness studio and on-site Massage therapists. Our bistro and cocktail lounge serve wholesome, local and sustainably sourced food and drinks daily in a comfortable and relaxed space with live ambient sunset music to serenade you while you enjoy the warm summer evening's.
We also run weekend activities for kids, including forest school and arts and crafts sessions, interactive quizzes and interpretive dance competitions.
Social Distancing Measures
The use of one-way entry and exit systems shall be used to assist with social distancing. In addition walk-ways will be wide enough to ensure that persons can maintain social distancing  with keep left or keep right, so people can pass safely without having to cross or create congestion. The campsite will be overseen by the COVID-19 supervisor. The COVID-19 supervisor will be responsible for overseeing all activities, testing and cleaning. The cleaning of high risk touchpoints will be undertaken regularly including before and after an activitiy and during if deemed necessary. Staff will be trained in appropriate regular and deep cleaning methods. Strategically placed contactless handwashing and hand sanitising stations will be provided for customers. There will be regular deep cleaning schedules in place for each area: campsite Restaurant, Kitchen, Activities spaces, Toilets, Showers, water taps and washing up areas.

Accommodation
42 yurts (sleeping between two and six people), one vintage bedford TK horse trailer (sleeping between four and six people).
Check Availability
Extras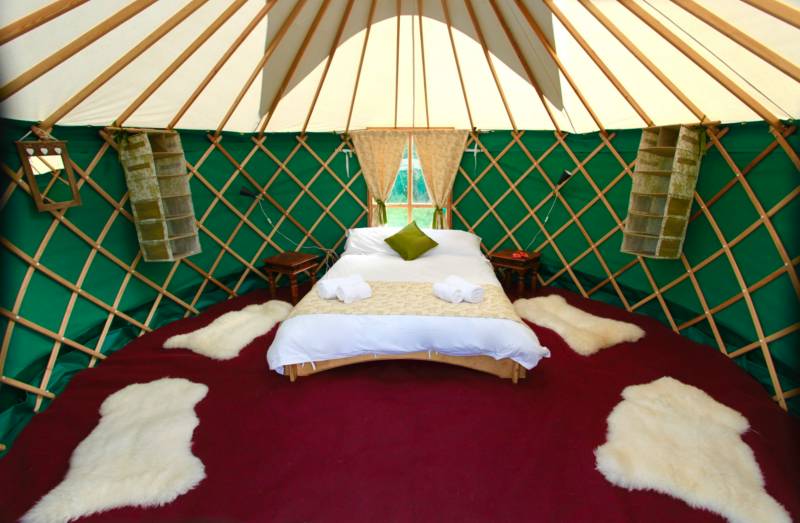 Double bedding pack
A double duvet, four pillows and crips bed linen.

Location
Contact Nesta Camping, Critchill Manor, Nunny Road, Whatley, Frome BA11 4LJ
Getting There
If you're travelling south along the A36, take the third exit at the roundabout onto the A361. Continue for just under a mile and then take the second exit onto Frome Road, then, after just under a mile, turn right onto Iron Mill Lane. Continue for just over a mile then turn left onto Jack's Lane, then carry on for half a mile, straight onto Vallis Road. After a little over half a mile, turn right onto Robins Lane, carry on for quarter of a mile and then turn right onto Nunney Road. From here, continue for just under a mile and then turn right, carry on for 100 yards or so then turn right again and you will see Nesta Camping up ahead on your right.
Reviews
Add Your Review
Rated ★★★☆☆ over 7 reviews
Overpriced and misleading
The pictures used to promote are misleading. The yurts are really packed in, not sure where they took these photos. The site was ok but lacking in basic amenities like hot water for washing up facilities or lights at night in the toilet areas etc. Nettles were growing around the sinks. Some of the toilets (not all admittedly) were poorly constructed from woodchip and stank of ammonia, which was really unpleasant. The showers also had lots of bugs inside. All in all I think the owners are keen to take your money and not provide much and then charge more for hot tubs etc. The restaurant was nice but the food took a long time to come out and the staff were borderline rude. I wouldn't recommend or return here.
Enjoyable but too expensive
For the price of staying here my expectations where higher. It felt like a real money making enterprise. The yurts were packed together and all facing the cafe, and as there were no cooking facilities there was an expectation to be using the cafe all the time but it was prohibitively expensive - £15 for a bowl of nachos! £75 for use of the hot tub for an hour and a half, no towels or bedding unless you paid extra for it - I felt like I was bleeding money. It was very noisy because of there being so many people in such a small space and people coming to party. I will not be going back.
Fantastic, different to anything I have ever done!
This was so relaxing after a week of travelling, the hot tub really chilled us out. The staff are amazing and can't do enough for you but at the same time they are happy just to let you do your own thing. We had a 20 min car ride to Longleat which was also amazing and worth every penny. 💙
Ryanair of camping - dont stay
Yurts are all set up with very little distance from each other, for maximum bang for buck for NESTA - dont expect any form of privacy. Everything is an additional cost. Pay £110 a night for cheapest yurt, and still have to pay £45 for bedding. This amounts to roughly £130 a night, which is ridiculous when you compare to what else is possible. Surprised they didn't charge us to use the toilet. For the price, the toilets are a joke. The customer service was pretty kind at times, but exceptionally rude at others and needlessly passive aggressive at others. Im not going to even get into the telling off of innocent kids I witnessed. Wont go back, and would suggest not doing so either.
Best camping experience ever!
Without a doubt the best camping experience ever. As soon as I arrived I felt the stress of the last year (Covid / lockdowns ect) leave my mind. From the super friendly staff, the very cool tunes, the fab evening entertainment, the hot tub, the luxury yurts & the super healthy fresh food. The whole experience was just amazing! & it's only a 5 min taxi into Frome town so great location. I'll definitely be back! Thank you Nesta for a fabulous weekend!
Nice but very noisy
The yurt was comfortable with nice touches. But they are very close together indeed. The pictures make it seem as if you are in the wilds of a forest but the 30-40 yurts are all a few feet away from one another. Very noisy large groups during our stay meant this was not a tranquil retreat as planned. No kitchen facilities at all means a reliance on the cafe bar run on site. Frome a short walk away - around a mile. Hot tubs looked lovely were not included in booking cost and were £70 to hire to use. Compost loos and showers were good.
Awesome customer experience from Nesta Camping, very helpful
I am booked to go to Nesta camping in July and I just wanted to log the fact that, despite being a non-standard booking, the team at Nesta camping have been super-helpful accommodating our requirements. At this stage I can only review them rather than the location - but the location looks fab too, and we can't wait to go. Wood-fired hot tub? Yes Please!
Why book with Cool Camping?
Best Price Guarantee, with no fees
Instant booking confirmation
Trusted for over 10 years
A chance to win prizes in our regular competitions
Book campsites near Nesta Camping