A simply lovely, all-season camping site with pods, yurts, and bell tents, all within walking distance of a quintessential Cotswolds' village
"You should sit in nature for 20 minutes a day... unless you are busy, then you should sit for an hour." So reads the Zen saying that's quoted on the wall in reception at The Wildings, a new pod camping site in The Cotswolds. We quite agree and this charming little place on the edge of one of Britain's quaintest and most-visited villages has made it a little easier for people to do that.
There are currently six camping pods. Each has insulation, heating, lights, and electricity, which make it possible to "camp" without a tent all year round. There are also four off-grid seasonal bell tents, and two yurts at The Wildings, a half-acre sliver of land surrounded by fields near Bourton-on-the-Water.  You can book the pods with camping mats-only, for what must surely be one of the best-value, all-season stays in the area, or ramp up the luxury by adding from a range of extras. It's a sort of tailor-your-own glamping experience with beds, linen and towels, campfire cooking kit and tableware all available.
The bell tents offer boutique camping for a family of five or four adults, with these fully furnished, off-grid tents being illuminated by solar-powered fairy lights and lanterns. There's a campfire in a private garden surrounded by woven willow fencing for your evening meals, with each tent having access to its patch of grass with barbecue and benches. The yurts are a step-up from the pods for the pampered camper, once again being off-grid and lit up by solar-powered lighting, each kept warm with the addition of a small and efficient log stove.
This little camping village was set up by owner Kim when she was pregnant with her third child – and it shows. It's a lovely spot for everyone but perfect for young families, with each unit sleeping up to a family of five. For some (perhaps especially parents) the fact that there's nothing to set up and peg down will open up the world of camping. The pods, tents, and yurts are warm, weatherproof, and can be tailored to your needs. Bringing a baby? Add the cot bundle. Camping as a couple? How about booking a celebration hamper? And if you're worrying about warming the baby's bottle or feeding over-tired kids, don't. Just head to the on-site Cook House with its fully kitted-out, undercover communal kitchen with sofas and books to boot. The site has also recently made two Ooni pizza ovens available to hire for the carbohydrate-lovers among you, while a new on-site mini-farm shop provides tasty produce while supporting local farms and businesses. Pick up your meat and dairy here, but also feel free to nab a gin or cider while you're at it.
You'll get more than your 20 minutes in nature here: while enjoying a campfire and watching the bats, while the kids play on the climbing frame and even on your way to and from the communal loos. But lovely as it is (and "lovely" really is the word), it's a simple site that, as Kim says, is a great Cotswolds base camp rather than an attraction in its own right. After all, there are plenty of those in the surrounding area already with picturesque, riverside Bourton-on-the-Water just a mile away. It has a historic model village, Birdworld and The Cotswold Motoring Museum as well as tearooms, inns and cafes. There's enough to keep you occupied for a week but it's well connected too with footpaths as well as roads leading out to the rolling hills and other heart-achingly perfect villages that The Cotswolds is so famous for.
Our Coronavirus Booking Guarantee
Book with complete confidence at The Wildings with the Cool Camping Coronavirus Booking Guarantee. We guarantee the following clear policy for your booking:
A low deposit of 30% to secure your booking
Balance not due until 30 days before your holiday, in case of late changes to Coronavirus guidance
Complete flexibility to move bookings up to the end of 2021 in the event of Coronavirus restrictions
In the event of a lack of 2021 availability, switch your dates to 2022
Due to low deposit and late balance payment, no refunds are offered
Details
Facilities
Two showers and four toilets are shared between the pods. There's also a communal fully-fitted cookhouse with a fridge and cooker as well as a seating area with sofas and books. The pods are fully insulated with an electricity supply, lighting and camping mats and there's a whole host of extras available to customise your stay from camp beds and bedding to welcome hampers. The bell tents and yurts are off-grid with solar-powered lighting, while the yurts have an included log burner. Campfires are allowed but restricted to the site's own off-ground firepits which you can hire either on their own or as part of a campfire cooking bundle. Both include a basket of logs.
Suitable For
Glampers only: families, couples, groups, dogs (for an extra charge) – yes. Campers, caravans, motorhomes, rowdy groups – no.
Nearby
Bourton-on-the-Water is in the middle of the Cotswolds Area of Outstanding Natural beauty and the site is just a mile away from the village. Attractions in and around the village include The Model Village (01451 820467), Birdland and Jurassic Journey (01451 820480), Bourton Model Railway (01451 820686), The Cotswold Motoring Museum (01451 821255), Greystones Farm Nature Reserve (01453 810853) and the Cotswold Brew Company (01451 824488) where you can enjoy a tour and tasting. You can also head out on The Warden's Way from the village, to walk through some of The Cotswolds' most lovely scenery to nearby villages. Lower Slaughter is two miles away with its Old Mill Museum, shop and cafe (01451 820052) and historic St Mary's Church. The picturesque market town of Stow-on-the-Wold is five miles away – home allegedly to England's oldest inn (see below), medieval stocks, antique shops and eateries.
Food & Drink
There are plenty of recommended places to eat in Bourton-on-the-Water from the simple Bakery-on-the-Water with its riverside cafe (0141 822748) to De La Haye's fancy Fish & Chip Shop (01451 822500). The Rose Tree Restaurant (01451 820635), The Mousetrap Inn (01451 520579) and the Duke of Wellington (01451 820539) are all recommended and for Italian food, there's L'Anatra (01451 820286). It would be rude not to pop in for a pint or a bite to eat at The Porch House (01451 870 048) in Stow-on-the-Wold which claims to be England's oldest inn (though there are a few others vying for the title). For a coffee or hot chocolate in the same village, The New England Coffee House is the place to head for. The Old Prison (01451 860339) in North leach, five miles away, is a great place for brunch and you get free admission to the old prison it's named after too. The Fox Inn at Barrington (eight miles away) comes highly recommended for its quintessential Cotswold riverside setting and atmospheric cosy fires.
Open
All year.
Why book with Cool Camping?
Coronavirus Booking Guarantee
Best Price Guarantee, with no fees
Instant booking confirmation
Trusted for over 10 years
A chance to win prizes in our regular competitions
The Owner Says
We want to give all our guests an amazing experience while staying with us, therefore we have designed our site to give you the best value for money, while also offering lots of options, so you can make it the perfect break for you.
We want to take any hassle out of camping for you and so have created a 'design your own holiday' campsite.
Love the idea of camping but don't know where to start? Then grab one of our gorgeous yurts add some extras and all you need is your fabulous selves and something to wear.
Alternatively you're a seasoned camper and have most of the kit? Then just take your pick of our pitch options and bring the rest! (The only thing we don't allow is gas BBQs).
Utterly simple and tailor made for you
We also offer a relaxing Cookhouse for all our guests to share where there are kitchen facilities, two fridges, sofas, games, books, and all sorts of other things to make your stay comfortable.
For children, we have a fantastic play area to keep them busy while you make supper or relax with a book!
There is parking for guests arriving by car and we also have a specific area for bicycles for any cyclists staying.
Extras
Food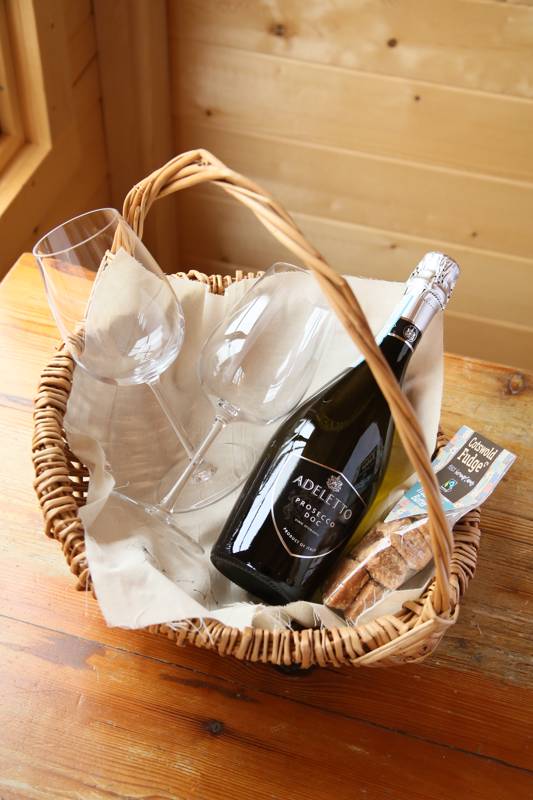 Celebration Hamper
Why not treat yourselves and have a celebration hamper ready on arrival!
-Prosecco and glasses
-Local Fudge
Miscellaneous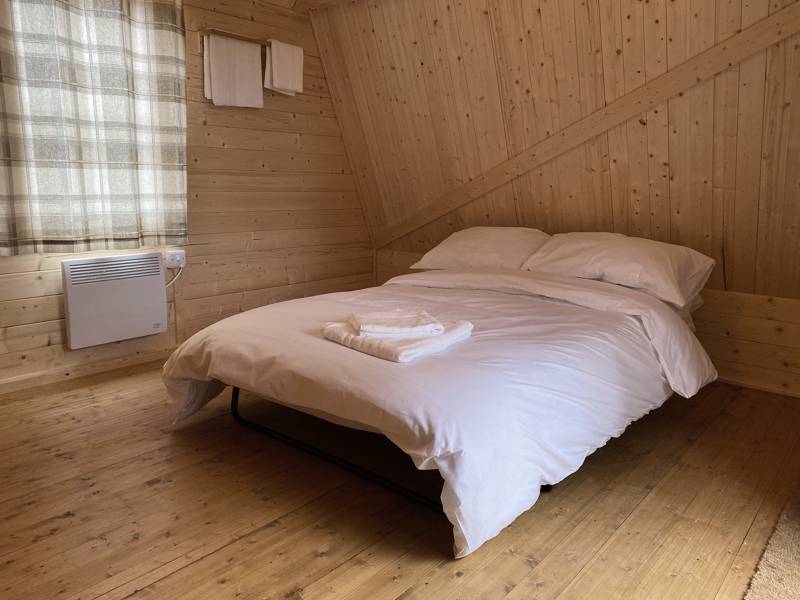 Double Bed Linen Bundle
Imagine turning up to your camping holiday and finding your pod, tent or yurt completely set up with a cosy bed with fresh, crisp linen, and fluffy towels for your stay.  We have two options; the double bundle or the single bundle.  To keep it simple we've just got one price for your whole stay!!
DOUBLE BEDDING BUNDLE
1 x Double Sheet
1 x Double Duvet + Cover
2 x Bath Towels
2 x Hand Towels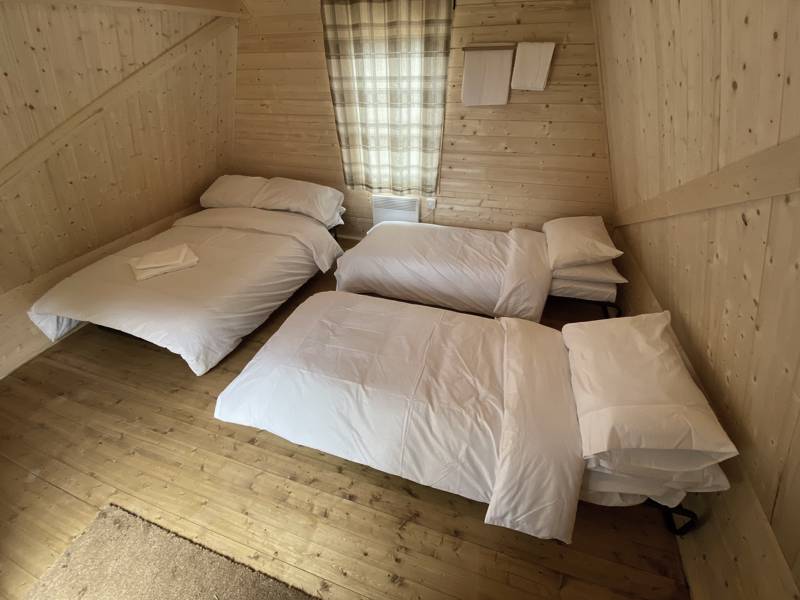 Single Bed Bundle
Our cozy pods can fit up to 3 Single Beds in with a Double Bed, just select the quantity on the booking page
SINGLE BED BUNDLE - £22
1 x Single Bed
1 x Single Sheet
1 x Single Duvet + Cover
1 x Bath Towel
1 x Hand Towel
Campfire Cooking Bundle
Tripod BBQ + Firepit
1 x Log Basket
Kotlich Pot
Grill
Frying Pan
Cooking Utensils
Knives
Chopping Board
Tea Towel
FireGloves
This also includes the Tableware Bundle.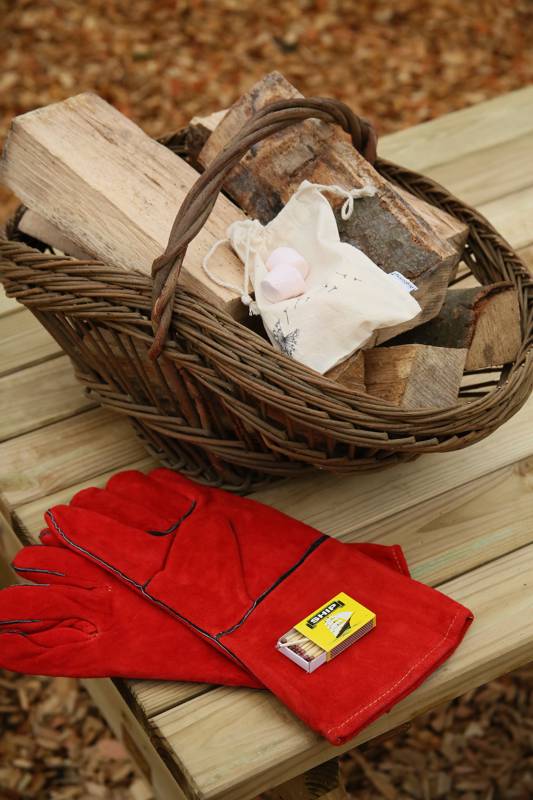 Log Basket
Enough for a night of star gazing.
LOG BASKET - £10
Bundle of logs for a night
Kindling
Firelighters
Matches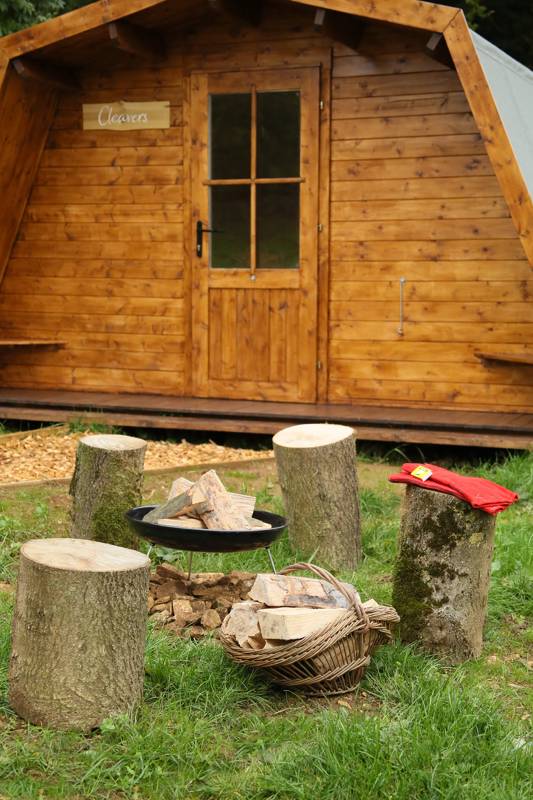 Fire Pit
If you don't fancy cooking but would love a campfire you can just have the fire pit!
FIREPIT - £15
1 x Firepit
1 x Log Basket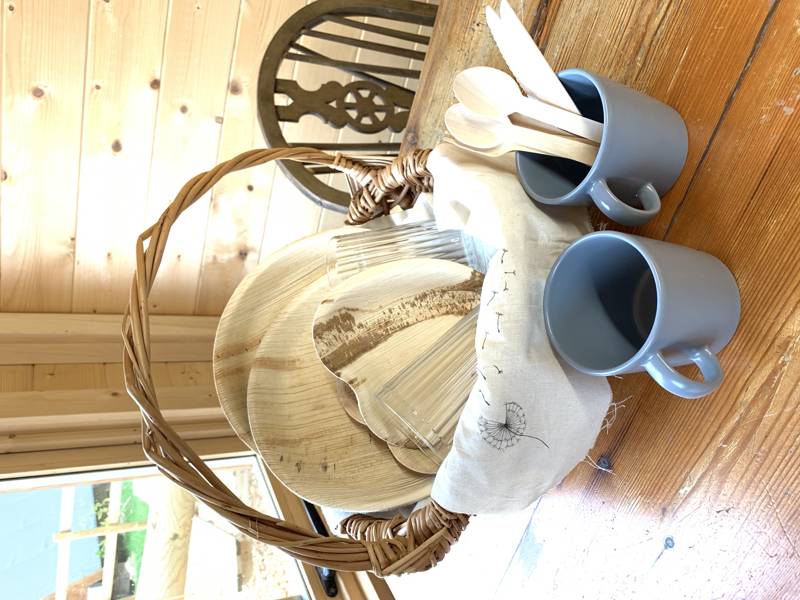 Tableware Bundle
Our lovely palm leaf plates and bowls - an eco-friendly disposable and biodegradable tableware range made from palm leaves that are soaked in spring water, heat pressed into shape and then dried. They are sturdy enough to last for a few days and can be thrown on the campfire or compost heap when you're finished with them! They are 100% compostable and biodegradable.
TABLEWARE BUNDLE - £12
Palm Leaf Plates + Bowls
Cups
Tumbler Glasses
Cutlery Set
Ooni Pizza Oven
We are so excited to have 2 Ooni Pizza ovens to offer! These are the amazing total sell out Ooni Pizza ovens! You'll get a pizza oven, pizza slice, two pizza boards and a pizza cutter, a fire glove, instructions and plenty of wood to cook your own amazing stonebaked pizzas! It is so much fun with the family and so quick and easy! Cook a pizza in 5 minutes and create memories to last a lifetime!
All you need to do is add the pizza - create your own with some of our recipes on site or just buy a ready made - It couldn't be easier!
This extra is for one nights pizza experience, just leave everything outside and we'll collect in the morning
Cot Bundle
Please bring any additional bedding ie sleepbags with you
COT BUNDLE
1 x Travel Cot
1 x Full Sized Mattress
1 x Cot Sheet
Winter Essentials Bundle
Our Pods are insulated and heated but if you'd like a bit of winter comfort and luxury why not get our Winter Essentials Bundle.
Each bundle includes:
2 x cozy blankets
2 x hot water bottles
2 x hot chocolate stirrer spoons
1 x bag marshmallows
Team with our Fire Pit Bundle for the cosiest winter evenings under the stars!!!
Location
Contact The Wildings, Lankett Lane, Bourton-on-the-Water, Cheltenham, Gloucestershire
Getting There
From the A429, turn south east signposted Clapton Sherborne. Continue along Lanketts lane until you reach us on the right hand side, if you get to a junction you've gone too far!!
From the A40, turn north signposted Sherborne Clapton, stay on this road for a few miles, its wiggly but don't turn anywhere. Drive carefully as there are often roe deer about. Keep driving until you reach a junction at the top of the hill, take a left and we are the next left.
What Three Words - ///grad.poets.mirroring
The nearest train station is nine miles away at Moreton-in-the-Marsh from where the 801 bus service (which provides a handy connection to much of the surrounding area) runs frequently to Bourton-on-the-Water (except on Sundays). An alternative station is at Kingham, about 20 miles away, from and to where you can take a taxi.
Reviews
Add Your Review
Rated ★★★★★ over 34 reviews
Simply Amazing!
I crammed the planning for my trip to Bourton on the Water at the very last minute. There were no other B&Bs and guesthouses vacant in town so I ended up booking a night at The Wildings to have my very first experience of glamping. Staying in the campsite was an extremely pleasant surprise. The owners really put much love and thought into the amenities they offered - down to the tiny, cute details found throughout the accommodation. The shared facilities were clean plus the owners were very hospitable and helpful with our requests. Bonus points for the cute doggo (Storm) they had on-site. I highly recommend The Wildings. If I ever find myself in Bourton on the Water again, I'll purposely book this place again - perhaps even decide to stay much longer and avail of their awesome packages too.
Great location
We really enjoyed our stay, although basic this is why they are a lower price than other places. Its in a perfect location, the place is clean and perfect for children. The shared kitchen is very small so there was a little bit of waiting around to use facilities. Really enjoyed our mini staycation
Fantastic stay!
Our 3 nights at The Wildings were great! We so enjoyed the comfy pod, beautiful scenery, friendly staff, clean bathrooms and the little farm shop. The site is a short and beautiful walk down into Bourton on the Water which we took full advantage of! Fantastic little staycation, we'll definitely be back!
Amazing little place
*Friendly *Clean *Quiet *Intimate *Functional *Excellent amenities. We loved our trip to the Wildings. The cabin is a decent size and the private area is perfect for soaking up the sun and enjoying a BBQ. There is an on-site shop, kitchen - with fridge freezer, sink, microwave, tables etc, and perfectly clean showering and toilet cubicles. Also a play area if you have kids. I felt that a lot of thought had gone into this little business and I hope it is successful as it is fully deserving of it. It is a lovely place, and highly recommended by someone who is very disappointed in a basic standard.
What a fantastic experience
Our first time glamping and it was an experience we can't wait to have again. The Wildings is a short walk from Bourton on the Water. Although the hill is a steep one for the return journey. The wildings is as close to nature as you can get but with plenty of creature comforts to hand. We stayed in a bell tent and it was roomy, very comfortable and just what we needed. It has lighting, a fantastic bed and a start up kit for the fire pit. Once the fire was going it made for a lovely night. We even had a go at cooking and we did a good job. The cook house is very well equipped and the showers very hot. All very clean. Everything was to hand. The onsite shop had plenty to offer. Everybody looked like they enjoyed it, even though it was just the 2 of us there were plenty of kids all enjoying themselves. Not an iPad in sight. We will be going back but this time we fancy a Yurt. Special mention to the hosts who were very friendly and attentive. We will be back!
Just the break we were hoping for
Had a fantastic 2 night stay in one of the pods which we had been planning for over a year but had to put off because of the pandemic. Really great location only a short walk into Bourton on the water which has lots of nice pubs and places to eat. Everything was ready for us when we arrived, comfortable beds, fire pit and bbq accessories. Couldn't have been easier and Kim's mum and Ashleigh were really welcoming and had lots of recommendations of where to walk the dogs.
Cosy, clean and family friendly
My daughter and I had a lovely one night stay at The Wildings campsite. We were welcomed by the most gorgeous golden labradoor puppy and Kim, who was in the reception and shop area We loved the leafy archway guiding us along the paths to the Rowan hut where we stayed. We brought our own bedding and kept it simple. The toilets and the shower rooms were kept nice and clean - we used both and loved that we could clean up after ourselves (a spray mop and dettol spray is provided in the shower room which made it so easy to leave it as clean as we found it without too much fuss. The cook house is warm and welcoming - a great place to chat to the other campers. It was lovely to hear the children laughing and playing, which along with the smell and sight of the lit camp fires made it all very heart warming. Definitely somewhere I would like to return to for a longer stay.
Fab 2 night break
Myself, my siblings and our partners rented 3 pods on the 1st-3rd September 2021. We had a fab experience, Kim's mum greeted us and was really welcoming, the pods were warm, cosy and clean. They had our cooking bundle set up ready for us and we spent both evenings cooking over the fire pit. The other guests were also really friendly. We can't fault our stay and have all said we'd definitely like to stay here again.
Great place to stay
Lovely setting, bell tent was so comfy and worth adding the bedding package. A friendly welcome and always happy to help. So kid friendly with a small play park.
Amazing!!
Me and my 8 year old daughter came for a 1 night stay here in one of the pods. It was easy to find, clean and very accessible. The ladies running it were warm, welcoming and just absolutely lovely people to be around. They've done a fantastic job with the site and there is everything you could possibly want and more! Every detail has been thought about, even the little signs dotted around the place. It was nice as a single parent to go away and still be able to have a relaxing time as the play area is with arms reach and is within a secure fencing area. I could cook, read or just relax whilst my daughter played with no worries as to where she was. The facilities were extremely fresh and clean. I will definitely be coming again as although I only went for one night it was one of the most enjoyable breaks away I have had and I look forward to becoming a regular visitor
A perfect escape
We had a weekend at the wildings, with 8 of us spread between 2 of the bell tents. The site itself was lovely, with quite a few tents and cabins nearby but hedgrows being grown to keep your area a little separate. Everything you could need was included, with fire pits and logs in the tent, fridge space and crockery in the communal cookhouse. The hosts were kind a friendly and we had a really pleasant stay!
Absolutely wonderful!
We stayed here for 1 night with our two dogs. We arrived to a very warm welcome from Kim and her mother Sharon. The toilets/showers/cook house were very clean and covid safe. Although we didn't have children with us, we could see that this is a great place for families. The bell tent was lovely and it was a great experience cooking over the fire! The Wildings is in a fantastic location and we'd definitely stay again! Thanks for a great stay x
Loved this place
Only stayed one night will definatly book again stayed in meadowsweet pod it was spotless and on it's own which was perfect as I'm a transplant patient so very cautious during covid times we had the fire pit for barbecue the cookhouse was well organised the showers were spotless the hosts are lovely and should be proud of this amazing place
Lovely place to getaway and relax
We booked a 2 night stay in a tent with myself,my sister and my two children aged 5 & 9 for a little girly getaway. We loved the layout of the site and how unique it was, it was very family orientated which was perfect. The children absolutely loved being here,playing in the play area and making lots of friends with the other children. The cookhouse was lovely, games and books, seating areas, a kitchen area. this was lovely to go and sit down with a cuppa or make something on the grill. The tent we stayed in was wonderful, and sitting around the fire in the evening was a bonus. It was such a lovely place to stay to unwind and chill and my children didnt want to leave. we plan on coming back here again!. only one tiny remark to make about check out - it stated on the website check out was before 10:30am. However the day we checked out at 10:15 we were approached and told check out was 10am and quickly had to gather our things to let them clean so i think the website needs to be changed or customers allowed to still be packing up if its before 10:30am.
Back to nature!
We stayed at the Wildings in a pod in July 2021. The site is new and the facilities are clean and well kept and I can imagine it is very peaceful outside of school holidays. Our pod was very clean and it came with a fire pit which was lovely. We did bring a gazebo with us for rain shelter which was useful, we are a family of 5 so we tended to stay outside a lot. The site is around a mile up a lane (bring a torch!) from the town which is nice for a wander around the shops and there are plenty of pubs and restaurants- would recommend booking ahead as they were very busy. My one very slight issue is that we could've done with a bit more space outside the pod- it's absolutely for sitting round the fire, making breakfast etc but we would've like to play games with the kids- it's kind of a tradition for us. But it looks as thought the site will be expanding so hopefully there will be a bit more room for a field to play cricket in! Thanks to Kim and the family for a lovely time, we loved the eco approach and the general atmosphere of trusting guests to behave and treat the site and each other with respect. We will be back (we have yurt plans!)
Fantastic family break in the Cotswolds
This campsite is so lovely because it is small, family friendly and not overly busy. It is really well set up with all the facilities you need to make it much more comfortable than a normal camping trip! Everything was clean and so well organised and the owners and their family are so welcoming. Gorgeous spot right by a beautiful village with loads to do on the doorstep.
Great service and great experience , I would highly recommend!
We stayed at the Wildings on a yurt on the 16th July and the family loved it! Great location in Bourton-on-the-water close to other towns, great places to eat and things to do! The site is spotless and well kept, the yurt was clean and we all slept really well! It's family friendly and other campers went to bed or chatted quietly so our 2 boys slept through the night! It was my wife's birthday and I ordered some balloons and a cake to be delivered before our arrival! When we arrived on the Friday the Yurt had been decorated for us at no extra charge! We will be coming back next year and would highly recommend any family looking for a campsite in this area to stay at the Wildings!
Amazing stay, perfect to reconnect to nature
My partner and I went to the campsite for 3 days, a lovely location and perfect to disconnect from the city life and reconnect to nature. There are also great hikes, we ended up doing a 15-mile hike on one of the days going through fields and magical forests following the stream back into town. I would recommend this campsite for anyone looking to be in nature while also having the luxury of having a comfortable bed and a warm shower, there's also the option of cooking in their shared kitchen although we always ended up making a fire and cooking there with the campsite cooking package they offer with all the things you could need included. We will probably visit again, hopefully sometime soon. Nicolas
Great for a quick family get together
Well run site with high quality amenities. We stayed Friday to Sunday and everyone else on the site was super friendly. Had a lovely walk into Bourton on the water with the dogs on the Saturday (recommend the burgers at Smiths). Then a couple of glasses of wine round the fire pit in the evening.
Perfect getaway
We spent 2 nights , we needed to relax and unwind and the Wildings is the place for that . We brought our dog , and had a fire pit provided , cooked bbq both nights and sat by the fire . When you put the phone down and just listen to nature you really begin to appreciate it . The array of song bird in the are is unbelievable, and bird feed is provided for the kids to top the bird feeders . The lady hosting (sorry I'm terrible with names) was fantastic, couldn't do enough for us , welcoming and friendly. The facilities were all spot on everything you need , kitchen and cooker , also loo's and showers all spotless . Can't wait to visit again and can definitely recommend
A perfect glamping location especially for families
We only stayed one night but would have loved to stay more! A peaceful and beautifal camping location really near Bourton-on-the-Water. The owners helped with all our needs and the whole site was very clean with everything you need. Perfect for families, people new to camping and perfect for those that want a quick getaway. Thank you!
Great getaway with kids
We enjoyed a 4 night stay in half term, children 6 & 10. Site is very clean & there is a lot of attention to detail (mini tea & coffee in tents, the remote controlled lights in the tent to mention a few!). The little play area was great & my children just loved making friends which saw me enjoying a relaxing time! The site is within walking distance to Bourton on the water & 10 minute drive from Cotswold Farm park. The addition of the little onsite shop was great for milk/ice creams for kids. My only gripe was hot water was hit or miss for a shower if you went in the evening. Overall a cosy, well thought out glamping site.
Enjoyable vacation
Great location and country scenery. We stayed in a pod with families in 2 other pods. Pods and yurts were closer to each other than expected so initially felt claustrophobic but once adjusted, was fine. We had paid for double bedding and took sleeping bags for kids but after 1 night of sleeping on an airmat, paid for the single bedding option and beds much better for kids. Need to remember to take chairs to sit comfortably outside. Children had a great time in play area and facilities and kitchen were nearby and well stocked with crockery and cooking equipment. Owners were friendly and helpful. Farm shop great addition and children enjoyed ice creams. Nice walk down to Bourton on water.
Great location, welcoming owners, Lovely stay.
This compact campsite was clean, friendly and we loved staying in the Mugwort Yurt, it was warm spacious and the attention to detail like tea, coffee, outdoor seating with a fire pit is a great touch. The owners made you feel very welcome. This was our first time glamping and we really enjoyed the luxury experience. The location was perfect for us, Bourton-on-the-Water is a lovely place with plenty to do within walking distance.
Amazing place to be
If I could give more stars than 5 I would. We loved this place and the children did too. We felt comfortable to let them roam and play. It's close to the village and Kim is so helpful and accommodating. She has made the site so picturesque. Will definitely be coming back!
Excellent for families with primary school kids
We absolutely loved this place, the pods are warm and very cosy. I slept in a sleeping bag and vest and i was lovely and toasty. Excellent play facility for kids Lovely cook house with fridge Dettol spray in showers, toilets and kitchen Owner has created a lovely get away, We did two nights. I will return in summer 2021 for another couple of nights with the kids. Bourton on the Water is a beautiful place, also check out the National Trusts properties close by.
Great family fun
We had a great few days at The Wildings. The pods were an ideal way to camp with a little more comfort. We took our two boys, (4 year old and 7 month old) and this place was perfect. Our 4 year old made friends and loved the play area. As the whole area is enclosed and you can keep an eye on the play area from the pods it meant we could really relax. The facilities made camping with a 7 month old so easy, grass areas for him to crawl around, high chair in the cookhouse that we were able to take to our pod and being able to keep food in the fridge. The cookhouse was perfect for washing up and making tea and hot chocolate, there were also books and games to borrow. The fire pit was good fun for cooking on and toasting marsh mellows! We opted for ready made-up beds and the pod comfortably fitted a double, a single and a travel cot. The facilities were clean and there was never a wait for a shower. The site is located very close to Bourton-on-the-Water which is good for shops, pubs, tea rooms, Birdland, The Miniature Village and The Dragonfly Maze. We also had takeaway Pizza from the Italian one evening, which was lovely! We will definitely be back to stay at The Wildings again!
Wonderful experience
Went there with my 2 girls 22 and 20 to make bond between us. We had such a great time did things together, cooking outdoor, a long walk, star gazing, creates the memories. Came home with new perspective and more positive. Thank you Kim and her husband for all the help just a phone call away, your campsite are adorable and very friendly. We will definitely be back again soon. J.N.S
Best camping place
Absolutely relaxing and quite place for family. Can recommend especially for those who travels with the kids. The kitchen has all the accessories for convenience: microwave, kettle, fridge and much more for your comfort. There is also a wonderful and clean playground for the youngest visitors. Pods comfortable, with the heating system. The hosts are very friendly and always ready to provide services! And the most important thing is the beautiful and charming nature 🦢  
Very pleasant Stay....peaceful and small site
This site has made a lot of effort to be well priced and to keep things clean. The cooking hut is a super idea, the private but small fire pit areas a lovely, its small and personal and great for a quick stroll to bourton on the water 17 mins...and a good place in the cotswolds...I would return if the price stays the same...
Absolutely Amazing!
This place is amazing! So quiet.. Its wonderful. The campfire is fantastic, make sure you have that as an extra. It was so nice to go somewhere that allows the use of a campfire as we think it just adds to the experience (we love cooking outside). The pods are amazing. Clean and spacious. The toilets and showers are immaculate with funny quips and phrases around. The 'cookhouse' is brilliant if you're wanting to use that too. We spent the evening here with our 2 children and dog as we were passing through the Cotswold to visit family. We will definitely book again for longer.
Absolutely Amazing!
This place is amazing! So quiet.. Its wonderful. The campfire is fantastic, make sure you have that as an extra. It was so nice to go somewhere that allows the use of a campfire as we think it just adds to the experience (we love cooking outside). The pods are amazing. Clean and spacious. The toilets and showers are immaculate with funny quips and phrases around. The 'cookhouse' is brilliant if you're wanting to use that too. We spent the evening here with our 2 children and dog as we were passing through the Cotswold to visit family. We will definitely book again for longer.
Beautiful setting
What a beautiful place! The lovely friendly owners have taken great care with everything. The site is small but spotless as are the toilets and kitchen area. They have taken great care to make it as safe as possible with the current pandemic. My teens were a little bored but it would be perfect smaller children as there is a lovely little play area in the middle of the site. There are so many nice walks close by and the local town of Bourton on Water is a short walk away. It's beautiful and well worth the visit. We will be back!
Response from The Wildings
Thank you so much for your feedback, we are so pleased you loved it here! Hope your teens loved the campfire and hope to see you again soon!!
Amazing place
Lovely place, very tidy and beautiful area. Perfect place who loves nature but like a comfortable stay. More than recomendable.
Response from The Wildings
Thank you for the lovely review and thank you for recommending us! Hope to see you again soon
Why book with Cool Camping?
Coronavirus Booking Guarantee
Best Price Guarantee, with no fees
Instant booking confirmation
Trusted for over 10 years
A chance to win prizes in our regular competitions
Book campsites near The Wildings