Book campsites near Dome Garden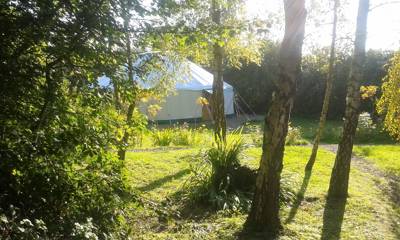 i
Glamping in Gloucestershire
Glamping in South West England
Glamping in England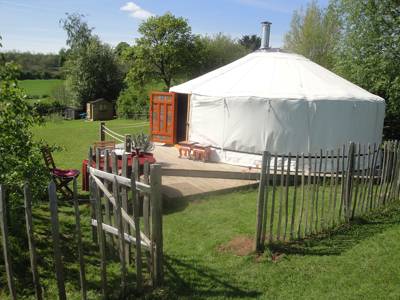 i
Campsites in Herefordshire
Campsites in West Midlands
Campsites in England
Dome Garden
Mile End, Gloucestershire, GL16










A glamping experience like no other. With one of the UK's best woodlands through the garden gate.
Ten geodesic domes have sprung up in the garden of a former dilapidated Forestry Commission lodge, now ultra-modern wooden home-cum-breakfast-bar-hangout. And, as the years go by, like the ancient trees in the forest surrounding the garden, this place is blooming into something magnificent.
Owner Jonny and his family were dedicated tipi-campers, until one winter they made a snow dome that could sleep 10 people. When it melted, they decided to invest in some permanent structures, and the Dome Garden was born.
The garden already has a supremely sociable vibe, with kids making friends on the rope swings, in the tree house or running out into the forest. The ever-growing willow tunnels and clever-landscape gardening allow plenty of space for privacy, but by night-time, once the pizza oven is lit and everyone's making their own creations, even the most hermit-like campers will find it hard not to join in.
Yes, this is glamping on a grand scale. But if you're no fan of the outdoors and open fires, do not apply. Wood is used for cooking or heating, from simple stick-heaters – yes, you feed a tiny fire sticks beneath a kettle for your morning cuppa – to the garden's log-fuelled central firepit. There are so many innovative yet simple touches here that you'll be hard-pushed to find anywhere else like it. Lime-green AstroTurf carpets your dome, kids sleep in hanging pods and there's an ambient light… just see what colour your dome glows after dark. Kevin McCloud would comment that this place is, indeed, a work of grand design.
Please note - arrival days at Dome Garden are Friday and Monday only.

Reader Reviews
Add Your Review
Amazing unique stay
Loved this place. Fantastic safe play area for kids, warm cosy fires, great food and super friendly helpful owners. We'll definitely be back. Nearby cycling in Forest of Dean is great, and Clearwell caves worth a visit.
Wow! We'll be back!
What an amazing place. We went at the end of last year just before they closed for the season. It was just brilliant. We had fantastic weather, met some really nice people and ate delicious food - you just have to try the slow cooked Wagyu beef. The domes themselves are really cool, big airy and toasty warm once you get the woodburner going. The kids spenthte entire weekend on the wenormous rope swings and then were taught how to make their own pizzas around teh big oven. Just a short break but the sense of calm and relaxation was just what we needed and cam away feeling we'd been on holiday for a week! Bravo Dome Garden. As Arnie would have said "We'll be back!!"
Very relaxing, amazing space.
My husband booked this as a surprise weekend at short notice. The email communication was brilliant, quick, easy, very friendly and relaxed. He booked the hobbit style homes for us and our 2 small children, designed for 2 but worked fir 4. The only complaint was that we needed a flat space for our 1 year old to walk on as she kept falling over the stones, and a bigger table but it is designed for 2 people so it's our fault really, every other space had decking which looked perfect. I loved out hobbit hole, the private bathroom was brilliant and so close and just lovely to use. The sleeping space had a massive very comfy bed and nice living space. Our little boy loved being able to look out of the ceiling windows whilst lying in bed. The cooking facilities are great fun and you soon learn how to light a fire. We loved that everything was provided and the whole site is really well thought out. The lady who was running it was lovely and friendly and made the stay even better. The best part of the weekend was making the pizzas in the wood fired oven, though that's not to say that the zip lines and swings weren't any good but pizza is all of our favourite food. We will be going back in the future to try the domes!
Very cool - very relaxed!
This certainly is a cool camp site - or glamp site! It is like nothing I have ever seen before. The site is quite small but the domes (think mini eden project) are dotted about, each with their area of privacy. There is nothing cute or kitch here (no bunting in site), but astro turf for carpet, giant bean bags, white bedding and colour-changing lamps to light up your dome at night! We had a 'simple dome' and a 'double-dome' (two smaller domes with a bathroom inbetween). The 'simple dome' was by far the best design though, with a roomy double bed and 2 singles and plenty of space for relaxing and a very efficient wood-burning stove for heating. The double dome had a somewhat temperamental stove in the larger part (containing 3 single beds) and an electric heater in the smaller dome (containing a very large double bed - the love nest!) and never really got as toasty warm as the simple dome. However, the experience of being in 'love nest' bed and looking up at the stars at night through the clear roof was quite something (although the pay-off was a very early awakening with the sun shining through - so take an eye shade if you want to sleep in beyond sunrise!). Both domes had bathrooms with baths (although others have showers), and we soon got used to lighting the stove in the bathroom to generate the hot water. Lighting fires and chopping wood are a big part of your stay here in fact as the cooking is done on outdoor wood-burning stoves as well. One of the highlights of our stay was baking pizza in the pizza oven - a great communal experience - and then baking bread in the oven in the morning! The children absolutely loved the freedom of the place - the giant swings, the zip wires and the forest right outside the camp site, and had loads of great old fashioned fun building camps and getting to know the other children on the site.