Badger Barn Yurt Retreat
Badger Barn, Hillersland, Coleford, Gloucestershire GL16 7NY





Luxury yurt glamping with hot tubs and massage treatments in a pretty, enclosed garden on the edge of the Forest of Dean
Ever since her arrival at this site on the edge of the Forest of Dean, Jules Heron has worked hard to protect and enhance its natural prowess. Amid rich greens and thick mature hedgerows, a labyrinth of paths and stone circles now weave, leading you around the glamping site she has created and revealing its incredible beauty. More than 1,000 trees have been planted in the last two decades and a series of smaller meadows are now accompanied by an orchard, a nut wood, an organic vegetable garden and a sunken, hidden garden. Dotted among it all are just five glamping abodes, each tucked in their own private eden. It's a truly magical place.
In essence, this lush, wild garden is really just an extension of the Forest of Dean. The rich woodland starts just metres away, at the bottom of the track, and the campsite is like a halfway-house between the untouched forest on one side and the farmland of rural Gloucestershire on the other. Its proximity to the forest also makes the place a boon for wildlife. There are frogs, dragonflies, owls, rabbits, shrews, buzzards, peregrine falcons, and a whole lot more. If you're particularly quiet you may spot deer flitting among the trees or even strolling right through the campsite itself.
The accommodation fits subtly amid the landscape. Comprised of yurts and nomad-style canvas tents, they are finished with the utmost attention to detail. Lanterns, rugs and quirky little bohemian touches create a relaxing interior, with comfy beds and sofas. The whole thing has a real affinity with the outdoors, with wood used extensively in many of the furniture designs, including the bedsteads and chairs, echoing the forest outside.
The proximity to nature is certainly a big part of the appeal here and was also the main reason that Jules moved here many years ago. The tranquil ambience allows for a real break from the daily grind, with the bustle of cities replaced by the rustle of leaves – all aided by the therapy options Jules provides. You can book a fireside massage or choose a treatment to enjoy in the comfort of your yurt, while two of the pitches – Glade Yurt and Bedouin Tent – each have their very own hot tub too!
Whether your venturing through the Forest of Dean and down to the banks of the River Wye (a gorgeous walk that you must do at some point during your stay) or sinking into the bubbles of the hot tub, this is a place where you can really kick back and soak it all in. It's as if every tree has been planted with a purpose – placed hither and thither to create individually enclosed gardens. Yet a real sense of wilderness rules, as if nothing was planted by man at all.
Gallery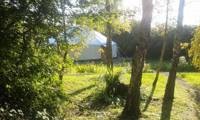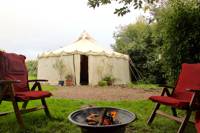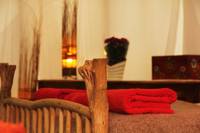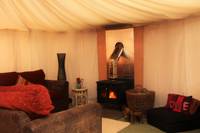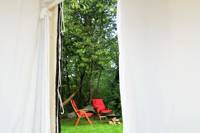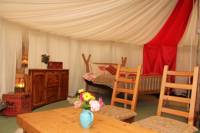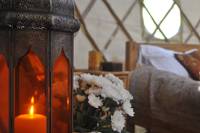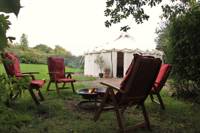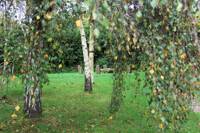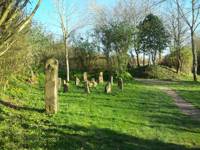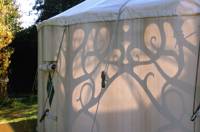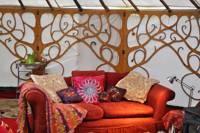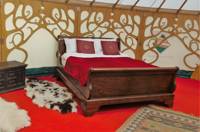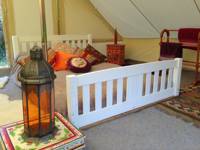 The Owner Says
Badger Barn is a tranquil Glamping site set amongst mature gardens in the heart of the Wye Valley. Perfect for a peaceful getaway, our tranquil camping retreat lies nestled in the heart of the Forest of Dean. Just across the lane is 8 miles of England's finest woodland, and walks leading down to the River Wye. Immerse yourself in the natural beauty and birdsong of this unique area. There are deer passing through the site, peregrine falcons and buzzards overhead, and even wild boar in the woods! This year we are hosting 4 events in May and June, so take a look at our programme to find what will inspire you. We look forward to meeting you.
Reviews
Add Your Review
Peaceful
Absolutely wonderful! Secluded and peaceful - perfect for a relaxing weekend ! The yurt contained everything you could possibly need and was surprisingly warm and comfortable at night ! Can't wait to return !
Chilled weekend
Our stay at Badger Barn Yurt Retreat was amazing. The surroundings were so peaceful & we had the best weekend ever doing absolutely nothing. The tent was equipped with everything you needed & the bed was extremely comfortable. The hot tub was a real bonus too. Will definitely return soon :)
What amazing place !!
What a great place to stay. We Love it and would highly recommend it if you want a place to chill away from the day to day life stresses.
A bit of paradise
The yurt is large, well equipped and very comfortable. It is in it own green area (surrounded by trees, hedges and flowers) so feels very private. Having a kitchen (and fridge) inside the yurt was great and perfect for hot weekends. The place is located on the edge of the Forest of Dean and close to Symonds Yat and is a great base to explore the forest and enjoy the river.
Win a £100 Blacks Voucher!
If you've stayed at Badger Barn Yurt Retreat campsite, please take a minute to tell us about your experience. Every month, one lucky reviewer will be picked at random to win a £100 voucher, courtesy of our recommended retailer Blacks. Each review counts as one entry, so get writing!

Best Price Guarantee, with no fees
Instant booking confirmation
Trusted for 10 years
A chance to win camping goodies in our regular competitions!
Book campsites near Badger Barn Yurt Retreat