Campden Yurts
Hillside Nursery, King Combe Lane, Chipping Campden, Gloucestershire GL55 6PN






Campfires, countryside and comfortable glamping yurts, all on the outskirts of the Cotswolds' prettiest town
Picturesque Chipping Campden, in the northern stretches of the Cotswolds, is both famously pretty and elegantly varied, with its high street showcasing several centuries of architectural styles all in one long, terraced row. It seems appropriate that, across the fields, there's a place similarly diverse in style, but just as pleasing on the eye.
Campden Yurts is a hillside small holding turned glamping site offering simple, comfortable, family friendly holidays. Where once goats, ponies and chickens roamed and rows of vegetables grew, there now sit two spacious, 18ft yurts, each accommodating up to five people. A wood-burning stove, rugs, sheepskin throws and fold out futons dot each interior, while a main double bed boasts views up through the central crown window to the stars above. During the day natural sunlight pools through the circular space, while a discreet solar power battery system allows for some extra lighting at night. In addition, each yurt has its own private bathroom, and they also share a well-equipped kitchen room.

Despite this excellent self-catered set-up, owner Jane particularly likes seeing guests outside their yurts, where tripods and grills are provided for a more authentic cooking experience. Campfires are very much a part of the Campden Yurts experience and if you really fancy taking it up a notch, there's even a cob oven you can use, lighting a wood-fire inside and cooking your own pizzas.
Stretch your legs with the short walk to Chipping Campden where you can stock up on goodies from the local delicatessen and grocery stores – the market town is brimming with refreshing, independent shops, galleries and a museum celebrating Campden's Arts and Crafts movement – then take a break in one of the tiny tearooms. It takes around 15 minutes to stroll the footpath into town. Popular waterside towns, Upper Slaughter and Bourton-on-the-Water, are also both just a short drive away. Each vies for the title of the prettiest town in the Cotswolds.
Alas, not every town can win that accolade, but Chipping Campden is certainly on the shortlist. What with its honey-coloured houses, 17th-century market hall and cluster of National Trust-owned properties, it really does offer the quintessential Cotswolds experience. And now, with a yurt glamping retreat on the doorstep, it's on the shortlist of Cool Camping's favourite places too.
Gallery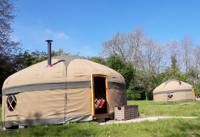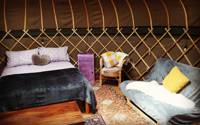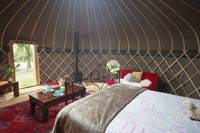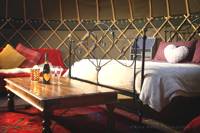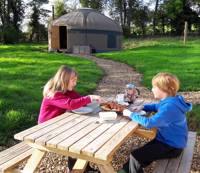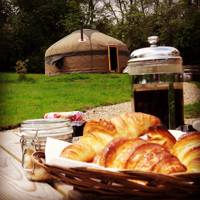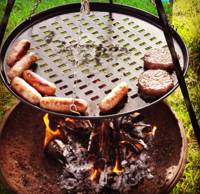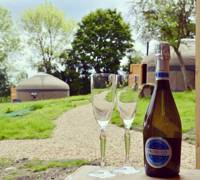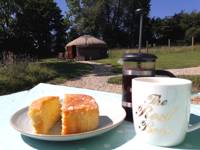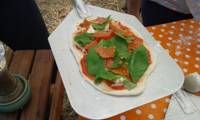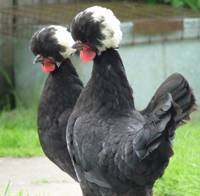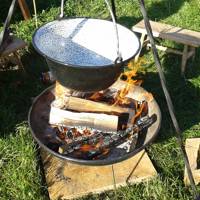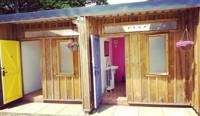 The Owner Says
A new glamping site in the North Cotswolds offering a warm welcome and comfortable accommodation in two 18ft yurts. Taking families of up to 5 or 4 adults per yurt. Double/King size beds, futons, woodburners and drinks making facility in each yurt and hot showers, flushing loos and outdoor covered cooking area. Campfires encouraged and cob pizza oven also available.
Reviews
Add Your Review
Lovely weekend in beautiful setting
Spent a weekend here at the start of October with 7 friends celebrating a 50th birthday. The yurts and facilities are lovely. Amazing bathrooms for a campsite. Despite the time of year, we were warm and toasty during the day/evening and overnight. Jane and her family could not have been more helpful. We had great fun making pizzas on Friday night and Jane took a lot of care to accommodate dietary requirements. Glorious views over Chipping Camden, an easy 15/20 minute walk away. Highly recommended.
Great fun weekend
I stayed for two nights at the yurts with 9 girlfriends for a uni reunion. Jane was very helpful and there's literally everything you could need! The yurts are beautiful with very comfy beds, a little log burner and stove for brews. Very clean bathrooms just across the field with a fully equipped kitchen and the cooker in the kitchen shelter by the tables and fire pit and pizza oven. Very sociable space, and only 15 minute stroll into chipping Campden. Made for a memorable different weekend, hugely recommend x
Home from home, without the disruptions!
Upon arrival made to feel welcome by Jane, homemade cake waiting, what more could you ask for? Every detail has been thought of that you may need - to make time away from the stresses of day to day life, without the stresses of erecting a tent and everything that camping entails a truly 'glamping' experience. The Yurts are spacious and as if no one has stayed before you, to have your own fridge, bathroom and all of the other endless facilities on site made this a home from home, but also a world away. A truly relaxing eperience in a beautiful part of the country.
Super accommodating
An amazing site with everything you need for an enjoyable stay. Our children (1 & 4) had a super time, loved Milly the dog, the chickens, making pizzas and everything about staying in the yurt. We had an unfortunate journey, breaking down 30 minutes from the site but Jane came and picked myself and the kids up whilst husband waited for the AA. We were so grateful and relieved! We were then lucky enough to find a lovely family staying in the other yurt. Our children soon made friends and had fun playing outdoors and loved the novelty of the hammocks. The site has everything you need and it was so easy with children, having plastic bowls, cups etc, highchair available. We would highly recommend staying here to anyone.
Comfortable beds, great nights sleep
As only two yurts you get a feeling of independence, own fridge, own spacious bathroom, loads of space around the yurts. Jane makes you feel very welcome from the off, delivering delicious homemade cake, while not intrusive to your break. Everything has been thought of and totally functional, in fact luxurious. We did not need to ask for anything or reports anything not working. Was made even better by fabulous weather, but when there was a little shower at night added to the atmosphere in the yurt with the twinkly lights and log burner alight, so cosy! Lots of beautiful walks, but we hired a long boat for the day on the River Avon, 'Bidford Boats' (10 miles away), really fantastic day out, book ahead though. Well done Jane, we will return.
Beautiful location!
Campden Yurts are located in such a beautiful area. If you plan to walk through the Cotswold countryside, this is the place to start. The yurts are charming and comfortable. Jane is a terrific host. We thoroughly enjoyed our stay.
Comfortable, Cosy & Everything You Need!
I stayed in one of the two Yurts with my 3 daughters. The beds were super comfortable and everything you could possibly need is provided. We happened to pick the only weekend this summer it has rained but the Yurt was warm and cosy and the log burner was great. They have a shared kitchen which has everything you need and our own shower room which was a great size and the shower was a good pressure. Everything very clean. One of my daughters favourite bits was making the Pizza in the outside oven, lots of fun. Jane was great helping us and throughout the long weekend nothing was too much trouble. All in all a lovely location in the Cotswolds and lovely accommodation.
The most relaxing weekend
Stayed here last weekend with 4 friends. We were all warmly welcomed on arrival by Jane and she'd even decorated the yurt to accommodate a birthday. The yurts are so cosy and decorated with a homely feel. The pizza making is a must and was our favourite night! It was the perfect location to catch up with friends and get some country air. The toilets and amenities were all spotless and easy to use. Already looking for an excuse to book again!
Glamping indeed/zeg dat!
We had a very comfortable stay in the Buttercup yurt last week. Our kids (9, 7 & 2) loved being outside, but also sleeping in a tent that looked like a little palace. The facilities were great and the pizza event was very entertaining and tasty. The yurt tended to get very hot during daytime, but that is quite logical with the exceptional summer it is this year. It cooled down pretty soon in the late afternoon. Jane and Neill were very nice, welcoming and helpful. Jane even arranged a proper wheelbarrow for our youngest to play around with. ;-) We imagined it would be a great place to come back to, maybe even better with another family, to share the unique place with loved ones. KORTOM: gewoon boeken!
Absolutely fabulous!
Had the most amazing stay earlier this week. Jane made us feel instantly welcome and the Yurt and facilities were absolutely first class. The welcome cake was a lovely touch and Jane showed us around so we knew where everything was and how it all worked. Stunning location and so close to Chipping Campden town to get all your food and site seeing. Happily would have stayed longer and will definitely be booking to stay again soon. So relaxing and nothing was too much trouble. Also try Jane's mums fantastic jams and chutneys! We bought so many jars to eat whilst staying and to take home! All in all 10 out of 10! Thank you Jane to you and your family. X
Countryside with a twist!
When you have great weather it's hard to have a bad time, but even without Jane made sure we enjoyed our bank holiday. The lemon cake upon arrival was outstanding. You have everything you need to be comfortable. I highly recommend taking advantage of the pizza oven for a lovely dinner. If you are not a camper like me some things to note--the yurt gets cool very cool night, there is wood to heat up a log burner. The opposite is true that the yurt gets very warn in the morning as the sun pours in. Both the early rising sun through the oculus and rooster will wake you up early (it's part of the charm!). The property also has chickens and the land beside has cows and horses. Plenty of sheep very nearby. I can't wait to come back!
Beautiful setting, comfortable yurts and excellent facilities
The yurts are beautifully furnished, and wonderfully clean both inside and out. The private bathroom is a nice touch and the cooking facilities are excellent. Jane has provided plenty of pots, pans, cutlery etc, everything you need. I honestly cannot fault our stay at all. We will definitely be back. There is lots of things to see and do nearby and the lemon cake was delicious. Thanks for a wonderful stay! Highly recommended!
Wonderful Family Time
Chipping Campden is a gorgeous market town with fantastic eating places - Huxleys is great for breakfast and Bistro in the Square was gorgeous too. The yurts are comfortable and welcoming and everything you need is provided. The toilet/shower and kitchen block are excellent. There are walks on your doorstep. We arrived to a homebaked lemon cake, which was gorgeous and a basket full of logs. The fairy lights in the yurt add to the experience and make it very intimate and pretty. The weather was not onside so the only thing they would have made this break perfect would have been the appearance of the sun If you are looking for a stress free outdoors experience with the benefit of a comfortable base then this is for you
A great glamping experience for all the family!
We stayed in the yurts here in July 2017 for 3 nights. The yurts are excellent: high quality design, spacious, comfortable beds, very nicely furnished. They also include a stove and lights that can be activated via portable power boxes supplied. The site is very well equipped - nice kitchen with everything you need, 2 decent bathrooms with toilets, sinks & showers. Plus another wooden area with a gas cooker and utensils, situated next to benches where you can gather to eat. The kids loved roaming around the surrounding fields - very picturesque area with some farm animals, chickens etc. The family who run the site are extremely nice - they really do try to make the stay as enjoyable as possible. Really worth making the pizzas - they provide a proper stone pizza oven, and a lot of effort is made to show everyone how to make the pizzas. A really fun activity for all. Overall, we strongly recommend for a family glamping trip. We will visit again.
Lovely family break
When we arrived Jane was very welcoming and ensured we had everything we needed spending time showing us around the facilities which are at a very high standard. Our 3 children immediately started exploring the site which has a lovely countryside feel where you can relax in a safe environment. We had a lovely few days and our autistic son was very calm and enjoyed being at one with nature in the peaceful and beautiful surroundings. The yurt was much bigger than we had anticipated and was warm, comfy and very well equipped. Jane and her 2 children were a pleasure to spend time with and we look forward to returning to Campden Yurts and would highly recommend the site to everyone.
Warm bed under starry sky
The perfect combination of a bed so warm and comfortable it feels like home in a magical round space that keeps you gazing about in amazement at its beauty and charm. Beautiful views, and a brilliant cob-pizza oven experience. The owner couldn't have been more helpful and kind. When tenting is too much like hard work and hotels too dull, Campden Yurts offered just the right blend of adventure and luxury, can't wait to go back.
Best Price Guarantee, with no fees
Instant booking confirmation
Trusted for over 10 years
A chance to win £50 of Cool Camping vouchers!
Book campsites near Campden Yurts