A pair of cosy private yurts, a wood-fired hot tub and acres of space all to yourself
There's a constant fight going on at Walnut Farm and, try as we might, we can never quite pick the winner. It's a two-way tussle between the yurts (in the red corner) and the surroundings (in the blue corner). Both are battling it out to impress you.
On first arrival, it's the yurts (Russet and Pippin) that have you won. Situated in their own separate, private paddocks (the former in a meadow above the farm; the latter by the cherry orchard), the light canvas structures sit upon larch decking with wonderful views across the valley. Inside, each cosy abode features exposed wooden latticework criss-crossing its way to the ceiling, crowned in the centre with a traditional circular window that pools in natural light and allows indoor stargazing at bedtime. The furnishings are in keeping with the style – Moroccan-style rugs, a cosy wood-burning stove, hand-carved bedside tables crafted from an alder felled just yards away. But Walnut Farm isn't lacking on modern comforts, like a Nespresso coffee machine and electricity throughout. Then there's the fancy en-suite bathrooms each yurt boasts, with an excellent shower, proper flushing loo and all the toiletries and towels provided. The whole place is a cocoon of glamping comfort.
You haven't settled in for long, however, before the view from your yurts open doorway draws you out. The surroundings are next to win you over. Set within 12-acres of farmland – a maze of fruit trees, streams and paddocks – guests have plenty of space to roam, with several footpaths leading directly from the farm. The nearby cherry orchard is home to the Walnut Kitchen, a third yurt which houses a shared kitchen, with a sink, stove, cabinets and cooking utensils to use, plus a clearing space for evening campfires and a clay pizza oven you can use. Then there's the ultimate luxury of a wood-fired hot tub beneath the stars, the perfect place to end your evening.
The landscape beyond provides countless options – this isn't a place for indecisive campers. To the east, you walk through meadows and stroll over bridges to Loscombe Nature Reserve, a haven for birdlife, while to the west there's the Half Moon pub, an equally short wander away. South, meanwhile, Dorset's famous Jurassic Coast unfurls before you – it's around a 10-minute drive in the car – and then there's the vibrant town of Bridport that stops you along the way (a particularly nice spot to explore if you want shops to hide in during a rain shower).
Options abound and there may be endless choices but at least Walnut Farm solves one decision for you. Where to stay next time you go glamping in Dorset. Ahh, problem solved. Nespresso anyone?
Best Price Guarantee
Easy and Secure, with instant booking confirmation
Trusted for over 10 years
A chance to win a brand new Coleman tent!
Gallery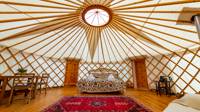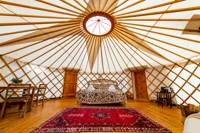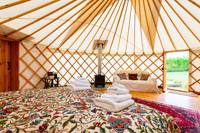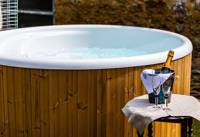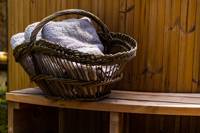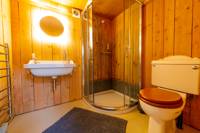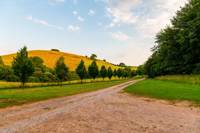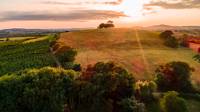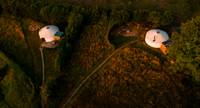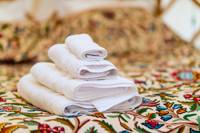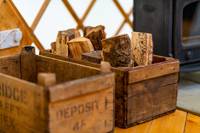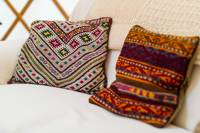 Video Tour
The Owner Says
At Walnut Farm we invite you to slow down, relax and enjoy our luxurious glamping experience. We are situated in a truly secluded and tranquil spot in West Dorset on the edge of a nature reserve, where you are guaranteed a unique and peaceful break with spectacular views.
Russet is a spacious yurt with a hand crafted en-suite bathroom, which is tucked away in its own paddock on the side of a hill with fabulous views. The yurt has a superbly comfortable vi-spring superking bed made up with the finest linen and downs for an unforgetable nights sleep. Rustic log bedside tables, beautiful rugs and individual vintage furniture make for a unique stay. The en-suite bathroom has a proper flushing loo, sink and a piping hot shower – we also provide you with an abundance of fresh cotton towels.
We have a wood fired hot tub that you are welcome to use during your stay. It costs £35 per day and we can get it ready for you. We can host a pizza evening in our wood fired pizza oven for you using local ingredients for £15 for adults and £7.50 for children. Both the Hot Tub and Pizza Oven can be booked in advance or once you have arrived.

There is something truly magical about sleeping under canvas and being able to watch the stars come out from your bed. Despite being tucked away in beautiful countryside, our farm is less than 5 minutes drive to the vibrant market town of Bridport and pretty harbour of West Bay, part of the impressive Jurrassic coastline, a 'World Heritage Site', making us perfectly situated to explore this spectacular area.
Reader Reviews
Add Your Review
Total relaxation in the countryside!
From the moment we arrived at Walnut Farm it felt good. The place is beautiful and reminded me of what it must have been like years ago before the world went crazy and before we started to polute our beautiful planet. Walnut Farm could be the setting of an Agatha Christie TV show in olden times in the English Countryside. It is our second experience of glamping and we both loved it. The bed was so comfy, warm and snug. It was pure bliss eating breakfast outside the kitchen yurt. The two dogs, Dotty and Betsy are such characters, great fun. The en-suite is a perfect addition to the yurt, our first glamping experience was brilliant, but no en-suite. I guess if the yurt could be improved, a very small fridge would be good for keeping the milk cold, but it is just a short and very pleasant walk to the yurt kitchen to get the milk! I would highly recommend Bridport Market on Saturday morning - fantastic! Molly, Nick and Jane were all very lovely. Good luck with the flower crop Jane - you certainly work hard and deserve the rewards!
Fabulous few days
A wonderful spot for some rest a relaxation. Highly recommended. Enjoyed equally by adults and our two daughters. We will definitely try to return
Amazing experience for the whole family
It is hard to add anything new to all the reviews before. Everything has already been said about this truely amazing spot among the old orchards - wonderful hosts, great bed, fantastic yurt, gorgeous and unique site. Maybe one more thing: Molly's and Nick's place is also a perfect location to come to with kids! We came all the way from Germany for our summer vacation and stopped for 3 nights at the Walnut Farm and our kids loved it: lots of space to run free, a hammock, table tennis, and the pizza making and baking in Molly's self-made pizza oven! Our boys also loved sleeping in the yurt (always magical) on comfy mattresses on the wooden floor - still enough room for everybody! Thank you, Molly and Nick, for making us feel so at home and welcome. We will definitely come back!
Truly a lovely retreat!
My partner and I stayed here not long ago and we had a great time. Molly and her husband could not have been more accommodating and welcoming. The yurt itself was just amazing and so well built. One night we made our own pizzas in their homemade wood fire pizza oven and afterwards we bathed in their wood fire hot tub! Truly a lovely retreat.
Rest and fun in perfect nature
We had the most amazing week staying in the Russet yurt at Walnut Farm. The place makes our previous 'glamping' experiences seem like roughing it: the yurt was so well thought-out and well put together, and equipped with a bed that oh my god we had the most restful sleep in. And we were made to feel like we were staying with old friends by Molly and Nick - such a wonderful and inspiring couple! All this in the most beautiful surroundings, a short trip from the coast and a short walk to the most delicious cider on earth. Just book and go. It's amazing.
Such a gorgeous spot
We absolutely loved glamping at Walnut Farm. Having only hardcore camped this was utter luxury and encompassed all the best bits of camping without the hassle. Our yurt was peaceful, relaxing and extremely comfortable with a divinely comfortable bed, White Company linen and an ensuite bathroom with fabulous shower. The discovery of the electric blanket was the icing on the otherwise amazing cake and we did light the wood burning stove, even at the beginning of June, for a truly cosy nights sleep. We cooked every evening on the huge fire pit outside our yurt and the children toasted as many marshmallows as they could get away with! The kitchen yurt was just a short walk down the hill through a pretty cherry orchard and was so well equipped, we wanted for nothing. The location of Walnut Tree Farm is idyllic set in rolling Dorset countryside yet a hop skip and a jump from the stunning Jurassic coast with oodles going on. We were planning to walk over the field to the local pub one evening for dinner but didn't really want to leave our gorgeous temporarily home and private fire pit. Nick and Molly are lovely and the most brilliant hosts - they have put so much thought into the detail to ensure that everyone's stay at Walnut Farm exceeeds their expectations - it certainly did ours. We all returned home so relaxed and we can't wait for our next stay at Walnut Farm. Thank you Nick and Molly!
Magical - Heaven is Yurt shaped
Definitely the most amazing place we have ever stayed!!! the yurt is stunningly furnished. Imagine a 5* hotel room but better and yurt shaped. Although it was the end of October the weather was beautiful , so we managed to have a BBQ outside the yurt on the first night using the fire pit. The en- suite was perfect, everything just like in the yurt is finished to perfection. The bed is the comfiest we have ever slept in- it was heavenly and the electric blanket made it very cosy. The lovely wood burner which we were provided with plenty or logs and kindling for and fairy lights made our stay even more magical . Then there is the kitchen yurt with everything you need to cook your gorgeous homemade/ local produce breakfast Molly can provide you with. It was gorgeous and sitting outside in the morning sunshine was very special. Molly and Nick ( and there family ) are literally the kindest most obliging people you will ever meet and they couldn't do more for you. They were so lovely at all times. The short walk over the fields to the Half Moon pub for a really yummy meal was fun and we were very pleasantly surprised by what a lovely pub it was -the food we can highly recommend. If you want to getaway from it all and have a really magical experience in a beautiful location this is the place for you . Molly and Nick thank you for everything . X X X
What a little gem!
What a little gem we found! Booked the day before very last minute and were thrilled to find out we were the first ever guests to stay at Walnut Farm, and what a great decision it was.. Molly and Nick were so welcoming and couldn't do enough for us, from the very minute we walked on to the Farm we were made to feel at home. It is in such a beautiful setting surrounded by rolling green hills and lots of trees; it really is a stunning place. The kitchen yurt has everything you need and more and we liked that it was in another small yurt which carried on with the glamping feel. Russet Yurt itself is gorgeous, and huge!! Filled with the highest quality furniture, the bed is the comfiest I have ever slept in (quite literally like sleeping on a cloud!), the Ensuite bathroom is like a luxury bathroom you would find in a hotel but still feels rustic and smells like a sauna! My boyfriend especially liked the nespresso machine in the yurt. We were lucky enough to have a BBQ and eat al fresco on the decking, then toasted marshmallows on the firepit after, what more could you want when glamping? The stove in the yurt was pretty impressive looking and kept us warm and cosy, this was my boyfriends job as men love making fire right? We loved that all you can hear is sheep and cows during the day and owls at night which is so tranquil. We decided to get the extra continental breakfast one day and the English breakfast with local produce another and everything provided was delicious so would definitely recommend doing this. The location is great, minutes from the beach (the one on Broadchurch!) And we also went to Monkey world (would definitely recommend) and Weymouth. We had planned to go kayaking in Lulworth Cove and Durdle Door but unfortunately we did have some rain so got cancelled, but that gives us a reason to return to Walnut Farm! We walked over the field to the local pub The Half Moon and had an amazing meal and would highly recommend going here, the walk through the field with torches was fun in itself! We have stayed in yurts before but the feel of Walnut Farm and Russet Yurt and having lovely hosts will definitely be bringing us back here. Thanks to Molly and Nick, we will see you soon! Charlotte and Ollie x
Book campsites near Walnut Farm Glamping