Rolling Dartmoor views from the yurts, from the shower, and from the rolltop bath...
Once you've admitted to the camping fraternity that you're really more of a yurter, at Devon Yurt Glampsite you need to decide whether you're a Great Links or a Little Links type. While Dartmoor views unfurl from the oak door frames of both, and each hogs a prime spot on Devon's edge of the Tamar Valley, the characters of these stylish yurts are quite different.
With its enclosed garden and proximity to the shower house (we're talking slate-floored, glass- fronted wetroom overlooking rolling moors), Little Links is well suited to families with little kids. Hens and geese cluck and gabble over the fence, there's a barbecue-cum-campfire area and – perhaps the most important detail for romance-starved parents – the wood-fired bath awaits just footsteps from the yurt.
Great Links shares the same facilities, but attracts slightly more adventurous yurters. In an elevated meadow a short walk from the farmhouse, here you are rewarded with more space, more seclusion and a sleigh bed from which you merely have to plump your pillows to watch the sunrise. Getting so beautifully far away from it all comes with a downside: the walk to the amenities in pitch darkness. But fret not, there's a long-drop loo with a throne-style chair much suited to regal yurters.
Whichever yurt suits you, it's the little things that makes glamping at this place special: the fire ready-prepared, freshly laid eggs for breakfast, the veg and herb garden and home-baked rainy-day cakes.After all, how many campsites have you stayed in where rain is something you actually look forward to?
Gallery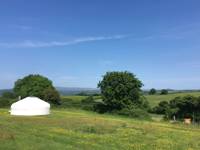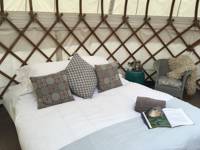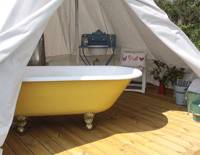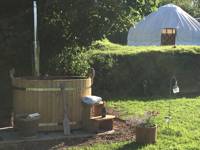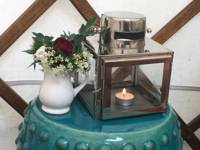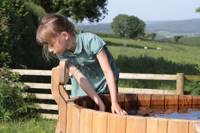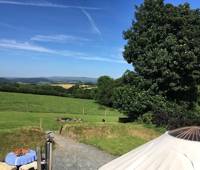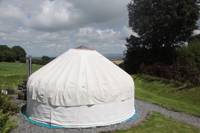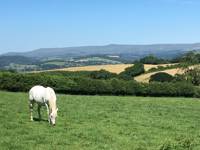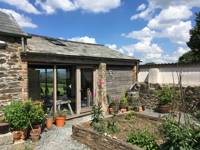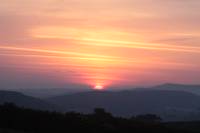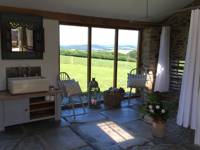 Video Tour
The Owner Says
Here at Multi award winning Devon Yurt we are passionate about many things. Firstly, our landscape, our stunning views towards Dartmoor from the farm.These views are what inspired us to start our glamping business here many moons ago.This is what gives our site its WOW factor!
Secondly, we value the peace and quiet of this location and we are proud to announce that we are probably one of the least densely populated camp sites in the country ! Here on our 18 acres of nature friendly farmland, it is just ourselves, yourselves and our animals. We have just two award winning yurts, each set in their own meadow with their own fire pits and outdoor eating area where you are free to soak up the great outdoors without interruption from fellow campers, allowing you - our valued guests, all important space and privacy. We wouldn't want to camp in a field filled with other guests so we don't expect our guests to do so either! Each yurt has a  wonderful log fired, fresh water hot tub,  for its own private use.
Next we value the wildlife in this haven, the early morning birdsong, the bats, the foxes and badgers, the hedgehogs and butterflies, we encourage our guests to notice of what is around them.  We have bird tables and guidebooks and nature logs for each yurt. One guest announced last Summer, 'It's not every morning you see a buzzard on the way to the bathroom!'
Next, we are passionate about our domestic animals, our chickens – you can collect your own eggs from the hen houses!  – our rare breed Devon and Cornwall Longwool sheep which you can help feed, our new flock of stunning Zwartbles sheep and our Connemara ponies which you may see being prepared for the local shows in the Summer and our fox red labrador,  Archie, who is always happy to welcome new guests !
Last, but not least,  we are passionate about sharing this hidden corner of the world with you, about making your holiday truly memorable and providing you with a retreat from our all too often frantic lives, making your holiday truly relaxing and enjoyable.
Reader Reviews
Add Your Review
We'll be back!
Arrived at Devon Yurt reasonably late on a Thursday evening to be met by the lovely Julia who made us feel very welcome right from the off.
We got settled into the Little Links yurt very quickly which was very comfortable, particularly with the log burner fired up using our complimentary basket of logs.
The facilities at Devon Yurt are fantastic and I would recommend it to anyone looking for a nice relaxed break in Devon either with children or without.
We will definitely be going back!
Response from Devon Yurt
Thank you for your kind comments,  hope to see you here in Devon again soon !
Our Super family holiday in great links yurt!
Just had the most amazing week in Great Links Yurt. So spacious and cozy for our family of 5. We ended up staying longer then planned. Very comfy bed, pillows and quilt. Fantastic nights sleep for us all. So nice to hear only the animals. Very relaxing time! We cooked breakfast and dinner outside and enjoyed eating it on the picnic table. The children were free to wander and play, mostly spending time at the animals; chickens, sheep and horses. We made great use of the table tennis indoors, bat & ball, frizby and cricket outdoors. The best part was long/late nights all sat outside around the fire, talking and roasting marshmallows. We do many holidays but this was top of our list. Already planning to come back! 
devon yurt
I had a great, but too shorter stay, at Devon yurt during the first week of august. Having only been to Devon once before I found it to be once again a very enjoyable experience. The picturesque location combined with the great hospitality has made sure that on my next visit to Devon I will definitely be returning to Devon Yurt.

Our amazing holiday in little links yurt
Last week we had a wonderful stay in Little Links yurt at Devon Yurt Glamping site. The yurt has a secluded feel within its own garden, and we enjoyed toasting marshmallows on the fire in our own field next to the yurt. There was lots to do in the area,  we had a lovely day on the north Cornwall coast at Crackington Haven and we cycled the granite way near Okehampton. The yurt is really romantic and we loved the fact that we were totally away from any other campers. We chose Devon yurt for this reason and that's what made it special, that and the extras like flowers and cordial in the room upon arrival and a fire ready to go! We will certainly recommend to our friends and family.
Devon Yurt
We've had a relaxing short break, it's so peaceful here and the bath tent with its stunning views was fab! At 10pm, the clouds cleared and we had an amazing night sky with a few shooting stars!! PERFECT. THANK YOU!

Devon Yurt
From the moment we arrived at Borough farm for our luxury yurt holiday we were struck by the most amazing views over Dartmoor,  a sense of gentle calm nurtured by Julia and her family to create a most relaxing and eye pleasing resort.  The campsite has a rustic charm about it with antiques,  vintage and recycled building materials in abundance.  Our thirst was quenched by some complementary elderflower cordial placed in our yurt,  other welcome extras were a bunch of cut flowers from the garden and sheepskins and throws and a hot water bottle on the bed. We had opted for the luxury glamping package so we also had a freshly baked cake ! we soon lit the ready laid fire to add further warmth to our yurt and to boil a kettle for the all important first camping cuppa !  There are only two yurts at Devon Yurt so each has plenty of private space.  In fact the yurts are set in completely different meadows ! Out and about,  when we could tear ourselves away from the wonderful views, we enjoyed walking on Dartmoor,  there are plenty of good circular walks in the guidebook we borrowed from the farm and many include a trip to a good Dartmoor pub too ! There are also some good local walks from the farm.  There are fantastic beaches to visit on the north cornwall coast which is just over half an hour away by car and some good days out in the Tamar Valley covering everything from tree surfing to cycling.  There were so many recommendations for things to do here it was hard to choose what to do   We all had such a wonderful time here and look forward to coming back in the future to finish our bucket list !
Devon Yurt
Wonderful holiday with the family, everything we needed for a relaxing break, will return!

Luxury Camping in Style
My stay at Devon Yurt was utterly charming from the very beginning. We were met in the drive by a friendy labrador and his new found friend Mr Fluffy the sheep who thought he too was a dog ! A mare and foal grazed in the front paddock and the views from the farm yard over dartmoor were stunning. The yurts themselves were beautifully presented with full sized beds with sumptuous cotton bedding the log burner kept us warm at night and the yurt was lit by candlelight. By day we visited the stunning beach at Crackington Haven and the beautiful national trust gorge at Lydford. There was a great farm shop to get barbecue supplies from and we could even get some organic provisions from the farm. A truly magical stay and we will be sure to return next year!
Best Price Guarantee, with no fees
Instant booking confirmation
Trusted for over 10 years
A chance to win £50 of Cool Camping vouchers!
Book campsites near Devon Yurt