Cornwall Yurts at Carnebo Holiday Barns
Luxury Mongolian yurts in North Cornwall, set in a prime inland location just ten minutes from the beaches of Perranporth
Cornwall Yurts is as refreshing as a chilled beer on a sweltering summers day. Within a one-mile radius of this low-key glamping escape there are no fewer than six different holiday parks, each brimming with motorhomes and rows of static caravans. Carnebo Farm, meanwhile, blooms like a rose among the thorns, a sanctuary from the crowds rather than a magnet for them. It boasts the same ideal location, of course, ten minutes from some of England's finest beaches and a stroll away from a gorgeous 19th-century pub, but it retains that refreshing, small-scale charm that makes it a firm Cool Camping favourite.
The site itself comprises a large, rectangular paddock based around a couple of converted farm barns and a more recently built 'woodshed'. The latter houses the ablutions facilities and a communal kitchen space. A new establishment, the facilities here really are top spec, with a modern kitchen that provides each yurt with its own fridge, cupboards and utensils and boasts a brand new oven and hobs. Outside there is a heated swimming pool, surrounded by a wood panel fence that creates a magnificent suntrap, while each yurt also has its own private BBQ.
It's the yurts themselves, though, which really stand out. Even as you pull into the short, gravel driveway you can see their coned tops, poking over a bushy entrance bank that shields them from the road. Like a row of seaside houses, they each have their own colour scheme, with cute pastel doors and matching décor inside. Despite the Mongolian origins they look wonderfully at home here. While the interiors are described as 'rustic' – wooden furnishings, exposed lattice walls, and bunting notwithstanding – the 32 inch flat screen TV certainly gives a very 21st century edge to it all!
While the swimming pool may be a big draw, the wilder options are within easy reach. Expansive Perran beach is around 10 minutes away in the car, a popular surf spot with a range of rental outfits in the overlooking town, while smaller coves and bays can be found further along the coast – best discovered via the coastal path. The very best are those only accessible by water, like tiny Hanover Cove, a sandy inlet beneath Cligga Head, with a dramatic yellow-rock sea cave and arch (join a kayaking tour to reach it). Further north Newquay boasts its own collection of beaches, Holywell, just to its southwest, is particularly good – walk to its far end to discover its sanctified wells where springwater cascades down a series of natural pools. When you're all worn out you can weave your way back through the streets of town to one of the countless excellent seafood restaurants or retreat to the tranquility of your inland yurt.
Best Price Guarantee
Easy and Secure, with instant booking confirmation
Trusted for over 10 years
A chance to win a brand new Coleman tent!
Gallery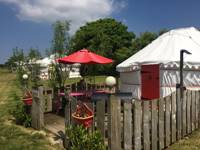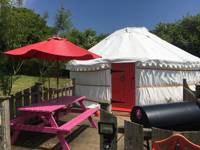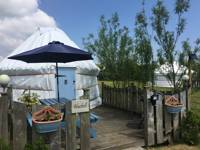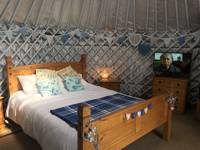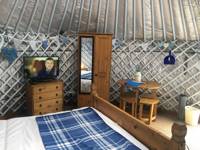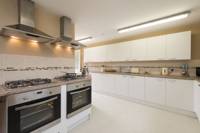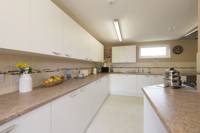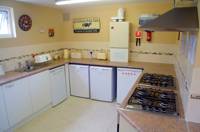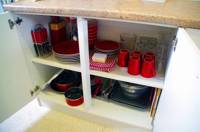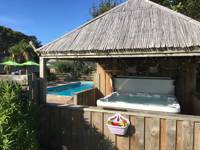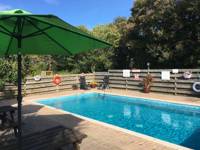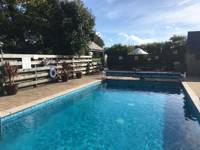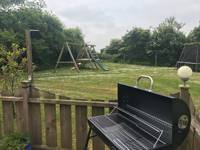 Video Tour
The Owner Says
Cornwall Yurts at Carnebo Holiday Barns are set in a perfect location just ten minutes from the miles of beaches on the North Coast of Cornwall close to Perranporth. A stay in a Yurt is far from your average holiday, where else can you feel so close to nature and be tucked up in a warm, comfortable bed by the end of the day! Each Yurt has been lovingly furnished with beautiful rustic wooden furniture and the grounds around the yurts has some fantastic facilities to enjoy including an outdoor heated pool and children's play area.
Reader Reviews
Add Your Review
It's like having a holiday cottage but staying in a yurt!!!
Everything you need is provided! The kitchen fully equipped, you don't need to bring any kitchen stuff, cutlery, glasses. Just bring food, wine and beer, I also liked having our own fridge. The freeze section is handy for ice blocks, ice cream and lollies. I liked having access to proper oven and hobs. Free to use washing machine very handy. Yurt was big enough for us (2 adults and 2 kids age 9 and 12), clean and comfy. DVD player and tv handy for rainy evenings. We liked the safe feel with only 5 yurts in total. The other four families were all lovely, kids loved playing with other kids on trampoline, in pool (which was always warm) and playing tag on the field. Lots of dogs, fine with us as my kids love dogs. This may put off and families with kids or adults who are afraid of dogs, as dogs mostly off lead wandering around all yurts. This was fine with us, kids enjoyed playing with the dogs. Hot tub is a nice touch. Very relaxing in evening as sun going down. Washrooms are clean and never busy. Showers always free and plenty of hot water with good strong water pressure. We really enjoyed our week, kids made some good friends. We are looking into coming back next year and would hope to stay in one of the larger yurts (Primrose, Poppy or Lavender). To sum up, on getting home last night both kids agreed this was their joint favourite holiday ever, they enjoyed it as much as two weeks in turkey five star! Thank you
Lovely holiday, shame about the rain
Lovely holiday. The yurt did smell a little fusty however we do realise this is posh camping and we were not blessed with the weather, lots of rain. However this didn't impact our holiday and inside the yurt itself was lovely and dry and heaters are offered. The heated pool and hot tub were still open for us to relax and enjoy. Got to love the great British weather! lol
A great summer family holiday Glamping in sunny Cornwall
Wow! What a fantastic site. We have just returned after a week in Poppy Yurt and I cannot fault this place. Our yurt was themed to the colour red (poppies) and even down to the matching kitchenware in the communal cook house. The attention to detail is just awesome and you don't need to bring anything with you! The pool and hot tub are the icing on the cake in the amazing weather we had and the kids loved charging about in the enclosed field making use of all the play equipment. Our only issue was broken slates on one of the single beds, however we reported this immediately and Andy the onsite handy man and one of the owners was there as soon as possible and replaced them. Great service and so friendly. Will 100% come again next year and aim to book the whole site of five yurts with friends and family. Thank you for a great holiday
Very cute yurts
Stayed in May 2018 and we loved absolutely everything! Brilliant site clean, friendly. Good facilities. Will be staying again!!
Amzaing, Amazing, Amazing!
It was our first experience with my partner to stay in a real yurt 😊⛺ When I saw pictures of @countryviewcottages I knew it will be an unforgettable place to stay in and I was right 😉 Our Orchid yurt was clean and cosy, you have all necessities including heater in case it gets cold, every detail was thoroughly thought out. Bathrooms and kitchen with all appliances were crystal clean, which is a relief for me 😄 Hot tub and swimming pool with warm water is just a cherry on top 😍😍😍 The owner, Andy, is very friendly and helpful and his dog Roxy is a superstar 🌸🌸🌸 In love with this place, we are 💯 coming back and also bringing friends, #countryviewcottages you stole my heart ❣ #yurts #livelovelaugh #amazingsky #love #breathtaking
Book campsites near Cornwall Yurts at Carnebo Holiday Barns