Tremeer Farm Yurts Cornwall
Yurts oozing luxury, one cedar hot tub, and the entire starlit Cornish sky
Hidden away amongst a warren of high-banked, tree-lined Cornish lanes, Tremeer Farm offers the ultimate test of your glamping credentials. To the untrained eye, the three structures all look like yurts. But one of these yurts isn't, in fact, a yurt. It's a ger. The distinction between the two, apparently, comes down to a subtle difference in the curvature of the roof poles. But the important thing is that they're all cute little pods of canvas cosiness, whatever they happen to be called.
 The yurts/gers are nicely spaced out, giving visitors plenty of room to roam, and all are comfortably furnished with wooden floors, cosy rugs, a wood-burning stove, plus a full-size bed with feather duvet. You can tell that owners Rob and Sarah (both avid campers) have lavished lots of love and a good measure of hard work on the transformation of Tremeer from working farm to a beautiful luxury camping destination. But true to the farm's roots, you're bound to bump into one or two animals during your stay. In fact, you may find it hard to avoid pet Kune Kune pigs Rosie, Piggley and Wiggley, who just love a belly rub – not to mention the clucking chickens, cute orphan lambs in the spring and the friendly Dexter cows in the nearby fields.
Cooking can be a communal affair with the camping kitchens housed in a listed granary. Each kitchen is shared between two yurts and is well equipped with camp stove, fridge and everything you should need to prepare a hearty camp meal. The more adventurous can cook out on a BBQ, in the communal pizza oven, or on a campfire under the stars. You'll be spoilt for choice filling your time at Tremeer Farm as it's only a short distance from Fowey, one of Cornwall's most popular seaside towns. After exploring the hidden coves and stunning walks nearby (Cornwall's South Coast Path is a few miles away), soak your tired muscles in the wood-fired cedar hot tub back at camp, before melting marshmallows or cooking over an open fire under the stars – real chilling, and glamping the Cornish way!
Gallery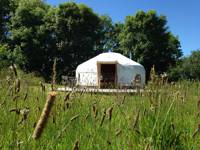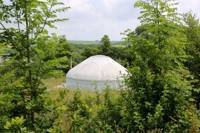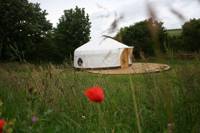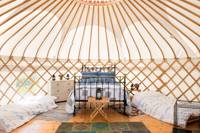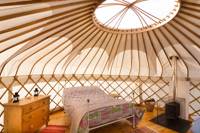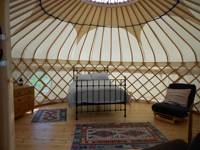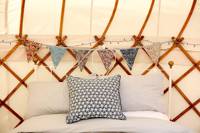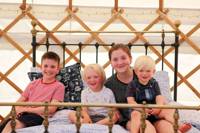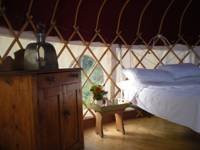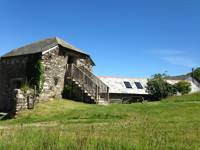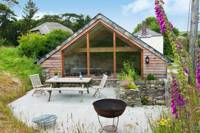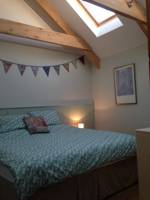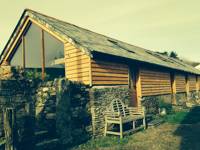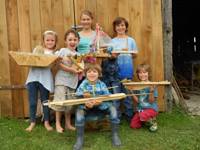 The Owner Says
**Book by January 31st 2019 to receive one of our Glamping Hampers full of local goodies**
Tucked away in the Cornish Countryside, just over a mile from the South Coast Path,  you will find Yurts Cornwall on a small traditional Cornish Farm.  There are 4 beautiful  yurts, furnished with brass beds and a wood burning stove, sleeping up to 4/5 people.  There is also a funky barn conversion sleeping  up to 8 with a large open plan living space and farmhouse table.  Relax under the stars at night  in the  wood fired hot tub, play badminton in the large rustic play barn or cook supper in the  wood fired pizza oven.  The yurts are well spaced apart making it perfect for romantic breaks or a  family holidays.  It is also an ideal location for groups as if you hire the 4 yurts and Long Barn you will have exclusive use of Tremeer and all of our facilities.  There is a large rustic barn which can be hired for special celebrations. Glamping site on a traditional Cornish Small Holding situated on the South Coast of Cornwall. Four 18ft Yurts and our Long Barn accommodation. We can sleep 28 in total.
Wild Strokes Retreat 15th – 20th September 2019
Connecting to the Wilds of the Cornish Coastline
Wild Strokes Retreat is an invitation to step away from our daily lives and into the ebb and flow of the Southern Cornish coast. Through a daily rhythm of meditation, walking and wild swimming we will create and cultivate opportunity to connect more deeply to ourselves, to each other and to the physical landscape that hosts us. 
Reader Reviews
Add Your Review
Amazing location...
WOW, what a holiday!! We spent the week there in early August 2018, five families with 10 adults and 15 children, and had quite simply the most amazing holiday... Rob and Sara have built something truly special. The four yurts are spaced out across the field creating a truly private camping experience, with beautiful private camp fires for each hidden in the long grasses, with amazing views over the rolling hills... the long barn was a great addition as well for the one rainy evening we had. The kids enjoyed the play barn, the kids and adults loved the wood fired hot tub, while we all loved Rob and Sara who were incredible hosts... from taking the kids each morning to collect fresh eggs from the chickens and feeding Rosie the pig, the lambs and cows, to providing the adults great conversation while we cooked the pizzas in the wood fired pizza oven... we can't wait to return to see Rob, Sara and the animals!
Cadre idyllique pour vacances relaxantes
Nous sommes partis une semaine dans la ferme de Sara et Rob avec nos trois enfants, tout était parfait. Après avoir parcouru quelques jolies routes très étroites, on aboutit dans ce havre de paix : une jolie ferme et son immense terrain loin du bruit et de la pollution !
4 yourtes sont posées dans une magnifique pature collée à la ferme et au gîte, l'endroit est calme tout en permettant d'échanger avec d'autres familles (2 cuisines sont à disposition dans la grange et l'appentis, les salles de douche sont proches des yourtes dans l'appentis). Tous les matins à 9h, les enfants peuvent aller nourrir les animaux avec les propriétaires, un régal pour les petits ! Et en journée ou le soir, on peut utiliser en famille le "hot-tub" chauffé naturellement pour se relaxer. Si la pluie est là, pas de soucis, il y a plein de jeux dans la grange pour occuper les enfants. La campagne alentour et les côtes sont magnifiques, l'accueil de Sara et Rob est très naturel et chaleureux. Un pur moment de détente et de retour à la nature que je recommande les yeux fermés !
Et pour les moins aventuriers, le gîte est très beau et tout neuf !

Yurts Cornwall, Tremeer Farm
We have just returned from a weekend at Tremeer Farm for a very special hen do. We were greeted by the delightful Sara and Rob who throughout our stay were nothing but perfect hosts. On arrival we were met with Pimms, a pot of tea and homemade brownies! 
The farm is situated in an idyllic spot which sets the scene for the perfect escapism. With lots to do in the surrounding area we were able to experience a fabulous beach within a few minutes of the farm. With very knowledgeable and helpful hosts you will be guaranteed an experience to suit your interests. 
A weekend which shall always be fondly remembered by our group and will definitely be returning in the future! A big thank you from Sophie's Hens!

Yurts Cornwall, Tremeer Farm
We have been to Tremeer for 4 consecutive years now. Each year when we offer our children the opportunity for any other style of holiday they turn it down preferring to go to "our" yurt. This year was a true test as we camped at Easter in sub zero temperatures, but still we had an amazing time! 
The yurts are so cosy, the hot tub was even more welcome too! If you need an "away from it all" break this is the place to go. Don't bother taking too many board games, electrical games - we take less each year and they remain untouched, the children just love making camp fires, helping with the animals and playing in the barn when the weather is not perfect. All you need are some good books to sit and enjoy whilst the children are safe. 
The setting and accommodation are beautiful, but I have to say Rob and Sara make this holiday. Nothing is too much trouble for them, they are so helpful making sure they provide everything you may need right down to the ketchup you forgot to buy for the barbecue!! We are confident if you book a holiday here you will not be disappointed.

Yurts Cornwall, Tremeer Farm
A really great holiday as first timers - we would definitely stay again. A incredible experience I would recommend to anyone!
Yurts Cornwall, Tremeer Farm
Our third trip back to Tremeer Farm and we had another fantastic stay, we even brought 3 groups of friends with us! Our children want to move in permanently & we've still got one more yurt to try so we'll have to go back! The boys had a great morning mackerel fishing with Steve on Luna Blue & we had a chilled day on the beach at Talland Bay beach, which catered for everyone, from the aspiring triathlete wanting to test her open water swimming skills to the smaller shell collectors - the cafe is lovely & well deserves its rating as one of Cornwall's best beach cafes. Hope to be back at Tremeer soon.
Yurts Cornwall, Tremeer Farm
We cannot rate Tremeer Farm highly enough after a amazing week there.  Again, we researched the holiday well and were not disappointed as it was beyond our expectations. 
Rob and Sara were so accommodating and were fantastic hosts recommending local delights to visit for food and activities. This was tremendously helpful as we've never visited the area before and it resulted in a wonderful week we'll never forget.
Our girls utterly loved the fact they could run, play and feed the animals to their hearts content. 
We could not recommend this experience and holliday highly enough. The Berries from Yorkshire x
Perfect Family Escape!
I can't recommend this place enough! We had a simply fantastic time. Okay, we were super lucky with the weather and picked the only time in May that it didn't rain to visit, but there is SO much to recommend about Tremeer Farm: 1. The yurts are fantastic. Luxurious, spacious, well spread out 2. The fire cooking provisions are brilliant - this was a total highlight for us and we managed 100% of meals on the fire! Rob and Sara were a great help too, they lent me some cook books for ideas and I strongly recommend that you buy as much of their own produce as you can - from bacon to apple juice, it was all superb. 3. The kitchen & washing facilities are excellent and very easy for a family with little ones to use 4. The animals are great - the kids can join in with feeding time and egg-collecting (we were scuppered on this front my a badger unfortunately...) 5. There is a huge play barn for if it does rain and a cool wood-fired hot tub which is enormous fun 6. The surrounding countryside is idyllic - birdsong, wildflowers, meadows 7. Rob & Sara are lovely - really friendly and helpful! I can honestly say this was the best break we've had since having kids - partly the children are now of an age where they'll play together - but the setting was so conducive to relaxing and slowing down that it meant we just had such good family time together. Days became all about collecting wood (they do provide you with wood - but wood collecting is fun! And they leant us a wheel barrow!), cooking on the fire, wandering through the wild flowers and smiling. A really wonderful break!
Tremeer Yurt Holidays
As a family we've been very well acquainted with Fowey and the surrounding areas for many years now so wanting to get away for a pre-summer mini break we opted to go to Tremeer Farm with some friends for Easter. We really had special few nights away and both Rob and Sara and their family made us feel so welcome and relaxed right from the word go. The Yurts are just great, with a comfortable bed including a feather down duvet and bed spreads, a cosy bed for our eldest daughter and a handy travel cot for the little one (which saved us space in an already over loaded car!). A lot of thought has gone in to the site and the Yurts themselves. All very comfortable, with cosy log burners in the Yurts on the colder evenings, handy kitchen areas with everything you need and clean bathroom and shower areas. This is without losing the appeal of being in the wonderful Cornish countryside and making the most of the fresh air and excellent walks. The children had an absolute ball and were on the go all day, starting with feeding the lambs, collecting the fresh eggs for breakfast and dipping in the hot tub at the end of a long day visiting the beaches or pottering around Fowey. Rob & Sara even provided a mini-Easter egg hunt for the children which was lovely on the Sunday. The little things go a long way. When the children went to bed, we lit a fire in our pit and cooked our sausages and other meats sourced from the farm whilst drinking a few bottles of wine under the Cornish sky. Perfect. All in all a great location, a warm welcome, super comfy Yurts and you leave thinking about booking up again the following year. Recommended. The Howe's & The Anderton's
Tremeer Yurt Holidays
We spent a glorious week at Tremeer Farm in Fowey. The yurts were very clean and beautifully decorated, the kitchen and shower block are new and well kitted out. Sara and Rob who run the place with their two children couldn't have been more helpful or friendly - from allowing to collect eggs from the chickens in the morning, so putting a load of washing on for you, to the welcome tray of cake, tea and beer on arrival. It's a small site with only 3 (tho i think now 4 yurts) and an ideal base to explore Cornwall and its many stunning beaches. Jamie Oliver's Fifteen is nearby-ish and there are local caravan parks with indoor pools if the weather gets bad. We had amazing weather and the kids loved feeding the chickens who wonder round Tremeer, tho weren't so excited by a visit from the pig when they were on the loo! There is an outdoor hot tub for the adults and loads of room for the kids to run around, including a trampoline in the hosts garden, which they are happy for you to use. I felt the children were very secure and didn't worry about them wondering off out of site. All in all a fantastic week and can't recommend highly enough.
Tremeer Yurt Holidays
Fantastic! Rob and Sara and family are just lovely and run a really nice and professional camp site. The yurts are super and so comfortable and our holiday was wonderfully relaxing and such fun. Having 3 young children we were not quite sure what to expect or how the kids would get on but we need not have worried. The farm is so tranquil and ideal for youngsters to play around and have some freedom without being having to be closely supervised. And the animals were just great! The fact that the big pig resembled my husband made us all laugh every time we saw it and we will definately be going back next year.
I cant reccommend Tremeer more highly as being such an efficient and great fun place to go. Civilised camping run by lovely people!
Tremeer Yurt Holidays
We had the best holiday here. Rob and Sara could not be more friendly and genuine, even making a lemon drizzle cake for us. The yurt was beautiful and cosy, with pretty wild flowers in vases. We loved the bed and duvets and our little girl loved her futon bed with pretty childrens duvet cover. The table and chairs outside were perfect for an evening bottle of wine.
The kitchen was fab, cooking outdoors is great but with really young ones (3months and 2 years old) you need a little more. Microwave for bottle warming and high chair provided.
The bathroom block in the barn was fantastic. Clean and tidy at all times. Big family sized room which made it easy to get the kids cleaned.
We loved the farm and our little girl loved the pigs and chickens and lambs and cows.
The area is fantastic also, lots of lovely beaches and National trust places nearby to visit. Rob and Sara were happy to give their suggestions.
Hoping to return again soon. A fantastic holiday.
Tremeer Yurt Holidays
We cannot recommend Tremeer Farm enough! We enjoyed every minute of our stay which with tea, fizz and delicious home made brownies. The children enjoyed collecting fresh eggs each morning and enjoyed feeding Rolo and Rosie the pet pigs. (who particularly enjoyed our daughter's birthday cake). We all enjoyed foraging for wood and the local beaches were amazing. And what better way to unwind after a long walk but in a hot tub! We have been yurting before, Tremeer Farm is glamping at it's finest. Our yurt was simply divine and bordering on palatial, a great deal of thought has gone in to every detail. You have a kitchen, which includes a fridge and full cooking facilities (including microwave). Although if you're like us, you can cook on a tripod over the open fire, sit under the stars and fall asleep to hooting owls. We enjoyed our stay so much we've booked again for next year already, but shhh please don't tell anyone, let's keep this haven our secret.
Tremeer Yurt Holidays
We had an absolutely fantastic time at Tremeer Farm. Sara, Rob, Charlotte, Jake, Rosie, Rollo, Florence and Floyd made us feel so welcome and relaxed and really went the extra mile to make sure we had everything we could possibly need and made the most of every minute we had in this stunning, quiet corner of Cornwall. Can't recommend it enough, especially if you have small children, love natural and animals, hot tubs, bbq's and star-gazing but also love home comforts like proper beds and hot showers!
Tremeer Yurt Holidays
We LOVE it here. In fact, it is such a great place, we don't want everyone else to know about it! I am very picky about holidays, especially what the accomodation looks like, and I spent a long time researching different yurts before deciding on Tremeer farm. We were not disappointed! When we first arrived, Rob, Sarah and their kids welcomed us with homemade cakes, tea and apple juice, which was very welcome after our long journey! We had such a good time on that holiday, and our kids enjoyed it so much that we have been coming back each year for the last 3 years (we have also booked for next year!)
Best Price Guarantee, with no fees
Instant booking confirmation
Trusted for over 10 years
A chance to win £50 of Cool Camping vouchers!
Book campsites near Tremeer Farm Yurts Cornwall