Stress-free family yurt glamping, just a 10-minute drive from the stunning, wild coastline at Bude
On the northern reaches of Bude, away from the bucket and spade brigades, beachside cafés and gangs of wannabe surfers, awaits a wilder, more desolate coastline; its crags and coves stretching to where Cornwall meets Devon. At the start of this territory lies Duckpool, a rugged little beach where the Atlantic swell pounds smooth, wave-hewn rocks. There are no trappings except for an ice cream van on the sunniest days, and if you strike out along the coast path you may only pass a few hardy walkers between here and the Hawker's Hut perched on the cliffs at Morwenstow.
East Thorne, a 10-minute drive inland, is nothing like this wild coastline. But, after a day immersed in raw and desolate scenery, it can be comforting to return to modern conveniences and the company of fellow campers. For camping here is not about surviving in the wilderness or playing boy scouts. In this neat little community of nine yurts, where glamping, not camping, is the buzz-word, you can sip wine on the decking and watch children run around on the car-free green. If you remembered to leave a message on your chalkboard a fresh basket of wood will be ready to throw on the wood-burner, and you can even order a gourmet hamper ready for tea-time.
Each of the yurts comes pre-furnished with everything you could possibly need for your stay. Don't worry about bedding, pots, pans, lamps and cool-boxes. Instead, you can fill the car to breaking point with buckets and spades and spend your days building castle villages on the nearby beaches. Up to six people can be accommodated inside each Mongolian-style structure, with wooden double beds, sofas and soft furnishings. On the deck outside there is also a separate kitchen cabin with gas hobs and a BBQ.
For those who want to go the extra mile, an eleventh structure has more robust wooden walls and an altogether more cottage-like feel. The Roundhouse, added in 2017, is still designed with nods to the traditional yurt structure – a central, 'crown' window in the ceiling, a wood-burning stove and, of course, the circular layout – but expect the very highest levels of luxury. Wooden floors extend from your king-sized bed, armchair and coffee machine, right through to plush en-suite bathroom, while, a few steps away outside, there's a hip kitchen cabin and your very own private hot tub.
In all, the resulting site is a family-orientated yurt haven in a quiet slice of Cornwall, with a serious dose of luxury to boot. There's enough space in the meadows that every yurt has its own distinct, private spot, while covered dining areas and grassy space for ball games still allows for a sociable atmosphere. Children leave with grass stains on their knees and the smell of campfire smoke in their jumpers. You wouldn't want it any other way.
Best Price Guarantee
Easy and Secure, with instant booking confirmation
Trusted for over 10 years
A chance to win a brand new Coleman tent!
Gallery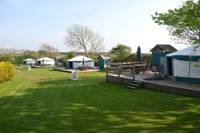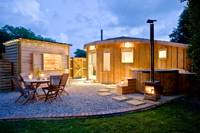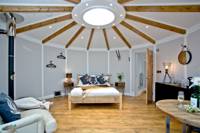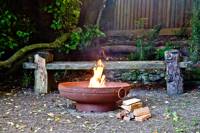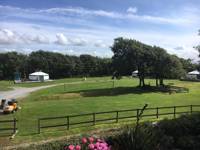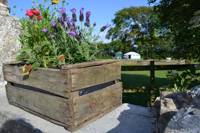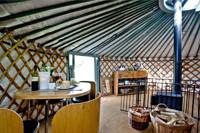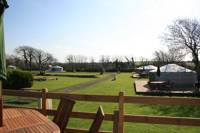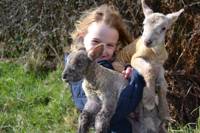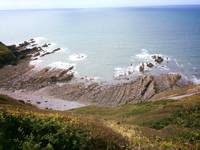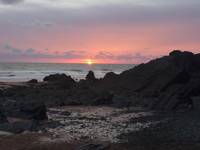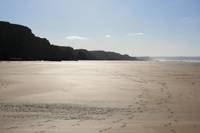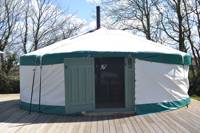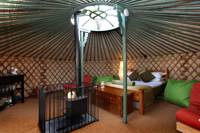 The Owner Says
Experience the great outdoors without forgoing life's finer things! You can now come clamping in beautful Cornwall in both comfort and style, staying in one of our seasonal luxury yurts: handmade beds, log burning stoves, individual undercover alfresco kitchens, stylish bathroom area and roaring campfires or try our beautiful new en-suite Roundhouse with hot tub.
East Thorne isn't just a place to stay, it's an experience. Our yurt retreat in Cornwall offers comfortable and convenient accommodation and facilities, beautiful surroundings, and (last but not least!) plenty to keep the kids happy like the adventure playground,games room, our array of farm animals and plenty of green space to run and explore.
At the heart of East Thorne are our 9 luxury yurts in Cornwall. Sustainably sourced from Mongolia,with a modern British twist. Our yurts are wooden framed with felt lining, covered with a waterproof canvas suitable for the British climate. So at East Thorne we may not be able to guarantee the weather (although Cornwall does get.
Our uber-glamping en suite Roundhouse with hot tub offers an exclusive experience for couples to enjoy all year round! So many of our guest tell us about how great it feels to sleep in the round space that our yurts offer so we stepped it up creating a get away in our most stylish accommodation.
Reader Reviews
Add Your Review
Fantastic place
We had an absolutely fantastic Easter weekend here. We were so warmly welcomed, and we could see all the meticulous care that was put into making our stay as comfortable and lovely as possible. I just love the ethos of the place - fresh, organic eggs and coffee and a swapping station for required supplies available at reception, tasteful decorations in the yurt, bathroom and elsewhere, and more. The hosts had even thoughtfully placed us in the yurt closest to the play park, which our children absolutely loved. This was our first time in Cornwall, and I have to say, I am in love with it. A huge thank you to everyone at East Thorne Glamping!
Real luxury in the great outdoors
I was lucky enough to stay at East Thorne for a long weekend in May 2014, with my two boys (14 and 7). The word glamping is over-used but at East Thorne, every comfort has been considered. I highly recommend a stay here. The yurts are fantastic, well-equipped and cosy. I had a comfy proper bed, while the boys loved their futons. You can BBQ and eat al fresco, or use the gas hobs in the covered area and eat at the table inside the yurt, so you're covered rain or shine. The toilets and showers are immaculate - the same standard as a quality hotel. The Blacks have created a great vibe, and are friendly and approachable, while not intruding. Every night a communal bonfire is lit, and the boys also loved the wood-burner in our yurt. Tintagel and some lovely beaches are close by. I would definitely come back again - and this would be my preferred place to stay in Cornwall.
Glamping glee
Three children aged 4, 3 and 15 months and two delighted parents have just spent a wonderful week in a beautiful yurt, furnished with love and an attention to all the details to make our life easy. It was big, comfy, snug and fun, and amazingly convenient (even when it is pouring with rain). There are no cars on site, the children could run around freely enjoying the play area with their newly made friends, and we enjoyed some more civilised adult time around the campfire in the evenings.
Our hosts, Naomi and Adam, clearly love what they are doing and it felt like being part of the family with them joining us around the campfire and giving plenty of helpful advice, letting the children come and feed the sheep or hunt for the eggs.
There is a big sandy beach, Sandymouth, 2 miles down the road. We loved Tintagel, 40 minutes drive, and the Otter Sanctuary where we fed the deer.

Book campsites near East Thorne Glamping