Veryan (Ready Camp)
Tretheake, Veryan, Truro, Cornwall TR2 5PP







New and spacious safari tents on a long established Cornish campsite.

Though Veryan Bay is over five miles wide, it's far from the archetypal crescent one envisages from the word 'bay'. Instead, within the headlands of Penare and Roseland peninsula, the coast is a mismatched patchwork of rocks, coves and secretive inlets, a jagged seafront jawline punctuated by a series of smaller bays. Each bay within the bay has its own individual charm and character. Pockets of sand can still be found, flanked by tall black rocks, with most affording that essential bit of privacy you're looking for in a holiday. More popular spots like Porthluney Cove still have that summer time buzz, though, alive with interested visitors meandering between the beach and overlooking Caerhays Castle.
Veryan Bay is actually fronted by Portloe, a charming harbour settlement that's perfumed by the smell of salty sea-spray blowing across the rocks. The village of Veryan itself is a little further back inland and, as if to add a little more confusion to the matter, Veryan Campsite is in another place again. The three spots form a wonky triangle of back roads, though come to Cornwall and you realise that's kind of the theme around here – little lanes and wiggly country roads all seem more easily navigated by scribbling on the back of your hand than following your Sat Nav. Fortunately the campsite (top of the triangle) is well signposted.
Caravanning is the name of the game here. Or so it seems when you first arrive, entering into a large field dotted with vehicles, encampments and smiling camping faces. But in a separate meadow, over the hedge line to the right, an open grassy space void of electrical hook-ups leaves acres for more traditional camping folk. It is the glamping options however, recently introduced by Ready Camp, that give the cool factor to this established Cornish getaway. Bringing a fresh touch of originality to the site, the newly erected safari tents offer that little extra flare and the chance to enjoy some holiday luxuries while still spending summer under canvas.
Inside the Ready Camp tents a lining separates the space into three individual rooms, though this can be rolled up to create one larger living area. While the two bedrooms feature a double bed, bunk beds and a further roll out trundle bed, the real comforts are in the family space, home to a deep, comfy sofa and a fully equipped kitchen, so you don't need to load your car down with plates, pots and pans. When the suns out the tents also have a wide decking area, ideal for warmer evenings.
Beyond the tent flaps there's no need to rush straight for the car. While the Eden Project, Falmouth and beautiful Carrick Roads are an easy journey away, some of the most immediate attractions are happily reached on foot. It's a pleasant mile and a half walk down to whitewashed Portloe, where a pint of St Austell's ale in The Ship is a must. The pub clutches to the edge of yet another tiny, narrow road with the quaint beer garden on the other side surrounded by thick, green foliage. Drain the drink and hit the turf though, from here it's all about the South West Coast path which connects you too all the good beaches in Veryan Bay. Find your own secret sands amongst the finger-shaped, craggy rocks and relax in the south coast sun – seclusion's not hard to find around Veryan.
Gallery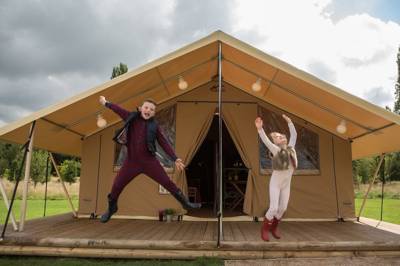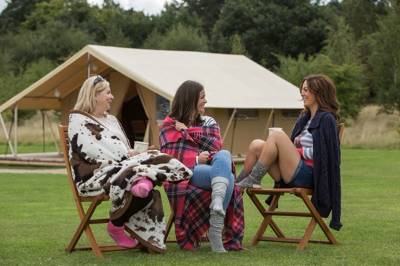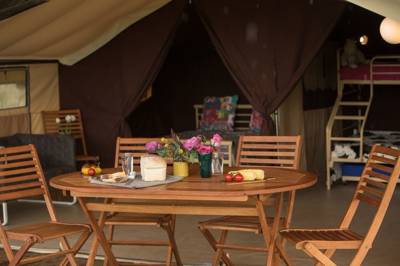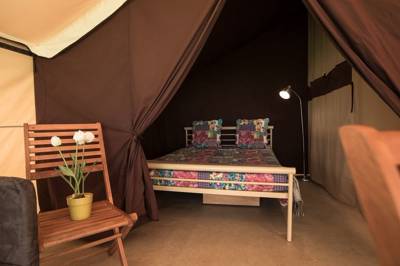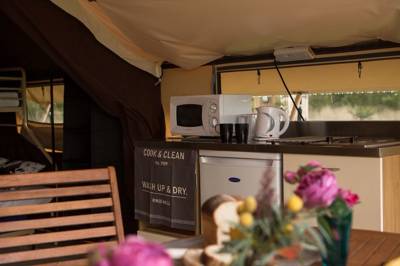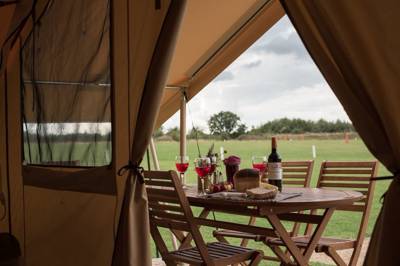 The Owner Says
Your time spent…where it matters
Time away with family & friends is great, but let's be honest - it can sometimes be hectic to even think about!
Ready Camp takes away some of the stresses and hassles of camping - having a pre-erected, canvas-wrapped haven with real beds, a kitchen and dining area. There's no need to fill the car rammed to the rafters with an endless supply of 'just in cases'. We give you back the time to do the fun things together with your friends and family.
Pack your bedding & a sense of adventure
Walk into a comfortable haven with cosy furnishings and oodles of little luxuries.  With two bedrooms, an open plan living/dining area where you can wine and dine to your hearts content or put your feet up on the comfy settee after a long day's adventure.
The Kitchen area includes a fridge, microwave and hob, along with basic cooking utensils, crockery and cutlery. (We've even supplied the corkscrew!)
When it comes to light's out…we've even included a torch for those midnight toilet trips, or just to make funny shadows on the tent!
Reviews
Sign up or sign in to leave your review of Veryan (Ready Camp)
Veryan
We stayed in the ready-camp safari tents at Veryan in the lovely Roseland Peninsula during probably the rainiest week of the summer holidays. We were certainly glad of the facilities within our tent and the decking made sure that the rainwater stayed out. We felt sorry for those who didn't have this luxury. The site is well maintained and the staff running the site look like they've been doing it for 20+ years. I am surprised, however, to find this site on Cool Camping, it's a Camping and Caravanning Club site and they don't really get non-caravanners (as you can see from the marketing copy and paste job done in "The Owner Says" section above). There are three safari tents pitched in a row in what they probably thought was the prime location but is actually the main thoroughfare on the site next to the toilet block and games room. So if you're looking for peace and quiet, think again. Overall, the site staff were friendly, the site is well-maintained and it was great to just rock up and move into the tent, but more consideration should have been put into where to pitch the tents and if you are looking for a "Cool Camping" experience, try somewhere else.
Response from campsite owner:

Hello Toby,
Thanks for taking the time to review our Veryan Ready Camp.
We're over the moon you were saved from the bad weather and that you found the facilities within the Ready Camp tent a blessing at this time.  As many of our customers are families with little ones they find being located near to the facility blocks very handy as they don't have too far to run for a midnight toilet trip and likewise when they need a shower.
We appreciate that being next to the games room may have been a little busier during the summer holidays with children and families using it especially as you have said the weather was so bad, had the weather been a little kinder we're certain more campers would have been off exploring the beautiful coastal routes nearby.
We're pleased that you liked the concept of being able to rock up and move in to the Ready Camp tent and appreciate the feedback you have given for our Veryan site.