Book campsites near Adhurst Yurts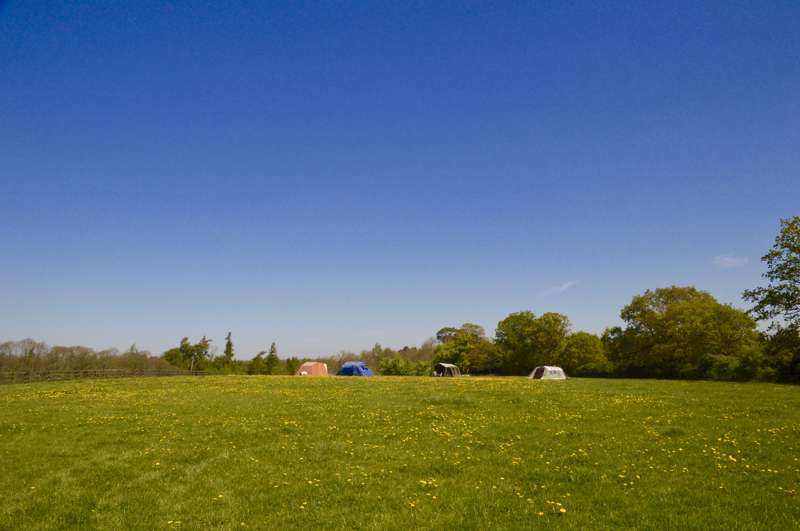 Campsites in Petworth
Campsites in West Sussex
Campsites in South East England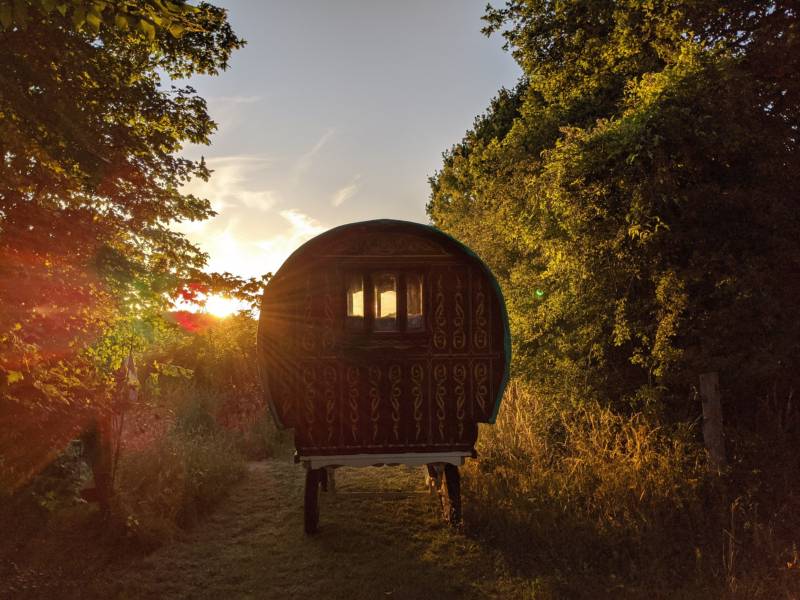 Glamping in Chichester
Glamping in West Sussex
Glamping in South East England
Available:
1 Gypsy caravan
1 Shepherd's hut
1 Bell tent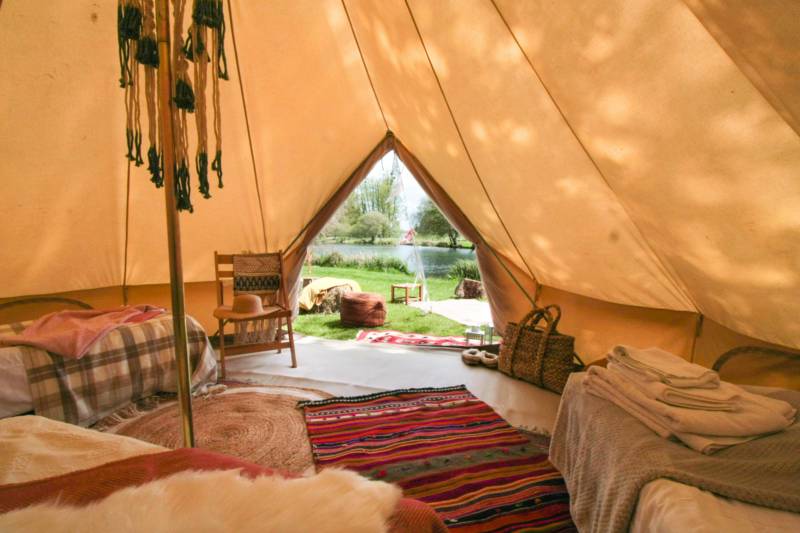 Glamping in Winchester
Glamping in Hampshire
Glamping in South East England
Four stylishly finished yurts nestled amongst the greenery of a 100-acre ancient forest
On a website dedicated to camping it's easy to bandy about phrases like 'back to nature' and 'authentic outdoors experience', but few places more genuinely encapsulate what's so special about a night under canvas better than Adhurst Yurts. Rustic charm has been combined with comfort and luxury, and dropped on the edge of an ancient woodland. A carpet of bluebells, weaving river and leafy canopy enclose a campsite that provides the dreamiest escape imaginable from normal life – a slice of glamping wilderness just an hour from London.
Amid the greenery of the South Downs National Park, this venture by the Adhurst Estate started out with just one cosy abode before blossoming into the four that stand today. A fifth, carefully crafted wood cabin somewhat swerves the campsite name but offers the same, lavish comforts along with an en suite gas shower and toilet. Each yurt is individually designed and finished with a stylish eye for perfection. All are stocked with logs for the wood burner and have spongy double beds where you can lay and admire the exposed lattice work of the Mongolian-style structure. The units are situated 100m apart and have access to one of three outdoor kitchens, with the main safari kitchen sheltered beneath a cedar wood roof. While gas hobs provide an easy boil for the morning cuppa, when mealtime rolls around nothing beats rekindling the campfire and making use of the site's other quirky cooking facilities. A bonfire tripod with hanging pot, an iron cooking stair and a cast iron chicken roaster that keeps meat succulent with a reservoir of beer, all turn the normally mundane task of cooking into a holiday highlight.
Onsite ablutions may often be a footnote to the camping experience but here too something as simple as taking a shower is given a wilderness twist, turning the mundane magical. The gas hot water shower has no roof, so deep in the woods you stand beneath nothing but the leaves, as though bathing in the warm monsoon of a rainforest. Those in the Willow yurt, meanwhile, can also enjoy an en suite bath in the warm glow of solar fairy lights. When Monday rolls around there are still flushing loos and a wet-room by the car park so you can be truly plumped up to head back to urban life.
Indeed, heading back to normal life could well be the only time you leave this campsite. Despite having attractions like the Watercress Steam Railway, Jane Austin's House and Weald & Downland Open Air Museum just a short drive away, Adhurst Yurts is in such a world of its own that you'll be reluctant to go anywhere. The 100-acre ancient woodland is riddled with footpaths and provides endless amusement for kids who want to build dens, whizz along the zip wire, or tempt fate by rope swinging across the River Rother, while organised bushcraft courses have also become a hugely popular option – something you can customise to the age of your party and run by a local, professional team.
Whether it's the rich fauna and flora, evenings around the bonfire or the use of the Adhurst tennis court, there is plenty at this campsite to keep you entertained. The sumptious comfort of the yurts or cabins are just a small part of what makes the site so special. It's the ancient setting, out-of-Africa style facilities and endless space to explore that combine to create the perfect camping atmosphere.
Details
Facilities
5 yurts, 1 cabin (the cabin has its own open-roofed gas shower and long-drop privy), 2 enclosed gas-heated shower deck big enough for the whole family and 4 long-drop toilets onsite, as well as 2 flushing toilets and an indoor wet room by the car park. Guests in the Willow Yurt have an en suite gas-heated bath tub. There are 5 safari kitchens, each with running water and two-burner hobs and a verandah kitchen with the cabin. The River Rother runs through the site with excellent trout fly-fishing. A zip wire by the yurts, rope swing above the river and a tennis court all provide more onsite fun, and bespoke workshops is basketry, coppicework, outdoor skills etc with our inspired instructors. The site regularly run bushcraft courses with a well-trained and qualified, local team – they can be customised by individual guests to suit all age ranges and interests, from outdoor bread baking to knife skills, shelter building and fire lighting.
Suitable For
Couples, honeymooners, families, groups and dogs – yes. Yurt camping only, so tents, caravans and motorhomes – no.
Nearby
In the heart of the South Downs National Park (03003 031053) there's a wealth of good cycle routes and walking trails nearby, not least the famous South Downs Way. In the local village of Petersfield a small boating pond on the heath hires out rowing boats and canoes. The Watercress Line Steam Railway (01962 733810) offers a unique way to enjoy the Hampshire countryside, with both Gilbert White's House (01420 511275) and Woolbeding Gardens (0844 249 1895) not far from the line. Those interested in such history will enjoy 17th century Uppark House (01730 825415), Cowdray Ruins (01730 812423) and Petworth House (01798 342207), immortalised in Turner's paintings. Adhurst Yurts is 15 miles from the excellent Weald and Downland Open Air Museum (01243 811363), while active campers who have exhausted the walks and cycling of The Downs should consider Go Ape! at Alice Holt Park (08456 439215), an adventure day out high in the trees.
Food & Drink
Onsite you can order (before your arrival) a Breakfast Hamper for 2 (£30) with hot coffee cafetière, orange juice, two toasted bagels with smoked trout and cream cheese (and a squeeze of lemon). A visiting fishmonger provides anything from dressed crab to seafood kebabs, ideal for your BBQ. Within walking distance, The Queens Head (01730 265489) serves proper sit down meals or relax in the less formal bar area. The Harrow Inn (01730 262685) offers an unspoilt, intimate old pub with a pleasant garden. Durleighmarsh Tea Barn (01730 818286), closed Monday, has fantastic quiche and soups, right next to the Pick Your Own farm with a shop.
Open
Easter through October, with occasional winter dates available. Check-in days are Mondays, Wednesdays and Fridays.
The Coppicer's Lodge is available for mid-week breaks in low season, with only Mon–Thurs & Fri–Mon breaks available in high season.
Location
Contact Adhurst Yurts, Adhurst Estate, Petersfield, Hampshire GU31 5AD
Getting There
The campsite is off the A3 (exit Midhurst A272). Take roundabout towards Rake, continue past the turning for the A272 and it is a bit further along on the left. There is a sign saying Adhurst Farm.
Take the train to Petersfield (08457 484950) and get a taxi (01730 303030) from the station or from Waitrose if you're stocking up on provisions. The drive is under ten minutes and costs around £8. Just ask for the Farm entrance to Adhurst.
Reviews
Add Your Review
Rated ★★★★★ over 6 reviews
A bad experience
Location great. Terrible service: This is the email I received from the host when I complained about lack of cleanliness and a leak which ruined our stay. We were also accused of sneaking our dogs onto this pet friendly site, despite giving all the details of our party to Cool Camping. It's unfortunate that you are ignorant enough to feel that spiders are a sign of low standards in cleanliness - clearly you haven't been reading your Robert the Bruce on spiders or you would understand how determined they can be, especially when they're sheltering from a heavy storm. In any case, you had the sense to notify us that you would like to invite non-residential guests - and because your parents don't shed or poo in the woods or vex the sheep we didn't feel the need to charge anything extra. We do not accept that you left a day early because the rain got behind the sofa - we believe you left your cabin a day early because you don't like rain (and spiders). As for future outdoor holidays I suggest you try, try and try again. Eventually you'll get it.
A Bit Disappointing
Adhurst Yurts are set in idyllic woodland, in a beautiful part of Hampshire. There are many lovely things about the site: the location is amazing; the children loved swinging over the river on the rope swing, and playing on the zip wire. It was exciting to lie in bed and listen to the wind (storm force!) in the trees, and magical to sit around the fire pit. Each yurt and hut are well apart from each other giving guests real privacy. Good shower and compost loo. However - and this is a big however - our stay was disappointing. We had major a leek in the Coppicer's hut on our first night which left bedding and clothing wet. When we reported this to the owners, they sent someone to fix the problem. That someone did not think to remove wet cushions or carpet. Although we were unlucky enough to be staying the hut during storm Francis, we should still have been able to depend on dry and water tight accommodation, especially at this price. We left a night early, when the rain started again, and the water came down the wall once again. I have a few other niggles too: I swept the hut out myself on arrival. The table was dusty and there were lots of cobwebs over the bed area. Although this site offers a 'back to nature' experience, one is still paying a high price for the accommodation, and I would expect it to be clean. I also felt that the hut lacked some of the lovely touches that I have experienced in other glamping locations I have visited such as fresh flowers, or welcome trays with basics such a couple of tea bags for your arrival. It would have been useful more facility for storing clothes and possessions. It would also ideal for guests to be provided with a cool box for food storage, although the ice packs which could be borrowed from the owners were appreciated. The owners offered a £50 refund after the leek, which we did not receive because they also said we should have paid £60 for our two dogs, despite not knowing this when we booked with Cool Camping.
Fantastic relaxation
We loved our stay, the children had a great time and it was so peaceful. We had so much space to explore and the facilities were great!
Didn't want to leave!
We stayed in Coppice's Cabin for 3 nights.. and we wished we could've stayed longer! A beautiful place, perfect for the whole family. When we arrived, Chris came by to show us how to light the gorgeous wood burner and gave us some helpful Bush craft lessons which our son loved! (Especially his box of skulls and How to look out for deer tracks, we spotted a few) We spent the evenings around the fire outside,and loved how cosy the cabin was when the the wood burner did it's thing. As there is no electricity it's advisable to bring as many battery operated fairy lights and tea lights to scatter around the place. Alison was very helpful bringing over more candles once we had burned through ours! We highly recommend Adhurst Yurts as a peaceful retreat for all. We shall return for sure.
My 50th birthday weekend
We had such an amazing weekend in Adhurst yurts. We booked all 4 yurts for a 50th birthday weekend. The yurts were just fabulous with everything you needed for a glorious back to nature weekend with a bit of luxury! I would highly recommend Adhurst yurts, we'll be back. Thank you Alison. 
A perfect weekend - thank you Alsion
We stayed at Adhurst for a couple of nights and had the time of our lives! 
Alison welcomed us with great enthusiasm on the first evening and made sure that we had everything we needed which was a good start as I had left the matches  behind! 
 As the children aged 3 and 4 ventured into the hut, they discovered that they had to climb a tree to get to their mattresses - squeals of excitement!
Our particular site was wonderfully private with its own outdoor shower, privy and  kitchen unit. Alison supplied wood and the rest was down to us. Camp fires, woodland walks, fruit picking, death slides and swings that swung 'dangerously' over the trickling River Rother.
It was a fantastic weekend in a beautiful setting with plenty to do yet quiet and tranquil. I could not recommend it highly enough. Thank you Alison!