Four stylishly finished yurts nestled amongst the greenery of a 100-acre ancient forest
On a website dedicated to camping it's easy to bandy about phrases like 'back to nature' and 'authentic outdoors experience', but few places more genuinely encapsulate what's so special about a night under canvas better than Adhurst Yurts. Rustic charm has been combined with comfort and luxury, and dropped on the edge of an ancient woodland. A carpet of bluebells, weaving river and leafy canopy enclose a campsite that provides the dreamiest escape imaginable from normal life – a slice of glamping wilderness just an hour from London.
Amid the greenery of the South Downs National Park, this venture by the Adhurst Estate started out with just one cosy abode before blossoming into the four that stand today. A fifth, carefully crafted wood cabin somewhat swerves the campsite name but offers the same, lavish comforts along with an en suite gas shower and toilet. Each yurt is individually designed and finished with a stylish eye for perfection. All are stocked with logs for the wood burner and have spongy double beds where you can lay and admire the exposed lattice work of the Mongolian-style structure. The units are situated 100m apart and have access to one of three outdoor kitchens, with the main safari kitchen sheltered beneath a cedar wood roof. While gas hobs provide an easy boil for the morning cuppa, when mealtime rolls around nothing beats rekindling the campfire and making use of the site's other quirky cooking facilities. A bonfire tripod with hanging pot, an iron cooking stair and a cast iron chicken roaster that keeps meat succulent with a reservoir of beer, all turn the normally mundane task of cooking into a holiday highlight.
Onsite ablutions may often be a footnote to the camping experience but here too something as simple as taking a shower is given a wilderness twist, turning the mundane magical. The gas hot water shower has no roof, so deep in the woods you stand beneath nothing but the leaves, as though bathing in the warm monsoon of a rainforest. Those in the Willow yurt, meanwhile, can also enjoy an en suite bath in the warm glow of solar fairy lights. When Monday rolls around there are still flushing loos and a wet-room by the car park so you can be truly plumped up to head back to urban life.
Indeed, heading back to normal life could well be the only time you leave this campsite. Despite having attractions like the Watercress Steam Railway, Jane Austin's House and Weald & Downland Open Air Museum just a short drive away, Adhurst Yurts is in such a world of its own that you'll be reluctant to go anywhere. The 100-acre ancient woodland is riddled with footpaths and provides endless amusement for kids who want to build dens, whizz along the zip wire, or tempt fate by rope swinging across the River Rother, while organised bushcraft courses have also become a hugely popular option – something you can customise to the age of your party and run by a local, professional team.
Whether it's the rich fauna and flora, evenings around the bonfire or the use of the Adhurst tennis court, there is plenty at this campsite to keep you entertained. The sumptious comfort of the yurts or cabins are just a small part of what makes the site so special. It's the ancient setting, out-of-Africa style facilities and endless space to explore that combine to create the perfect camping atmosphere.
Best Price Guarantee
Easy and Secure, with instant booking confirmation
Trusted for over 10 years
A chance to win a brand new Coleman tent!
Gallery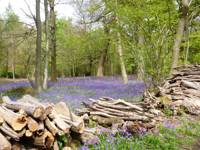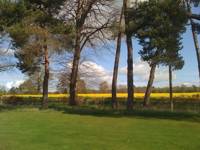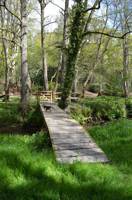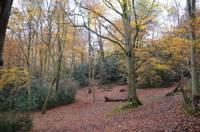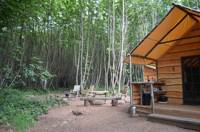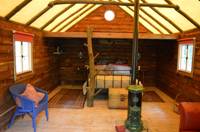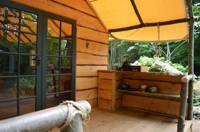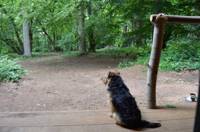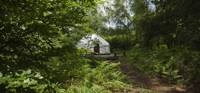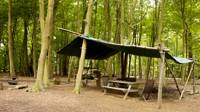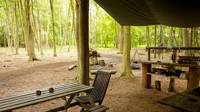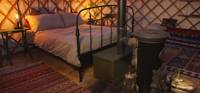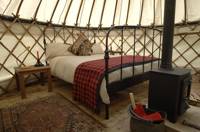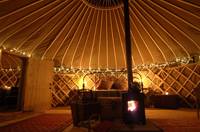 The Owner Says
Adhurst Yurts are recommended by Sawday's, The Telegraph, The Week, Wild Guide and Hampshire Life. Our four yurts and one canvas cabin are tucked within one hundred acres of ancient woodland above the banks of the River Rother and are well away from any roads. Adhurst provide stylish, healthy and ecologically-conscious holidays for everyone from family reunions to romantic couples to holidaying pets, foodies and nature enthusiasts. If you're keen for some nature and fabulous walks with dinner by the campfire and mornings spent in your cosy yurt – Adhurst is for you. We are one hour from London and you can easily come by train. You can walk from your yurt to three different pubs. The Queens Head in Sheet and The Harrow in Steep are both excellent and charming. As well as the pick-your-own Durleighmarsh Farm up the road. Adhurst is situated within the South Downs National Park and is a 450-acre estate owned by the sixth generation of descendants of the Bonham-Carter family. A mixture of arable farming, woodland habitat and wetlands, Adhurst is a site of special scientific interest on the West Sussex/East Hampshire border. The estate comprises workshops, farmhouses and cottages – as well as privately run allotments and orchard and our conservation wild fly-fishing syndicate.
Reader Reviews
Add Your Review
Didn't want to leave!
We stayed in Coppice's Cabin for 3 nights.. and we wished we could've stayed longer! A beautiful place, perfect for the whole family. When we arrived, Chris came by to show us how to light the gorgeous wood burner and gave us some helpful Bush craft lessons which our son loved! (Especially his box of skulls and How to look out for deer tracks, we spotted a few) We spent the evenings around the fire outside,and loved how cosy the cabin was when the the wood burner did it's thing. As there is no electricity it's advisable to bring as many battery operated fairy lights and tea lights to scatter around the place. Alison was very helpful bringing over more candles once we had burned through ours! We highly recommend Adhurst Yurts as a peaceful retreat for all. We shall return for sure.
My 50th birthday weekend
We had such an amazing weekend in Adhurst yurts. We booked all 4 yurts for a 50th birthday weekend. The yurts were just fabulous with everything you needed for a glorious back to nature weekend with a bit of luxury! I would highly recommend Adhurst yurts, we'll be back. Thank you Alison. 
A perfect weekend - thank you Alsion
We stayed at Adhurst for a couple of nights and had the time of our lives! 
Alison welcomed us with great enthusiasm on the first evening and made sure that we had everything we needed which was a good start as I had left the matches  behind! 
 As the children aged 3 and 4 ventured into the hut, they discovered that they had to climb a tree to get to their mattresses - squeals of excitement!
Our particular site was wonderfully private with its own outdoor shower, privy and  kitchen unit. Alison supplied wood and the rest was down to us. Camp fires, woodland walks, fruit picking, death slides and swings that swung 'dangerously' over the trickling River Rother.
It was a fantastic weekend in a beautiful setting with plenty to do yet quiet and tranquil. I could not recommend it highly enough. Thank you Alison!
Book campsites near Adhurst Yurts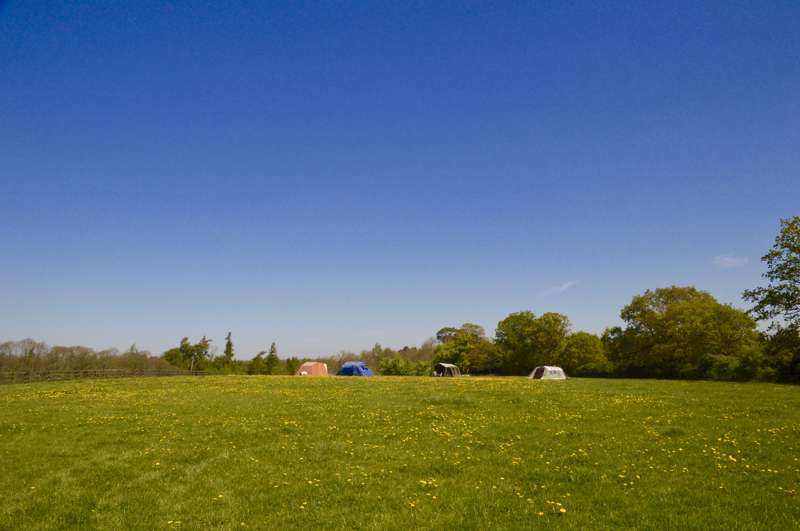 i
Campsites in Petworth
Campsites in West Sussex
Campsites in South East England
Campsites in England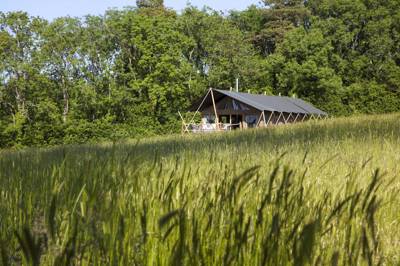 i
Campsites in Petersfield
Campsites in Hampshire
Campsites in South East England
Campsites in England
Available:
2 Safari tents