Shepherd's huts may have been used in Sussex since the 18th century but this new collection right beside the South Downs Way offers many a modern comfort
Come to this part of Sussex and it only seems right to stay in a shepherd's hut. The whole area feels slightly lost in time, from the tight country lane that takes you to the 12th-century stone church in Pyecombe, to the quaintly-named Jack and Jill Windmills that perch on a nearby hillside with far-reaching views across the South Downs. The four shepherd's huts at Waydown Cottage are utterly at home, echoing in their wooden-clad walls and old-fashioned, iron wheels the character of these surrounding attractions. It's a spot with real storybook charm. Captivating history (ironically enough) in Britain's newest national park.
Set in the four-acre surroundings of a traditional Sussex cottage, Waydown is comprised of four different shepherd's huts, each in their own space and sheltered by trees and shrubbery. Just as the surrounding attractions have seen the subtle creep of modernity – charming Pyecombe is now easily accessed by an A-road and the old windmills are accompanied by a souvenir shop – the huts, too, are a far cry from their ancient predecessors. Inside, modern extras include electricity, lighting, double beds and bunk beds, while each hut also has a wood-burning stove to keep you snug and warm. Extra communal units, built in a similar style, also accompany the various abodes. There's a shower in a wooden cabin, a separate toilet lodge and a kitchen space with a sink, fridge, hobs and utilities. Together they kit the glampsite out with everything it needs. Oh, and there's a friendly pair of donkeys, too. In case a little extra company is the only thing still missing.
Strike out from your shepherd's hut and it's a matter of metres before you link up with the South Downs Way – the best way to tour the countryside on foot. It's just over half a mile, skirting Pyecombe Golf Course, to the Windmills. Technically (and less romantically) called Clayton Windmills, only one of the pair is still in operation today and opens to the public on most Sunday's from May to September (2pm–5pm). In the opposite direction, meanwhile, it's an even shorter stroll to the local pub, The Plough Inn, or an easy 15-minute drive to bustling Brighton. So, from daytrips to the seaside to local strolls on the South Downs Way, everything is covered.
Best Price Guarantee
Easy and Secure, with instant booking confirmation
Trusted for over 10 years
A chance to win a brand new Coleman tent!
Gallery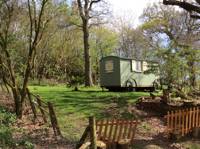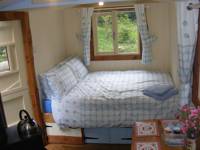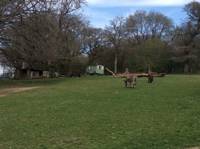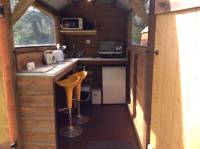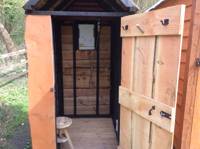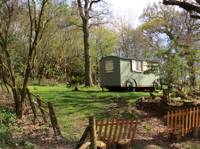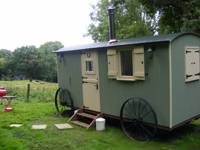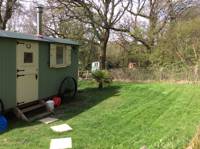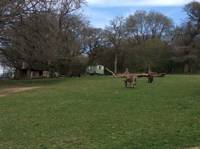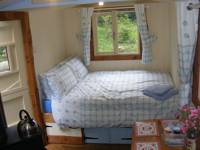 The Owner Says
Experience the nostalgia and charm of bygone days with modern comfort and luxury in our bespoke Shepherds Hut and River Keepers Hut, nestled on the South Downs Way in Pyecombe on the outskirts of Brighton. We offer direct access onto the beautiful South Downs walkways and are adjacent to the famous Jack and Jill Windmills, just a 10 minute walk away!
Waydown Cottage has been our home for nearly 21 years. Set in four unspoiled acres, we are surrounded by a beautiful wood with our only neighbours being the Jack and Jill Windmills, Pyecombe Golf Course and the Three Greys Stables. However we have the benefit of superb facilities within a few minute's walk including Marks and Spencer's Simply Foods at the local Garage 2 minutes' drive or 10 minutes' walk away.
The local village pub, The Plough, offers a wonderful choice of cuisine and fine wines in their conservatory restaurant, or enjoy a beer or glass of wine with a choice of snacks in the bar. They also provide a take away service. Hassocks is our local village with all the usual range of shops and a selection of eateries and the railways station is on the main London to Brighton line, the historic Town of Lewes in 15 minute's drive away, with cosmopolitan Brighton 15 minutes away. For those wishing to visit London, it is a 90 minute drive or 60 minute train ride.
Reader Reviews
Add Your Review
Cosy shepherd huts on the South Downs Way National Trail
Spent lovely weekend here wt boyfriend - rustic huts well kitted out, as was the kitchen hut, WC/wash hut & shower hut. Only 1 shower but never had to queue. Site itself is lovely, quiet and calm in clearing nxt to woods wt a couple of donkeys. Can hear constant traffic on fast road along site's boundary, however, is only slight downside. Really enjoyed late night bbq and fire pit right outside our own hut. Sat visited Brighton; Sunday went for 8 mile walk along South Downs Way with fantastic views and picnic spots and visited the local Jack and Jill (working!) windmills. Andrew the owner was extremely helpful and gave us lots of advice about where to go locally and how to walk there. Thanks for a great stay!
Great weekend getaway!
We escaped the heat in London for a couple of nights in the Woodkeepers hut and it couldn't have been more perfect. We took our 5 month old and enjoyed quality family time in a very comfortable environment. Andrew was extremely welcoming and provided everything we needed including BBQ, crockery, linen and even some gorgeous home made cakes! We walked in the local area and relaxed on the grass around the hut and spent each evening in front of the fire pit enjoying quiet country air. I look forward to a return visit, maybe in winter next time to make the most of the log burner and cosiness of the hut :-)
Lovely hut in a terrific location
We had a fantastic stay in the Shepherd Hut. The hut itself was very clean and positioned an a beautiful location with it's own little plot of land providing a real sense of privacy. There is a communal small kitchen/washing up area and shower facilities located a short walk away. The hut looks out on a bluebell wood which was an amazing site in spring. The children enjoyed the donkeys that live in the paddock next door. A lot of thought had gone into the details to ensure that everything one could realistically ask for in order to have a trouble-free stay was provided (including cutlery/plates/coffee cups, towels, duvets etc.) Many thanks for Andrew and Vikki for a terrific experience.
Exccelnt glamping stay in the South Downs
Wonderful stay. Was as described and hosts were super friendly. Would return again. Great for walking in the South Downs (the main purpose of our visit) and Lewes and Brighton were also close by. Huts were very warm and cosy (despite really bad weather during our stay) and had everything we needed. Very happy. Thanks so much! :)
Book campsites near Waydown Shepherds Huts