Book campsites near The Merry Harriers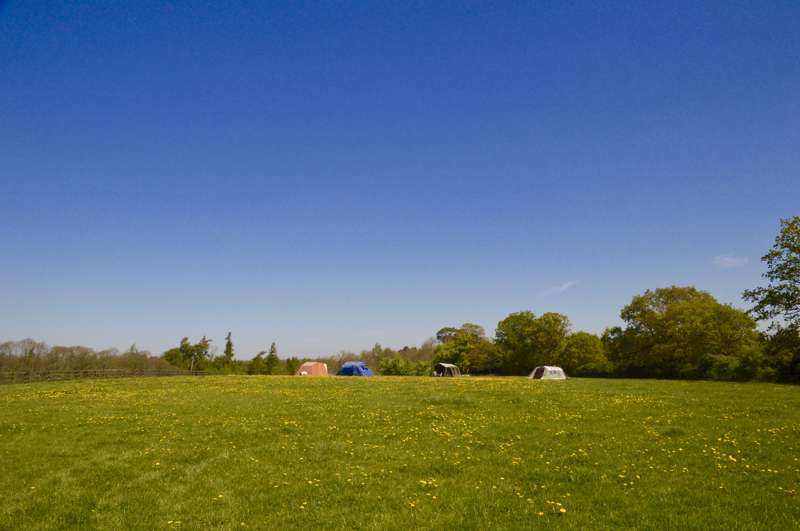 Campsites in Petworth
Campsites in West Sussex
Campsites in South East England
Holidays in Guildford
Holidays in Surrey
Holidays in South East England
Five en-suite shepherd's huts in the back garden of a classic Surrey Hills country pub
Fresh air, country views, bracing walks and a country-style inn are on the doorstep of the five shepherds' huts at The Merry Harriers. Or perhaps that should be the other way around – with the shepherds' huts on the doorstep of the pub. After all, this beamed inn was here first. It's been serving thirsty customers since the 16th century, while the shepherd's huts are a new addition. City slickers looking for a quick country getaway and glampers who prefer accommodation at the hotel-end of the spectrum will be happy here. At just 40 minutes from Waterloo station, Londoners don't even need to wait for the weekend – a mid-week, overnight stay is a tempting possibility.
Each shepherd's hut is set up for two with bedding, towels and toiletries provided. There'll be a bottle of rosé chilling in the hut's wine fridge and a few nibbles for you to enjoy with the view from your sun lounger. Inside, expect hotel-style facilities, which means a heated towel rack in the en suite bathroom, a comfy bed and underfloor heating. It also means that a kettle and a coffee machine are as far as cooking facilities go. It's been designed as a place to relax where someone else is in the kitchen. Breakfast is included and the pub's lunches and dinners, made using ingredients sourced from a 15-mile radius, are the obvious option.
The shepherd's huts are situated around a pond in their own private area of the pub back garden, which also features a children's play area, a garden bowls green and views of The Merry Harriers' herd of llamas. It's another of the ways the pub has branched out. For some people feeding and watching the llamas will be an added bonus of a stay here, for others the opportunity to join a llama walk will be a reason to come.
Whether it's with llamas or not; this is a great place to walk. Hambledown, where The Merry Harriers is situated, is in that finger of green, the Surrey Hills Area of Outstanding Natural Beauty, which seems to beckon Londoners towards the South Downs National Park. Walkers and cyclists love it here. The shepherds' huts are a base from which to explore, as well as a stopping-off point for those on longer tours, including the long-distance footpath, the Greensand Way, which passes the pub's front door. This is a well-to-do part of the world and if you fancy exploring further, it's not far to Farnham, Guildford or Goodwood. There's also the polo club at Cowdray Park, the gardens at RHS Wisley and a couple of National Trust sites too. Outings that are not just merry like the harriers but jolly good too.
Details
Facilities
Each shepherd's hut has an en suite shower room, a double bed with bedding, a wood-burning stove, seating area and underfloor heating. There's also a wine fridge and a coffee machine with tea and coffee provided along with a bottle of rosé wine, a basket of nibbles and toiletries. Outside there are sun loungers and a fire pit. Fires are allowed in the provided fire pits and logs are available to buy.
Suitable For
Glamping only. Dogs welcome.
Nearby
There's Llama Trekking on site at The Merry Harriers – ask in the pub for details. The site is within the Surrey Hills Area of Outstanding Natural Beauty and not far from the South Downs National Park so there are great walking and cycling routes nearby – including the Greensand Way. You can hire bikes from Surrey Hill Cycle Hire in Hambledown 1½ miles away. Also within the village is the National Trust's Oakhurst Cottage (01483 208936) which can only be visited on guided tours on selected days. The National Trust also look after Winkworth Arboretum (01483 208477) and there's a 2½-mile cross-country walk between the two properties. You can learn to fish with We Fly Fish (07927 057847) or to ride Western-style at Southern Schoolmasters (07876 350257), just 3 miles up the road. Head for Farncombe Boat House (01483 421306) 5 miles away on the River Wey to hire a narrow boat for the day or a canoe or rowing boat by the hour. The nearby Ramster Gardens (01428 654167) and RHS Wisley, 18 miles away, will be of interest to gardeners. Watch a polo match at Cowdray Park Polo Club (01730 813257 – 13 miles away) or motor racing at The Goodwood Estate, just over 25 miles away. Historic Guildford is within 10 miles of site with the Georgian streets of Farnham just over 10 miles away.
Food & Drink
You won't be stuck for food as you can dine at the inn at The Merry Harriers (every day except Sunday dinner time and Monday lunch). Also recommended is The Refectory in Milford (01483 413820). For picnic supplies and light lunches, head for Hambledon Village Shop, a not-for-profit, village-owned grocery store and café opposite the cricket pitch.
Open
All year.
Location
Contact The Merry Harriers, Merry Harriers, Hambledon Road, Hambledon, Surrey GU8 4DR
Getting There
Leave the M25 at junction 10 and take the A3 towards Guildford and Portsmouth. Leave the A3 at the Milford/Haslemere turn off and follow the A283 towards Petworth. After you pass King Edward's School in Witley, turn left towards Hambledon. Continue for 1 mile through the village. The Merry Harriers will be on your left.
The campsite is 2 miles from Milford station which is direct from London Waterloo (40 minutes away). There is also bus stop right outside the pub, from which the Stagecoach Hants and Surrey 503 route connect Hambledon with Milford (15 minutes) and Guildford (45 minutes).