Horsley (Ready Camp) Ready Camp
Ockham Road North, East Horsley, Surrey KT24 6PE









Glamping beside a fishing lake, within easy travelling distance of central London.

Through history of man the humble fish hook has been made by many a material – wood, bronze, shells, horns, even human bones… the list is pretty endless. It's been a fundamental tool to our existence and ancient tribes would make them from anything they could get their hands on. If you're a nomad living the simple life today, then you needn't worry. Nights beneath canvas can still be enjoyed amongst ancient trees but now there's a convenient shop beyond your tent flaps, stocking a few basic hooks and an extra reel of fishing line. It's not quite the stuff of Robinson Crusoe but then you are on holiday, a few luxuries are a given.
Horsley Campsite is just the place in question. Trees form a shady, deciduous canopy, jostling around the banks of a central fishing lake. If we've got you hooked, then you'll be pleased to hear luxuries extend far beyond the small reception shop. The real sparkle here comes from Ready Camp's brand new safari tents, pitched in their own area and decked top to bottom with everything you need: Beds, dining furniture, a kitchen with all the utensils – it's a shame fish have to be returned to the lake, otherwise you could sling carp from water to kitchen in one fail swoop and whip up your own sashimi sushi. The interior walls of the abodes can be rolled up, or pulled to the side, allowing you to create one larger, open living space. It's a nice touch that allows families to relax inside the tent should raindrops start pattering on the rooftop.
When you're out and about though, don't think that fishing is the life and soul of the party. It's location that's key here. The local railway station is a 20-minute walk away and trains run into Waterloo, taking just 45 minutes. For southerners wanting a day in the city, then, it's extremely handy but those heading the opposite way can find themselves out of the big smoke and into the country just as speedily.
From the station the Horsley Jubilee Trail begins, a nine-mile circular walk that takes in the best of the area. Historic churches pepper the villages and local viewpoints cast your eyes south towards the South Downs, visible on the horizon. The nearby Surrey Hills offer their own share of the fun, with good walking routes and some of the best mountain biking trails in the country. Tear back to camp on two wheels, hose down the tires and slip back into your luxury glamping safari tent. It's far more modern than crafting fishhooks out of feathers and sleeping bags out of sheep's wool but it leaves all the more time to explore. Times have changed folks and you need to keep up.
Gallery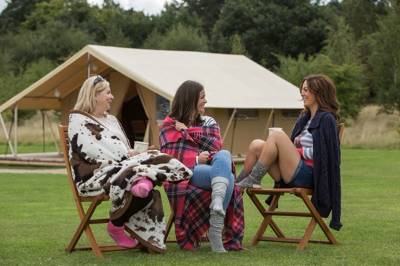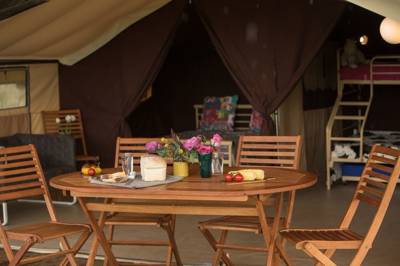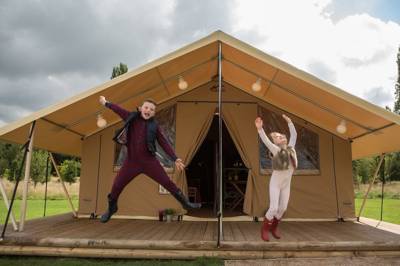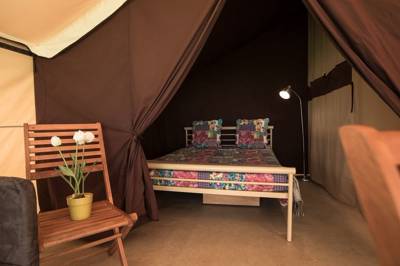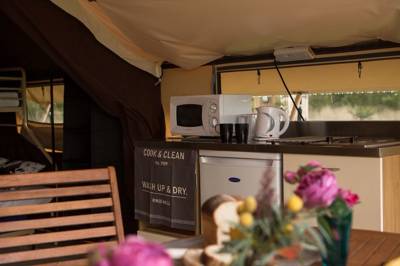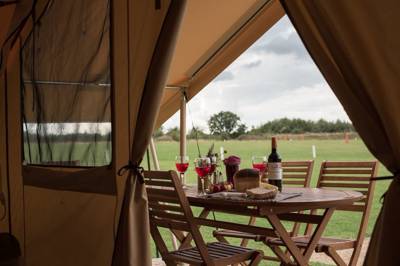 The Owner Says
Your time spent…where it matters
Time away with family & friends is great, but let's be honest - it can sometimes be hectic to even think about!
Ready Camp takes away some of the stresses and hassles of camping - having a pre-erected, canvas-wrapped haven with real beds, a kitchen and dining area. There's no need to fill the car rammed to the rafters with an endless supply of 'just in cases'. We give you back the time to do the fun things together with your friends and family.
Pack your bedding & a sense of adventure
Walk into a comfortable haven with cosy furnishings and oodles of little luxuries.  With two bedrooms, an open plan living/dining area where you can wine and dine to your hearts content or put your feet up on the comfy settee after a long day's adventure.
The Kitchen area includes a fridge, microwave and hob, along with basic cooking utensils, crockery and cutlery. (We've even supplied the corkscrew!)
When it comes to light's out…we've even included a torch for those midnight toilet trips, or just to make funny shadows on the tent!
Reviews
Sign up or sign in to leave your review of Horsley (Ready Camp)
not really Cool Camping!
Don't really know why this camp site is in Cool Camping - it is certainly not cool!  It is basically a caravan site and caravan storage facility with the kind of rules and atmosphere that you expect at such a place.  No swimming pool (Cool Camping states there is one) and the shop is only open for a couple of hours a day.  It is, however, in a great location if you want access to London and the surrounding South West suburbs of London.
Best Price Guarantee, with no fees
Instant booking confirmation
Trusted for 10 years
Chance to win camping goodies in our regular competitions!