Luxury safari tent glamping on a rural Kent farm within walking distance of the local vineyards yet speedily reached from London
It's difficult to believe, when you step off the train at Marden Station in Kent, that a world of campfires, vineyards and late-night star gazing are a mere 18-minute walk away. Whether you've come from London or elsewhere, the flicking of the urban everyday outside your carriage window dissolves into the rural greens of Kent as you make your way towards Gravel Pit Farm. It's a small, secluded and utterly uncrowded place – there are just two luxury safari tents, fully equipped with kitchens, en suite bathrooms and room for up to six people – and, if you like a little privacy, this one-acre glamping site is just the trick.
On the edge of Marden Village, within walking distance of the pubs, post office and characterful 13th-century church that it affords, Gravel Pit Farm is one of the newest glamping sites in Kent and perfectly positioned for exploring the area. It's a 20-minute walk to Herbert Hall vineyard – the last of the footpaths taking you right past some of the vines – and the same, by car, to National Trust properties like Sissinghurst Gardens and Scotney Castle. Yet at your tent itself, the space feels wonderfully private. From the front deck, the view is across the open paddock beyond (with plenty of space for ball games and larking around) and over the adjacent field, flowering yellow through May or pale with wheat in summer.
Gravel Pit Farm's safari tents are built to a 21st century spec. They have good showers, proper flushing loos, a sleek wood-burning stove and a kitchen with a fridge, sink and gas hobs. The master bedroom has a four-poster bed, while children will love the quirky 'cupboard bed' that's hidden in the wall and lets you really cocoon yourself away. There's WiFi, too, and electricity throughout. If you do come by train, you needn't pack much.
For all of the glamping site's mod cons, however, Gravel Pit Farm still hasn't lost touch with the real appeal of being outdoors. Friendly owner Annabel clearly loves the fresh air. "As our children were growing up we had almost daily campfires during the warmer months,'' she tells us. At the other end of the paddock, a big stone hearth is set up for communal fires and a welcome pack is provided when you arrive that, along with essentials like tea and coffee, includes marshmallows and sticks for toasting. There's also a huge barbecue outside each safari tent and other touches show Annabel's attention to detail, such as the Victorian-style bathtub, now planted up with fresh herbs that you can pick and use when cooking. "Absolute bliss!" Annabel declares. It's hard to disagree.
Best Price Guarantee
Easy and Secure, with instant booking confirmation
Trusted for over 10 years
A chance to win a brand new Coleman tent!
Gallery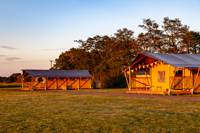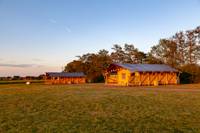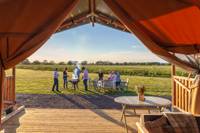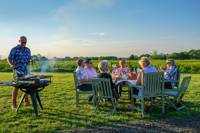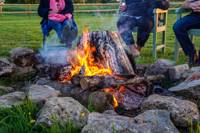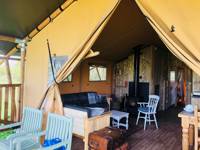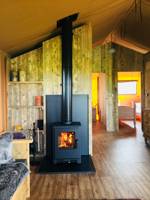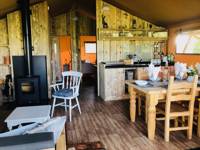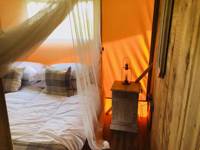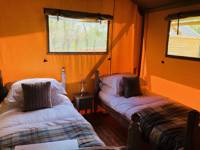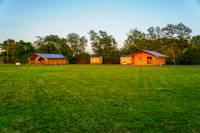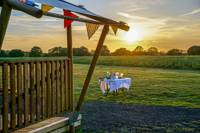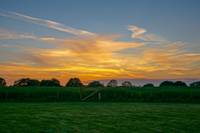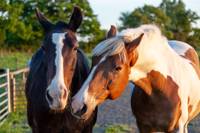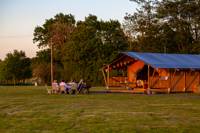 The Owner Says
Gravel Pit Farm Glamping evolved from our many outdoor adventures. As our children were growing up we had almost daily campfires during the warmer months, our favourite way to entertain is a BBQ and many camping adventures are in our 'diary of the happiest days'. Here in Darling Buds Of May country we appreciate the great outdoors; big, wide skies burning into spectacular sunsets that in turn bring some of the most spellbinding nights of dramatic skies full of stars. At Gravel Pit Farm Glamping we want you to be able to share this, you can opt to turn of all the lights and quietly enjoy the night darkness with just a crackling campfire, absolute bliss! On those chillier evenings the odd light and a wood burning stove can make all the difference. Also... in this day and age a flushing loo and proper shower simply make the whole thing a bit more civilised.
The safari tents are superbly well equipped, the three bedrooms all have comfortable beds with crisp white sheets and warm extra blankets. Towels are supplied with a midweek towel change option for stays of a week. The wood burning stove always creates a toasty warm atmosphere. In the winter months we can offer extra heaters and electric blankets for warmth – experience sleeping in the middle of a field in winter but still being snug and cosy!
Each tent has its own 30" charcoal BBQ with double layered grill which doubles as a fire pit after you have finished cooking. There is also a gas hob in the kitchen of each tent along with a kettle and toaster – some of life's little luxuries – there if you want them!
Each tent has a fully functioning bathroom with loo, shower and basin but there is an extra loo for each tent in an outside cabin, which also has an outdoor wash stand with a victorian butlers sink. The site nestles in over an acre of paddock for the exclusive use of the two tents. Perfect for rounders, football cricket and games. Inside there is a suitcase full of boardgames.
So, based on our own experience whether you are looking for a romantic break away from it all, or you are a boisterous family looking for a great outdoor adventure, or maybe you are a group wanting a fun, step off the speeding world, celebration or getaway, we can offer you a really comfortable, luxury tent which is very civilised on the inside combined with a little bit of the wild and some outdoor fun on the outside.
Reader Reviews
Add Your Review
Perfect Countryside Retreat
I stayed with a group of girls and we had the most amazing stay here! Best glamping site we have been too! The area is really secluded and peaceful . The safari tents are beautiful and kitted out with everything you would need. The owners couldn't have been more helpful and welcoming. Really worth the money! We will definitely be back! Highly recommend!!
Wow! Hidden treasure in Kent countryside
I was in two minds whether to keep this little treasure a secret or not but decided to share the wonderful experience as our hosts Annabel and Simon deserve praise for the haven they have created. Luxury without the opulence, secluded but not remote. We stayed weekend of May bank holiday and we didnt want to leave! It was so lovely to feel that we were in the middle of nowhere although so easy to get to from London. My two boys, aged 8 and 10 could not believe the space they had to adventure in ( we have tiny garden in London ) and all the animals to meet, tracks to cycle on and we made the most of the campfire and marshmallows Annabel had thoughtfully provided. There are so many lovely individual touches - the boys loved the " hidden bed " , the quirky outside loo, the herb bath but most of all the wonderful welcome Annabel gave us. We shall return ! I feel it may become our second home!
Response from Gravel Pit Farm
Thank you for your kind words. We are so pleased that you enjoyed your stay, your boys were great fun to have around and we are looking forward to seeing you again soon.
Book campsites near Gravel Pit Farm